Android Apple iPhone 6 lookalikes comparison: Lenovo Sisley vs HTC One A9 vs Meizu MX5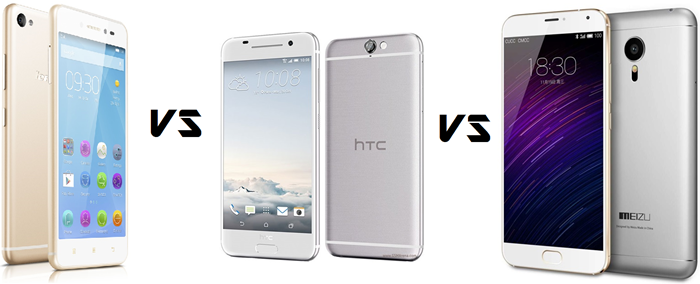 What do all these three devices have in common? The answer - they all look like Apple iPhones or more specifically, the iPhone 6. So if you happen to be looking for an iPhone 6 clone for your Christmas list, you've come to the right place. We are comparing not two but three smartphones for a three way match - The Lenovo Sisley (also known as Lenovo S90 Sisley) vs the HTC One A9 vs the Meizu MX5! Who will come out victorious? Read on and you'll find out, let the clone wars continue!
Features
For starters, all three have the same active noise cancellation with a dedicated mic, standard video and music player formats, geo-tagging, touch focus, face detectors and HDR. But the MX5 screen is protected by Gorilla Glass 3 and possesses the mCharge which is a fast charging feature - it can quickly fuel up the battery's juice to 60% in just 40 minutes...and so can the One A9 as well, according to reports that it charges up quite fairly fast too.
The MX5 also comes with 16/32/64GB internal memory variations while the other two are just 16GB. However, if you really need A LOT of space storage then the One A9 has you covered, it has a card slot ready for a microSD card that's capable of storing 128GB worth of space. The MX5 and One A9 also have fingerprint sensors built into the home button, much like the Touch ID in a standard iPhone 6.
Tech Specs
In the OS corner, both the Sisley and MX5 loses out to the A9 because they're both stuck at Android 4.4 and 5.0.1 respectively; the One A9's Android version is 6.0. Even so, MX5's Mediatek MT6795 + octa-core 2.2GHz Cortex-A53 with 3GB RAM closely beats the One A9's Qualcomm Snapdragon 617 + quad-core 1.5 GHz Cortex-A53 & quad-core 1.2 GHz Cortex-A53 running at 2GB RAM. The Sisley is the weakest between the three; as it runs a Qualcomm MSM8916 Snapdragon 410 + quadcore 1.2GHz Cortex-A53.
In addition, the MX5's main camera is 20.7MP (with laser AF + dual LED) and the others are just 13MP. Oddly enough, its selfie snapper is just 5MP; the Sisley takes this one with 8MP front camera and can record a video with 1080p + 30fps. Oh, the One A9's front camera is 4MP only but it is an UltraPixel camera which is good for low-light conditions.
In terms of screen display, all three are equipped with AMOLED capacitive touchscreens + 16M colors. However, the One A9 wins this one by a few margins; the ppi pixel density is 441 compared with the MX5's 401 ppi pixel which is too bad, as the MX5 has a slightly larger display though by 0.5-inch (both the One A9 and Sisley's display are 5-inch). Lastly, the MX5's battery is 3150 mAh followed by Sisley (2300 mAh) and One A9 (2150).
Price and conclusion
Boy oh boy, it seems more like match between MX5 and A9 since Sisley is getting beaten down by them in almost all aspects. Oh well, at least the Sisley is RM779-RM879 only, while the MX5's price tag comes in second place with RM1371-RM1471 and the One A9 is the most expensive with RM2159-RM2259 (AP).
With all the features and tech specs mentioned above, I think the MX5 takes the lead with the most score points compared with the other two. As for me, I'd pick the HTC One A9 simply because it has the latest Android OS even though the MX5 has a huge 20.7MP camera which I like. So that's it for the comparison, so which one would you choose? Thanks for dropping by and have a great December!