Apple Launches iOS 7 : Many "New" Features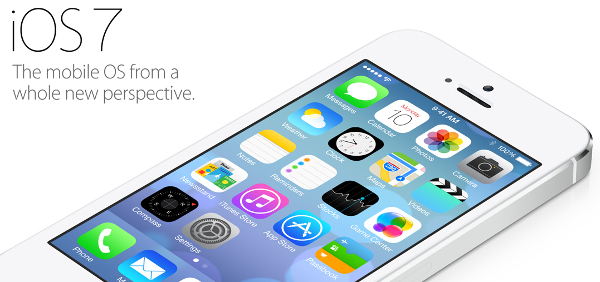 Apple has always been more about their optimized software or operating system than other smartphone or device makers, so it comes as no surprise that the main reveal of WWDC 2013 was iOS 7. Coming with many new features, the new operating system will be available in Q3 (probably around August), for Apple iPhone 5 users. Developers and those with access can download the beta through the developer portal. The iOS 7 operating system will be available to other devices such as:
iOS 7 Catches up with the Rest

The main features for iOS 7 are listed below: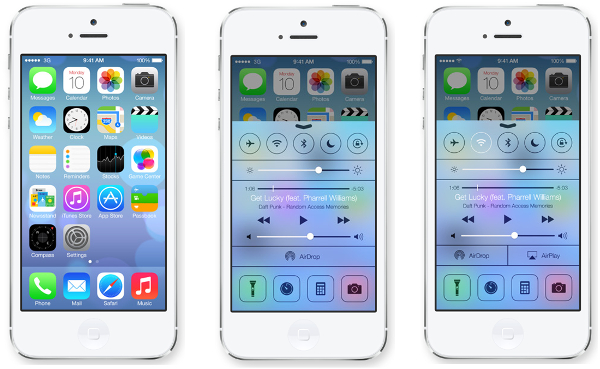 Flatter Design: This rumour was solid, as Apple has since made their operating system with flatter icons and user interface (UI) elements. Everything has been redesigned to fit with this new design philosophy and that means every app in the system. While it is cleaner, many of us can't help but comment that all the flat, colourful icons and pastel coloured backgrounds make it look like a Candy Crush operating system. While you still can't customize the interface as much as some other operating systems, what you can change does bring a unique effect to the overall look and feel. Through creative use of transparency and layers, changing your background image makes your other screens look different as well, giving a bit more sense of personalization than the previous iOS. The Control Center links everything together as you can swipe to practically anything and it changes dynamicaly, so that if you turn on WiFi, the AirPlay option gets activated.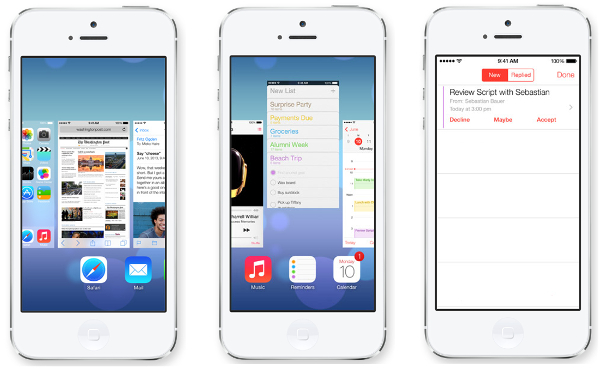 Multitasking: Remember how you could only do one thing at a time on an Apple device? Well, this is gone as you swipe to close an app or switch to another app, complete with preview. Looking to make this easier, it also learns your habits, predicting what you need to do and setting up the app or content when you usually use it. Battery efficiency gets an upgrade through this as iOS 7 now only downloads updates when you're connected. So if you get a flood of updates while you're on battery alone, it won't drain your battery silently without your knowledge.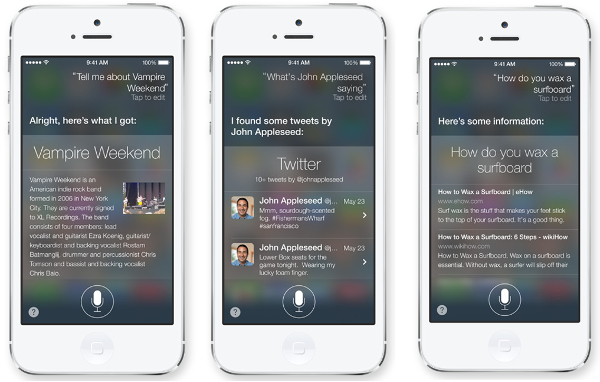 Improved Siri: Siri gets another upgrade as you get a better voice, more voice options and a cleaner card-based UI (looks a lot like Google Now).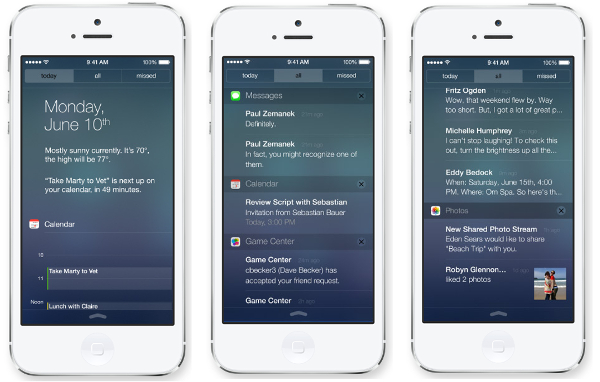 Notifications: Following the flatter look of iOS 7 the notification center is cleaner and updates across devices, so you don't get multiple notifications for multiple devices anymore.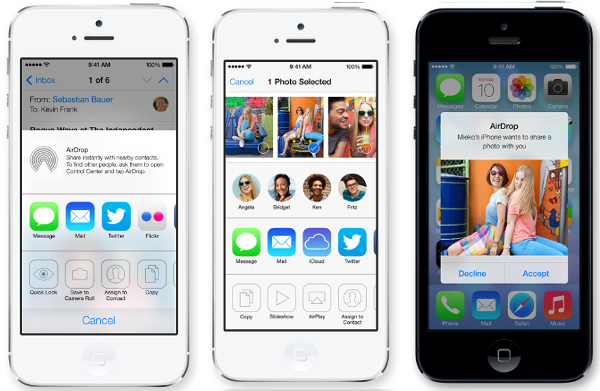 Wireless Sharing: Airdrop is Apple's answer to NFC sharing so you can easily share a picture or media with someone else nearby through wifi or other wireless connectivity. This means you don't have to bump them together or physically touch another phone (like NFC) and you can choose to select who you send it to or to just broadcast it to anyone nearby. It looks a lot like Group Play on the Samsung Galaxy S4 but it should make sharing easier in the long run.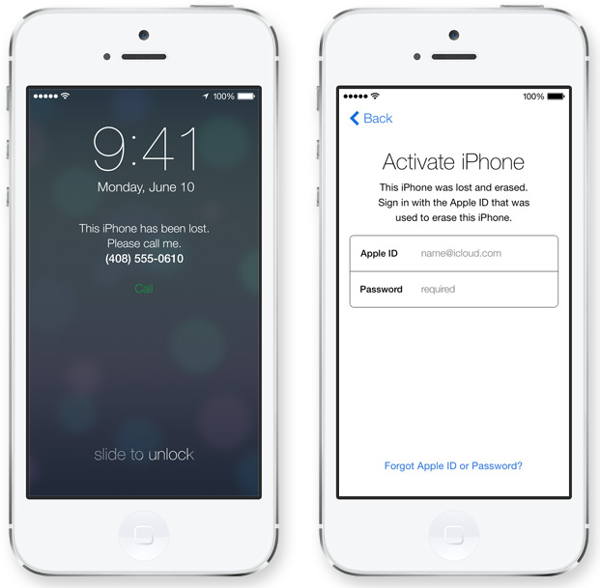 Security: Apple have made it so that the Find my iPhone app can only be turned off or erased with your Apple ID and password. So even if someone steals your iPhone or device you can still remotely lock your device and let everyone know what a thief he or she is by displaying a custom message.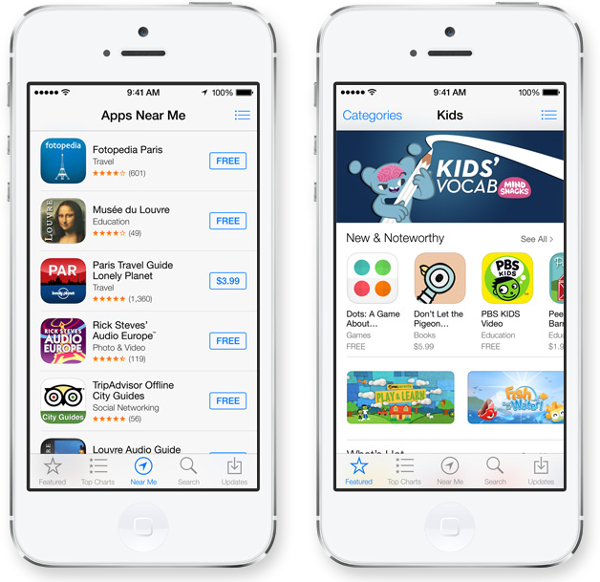 Nicer App Store: Since everything got a redesign, the App Store also got one and looks just as flat and clean as everything else. The good points include a kid-friendly Kids category which you can activate for your kids and better app suggestions based on your location (apps near me).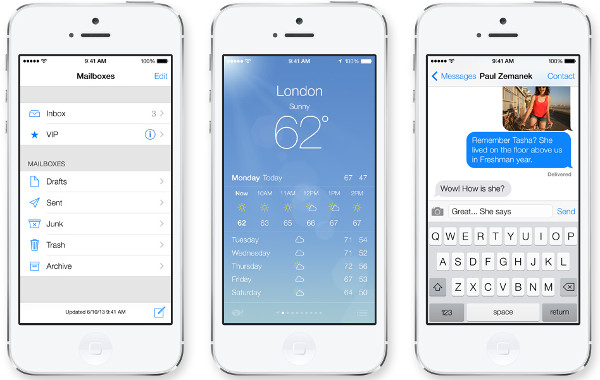 In short, the new iOS 7 includes even more smart automation, such as categorizing your photos automatically, learning and anticipating your habits and suggesting apps that may interest you. Safari also gets an upgrade in that you now have infinite tabs, iTunes Radio lets you stream actual radio while the Camera gets new Instagram-like photo filters. The Mailbox offers a better overall look while the Weather app gets awesome new weather animations. Check out everything in the video below: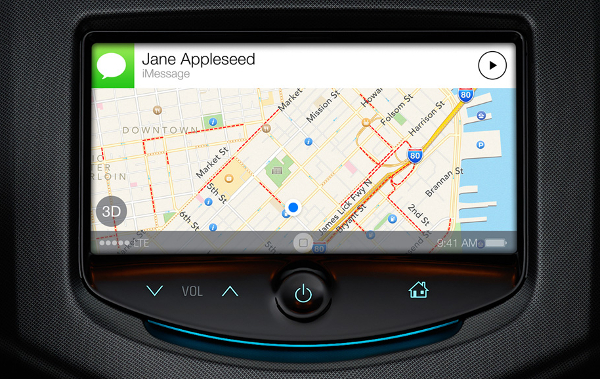 One other feature for iOS 7 coming in 2014 is iOS in Car, which integrates with the car's built in onboard dash. In related news, while iOS 7 is going to be made available to all compatible devices, some older devices may not get all the features. You can check out what feature you get or not in the table below:

Apple iPhone 5 Specs & Price >