pdated (19-9-2013):-
Updated (9-10-2013):-
Various reliable sources expected that Apple should announce the newest iPad 5 and iPad mini 2 this month. As a norm for Apple, the event should be held on 22nd October.
The focus of the event will be on the 5th generation full size iPad as well as the second generation iPad mini. The new iPad 5 is expected to be thinner, lighter and overall smaller because of its reduced bezels. The second generation iPad mini 2 will get the same treatment, expected along with the new retina display. Rumors saying that Apple will putting the fingerprint scanner on them but it is not been confirmed yet.

If the announcement date of October 22nd is true then the release date for both new iPads should be around first week in November.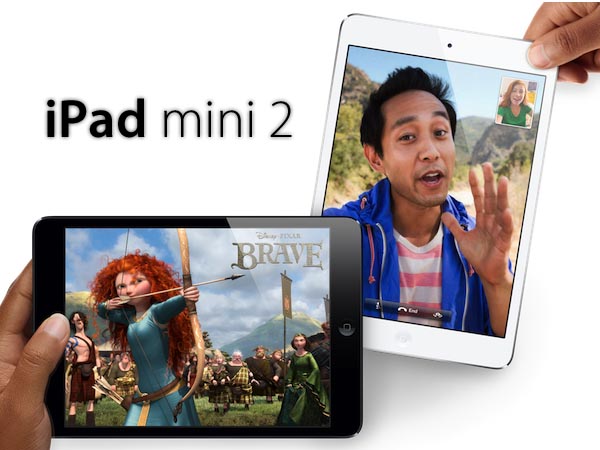 Please check out the Apple iPad mini 2 specs and info.
[Source]
Older Post:-
Apple Might Be Re-launched the iPad Mini to iPad Mini 2 with Retina Display Soon (Rumors):
There are rumors that Apple might re-launch the iPad Mini with improved display resolution. Speculators have already given the name for this new tablet and it would be iPad Mini 2. The expecting annoncement should be on October 2013 and the iPad mini 2 release date should around Novermber 2013.
iPad Mini 2 is expected to have better display resolution of 2048 x 1536 pixels and comes packed in same 7.9 inches screen size. This resolution is same as that of on iPad 4 which has got Retina Display. That means, iPad Mini 2 tablet would have Retina technology support. So it will have 324 ppi pixel density.
After the release of iPad Mini tablet by Apple, many wondered so as to why Apple didn't gave the best resolution pixels on this tablet, and why Retina technology has not been incorporated on this tablet. Few are saying that production level problems might be the reason behind this scenario. Few others say that Apple wontedly provided low resolution on the iPad Mini so that it can release another improved version with enhanced resolution.

There were reports that the price of iPad Mini i.e. 329 USD was high and it is because of the manufacturing problems. The touch screen technology i.e. new GF DITO technology provided on this tablet is making lot of hurdles in production stages.
[Source: aegindia.org]