Apple iPad Mini Review - More than just a Mini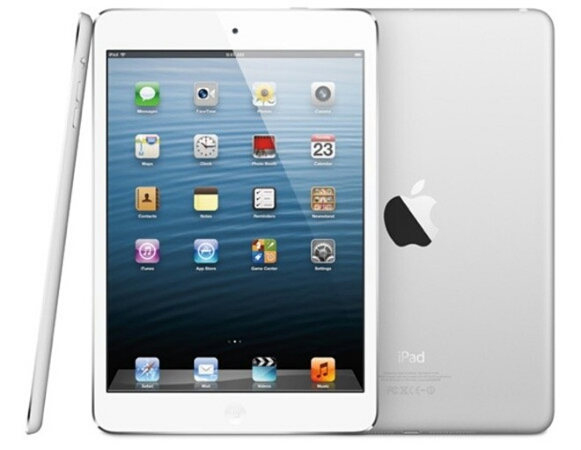 Usually when a tech device like a smartphone or a tablet is called a Mini, it means that it is a cut down or lower-end version of the main device that it takes it's name from. This seems to be the general feeling that most users get before thinking about getting the Apple iPad Mini. However, they couldn't be further from the truth as this little 7.9-inch tablet packs in a whole bunch of features within a just as excellently designed casing as the original Apple iPad. If you liked the cellular version of the Apple iPad then you also may like the cellular version of the Apple iPad Mini, but is it the tablet for you? Read on and find out in our review of the Apple iPad Mini.
Design - Smaller, Lighter and more holdable

Check out the Photos on the Apple iPad Mini compared to the Apple iPad

At first glance, the Apple iPad Mini looks exactly like the Apple iPad. This is because the 10.1-inch screen on the iPad matches almost exactly with the 7.9-inch screen of the iPad Mini. However, while the colour and overall look may be the same, a closer inspection will reveal that the iPad mini has slimmer bezels, giving it a more narrow look and making it easier to hold in one hand. While the 7.9-inch screen isn't a Retina Display, the 1024 x 768 pixel resolution is sharp enough to view most websites and documents with ease. As a plus the screen already has a fingerprint-resistant oleophobic (anti-oil) coating. At 312g for the Cellular version it is nearly half the weight of the Apple iPad and a good 30 or so grams lighter than a comparable 7-inch tablet. It is also super thin and probably much thinner than most tablets. In short, it gives the same viewing experience as an Apple iPad but is both lighter and smaller and easier to hold.
Features - Packs in everything except Retina

The Apple iPad Mini introduction video
Featuring a 1GHz dual-core Apple A5 processor and chipset the Apple iPad Mini has the same power and performance as an Apple iPad 2. While it only has 512MB of RAM most Apple apps are optimized enough for it not to be noticeable. A 5MP autofocus rear camera and 1.2MP front camera lets you record at least 720p HD video for the front camera and full HD 1080p video for the rear camera. The 7.9-inch screen is LED-backlit and IPS so viewing it from the side or at an angle should be just fine. The cellular version also packs in support for 4G LTE along with Bluetooth 4.0, A-GPS and Siri. It is also one of the few Apple devices out there listed as capable of upgrading to iOS 7 when the final version comes out in September 2013.
Performance - Makes the most of everything and then some

Apple iPad Mini Facetime performance compared to an Apple iPad shows that it is equal in every way except the screen

Make no mistake, the Apple iPad Mini is not a cut down version of the original iPad. It performs just as well as the Apple iPad 2 with no lag between apps. What worked on the Apple iPad 2 will work on the iPad Mini and since this includes practically every app or game available, performance shouldn't be an issue. The extra 0.9-inch to the screen means that there is no loss in viewing experience and when you combine it with a snap-on bluetooth keyboard, the iPad Mini has exactly the same profile as a notebook. The camera works well enough for images but doesn't do so well in low-light conditions but it should outperform or equal most tablet cameras. Battery performance is about 6 hours or so with 3G or LTE while the WiFi version lasts about 8 hours or so with normal use. Light usage (as in ebook reading with no WiFi) could probably extend battery life past the normal 10+ hours the Apple iPad Mini is rated for. While it still has the aluminum unibody, drop tests show that screen may fracture but actual damage to the tablet is very small compared to a more plastic base tablet. As usual of aluminum unibody devices, the aluminum can get scratched with enough pressure and a sharp enough object (especially on the chamferred sides) but the screen itself is quite scratch resistant.
Conclusion - A Mini like no other

Apple iPad Mini as an ebook reader compared to the Apple iPad

Overall, the Apple iPad Mini is an excellent smaller tablet for anyone looking for a more portable tablet. You get the same viewing experience and performance as a larger Apple and it is one of the cheapest LTE capable tablets in Malaysia at just RM1399 for the 16GB version. If you don't need to be mobile, the WiFi 16GB version goes for RM999 but you can get it at cheaper prices. Even with just WiFi, you still get a tablet which can be upgraded to iOS 7 (soon as the final version gets released). If you're new to Apple or are moving over from Android, you may need some time getting used to everything but existing Apple users looking for something lighter should definitely take a closer look at the Apple iPad Mini, as it is a Mini like no other Mini device currently available. Check out the videos of the Apple iPad Mini below but if you need more information go to the Apple site.

Check out all the Apple iPad Mini smart cover colours
Apple iPad Mini Specs & Price >