Apple iPhone 5S review - Looks the same, 2x better performance, mostly future proofing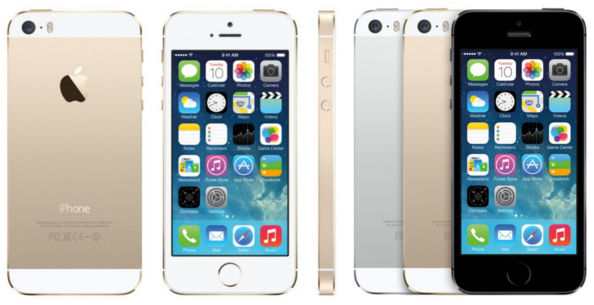 Another year, another Apple iPhone version and this year is the year of the "S" version of the Apple iPhone 5. Usually, "S" versions offer little more than software updates but this year, the Apple iPhone 5S has added a brand new 64-bit A7 processor, fingerprint scanner, larger camera sensor and a completely new iOS 7 operating system. Are these reasons enough for you to make the annual Apple iPhone upgrade? It depends, so read on and find out.
Design - If it's not broke, don't fix it
Over the years, the Apple iPhone design has steadily grown better and better. Building upon the single aluminum block unibody chassis, the Apple iPhone has always been first about the design and second about nearly everything else. However, this year's Apple iPhone 5S design is nearly identical to the Apple iPhone 5. The only differences in design is the Sapphire crystal topped Touch ID fingerprint scanner located underneath the Home button. There are definite advantages to this as this means that all the casings and accessories you bought for the Apple iPhone 5, will fit the Apple iPhone 5S. This good news is also the bad news as it isn't different at all so if you're expecting a new look Apple iPhone you'll be a bit dissappointed.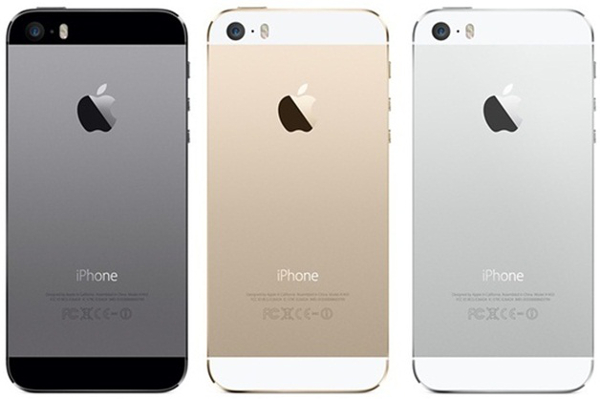 The Apple iPhone 5S in Space grey, Gold and Silver
That being said, Apple have decided to offer the Apple iPhone 5S in new colours, this time in Space Gray (which is a platinum-like colour), Gold (champagne gold colour and anodized aluminum, not really gold plated) and Silver (more or less the same colour as last year). The same 4-inch Retina screen with 1136 x 640 pixel resolutions and 326 ppi pixel density has been retained which still looks good but because of the newly revamped flatter iOS 7 look, apps tend to feel a little cramped on the screen (and so many other competitors are offering 1920 x 1080 pixel resolutions on larger screens). Make no mistake though, the iPhone 5S still feels premium and awesome in the hand but iOS 7 feels like it would be better on a larger screen.

The Apple iPhone 5S doesn't look any different from the Apple iPhone 5
Features and Tech Specs - Mostly Future Proofing
The Apple iPhone 5S sports a number of new internal updates which include the 64-bit A7 Processor and chipset, a larger Camera sensor which follows in the footsteps of the UltraPixel camera technology from HTC and the Touch ID fingerprint scanner built into the Home button. The new iOS 7 operating system also deserves some mention but the above tech specs are the ones that deserve the most mention for the Apple iPhone 5S. The Apple iPhone 5S comes in 16GB, 32GB and 64GB storage options with no 128GB versions just yet.

The Touch ID fingerprint scanner is located beneath the Home button
The 64-bit A7 processor and Chipset
First off, the main thing is, the new 64-bit A7 processor is much faster than before, nearly double that of the previous A6 processor. Sure, it is still a dual-core processor, but the 1.3GHz Cyclone ARMv8-based processor makes the interface a lot faster and zippier than before. An additional motion tracking M7 chip has been added on to help track accelerometer, gyro, proximity and compass information, which frees up the main processor from doing this and makes it energy efficient. The PowerVR G6430 graphics are also much better and support OpenGL ES 3.0, so you can expect more realistic images and games with many more particles, textures and objects on screen than before. Unfortunately, there aren't many apps that use the full potential of 64-bits, the M7 sub-processor or the better graphics. While we foresee better games with nicer graphics coming soon for the Apple iPhone 5S, we doubt you'll see a use for 64-bits apps until another couple of years. Consider that it took 10 years for PC software to shift fully to 64-bit processing and you'll understand where we're coming from. The mobile industry is much faster though, so a 5 year estimate seems more appropriate.

The Larger Camera Sensor + True Tone LED flash
While the iSight camera sensor on the Apple iPhone 5S remains 8MP, the 1/3" sensor is now 1.5 microns larger (compared to the 1.4 micron sensor in the Apple iPhone 5). According to Apple this helps it process and take in more light allowing it to take better HDR shots and work better under low-light conditions, which sounds a lot like the UltraPixel camera technology from HTC. In addition to this, Apple have also added on True Tone LED flash, which are two differently coloured LED flash. One LED is the normal white, while another is amber coloured, which gives a more natural flesh tone than the standard white colour. Apple have also included a number of filters and improvements such as slow-motion video and an improved Panorama shot. So far, early shots using these new features do show visible improvements in terms of quality with many people posting up slow-motion shots and videos in general. According to Apple, the iPhone 5S does all the filters automatically so you don't have to be a photog to use all of these new camera features.
The new camera features on the Apple iPhone 5S
The Touch ID Fingerprint scanner
Located underneath the Home button and protected by a layer of Sapphire crystal, the Touch ID fingerprint scanner works the moment you touch the Home button. It is probably the only 64-bit application of the new 64-bit processor and takes a capacitive screenshot of all the whorls and characteristics of your fingerprint and it does it fast too. Apple have made this very secure and very fast to replace the passcode for both your home screen as well as your iTunes purchases. Unfortunately, it hasn't been worked into any other purchasing application outside of Apple, so you won't be buying any pizza or groceries with the Touch ID anytime soon. Payment options like this do take more time than usual, so we're expecting this to become useful a few more months (or next year) as merchants and vendors add it on to their payment gateways.
The Touch ID fingerprint scanner in action
The iOS 7 update
Gone are the skeumorphic designs and animations of iOS 6 and in comes the paralax scrolling and flat design of iOS 7. We have to say that the overall colours and design are lovely pastel but it reminds us a lot of a Candy Crush game for some reason. There are also a number of iOS 7 features which have been improved such as better multi-tasking and the easier to access one-point Control center. However, not everyone is liking the new iOS 7 as the interface looks very different from iOS 6. A number of people have complained of nausea, vertigo and even diziness because of the paralax scrolling (which can't be turned off completely) and some have flat out refused to use it. We grant you that the changes may seem drastic and the learning curve a bit higher than normal, but after a while you do get used to it as the interface is still fairly intuitive.
Take another look at the Apple iOS 7 operating system
Performance - More than 2x the performance but not many compatible apps
There are apps that do take advantage of the new tech specs and features of the Apple iPhone 5S, and on these, the smartphone really shines. Infinity Blade III for example shows some awesome textures and effects and now loads in seconds rather than minutes on the Apple iPhone 5 which is a huge gap in performance. The 3DMark Ice Storm Unlimited test got 13858 compared to about 5500+ on the Apple iPhone 5 proving Apple's claims that the Apple iPhone 5S is 2x better in terms of graphics. It shows that the Apple iPhone 5S has a lot of potential in terms of hardware. However, battery life still mostly feels the same with about 10 hours on 720p video playback. On normal use this means about a full 12 hour working day before you need to recharge, which is about the same as the Apple iPhone 5.
Infinity Blade III is definitely a very pretty game for the Apple iPhone 5S but there are not many other killer apps like this around just yet

Price - Currently overpriced, official Malaysia release expected in December 2013

The Apple iPhone 5S still has not been officially released in Malaysia, which is why most of the models you will see are overpriced, mainly because sellers have to buy them overseas and ship them over here. If we were to follow last year's Apple iPhone 5 pricing, the Apple iPhone 5S should cost RM2199 which would match the US pricing of $649 for the standard 16GB version. Again, if we follow previous models, we expect the Malaysia release date to be sometime in December 2013 but for now getting the Apple iPhone 5S may cost you from RM2790 to RM3020. Do note that this is for the 16GB version without any telco plan or contract and that warranty is tied to the seller (much like an AP phone). There is a huge demand for the gold coloured version though, so currently the price for this version has been inflated somewhat.
Conclusion - Only for the total Apple iPhone fan and non-iPhone 5 owner

Overall, the Apple iPhone 5S looks the same, performs more than 2x better and is future proofing for the next couple of years. Right now, you won't get many benefits from the 64-bit A7 processor or improved graphics or Touch ID fingerprint scanner as there aren't many 64-bit apps, Apple games that utilize the Apple iPhone 5S GPU to it's fullest or services that use Touch ID. The improved camera is definitely worth it though, but compared to other competitors (which we shall not name) with 41MP and 20.7MP camera sensors the same 8MP but slightly larger 1.5 micron camera sensor on the Apple iPhone 5S cannot compete. Granted, buying an Apple iPhone 5S now is going to be a lot more expensive than waiting for December 2013, but it is the price you pay for having the smartphone now. We'd recommend waiting, but that is more our personal recommendation than anything else.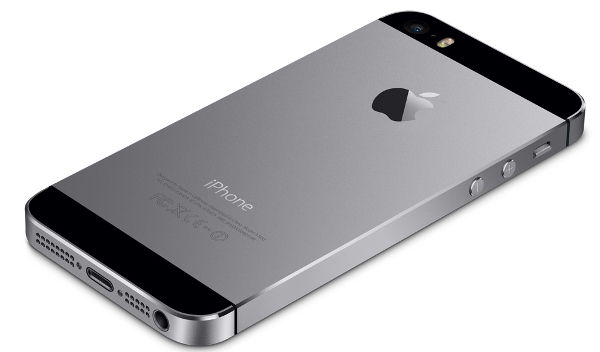 The Apple iPhone 5S in space grey certainly looks good
In short, if you still like the Apple iPhone 5 and want a more powerful version with better camera then you'll love the Apple iPhone 5S. If you want the most powerful feature-filled smartphone on the market, then it isn't the Apple iPhone 5S but right now you'll still pay more for it than that most powerful smartphone. Our earlier analysis remains the same though in that if you already have the Apple iPhone 5 then there is very little reason to get the Apple iPhone 5S unless you're looking to future-proof your smartphone for a while. However, by the time there are more 64-bit apps, games with more demanding graphics and Touch ID services, most of the competition could be head and shoulders above the Apple iPhone 5S in terms of hardware, performance and features. But if you don't have the Apple iPhone 5, the Apple iPhone 5S should be an awesome buy, but again we recommend waiting for the official Malaysia release as you'll not only get a better price (we hope) but also better warranty options. If you can't wait do check out our Apple iPhone 5S sellers.
Apple iPhone 5S Specs & Price >