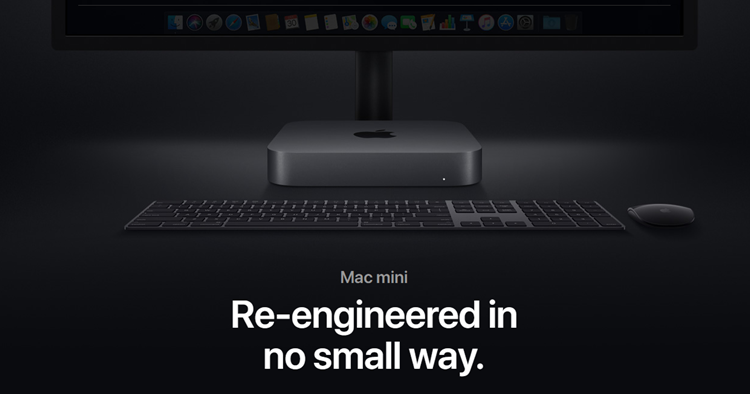 Along with the new Apple iPad Pro and MacBook Air, Apple also announced a new Mac mini and as the name suggests, this is a really mini and compact CPU featuring high-end tech specs, even a new thermal system to keep it cool while running memory demanding programs such as Adobe Photoshop CC and Final Cut Pro X. There are two memory variants starting with the 128GB model for RM3449 and 256GB model for RM4699.
So here's a breakdown of the tech-specs, the Mac mini features mini features a new 8th generation 6-core and quad-core processors with Turbo Boost speeds up to 4.6GHz, a DDR4 memory up to 64GB (2666MHz) and a huge storage capacity up to 2TB SSD. In addition, it's also equipped with an Intel UHD graphics, Thunderbolt 3 (USB-C x4), HDMI 2.0, 10Gb Ethernet (optional) and a new T2 security chip.

The Thunderbolt 3 is able to transfer data at up to 40 Gbps, charging, connecting up to 4K displays, as well as pairing up with another Mac mini via an eGPU
Oh, there's a 3.5mm headphone jack port too
Like the MacBook Air, this allows the Mac mini to have an SSD controller with on-the-fly data encryption so you can be sure that everything you store in there is encrypted properly. Besides that, the T2 security chip has a HEVC video transcoding which allows the users to work quickly by 30x faster than its predecessor, so if you're working on a super high-resolution video, you won't be lagging behind. The Mac mini's body is also environmental friendly with 100% recycled aluminium.
No official date for the Malaysia market yet, but on the Apple Malaysia website, adding more storage will also add in a few more hundred Ringgit. You can check out the full details right over here. Stay tuned for more Apple news at TechNave.com.