Are Huawei FreeBuds 3 a better alternative to the AirPods Pro?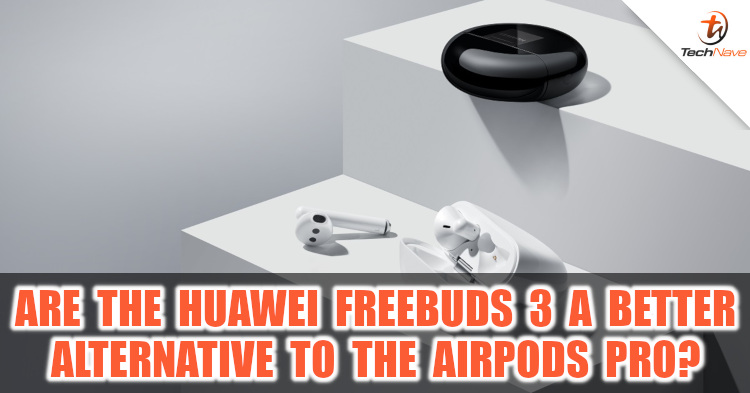 Nowadays, some high-end smartphones do not come equipped with a 3.5mm audio jack which could be a problem to users who prefer using a pair of wired headset that usually provides almost no latency and perfect audio signal. With that said, many smartphone manufacturers started developing their own wireless headsets which can connect to the smartphone without utilizing a physical connector.
In terms of the pricing, these wireless headsets could cost anywhere between several hundred to a few thousand ringgit which can be quite steep depending on the features it comes with. Fortunately, Huawei recently unveiled the Huawei FreeBuds 3 which is priced at RM679 at launch and it comes with a plethora of features that could rival other brands, including Apple with their AirPods Pro which costs nearly 2 times the price. Let's take a closer look at the features that the Huawei FreeBuds 3 have to offer.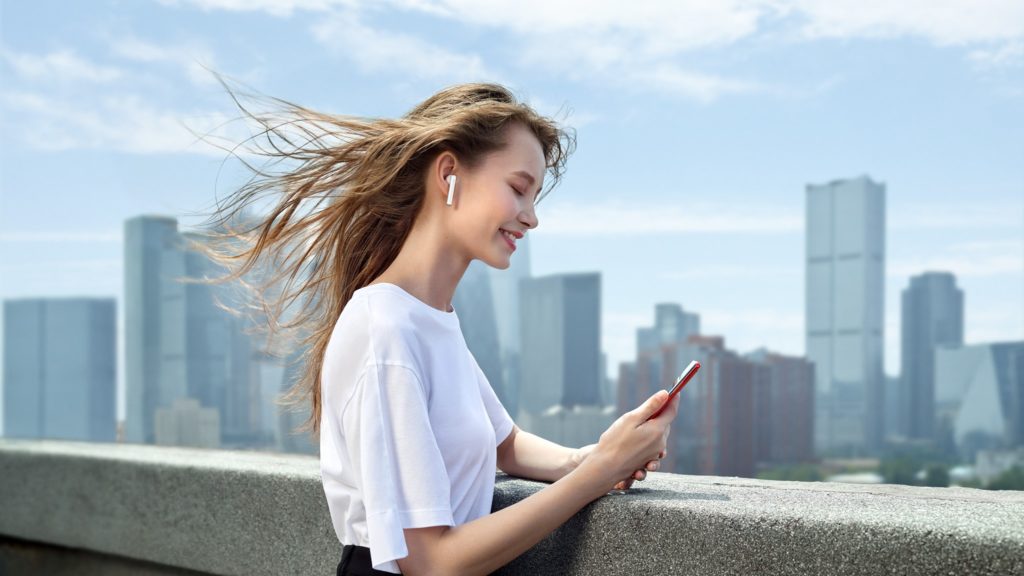 Low latency and interference thanks to the Kirin A1
Due to the nature of wireless headsets, there is usually a small delay which is more noticeable especially while mobile gaming or watching videos. This can be problematic especially when you're trying to immerse yourself in a movie, or when you're trying to pinpoint the location of a gunshot in a mobile game due to the fact that the audio and the video are not synced up.
In order to remedy this, Huawei developed the Kirin A1 chipset which is not only power efficient, but it also addresses the latency issue by utilizing a specialised algorithm to reduce the transmission delay from the smartphone to the FreeBuds 3. Furthermore, the headset also utilizes the dual-channel synchronous transmission technology that not only helps it save more energy but also helps reduce signal interference as well, to ensure that the user does not experience any disconnects.
Industry's first open active noise cancellation TWS earphone with one-touch noise reduction
The Huawei FreeBuds 3 also comes with Active Noise Cancellation technology to reduce the ambient sound heard by the user by utilizing a bunch of specialised microphones, as well as a noise reduction algorithm. However, due to the fact that the Huawei FreeBuds 3 is a semi-in-ear headset instead of an in-ear monitor (IEM), it will not be able to reduce sound as effectively if you compare Huawei's headset to existing IEMs equipped with the Active Noise Cancellation technology and foam ear tips.
With that said, Huawei's Smart Life app can be used to tweak the noise cancellation parameters to the user's liking, in order to provide a much more comfortable listening experience. But that's not all, the microphone on the headset also comes with a rather interesting feature called the voiceprint call noise reduction that detects the vibration in your head while speaking and reduces the noise of everything else.
"Pop" to get started!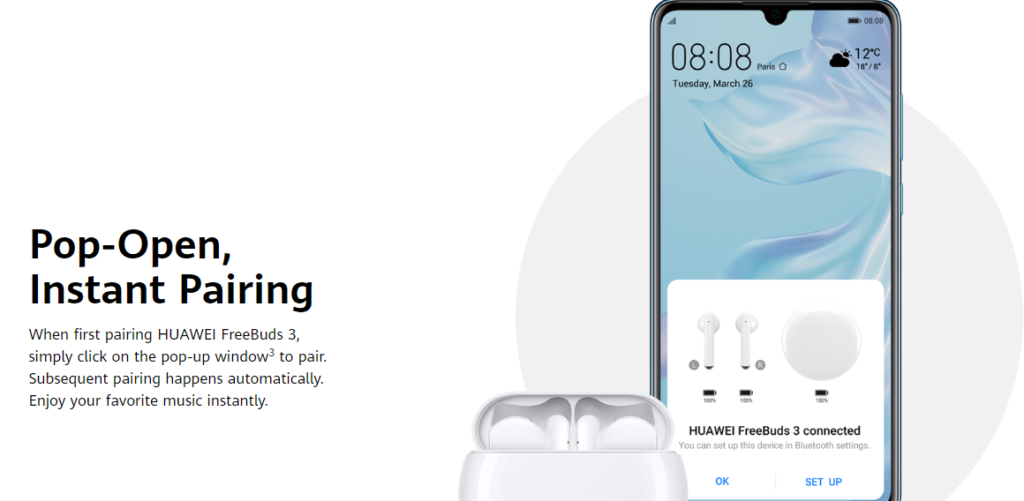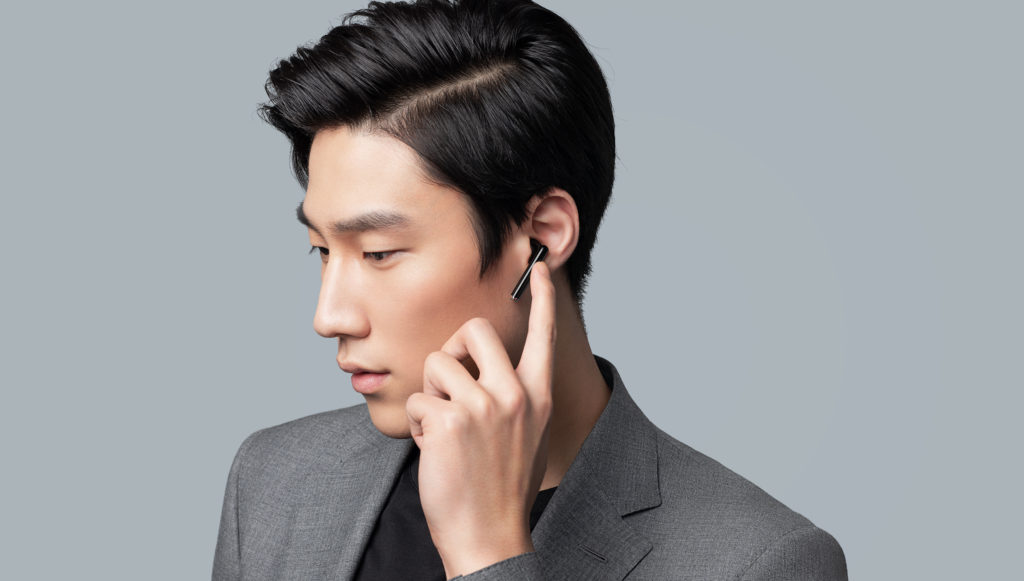 Sometimes when using any wireless headset, the biggest turnoff would be when manufacturers overcomplicate the pairing process. With that said, pairing the Huawei FreeBud 3 is as easy as simply "popping" open the charging case and having it connect to your device.
Not only that but if you have the Huawei Smart Life app on your mobile device, you could also customize various functions onto each of the earbuds, giving you a much more personalised user experience. Head over to the Google Play store or the Huawei App gallery, if you are keen on downloading the aforementioned app.
Long battery life to get you through the day
All the features mentioned won't matter, if your wireless headset's battery won't even last a day on a single charge. Fortunately for the FreeBuds 3, it comes with up to 2.5 hours on each side while the charging case itself comes with enough juice to charge up the FreeBuds 3 up to about 4 times before the entire unit needs to be recharged.
But let's say you don't have an additional charger handy for your FreeBuds 3, you could utilize the Huawei Mate 30 Pro's reverse wireless charging feature to charge the headset as well. That means that you could charge the headset while you're on the move, without the need to plug it into a power outlet.
Innovation and design in a tiny palm-sized package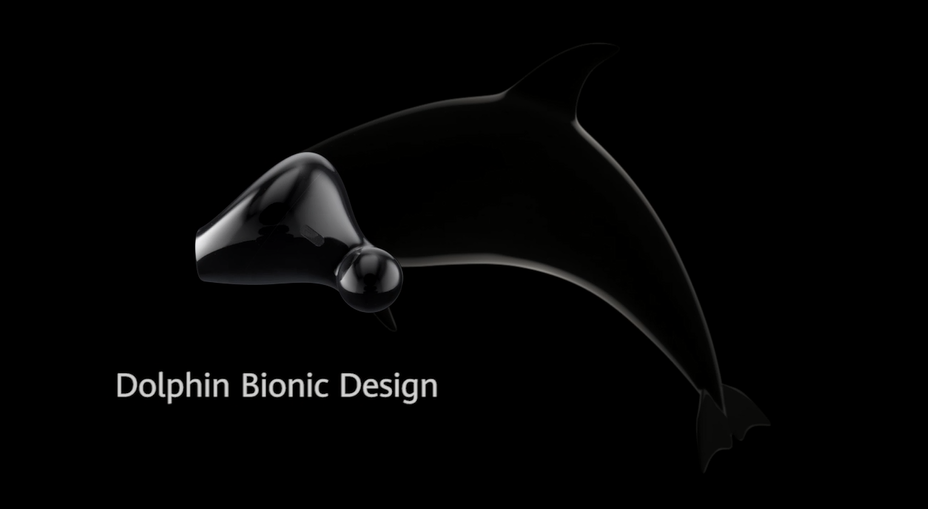 Last but not least, the Huawei FreeBuds 3 utilizes a Dolphin Bionic Design, which provides a much more comfortable and snug fit into the user's ears. The charging case, on the other hand, is small and portable enough to fit into any pocket you stuff into any pocket making it ideal for those who are constantly on the move.
Other than that, it also comes with 14mm drivers as well as Bluetooth 5.1, which not only has a lower power consumption but also better connection stability with any smartphone you pair it with. In conclusion, if you are looking for a pair of wireless headset that is not only feature-filled but also more affordable compared to a pair Apple EarPods, you might want to consider getting the Huawei FreeBuds 3, which is available on Huawei's official website for the price of RM679.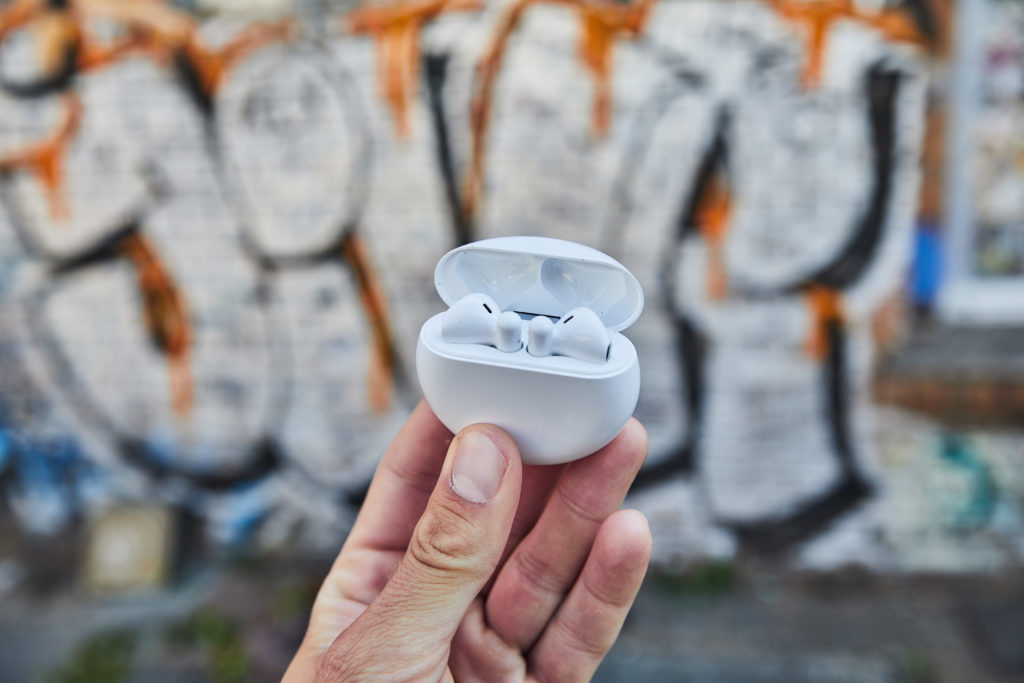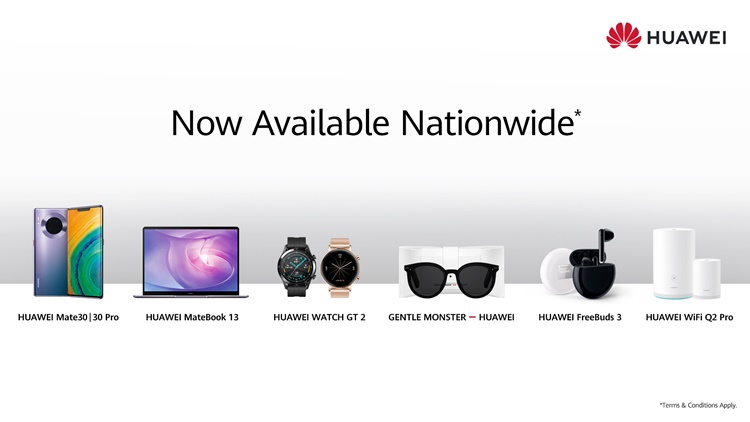 If you are still unsure about getting it, why not head over to any of Huawei Experience Stores across Malaysia and try them out for yourself? Who knows, you might end up buying them on the spot! Would you be interested in getting the FreeBuds 3 any time soon? Let us know on our Facebook page, and for more updates like this stay tuned to TechNave.com.
Huawei Mate 30 Pro Specs & Price >