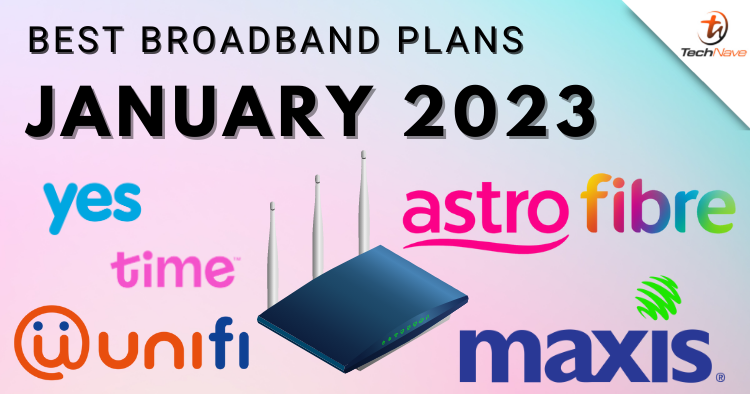 Recently, we posted articles about the best value mobile prepaid and postpaid plans you could go for. It's a great chance to review what's available in that sense, especially with 5G expected to gain prominence this year. Since we're at it, we figured "why not cover broadband plans too?"
These days, we have plenty of choices when it comes to home broadband. So, what's a good one to go for? Here, check out our suggestions below about the best value broadband plans for the budget-conscious as of January 2023.
Best broadband options under RM100
Unlike mobile plans, home Internet plans aren't normally as affordable. You definitely won't get any that's below RM50. But if you're more than a bit conscious about your monthly bills, you can find some solid options for below RM100 (not counting taxes, mind you).
A great option you can consider is the 100Mbps package from TIME broadband for RM99/month. It offers you 100Mbps download and upload speed. TIME probably has the best speed-to-price ratio of all the broadband companies in Malaysia. However, TIME only covers high-rise buildings and even then, only in certain areas. Something to keep in mind, yeah?
So, those of you in landed houses will need alternatives. The most affordable plan here would be the Maxis Home Fibre 30Mbps plan for just RM89/month. But the faster 50Mbps plan from Astro Fibre is probably the better deal, as it's just RM10 more at RM99/month. This plan also helps you save on your Astro monthly bill, so that's great for those who love watching Astro movies and TV shows. Anyway, check out our summary below.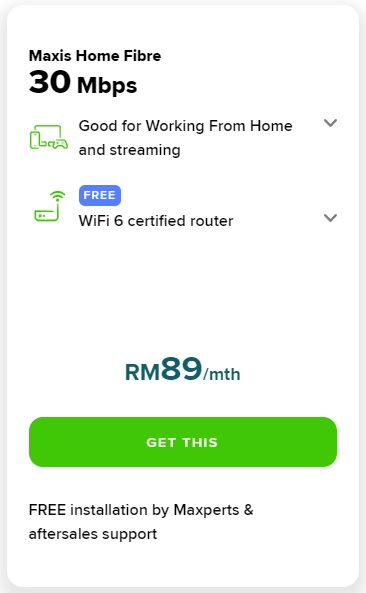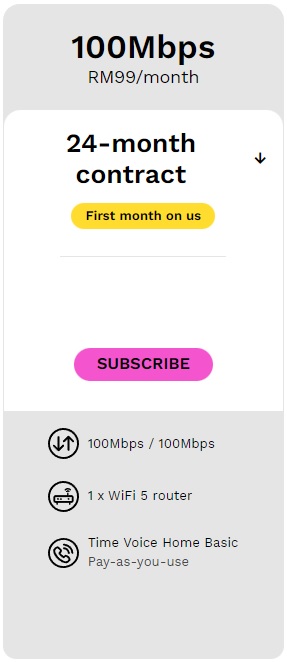 Best broadband options under RM200
If you want zippy Internet speeds, you're going to have to fork out more monthly. Fortunately, you could get very fast home Internet for under RM200 per month. There are quite a few choices in this category too, which is excellent if you ever plan to upgrade.
Again, TIME Broadband probably offers the best performance deal in this price range. The company's 500Mbps package goes for RM139/month and is currently offering the first 6 months at RM99/month, so it's a great deal. You'll also get a WiFi-6 router and WiFi-6 mesh node, which can help you expand your home's wireless network coverage. If you're willing to pay more, the 1Gbps plan gives you double the download speed for RM199/month.
For landed houses, you could go for Telekom Malaysia's Unifi Home 300Mbps plan for RM159/month. TM usually has its fibre broadband tied with Unifi TV plans for a little extra cost, so having it at this rate is a good deal. An alternative is the Maxis Home Fibre 300Mbps, which has the same speed but at a slightly lower monthly rate of RM149/month.
But if you have more modest needs and want to keep your monthly expenditure low, you could go for a 100Mbps plan. Both Maxis and Astro have a similar plan that offers that for RM129/month. Not bad options if you have a small family, or don't need ultra-fast Internet.
For a more portable or plug-and-play option without any drilling, you can check out the Yes Wireless Fibre 120Mbps (RM148/month). Unlike the others, this is a wireless fibre plan that provides unlimited 5G and 150GB of 4G data. The great thing here is that you can technically use it on the go, provided you're in an area with the Yes 5G network coverage and there's a power socket nearby.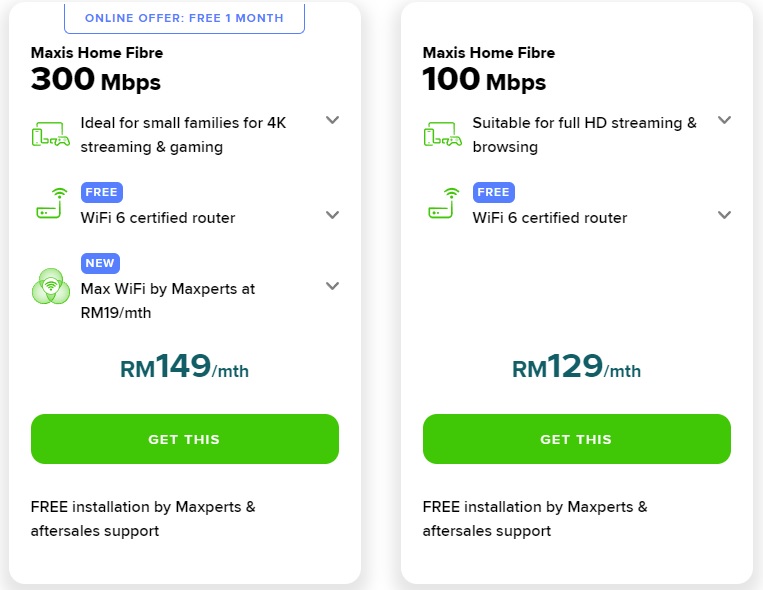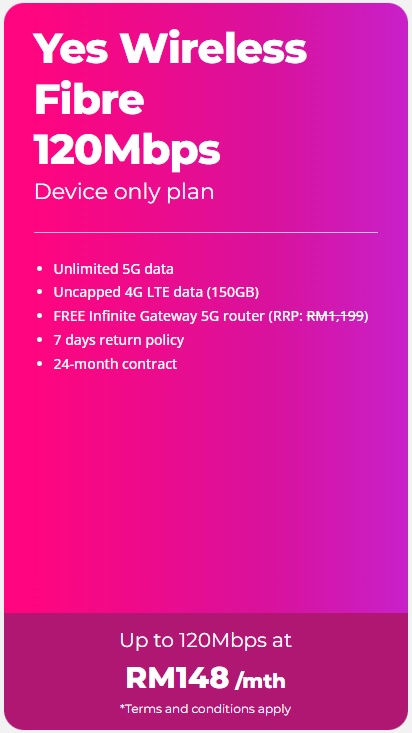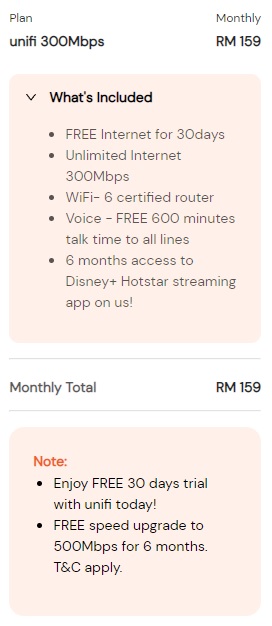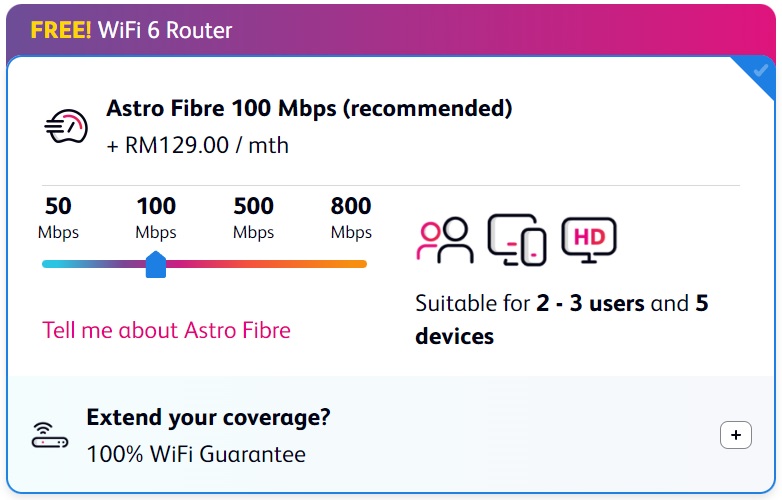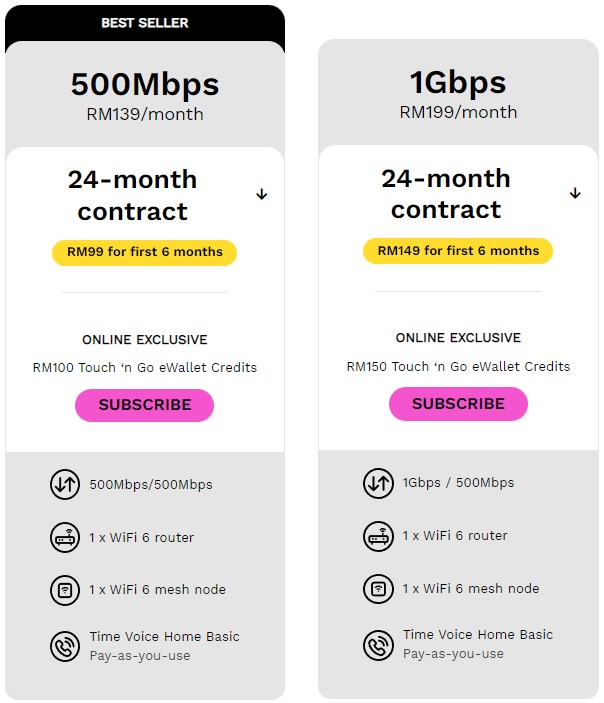 While broadband plans rarely see fee changes, the local telcos sometimes run promos with added value or various rebates. If you're looking to sign-up for such promos, visit the respective websites regularly to find out more. You can also stay tuned to this space on TechNave.com for updates, as we plan to update this article periodically.
With that said, what do you think about the plans listed? Are these the options you'd go for? Share your comments on our Facebook page, and stay tuned to TechNave for more articles like this.