Cai Shen Dao! Celcom is excited to present you their Blue Cube CNY Double Prosperity which is happening from 20 January – 28 February 2017. What's this about? Well, from the title "Double Prosperity", you're not getting one but TWO smartphones such as the Huawei P9, Samsung Galaxy J2 Prime, Oppo F1s and R9S when you sign up with FIRST Platinum!
| Device | Huawei P9 | Samsung Galaxy J2 Prime | Oppo F1s | Oppo R9S |
| --- | --- | --- | --- | --- |
| RRP | RM1980.19 per device | RM470.75 per device | RM1130.19 per device | RM1696.23 per device |
| Offering | 2 x Huawei P9 @ RM1688 | 2 x Samsung Galaxy J2 Prime @ RM0 | 2 x Oppo F1s @ RM688 | 2 x Oppo R9s @ RM1488 |
Ah, that's not all. After signing up for FIRST Platinum, you stand a chance to win some awesome prizes in the lucky draw and additional offers too! All these goodies are:
Up to 30% off Accessories!
Lucky draw on Galaxy S7 edge, Nexus 6p, a Huawei Lady Watch and another F1s!
A surprise gift at selected stores!
A Samsung Wireless Speaker at RM199!

Customers who sign up for FIRST Gold and FIRST Gold Plus are eligible for these gifts as well!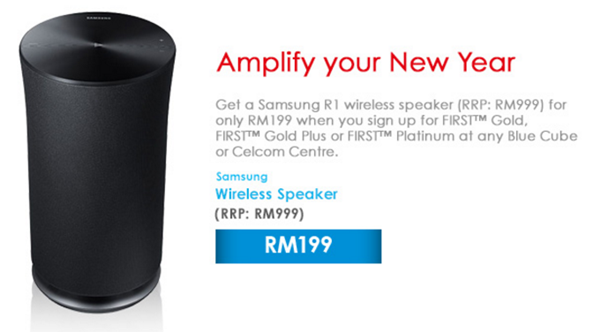 Original price was RM999, so worth it!
As always, the perks of signing up FIRST Platinum are:
30GB of Weekday Internet and 30GB of Weekend Internet
Option to combine weekday and weekend Internet to enjoy a total of 60GB Internet throughout the month with AnydayGB
Unlimited calls and SMS to ANY networks
Unlimited WhatsApp and WeChat
Unlimited Yonder Music
The promotion is happening now at all Blue Cube and Celcom Centres nationwide until the end of February, and hey - why not also get your friends and family to sign up one of the FIRST Plans to receive a free smartphone and feed their data appetite too? So hurry up and claim the double prosperity from Celcom! For more information, visit their website to check it out.