Celcom awards a total of cash prize RM1 million to the top 10 winners of Celcom Game Hero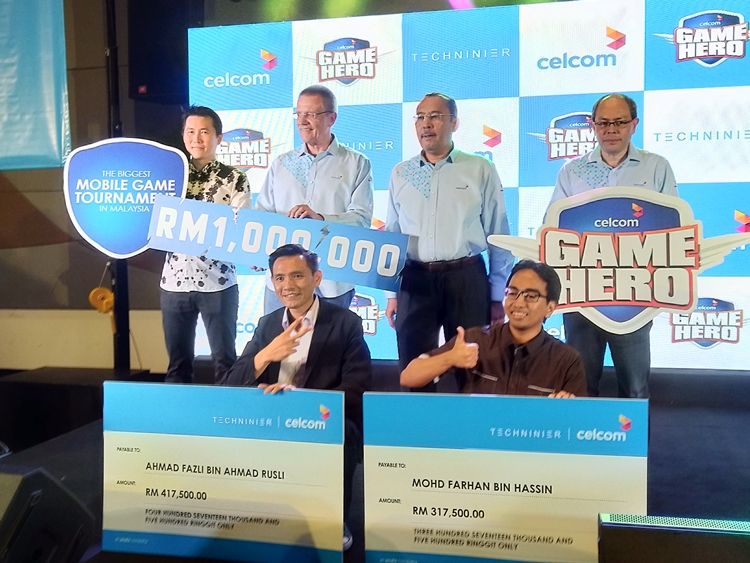 (Top L-R) Dato' Lion Peh, CEO of Techninier; Michael Kuehner, CEO of Celcom Axiata Berhad; YB Dato' Jailani Johari, Deputy Minister of Communication and Multimedia; Azwan Khan Osman Khan, Deputy Chief Executive Officer,
Business Operations of Celcom Axiata Berhad; (Bottom L-R) Admad Fazli Admad Rusli and Mohd Farhan Hassin
Today, Celcom and Techninier are proud to present the winners of their first ever mobile gaming tournament "Celcom Game Hero - Sky Invasion 3D" at Pull Hotel, Bangsar. Two winners, Admad Fazli Admad Rusli and Mohd Farhan Hassin are the two winners, winning RM417,500 and RM317,500 respectively. The rest of the cash prize went to the other eight players who participated at the grand final that took place two days ago.
The Celcom Game Hero prize giving ceremony was graced by YB Dato' Jailani Johari, Deputy Minister of Communication and Multimedia at Pullman Hotel, Bangsar. According to Dato' Lion Peh, Chief Executive Officer of the local game company, he said the game app quickly become one of the Top Trending Apps on the Google Play Store, due to the overwhelming response of more than 300k gamers.
"We have made history with Malaysia with unprecedented response from gamers around the country and we hope this creates the realization for Malaysians that professional gaming with reward-based income is no longer just a pipe dream." he said.
In addition, there was also an ongoing second tournament for Celcom Game Hero with Techninier's Se7en Gear, a 3D arcade racing game within the next four months. Participants and gamers can expect new contents in the coming weeks and will fight for the grand prizes which includes a BMW 3 series, Honda Jazz, Perodua Bezza or cash prize among others.
For more information on Celcom Game Hero's second tournament, kindly visit www.gamehero.my.