Celcom now offers 10% cashback via e-wallet and more for postpaid and prepaid customers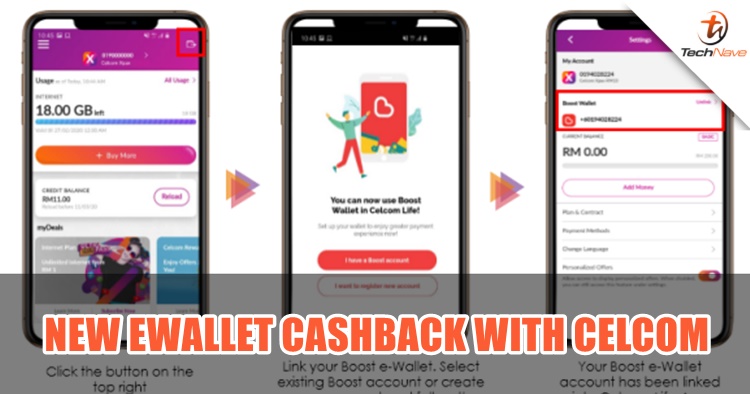 Today, Celcom is introducing a new feature for customers to reload and enjoy some cashback and saving. In-line with the recently announced Economic Stimulus Package, this initiative aims to mitigate the adverse external economic impacts of the COVID-19 outbreak on Malaysia while preserving the welfare of the rakyat. This is applicable for both postpaid and prepaid Celcom users.
The new feature has already begun and will end on 30 June 2020. With the recently announce Celcom MEGA postpaid plan, customers will be able to use its Trade-In feature for their unused Internet quota at the end of each billing cycle for cashback via Boost e-wallet, with 10GB equivalent to RM5 cashback. In addition, they can also enjoy a one-time RM50 credit rebate per account, in the next billing cycle, when they opt for our Auto Billing service. Postpaid consumers who opt for digital monthly bills will be able to save up to RM10 per month of additional charges for printed billing documents.
As for Celcom Xpax prepaid users, they will be able to enjoy 10% cashback when they purchase Celcom Xpax reloads and Internet Reloads RM10 and above via the Celcom Life App. To do this, they just need to follow the steps below: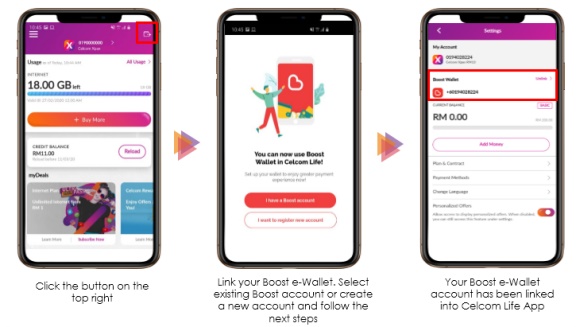 Download and log in to Celcom Life App.

Link Boost e-Wallet via Celcom Life App (see image below)

Select

"Reload"

and choose

"Credit Reload"

or

"Internet Reload".

Select reload amount
i. Credit Reload (RM10, RM30, RM50 or RM100); or


ii. Internet Reload (RM10, RM12, RM19, RM30, RM38, RM50, RM79)

Enjoy 10% cashback in your Boost e-wallet up to RM20 per NRIC/Passport per month
For more information, you may head to celcom.com.my or your nearest Bluecube store to check it out. Stay tuned for more Celcom news at Technave.com.