Comparison: Samsung Galaxy Note 20 series telco plan by Celcom, Digi, Maxis and U Mobile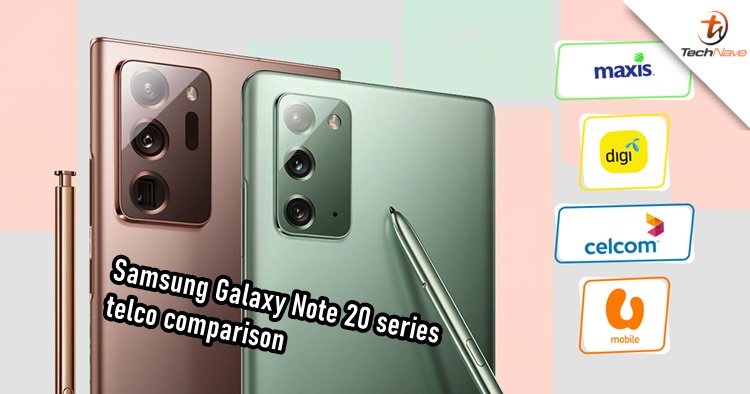 Looking to get yourself a new Samsung Galaxy Note20 or Galaxy Note20 5G Ultra? Don't know which telco package you should take? For all these questions and more, we got you covered. As always, we have explored and listed all the package plans from Celcom, Digi, Maxis and U Mobile so without further ado, here is the Galaxy Note20 5G series telco plan comparison.
Celcom - from RM99/month or RM2198
On the blue telco's website, you can take up either the EasyPhone or Device Bundle plan. On EasyPhone, you can own the Galaxy Note 20 5G from RM99/month with Celcom MEGA Lightning XL plan, whereas the Device Bundle offers the same phone from RM2198 onwards with the same plan. If you are one of the first 50 customers who pre-order the Galaxy Note 20 Ultra 5G online, you will also get to bring home a free Galaxy Buds Live in Mystic Bronze. The Galaxy Note 20 4G is nowhere to be seen.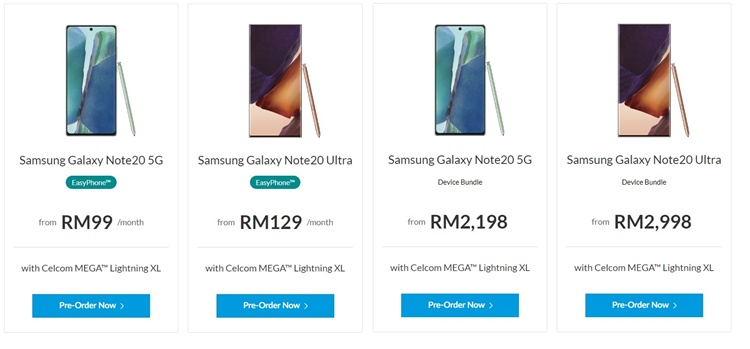 By the way, the Celcom postpaid plans (as well as others) have a ton of Internet data - up to 80GB - so I won't worry of running out at all. The pre-order period is set from 6 to 16 August and will be delivered to you starting from 21 August 2020. There will be a second wave of pre-orders as well between 17 to 20 August 2020. You can find out more details on this webpage.
Digi - RM248/month ALL-IN
Next, Digi is continuing the PhoneFreedom 365 and like Celcom, the Galaxy Note 20 4G is not listed on their website (I'm starting to see a pattern here). Anyway, the only postpaid plans available for the phones are the Digi Postpaid 120, 160 and 190 plan from RM108/month or All-in RM248/month (Phone RM128/month + Plan RM120/month). Pre-order period will end on 20 August and delivery starts the day after.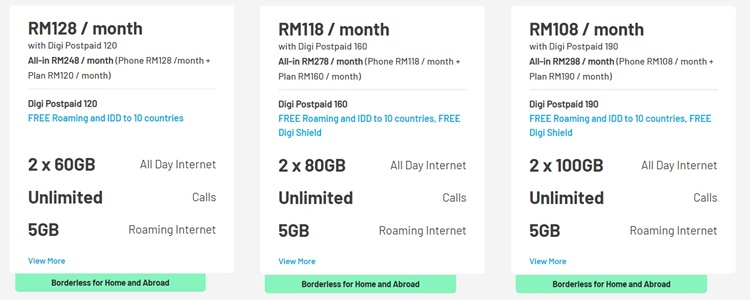 On top of that, the bundle gifts are also available and it's the same as Samsung Malaysia's. Pre-orders of the Galaxy Note 20 Ultra 5G and the Galaxy Note 20 5G will be bundled with a free Galaxy Buds Live and Galaxy Buds+ respectively. It's worth mentioning that there's no upfront payment or interest rate here and Digi is offering a free phone upgrade and the 365 phone protection. To learn more, you can visit their website here.
Maxis - Still 0 upfront payment and 0 interest instalment
Maxis is also offering zero upfront payment and zero-interest instalment on their postpaid plans. On the Zerolution plan, you can get the Galaxy Note 20 5G from RM128/month with Maxis Postpaid 188 with 100GB Internet data. The Galaxy Note 20 Ultra 5G on the same plan is from RM159/month.

If you opt for a normal contract of up to 24 months, the Galaxy Note 20 5G and Galaxy Note 20 Ultra 5G will cost RM2599 and RM3299 respectively. The gifts for pre-ordering either one of the smartphones is the same as the two telcos above and delivery will commence from 21 August 2020. You can visit this link to find out more!
U Mobile - Save up to RM1880 + GoInsure 3 coverage for 1 month
Finally, the usual U Mobile UNLIMITED Hero P99 and P139 plan are available for the Galaxy Note 20 5G and Galaxy Note 20 Ultra 5G (no 4G variant again) for RM2565 and RM3319 respectively. With that price reduction, you get to enjoy savings of up to RM1880 with no upfront payment.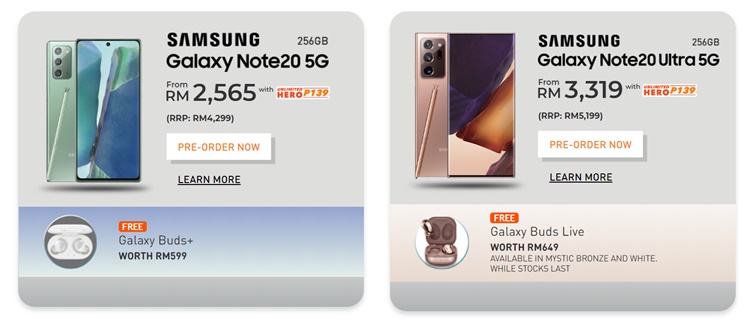 On top of that, getting either one of the postpaid plans will grant you a free GoInsure 3 coverage for the first month. For your information, GoInsure 3 is a Personal Accident (PA) insurance product with COVID-19 coverage for up to RM13000. Nice.
If you're asking us which one is the best, ultimately the choice is up to you based on your preference. You can also use our telco phone plans comparison tool on our website, as well as our news coverage on the Galaxy Note 20 series here to get a better idea. Stay tuned for more local tech deals at TechNave.com.
Samsung Galaxy Note 20 Ultra Specs & Price >