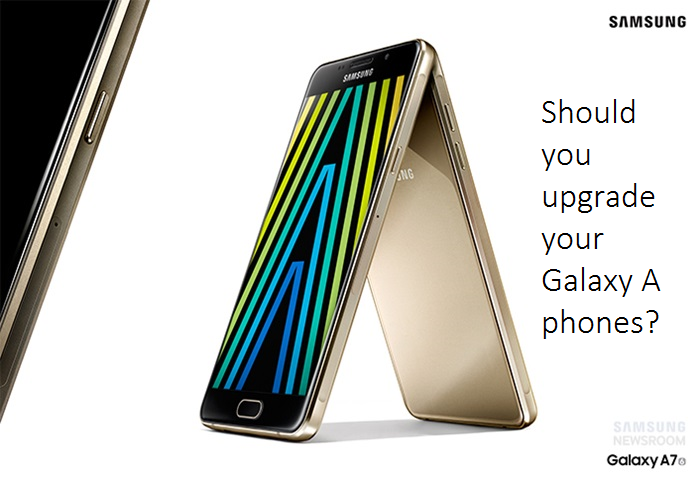 Hey everyone, are you excited for the latest Samsung Galaxy A series (2016) next year? If you happen to have your current Galaxy A model and are not sure if you should upgrade it, we got it covered for you (that's why you're here right?). We will be comparing the difference between the old and new, starting with the Samsung Galaxy A3 (2016) first, Galaxy A5 (2016) and then Galaxy A7 (2016) as the last.
Galaxy A3 vs A3 (2016)
The A3 (2016) is slightly different from its predecessor in some ways, it's definitely bigger (134.5 x 65.2 x 7.3mm vs 130.1 x 65.5 x 6.9mm) and a bit heavier as well (132g vs 110.3g); that also means the screen display is 4.7-inch as compared with the previous 4.5-inch. The CPU is faster too with a quad-core 1.5GHz Cortex-A53 (the older A3 is a quad-core 1.2GHz Cortex-A53), but both run the same Qualcomm MSM8916 Snapdragon 410 + Adreno 306 GPU and 1.5GB RAM.They have the same internal memory of 16GB, but when it comes to extra storage; the A3 (2016) has increased from microSD card support up to 128GB from 64GB.
Battery life is also definitely better, as it's powered by 2300 mAh (up from 1900 mAh) and the same goes to the camera (13MP main camera + 5MP front camera vs 8MP main camera + 5MP front camera, and don't forget the Optical Image Stabilization feature too). Lastly, it's going to carry Android 5.1.1 Lollipop. So with this, I think it's safe to say you should definitely upgrade from your older Galaxy A3 because of the Android OS, better camera features, bigger display and faster processor. Check out the full tech specs comparison using our phone comparison tool.
Galaxy A5 vs A5 (2016)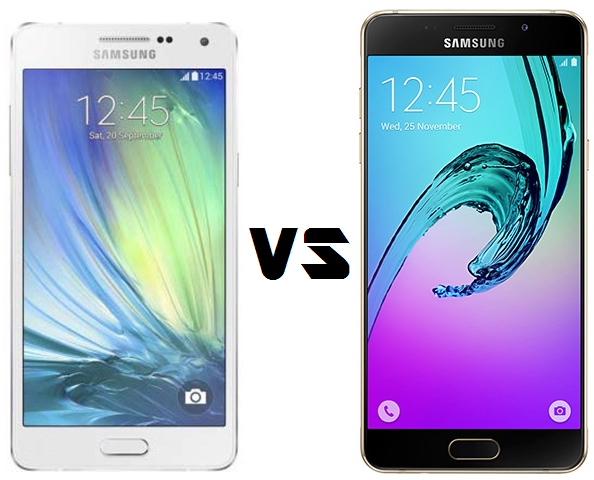 Next is the Galaxy A5 and A5 (2016). Both the devices have the same 2GB RAM, 16GB internal memory and the 13MP main camera + 5MP front camera. However, just like the A3; the key difference here is the processor and battery. The A5 (2016)'s CPU is clearly superior (octa-core 1.6GHz Cortex-A53 vs quad-core 1.2Ghz Cortex-A53), and the battery jumped from 2300 mAh to 2900 mAh. Oh yes, the Android OS is also 5.1.1 too for the A3 (2016).
Other minimal changes are the size of course, the A3 (2016) is slightly bigger. Same goes to the expandable storage (same with A3's case) and it has an upper hand of having a fingerprint sensor, Samsung Pay and OIS too. So yeah, you should upgrade the A5 for the better security and features. For a full tech spec comparison check out our phone comparison tool.
Galaxy A7 vs A7 (2016)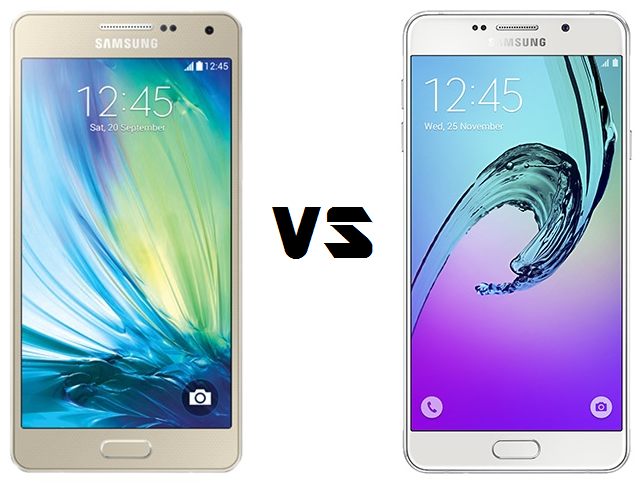 So far so good, it's obvious that the 2016 version should be better than the current Galaxy A7 right? Well, after some comparisons I think that's not quite the case…(ha! just joking). In terms of power, the A7 (2016)'s RAM reigns supreme packing a 3GB RAM, same goes to the processor (well more or less, A7 version is quad-core 1.5GHz Cortex-A53 + quad-core 1.0Ghz Cortex-A53 and the latter is octa-core 1.6GHz Cortex-A53).
Much like the A3 (2016) and A5 (2016), the internal and expandable memory, Android OS, battery are better (3300 mAh vs 2600 mAh), screen display and camera remains the same though but it has OIS, fingerprint sensor and it's heavier too (172g vs 141g!). Check out the full tech spec comparison using our phone comparison tool.
Price and Conclusion
Alright, it seems clear that the Galaxy A series (2016) are harder, better, faster and stronger..however we have not count in the price (take a deep breath). There's no official price tag by Samsung yet, but it doesn't seem to be the case in the Netherlands. It's speculated that the A3 (2016) might cost around €329 (RM1512.49 vs A3's RM826-RM926), and around €399 (RM1834.30 vs A5's RM889-RM989) for the A5 (2016). No speculated price for A7 (2016) though, but it should be much more expensive than the other two.
So in conclusion, you should probably upgrade your Galaxy A series to the latest versions (in a technical point of view). However the price to pay for Samsung's latest device is another matter, but don't get your hopes down because those are just speculated prices; so we suggest perhaps we should just wait for the official word from Samsung themselves and see how it goes.