It's been awhile since we did any smartphone comparisons for fun, and since smartphone brands have been pumping out so many of them in the fourth quarter of the year, we thought it's a good time to compare two devices - the realme 5 Pro vs vivo V17 Pro. But why these two? Well, both of these devices came out in the same week.
Not only that, the realme 5 Pro has a really attractive price for a mid-range device, whereas vivo just went crazy putting on 6 cameras in total on the V17 Pro. Both offer various aspects that are great for certain users. So as usual we'll compare three aspects - design, tech specs, then performance and features. Let's get it started!
Design - Shiny vs Simple
Right off the bat, both the realme 5 Pro and vivo V17 Pro each have their own unique flair of presenting themselves, but let's start with the realme 5 Pro first. It has a pretty cool crystal design coming in Crystal Green and Sparkling Blue. Depending on your angle, the phone can reflect some shiny diamond-ish feel thanks to the nanometer holographic colour with texture pattern.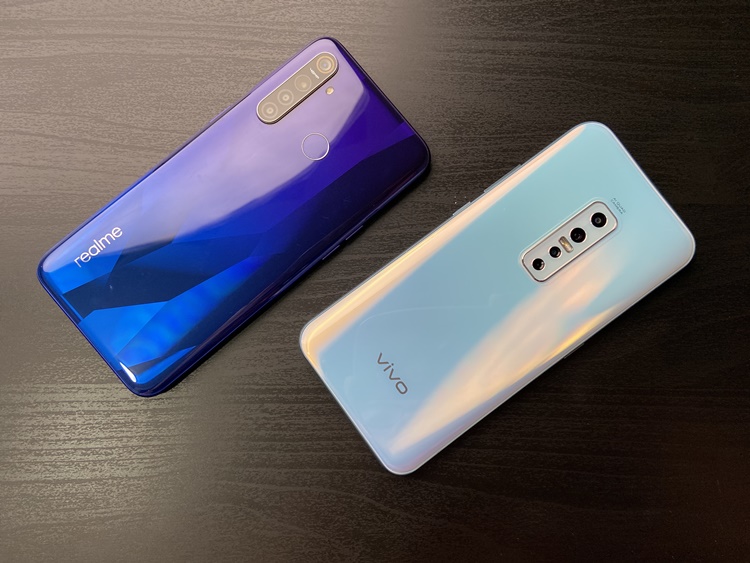 realme 5 Pro (left) and vivo V17 Pro (right)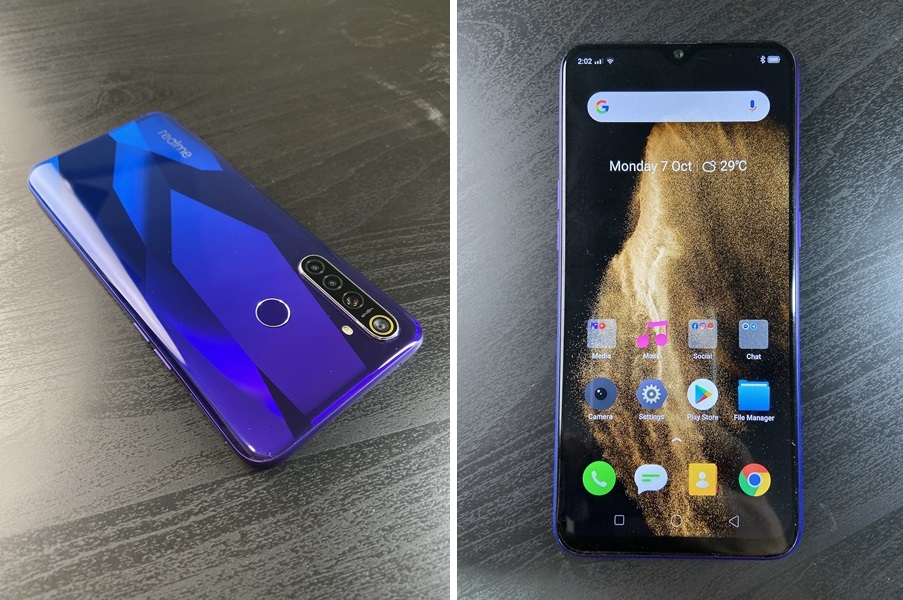 The back and front of the realme 5 Pro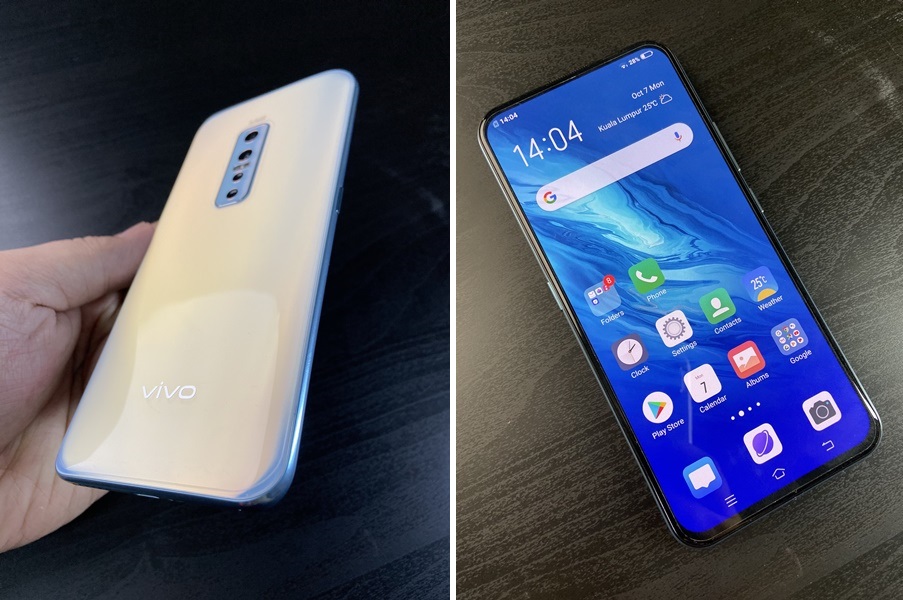 The vivo V17 Pro's back and front design
On the other hand, the vivo V17 Pro goes for a shiny minimalist design in Knight Black and Crystal White. The Crystal White in particular 'changes' it's colour in shades of blue and white like a crystal chameleon so that's cool too.
Tech specs - Mid-range battle
Now onto the tech specs, both phones are in the mid-range category. The realme 5 Pro and vivo V17 Pro sport Qualcomm Snapdragon 712 and Snapdragon 675 chipsets respectively, and it doesn't take a rocket scientist to know that the higher the number, the better the chipset is (on paper). Furthermore, the SD 712 SoC is just 10nm in size as opposed to the latter (11nm) so it technically has a better battery efficiency.
Besides that, the other tech specs don't differ from each other that much. Both have similar memory capacity (8GB + 128GB), but only the realme 5 Pro has an expandable memory up to 256GB via a dedicated microSD card. The battery capacity is also quite close, coming in at 4035mAh and 4100mAh respectively.
A closer look at the quad rear camera setup
The quad rear camera setup is almost exactly the same too, at least in resolutions, as the realme 5 pro sports a Sony IMX 586 48MP (main) + 8MP (super-wide) + 2MP (portrait/depth) + 2MP (macro) module with all the typical AI modes for camera enthusiasts. The front camera is a different story, though, as the realme 5 Pro has a 16MP front camera but the V17 Pro offers an Elevating Dual Front camera (32MP + 8MP super-wide) setup
Performance and features - The camera performance is more or less the same
Continuing on the camera arsenal, even though both phones have the same quad rear camera setup, but what about photos? Well, we have taken the liberty to snap some photos. Personally, the photos from both phones are nice so it all comes down to preference. You can check them out below.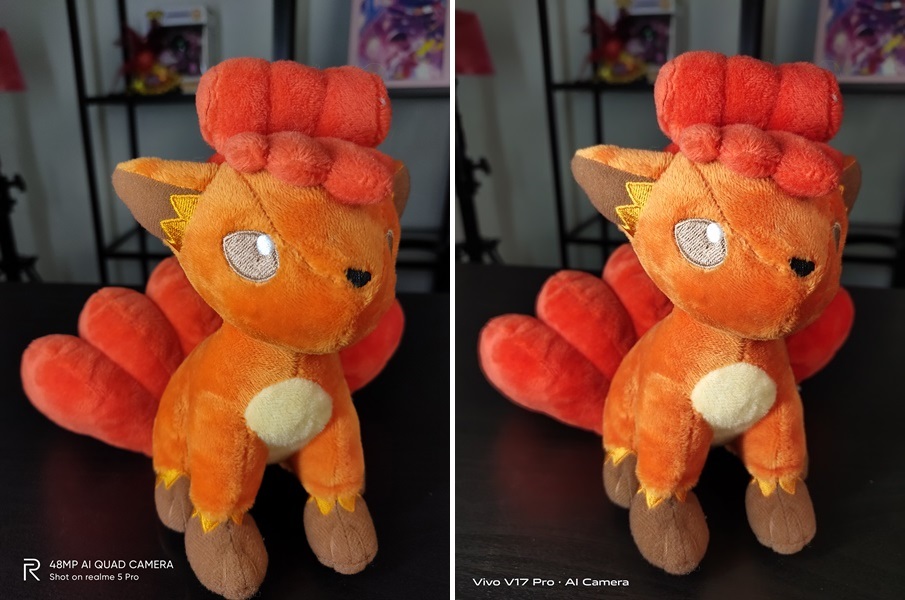 48MP photo mode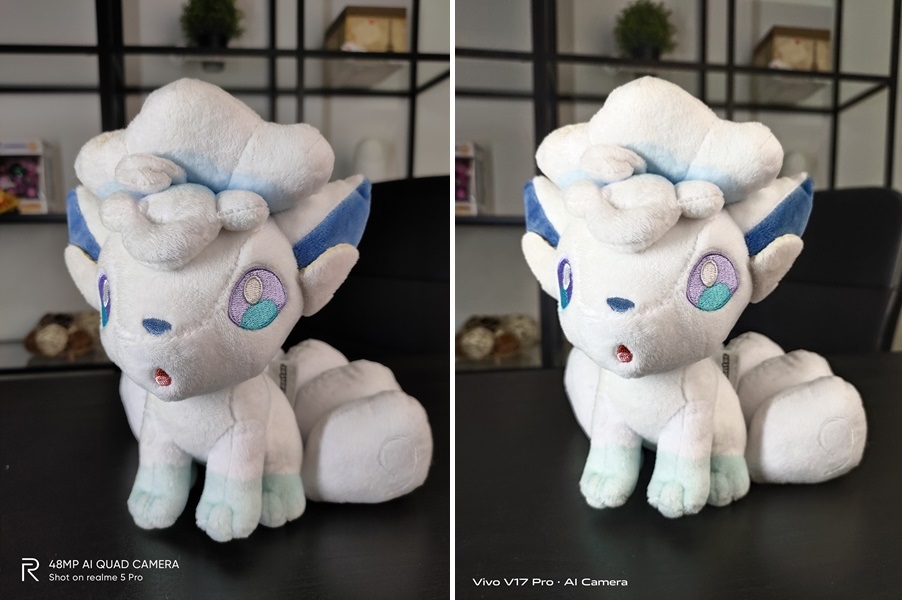 Main camera photo sample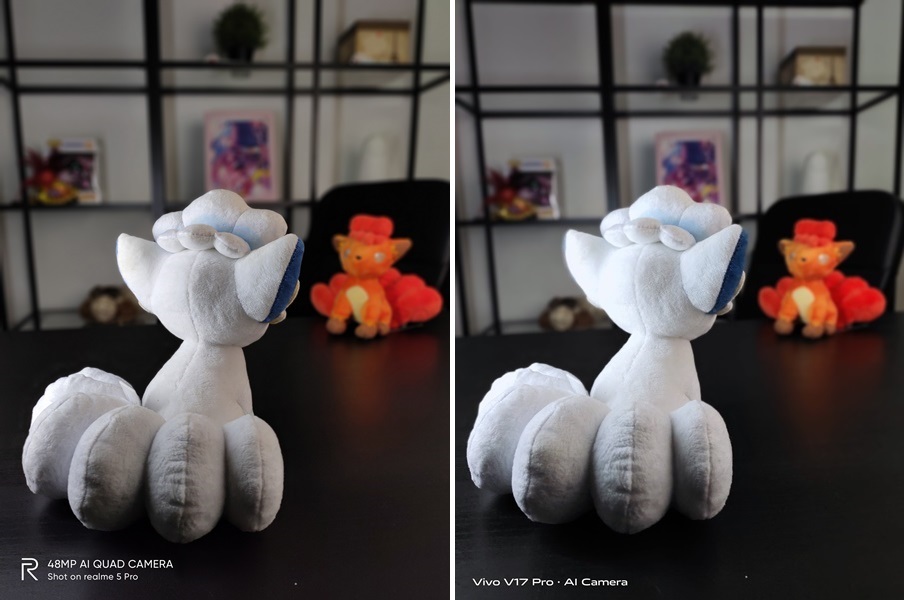 Portrait mode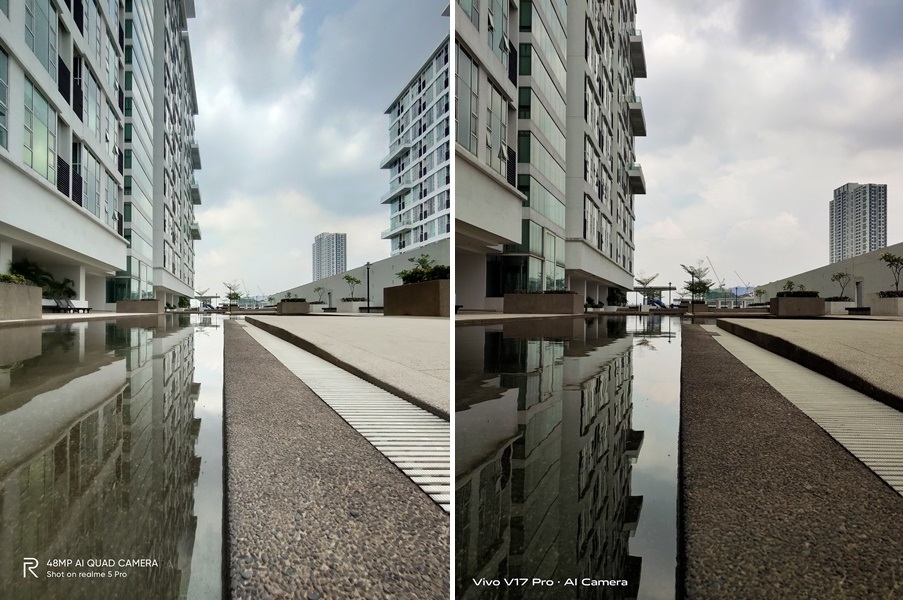 Super-wide angle mode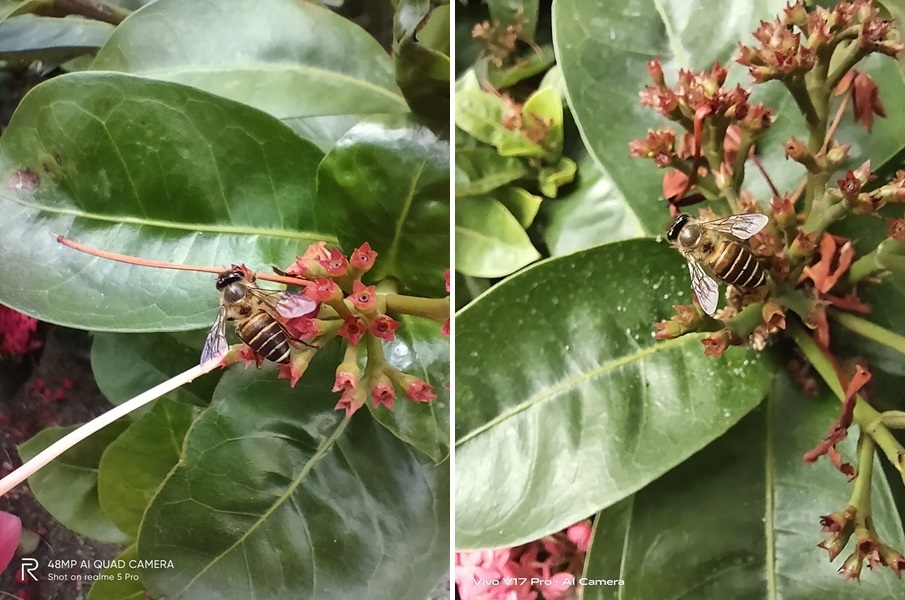 Macro mode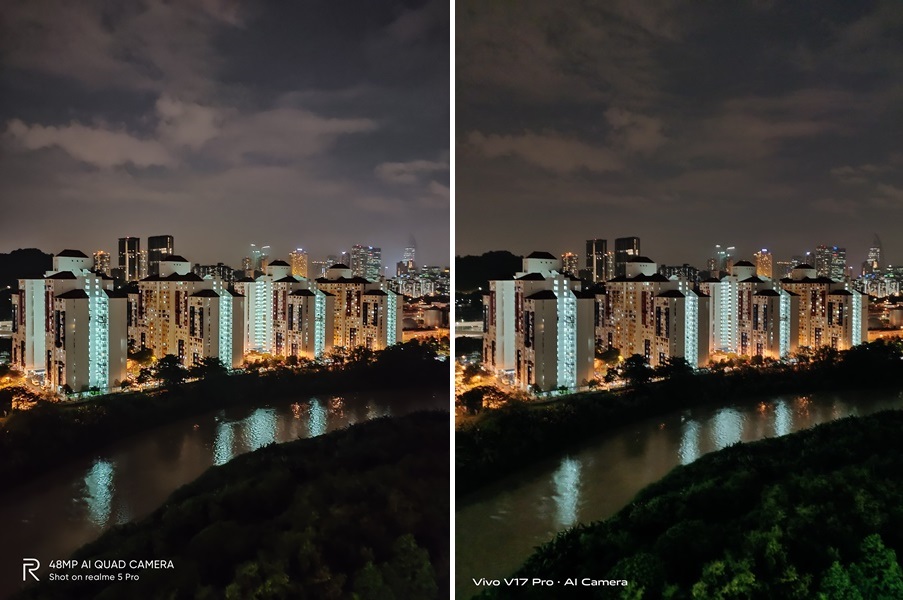 Night mode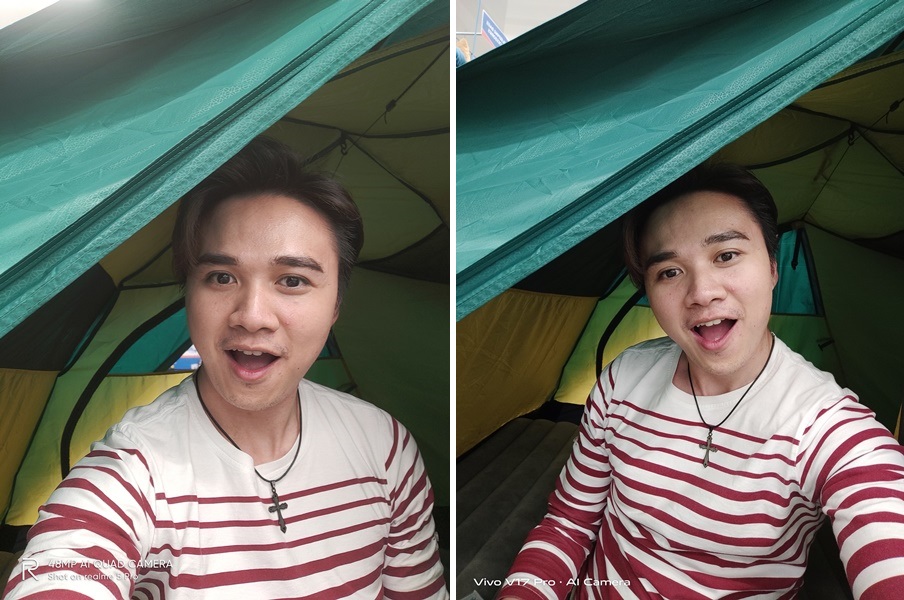 Selfie with beauty mode turned off
It's also worth mentioning that the V17 Pro has a pop-up dual front camera which allows the phone to have a fullscreen experience measuring up to 6.44-inches and it's using a Super AMOLED display. The realme 5 Pro is just using a 6.3-inch IPS LCD dew-drop display but at least the resolution is still in FHD+.
There is one thing that the realme 5 Pro has that the V17 Pro doesn't, though - a splash-resistant body. Although there's no IP rating mentioned, we think it's probably IP5X as it's marketed as splash-proof.
In other features, the realme 5 Pro's fingerprint reader is placed behind while the V17 Pro uses an in-display fingerprint reader. Both support fast-charging capabilities (20W VOOC Flash Charge 3.0 for the realme 5 pro and 18W Dual-Engine Fast Charging for the vivo V17 Pro), as well as having game optimizer software (HyperBoost 2.0 and Multi-Turbo) for smoother gaming.
Price and conclusion - RM600 difference but each is great value
So that's our tech specs comparison between the realme 5 Pro and vivo V17 Pro. Both have some advantages over each other in some ways, but we haven't counted in the price tags yet. As of October, the realme 5 Pro just costs RM1099 only, whereas the latter stands at RM1699.
With an RM600 difference, the realme 5 Pro would most likely win the hearts of budget-friendly seekers but if you're looking for something more premium, such as the Super AMOLED fullscreen which is a big plus there, then the V17 Pro is a great choice as well. Either way, it really depends on your needs and preferences.
BUT what do you folks think? Which smartphone do you prefer? Let us know in the comments below and if you want to compare more devices, you can use our comparison tool on our website for your convenience. Stay tuned for more fun comparison articles at TechNave.com!