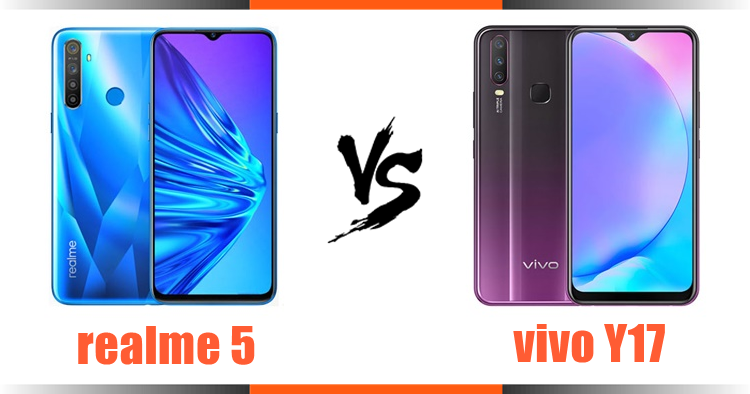 Just a few days ago, we posted a realme 5 Pro vs vivo V17 Pro showdown and many of you seemed to like it. We are back with round 2 but this time, where we will be comparing the realme 5 and the vivo Y17. The reason why we picked these two is that both are at the same price point of RM799 featuring similar tech specs.
So which of these two budget-friendly smartphones is for you? As usual, we will compare the three aspects of design, tech specs, then performance and features. Let's start.
Design - Do you prefer a crystal or gradient effect?
Just like the pro variant, the realme 5 has the same nano holographic colour texture on its body but minus the gradient effect. It comes in two simple colours - Crystal Purple and Crystal Blue so even as a budget-friendly phone, it looks pretty stylish.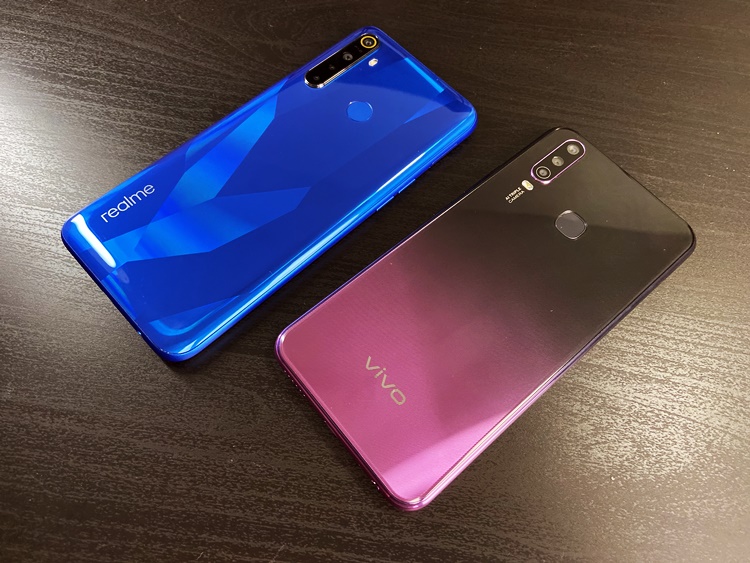 Two distinct designs - one Crystal (left) and one in Gradient (right)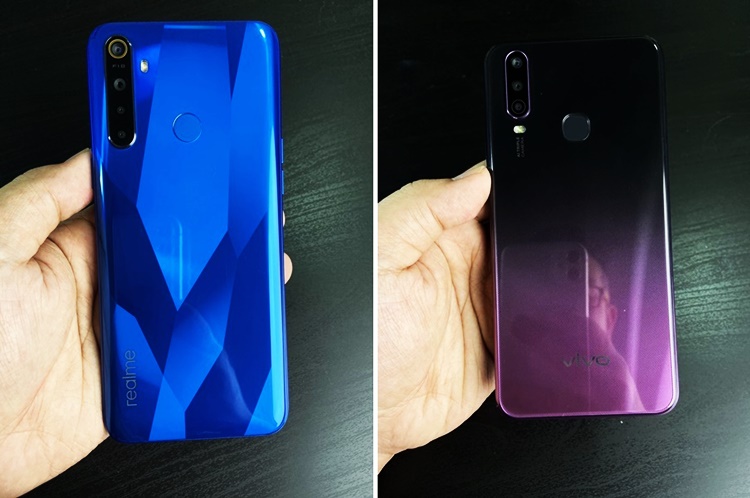 Both are quite good looking
The realme 5 is slightly longer than the vivo Y17, measuring at 6.5-inches and 6.35-inches respectively
The vivo Y17 isn't so bad either, it also comes with the same number of colour variations (Mystic Purple and Mineral Blue) and has a nice gradient combo with black and we particularly like the Mystic Purple version. Besides that, the two devices are very similar when looking from the front.
Tech specs - 4 vs 3 rear cameras
Since we are comparing the RM799 model, both devices have some slight differences here and there. For the memory configuration, the realme 5 sports 4GB + 128GB (expandable up to 256GB) worth of memory, powered by an octa-core Qualcomm Snapdragon 665 AIE chipset. The vivo Y17 is at 4GB + 64GB memory capacity, powered by a MediaTek Helio P35 chipset. Both have the same 5000mAh battery pack.
In the camera corner, the realme 5 has a 12MP + 8MP + 2MP + 2MP quad rear camera. Why so many? Well, each has a distinct function. The 12MP is the main sensor, followed by an ultra-wide (119°), portrait and macro lens so you can take normal shots, go wide-angle, take bokeh or blurry portrait shot or close-up with the macro. The front-facing camera is 13MP for selfies.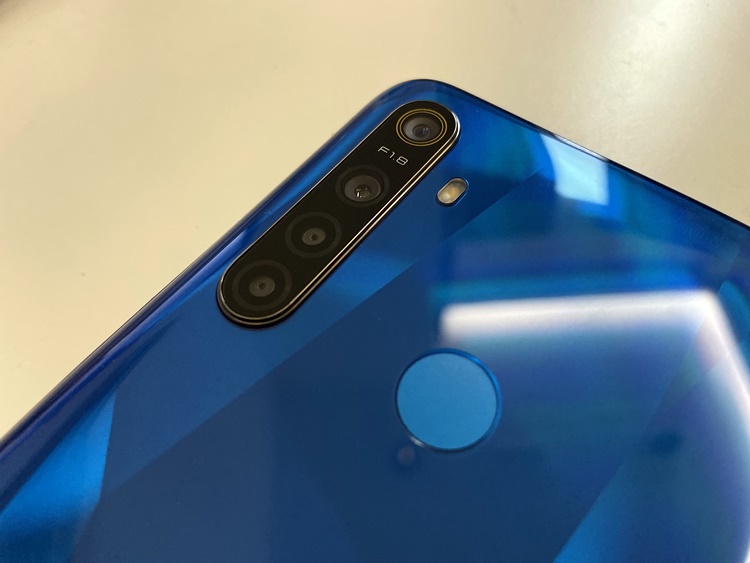 The realme 5 quad rear camera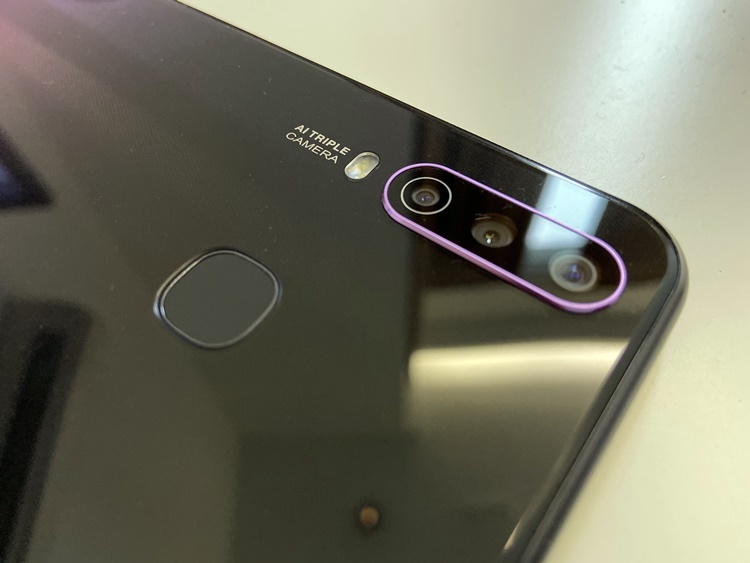 The vivo Y17 triple rear camera
On the other hand, the Y17 only has a 13MP (main) + 8MP (super-wide, 120°) + 2MP (depth) triple rear camera. It may miss out a macro lens, but for the trade-off, it uses a much higher 20MP front-facing camera, which is better for the selfie-lovers out there. If you're wondering how good the photo quality is, continue below!
Performance and features - A few more extras
From our photo shooting spree, both the realme 5 and vivo Y17 did their job well. But, we noticed that the realme 5 colours tend to have a warmer colour compared to the latter, which isn't a bad thing. It all comes down to preference, however, the realme 5 has an extra edge thanks to the macro lens as well as a nightscape mode which the Y17 doesn't have. Check out the photos we took below.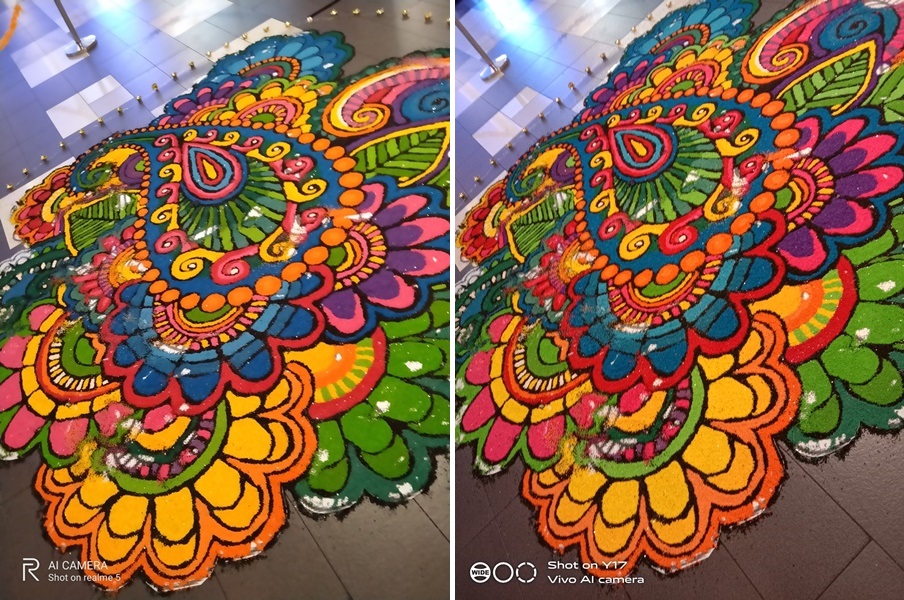 Main camera shot - it's quite difficult to tell what's the difference here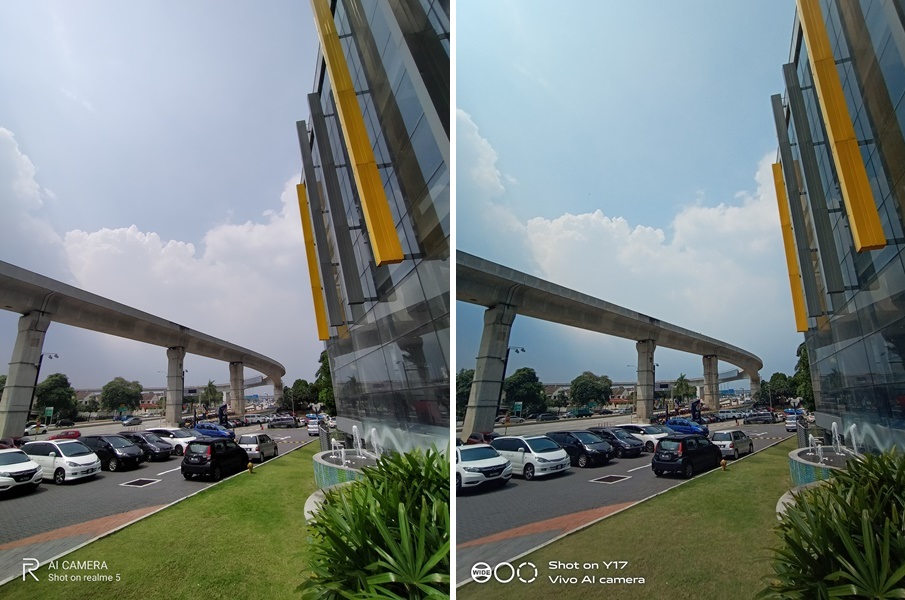 Super-wide angle shot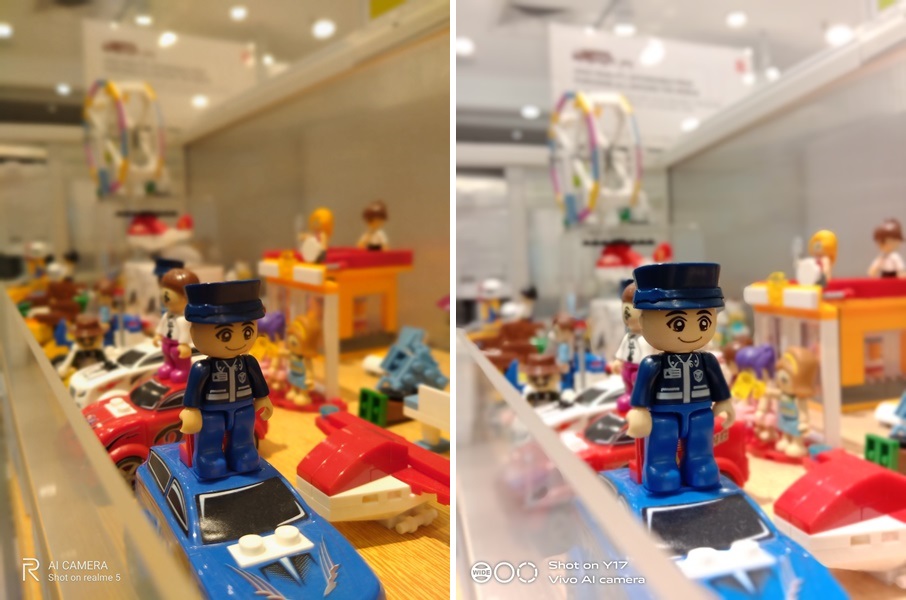 Portrait vs Depth mode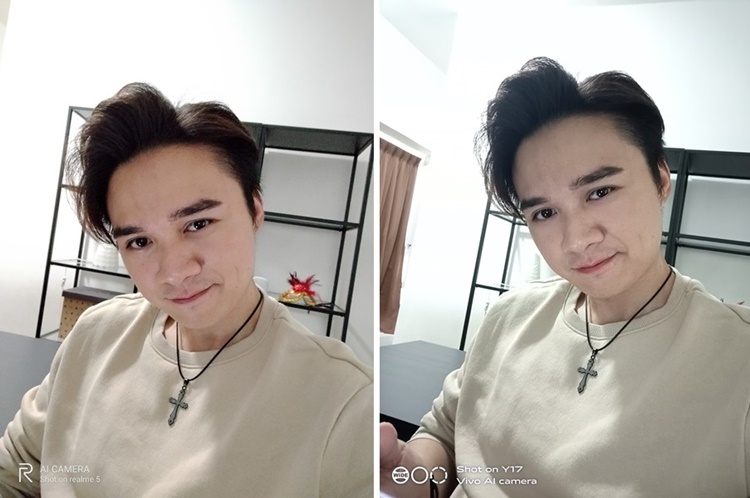 Selfie mode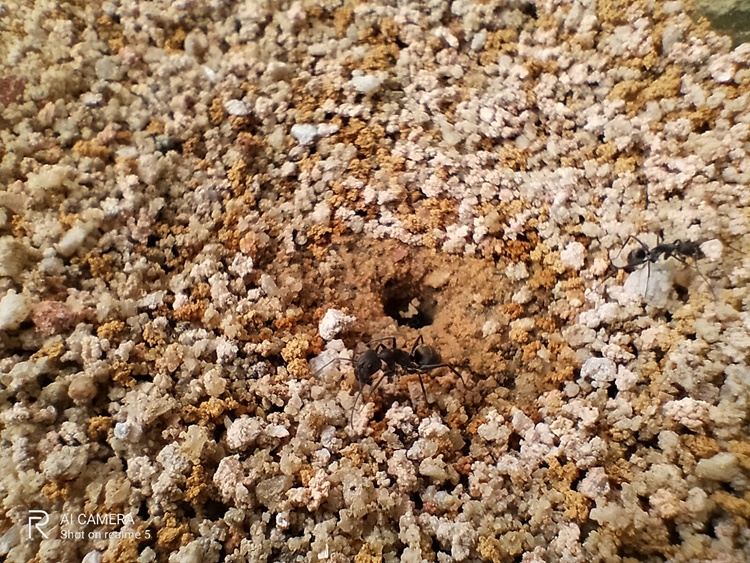 Bonus - the macro mode from the realme 5
As for features, both have a rear fingerprint sensor and game optimizer software (Game Space and Ultra Game mode). However, much like the realme 5 Pro - the realme 5 also has a splash-resistant design that can protect itself from any liquid spill. Regardless, the Y17 has a dual-engine fast charging technology so that's nice too.
Lastly, it should be mentioned that the Snapdragon 665 AIE chipset is superior to the Helio P35 chipset. But if you're thinking of playing graphics intensive games such as Asphalt 9 or COD Mobile, while you can, it will be at the lowest settings.
Price and conclusion - Depends on what features you need
At the price of RM799, the realme 5 and vivo Y17 are quite similar in some ways, yet offer consumers different features such as more camera mode options, splash-resistant design or the aforementioned dual-engine fast charging technology.
That said, if you're the type that would like to have more camera mode options, then you should probably go for the realme 5. Those who would like a faster-charging capability and don't game much can opt for the Y17. The choice is yours.
BUT which smartphone do you prefer and why? Let us know in the comments and just so you know, you can get the realme 5 on Lazada on the 17 October 2019, as well as the vivo Y17 on its Lazada platform.
If you want to compare more devices, you can use our comparison tool on our website for your convenience. Stay tuned for more fun comparison articles at TechNave.com and let us know if there's anything in particular you'd like us to compare!