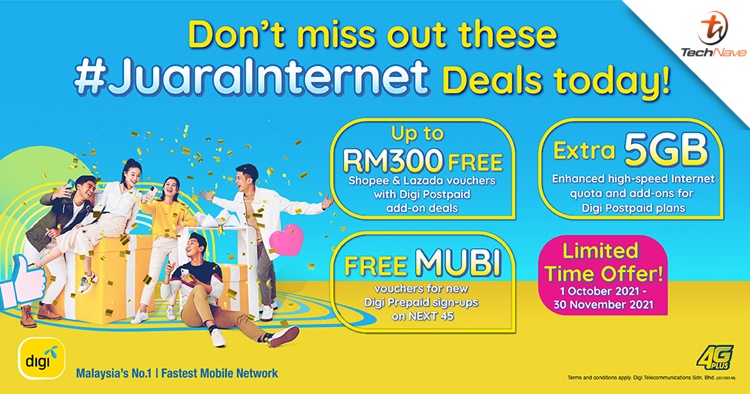 Given the recent mobile network report by Opensignal, Digi is celebrating its achievement as Malaysia's fastest download speed mobile network by launching a new #JuaraInternet Deals promotion. The promotion is included across postpaid, prepaid and fibre plans.
From 1 October until 30 November 2021, customers can enjoy up to RM300 worth of free Shopee and Lazada vouchers when they sign up or upgrade to qualifying Digi Postpaid plans as well as opting-in for a 12-month SIM-only contract with the Bill Rebate add-on feature. This will allow customers to get monthly rebates between RM10 to RM25 when they purchase Shopee and Lazada vouchers offered in the MyDigi Shop in the MyDigi app.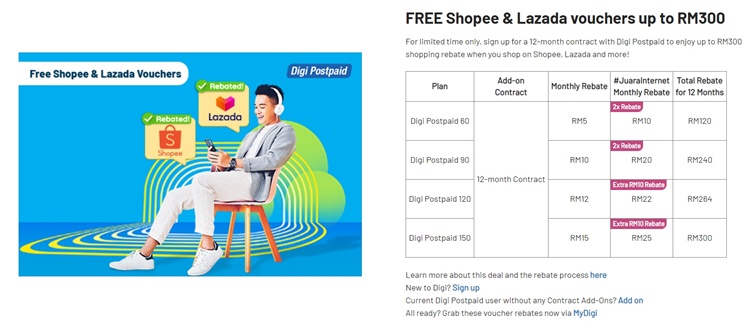 On top of that, signing up or upgrading can receive an extra 5GB of internet data. Digi Postpaid 150 customers who opt-in for a 12-month SIM-only contract can choose to get unlimited Internet for free for 12 months. Finally, Digi Postpaid 40 subscribers can double their base quota of 10GB high-speed Internet to 20GB, by just adding RM5/month to their plan's RM40 monthly commitment by doing the same.
For Digi Prepaid customers, those who sign up or upgrade to Digi Prepaid NEXT 45 will be eligible to receive a FREE 30-day MUBI Premium pass worth RM10. The pass is redeemable via the MyDigi app for the first 100,000 sign-ups. There is also a limited time offer of RM5 for 5GB (normal price RM5 for 3GB) when they choose to top-up their Internet during this promotion period.
Last but not least, the recent Digi JomFibre promotion offers customers at a bargain with savings of RM1,200 when they sign up for the Digi Fibre 150 at a limited time offer price of RM100 per month for 300Mbps. Customers will also receive a FREE RM150 Samsung Smart Monitor voucher.
For more information on Digi #JuaraInternet Deals, please visit digi.my/juarainternet. Stay tuned for more trending tech news at TechNave.com.