GoPro Hero 9 global release: Full-colour front LCD, 5K video, and voice commands for RM2099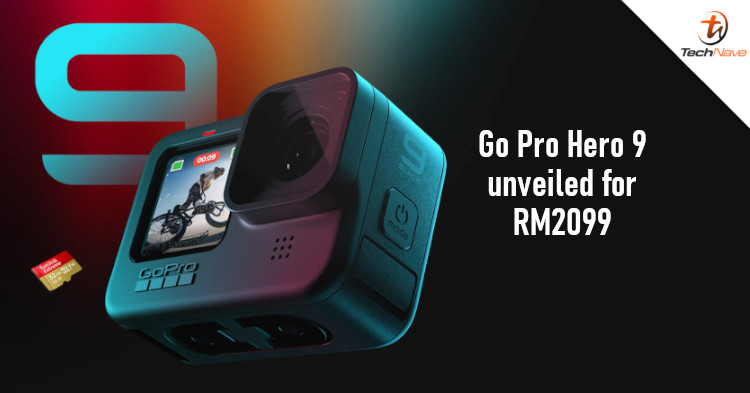 Update: Pricing of the GoPro Hero 9 in Malaysia confirmed to be RM2099.
If you recall, there was a leak back in July that showed the casing of the new GoPro camera. It revealed a cut-out for the LCD screen that was larger than those found in previous models. Now, the company has officially launched the GoPro Hero 9 and it has a larger full-colour LCD screen as many suggested.
The GoPro Hero 9 Black features a new sensor capable of delivering 20MP still shots and 5K videos. It has a 1.4-inch full-colour LCD screen at the front, while the back LCD screen is a 2.27-inch touch display with zoom. Besides that, the battery life for the new model is estimated to be 30% more than the GoPro Hero 8. The GoPro Hero 9 is going to be available globally for USD449.99 (~RM1864) or USD349.98 (~RM1450), if you grab the one-year subscription to GoPro (USD49.99, ~RM207).
As for extra design features, the new model also has a removable lens cover, three microphones with advanced wind-noise reduction, and a larger speaker that promises better audio. Besides that, the camera is waterproofed for up to 10 metres, so you can bring it into a pool with no issue. It also now supports voice commands in 11 languages, neat!
The authorised local dealer for GoPro doesn't seem to have the Hero 9 yet, but you could visit the official website for more details. With that said, are you interested in this new action camera? Let us know in the comments below and stay tuned to TechNave for more news like this.