Google Home, Chromecast Ultra and Google WiFi ready to hit the selves this year

(left to right) Google Pixel, Google WiFi, Google Home and Chromecast Ultra
As the new Google Pixel series was just announced a few hours ago, Google also showcased other products namely Google Home, Chromecast Ultra, and Google WiFi. Let's check out what the products offer below!
Google Home
First revealed at the I/0 2016 event back in May, the Google Home is a hands-free device that's meant for putting it at your home (hence the name), with Google Assistant integrated inside the system, it can assist you with various tasks such as playing any song you want to hear with precise volume control, entertainment, controlling other IoT/Chromecast devices, and even arrange appointments without having the touch your smartphone.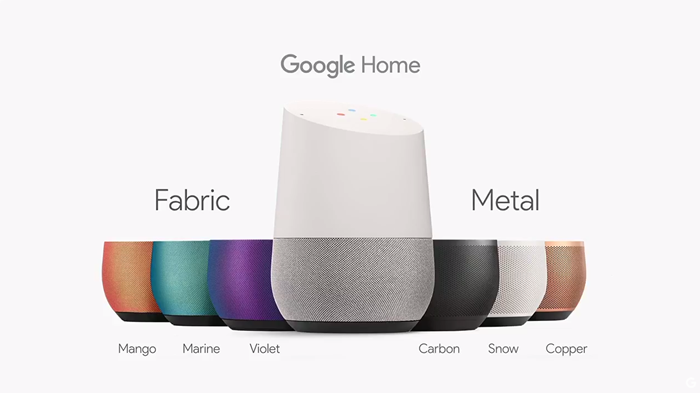 Design-wise, it has not changed much since its introduction, but it was announced that owners can optionally change the bottom half speaker with a different colour material in either fabric or metal, as displayed in the image above. To recap the top half functionalities, it retains a diagonal face with four LEDs Google lights in red, blue, green and yellow; what's more, it also acts as a capacitive touch panel for manual control. There's even a button behind Home for turning off the microphone and disable "always listening".
Available now for $129 (around RM533), it will be available in Google Store on 4 November with pre-orders starting today in the USA.
Chromecast Ultra
Chromecast Ultra, is an updated Google device product that now supports 4K streaming services from YouTube, other partner apps such as Netflix and Google Play Movies, HDR and Dolby Vision are also supported, and smartphones that record video at that quality. It can load 1.8 times faster.
The design is fairly simple, with the previous streaming dongles dropped in favour of the Google Cast, the "G" logo is the same as the Google Pixel and Pixel XL, and the USB port is at the bottom for power with a physical button, along with an indicator light on the right side, and an attach HDMI cable that magnetically sticks to the backside when unplugged.
The price tag is $69 (around RM285) and it will be available in November on the Google Store and at other retailers, in the USA.

Google WiFi
Last but not least, the Google WiFi which was also revealed at the I/O 2016 event, made its appearance as the new option for the OnHub. Priced at $129 a piece (around RM534) or $299 (around RM948) for a 3-pack, the Google WiFi can create a larger "mesh network" around your home environment with multiple access points easy to create, resulting in a stronger network.
Owners can use their smartphone to control the device, "pausing access" for certain users. The company even went on to claim that a single Google WiFi router is stronger than most standard consumer-grade routers.
Pre-order will start in November, customers (presumably American citizens) can also join the wait list on the Google Store page.