HP TouchPad Review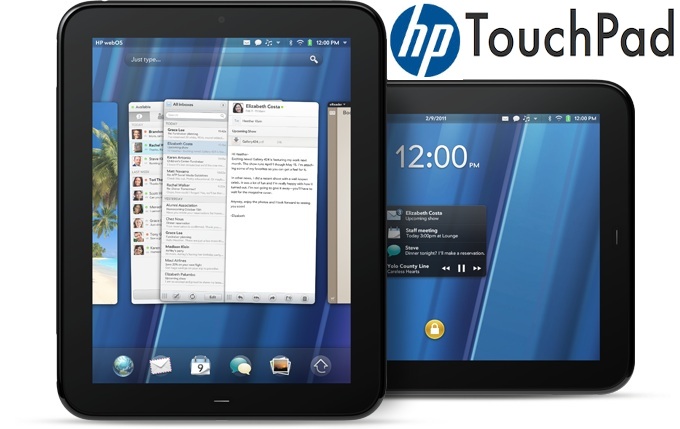 Now, the world's largest PC maker, Hewlett-Packard, is entering the fray. It will start selling the HP TouchPad, a 10-inch tablet with a slick, distinctive software interface. I've been testing the TouchPad for about a week and, in my view, despite its attractive and different user interface, this first version is simply no match for the iPad. It suffers from poor battery life, a paucity of apps and other deficits. The TouchPad comes in two versions, with 16 or 32 gigabytes of storage and, at launch, offers only Wi-Fi connectivity, though a model with a cellular data option is planned.
HP TouchPad - UI:

Instead of a screen full of app icons, the main screen of the TouchPad's operating system, called webOS, presents running apps as "cards"—large, live rectangles that you scroll through in a horizontal row. When you tap a card, it fills the screen and is ready to use. To minimize it, you just swipe up on the bezel surrounding the screen. A second swipe takes you to a screen from which you can launch or download a new app. To get rid of a card, you just flick it upward, and it disappears. Multiple cards can run in the background.

And these cards are clever. For instance, the contacts and photo cards combine both local and online content, from sources like Google and Facebook; and cards with related functions, like an email message and an attachment you've opened, are stacked atop one another. You can make Skype video and audio calls directly from the messaging apps. And if you buy a forthcoming H-P webOS smartphone, you can link it to the tablet wirelessly, and send and receive voice calls and text messages from the tablet, or transfer a Web page from the phone by tapping the phone on the tablet.
HP TouchPad - Hardware:

But the tablet's hardware is bulbous and heavy compared with the iPad 2 or the svelte Samsung Galaxy Tab 10.1, an Android tablet. Worse, it's missing some key features common on the other tablets, like a rear camera or even a camera app for taking videos and still pictures. It has a front camera that can be used only for video chats.
HP TouchPad - Battery:

I found the TouchPad's battery life was only 60% that of the iPad 2. In my standard tablet battery test, where I set the screen brightness to 75%, keep the Wi-Fi connection active and play local videos back to back, the TouchPad lasted just 6 hours and 5 minutes, compared with 10 hours and 9 minutes for the iPad 2. H-P claims 9 hours of continuous video playback, but that's with Wi-Fi turned off. In mixed use, battery life was decent.
HP TouchPad - Apps:

When H-P bought webOS a year ago this week as part of its purchase of the system's inventor, Palm, one hope was that the giant company's clout would attract lots of apps to the platform. But the TouchPad will launch with just 300 tablet-optimized apps and only 6,200 webOS apps overall, most written for phones and only 70% of which can run on the tablet, in a small, phone-size window that can't be expanded.

HP TouchPad - Glitches:

I also ran into plenty of bugs in my tests. For instance, on various occasions, the email app failed to display the contents of messages, the photos app failed to display pictures, and the game "Angry Birds" crashed repeatedly. All of these problems required a reboot of the device to resolve. In addition, I found the TouchPad grew sluggish the more I used it. Again, a reboot was needed to restore normal speed.
HP TouchPad - Browsing and Skype:

The Web browser generally worked well, but Flash was uneven. Most Flash videos played fine, but some froze or stuttered badly, even on a fast Internet connection. A site written entirely in Flash wouldn't even load. After a few false starts in my tests, Skype video worked well. I even conducted a smooth 50-minute TouchPad-to-TouchPad video call with my friend.

HP TouchPad - Keyboard:

The keyboard has five rows instead of the four on the iPad, which spares you from the iPad's tedious switching of keyboard layouts to, say, type numbers or exclamation points. And you can shrink or enlarge the keyboard, a nice touch.

However, the TouchPad's auto-correct didn't insert the apostrophe in some common words, such as "don't" and "won't," slowing me down, and it lacks the common feature that inserts a period when you hit the space bar twice, a feature I missed constantly. Also, I found it much harder to correct words, because there is no magnifying glass or similar effect to help you precisely place the cursor.
HP TouchPad - Other Features:

Despite these problems, in many ways the TouchPad is a joy to use. Its new version of the operating system, webOS 3, was rebuilt with tablets in mind. For instance, the email app, which can combine numerous accounts, has three sliding panels—one listing accounts and mailboxes, another listing message headers and short previews and the last containing an email's contents.

Wireless printing is built-in and worked well in my tests. The universal search function, called Just Type, works with just about every feature and app on the TouchPad. You can even type in a status message and send it to Facebook. Notifications and common settings like Wi-Fi connections are handled discreetly and easily accessed via drop-down icons at the top of the screen.
Conclusion:

The HP TouchPad is up against some serious challengers in its bid to become the titan of tablets. It has some mighty weapons at its disposal, in the form of an attractive user interface, top-notch speakers, and a cracking Web browser. But it will suffer some mortal wounds due to its lack of apps, poor battery life, chubby plastic case and occasionally flaky software.
If you're not keen on apps and would rather stick to surfing the Web, the TouchPad could be a contender, thanks to its well-designed interface. But, if you're willing to get to grips with Android's more complicated interface, most Honeycomb tablets have more potential to thrill. For sheer design quality and app selection, the wafer-thin iPad 2 comes out on top.
HP TouchPad Specs & Price >