Here's a list of the best affordable laptops and tablets to get for students (with a discount)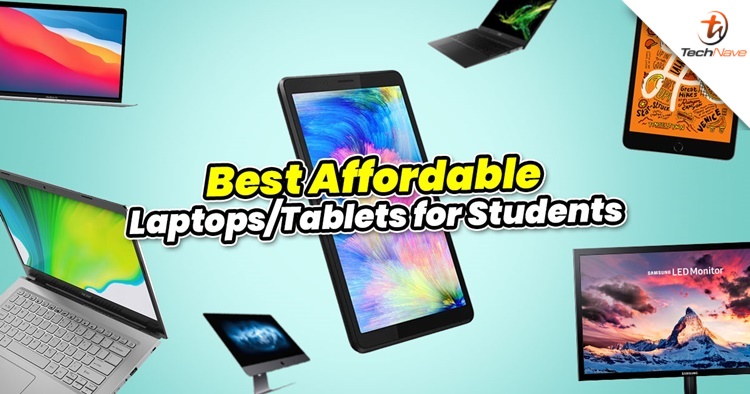 The recently extended MCO is a sign that things won't be going back to normal anytime soon. Most people are getting their own laptops or tablets for work, education and entertainment at home. Schools also won't be reopening soon and, whether you like it or not, online classes are the norm now. However, the issue is that some people can only afford a mid-range laptop or tablet.
Like smartphones, some laptops and tablets can be quite expensive. But you don't need an RM3K device just for your kid to do online classes, as there are some laptops and tablets at affordable prices. For example, you can get a Chromebook laptop for around RM400. Sounds good, right? You can check out the rest of the devices with special discounts for students right below!
Acer

Under a government initiative, the Ministry of Higher Education collaborated with Acer to bring the Acer Student Purchase Program. This program offers discounts for new laptops ranging from 5% to 7%, with prices set between RM1599 to RM2799. You can visit the program's official website or view the specs and price of the laptops below.
Samsung
Besides Acer, the government is also working with Samsung Malaysia on special discounts. In the Samsung Education Store, you can get various gadgets that cater to online learning needs such as tablets or monitors, with discounts from 15%. You can also get a new smartphone at a student price! By the way, you may need to read the terms and conditions first before purchasing. Below are our two picks for a decent monitor and tablet for students.
Apple
Apple also has an Apple Education Store that's geared towards students of higher institution. Depending on your needs, you can get some Mac products from RM3959 or an iPad at RM1369. Plus, several other products such as the iPad Air, mini iPad or MacBook Pro are available at a student price.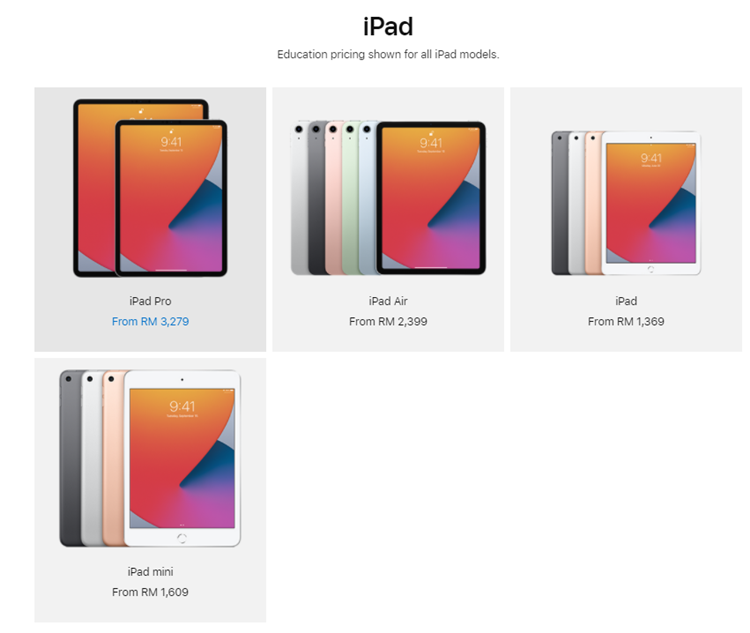 By the way, there is an Apple Music Student Plan that comes with an Apple TV+ for free. It even comes with the Pro Apps Bundle (for RM799), which consists of software for college students, teachers and education institutions. This includes Final Cut Pro, Motion, Compressor, Logic Pro and MainStage. You may visit the website for more information.
Lenovo
Last but not least is Lenovo. While Lenovo Malaysia doesn't have a similar government collaboration, it does offer student prices for their laptops. Parents, educational staff and students can get a 5% discount on the Lenovo Education Store too.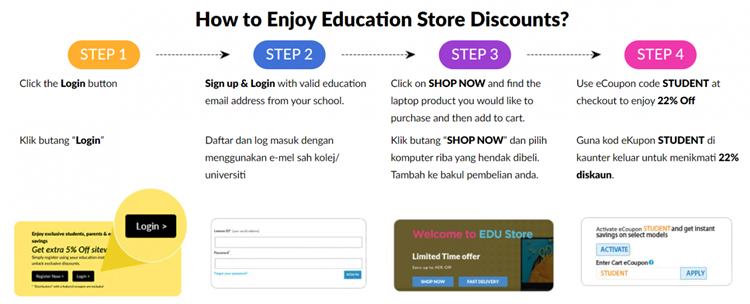 But if you are really a student, you can get a discount of up to 22% for Lenovo products using the eKupon code "STUDENT". Recently, there is also a discount for students going to school under the voucher code "EDUSPECIAL". For more information, you can view the official Lenovo Education Store website here.
So that's what we have found online so far. Should there be more offerings for students, we will update this article from time to time. You can find out more about data plans and devices for students of higher education institutions over here. If you want to find a laptop at your preferred budget, you can use our search engine tool.