Honor 6 Plus review - Flat, thin, and feature-filled phablet with more than 3 day battery life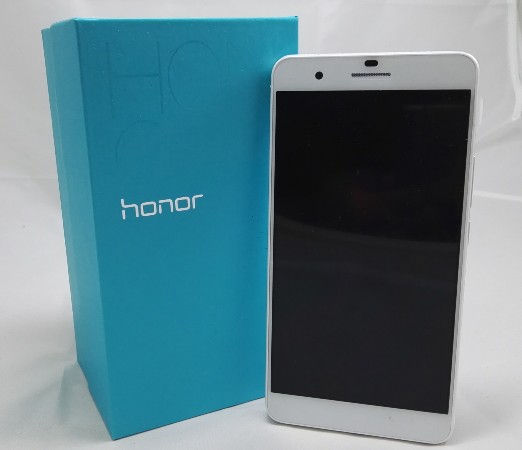 The Huawei Honor series of smartphones have always been about value and quality in nicely designed package. Rounding out the previous Honor 3C Lite, Honor 4C, Honor 4X and Honor 6 family is the Huawei Honor 6 Plus. Like the Honor 6 before it, it features 4G LTE Cat6 connectivity and IR (infra-red) blaster for universal remote control but also adds on a dual rear camera, massive 3600 mAh battery and improved HiSilicon Kirin 925 processor. Is it just a bigger Honor 6 or more than that? We find out with our review of the Honor 6 Plus smartphone below.
Design, Tech Specs and Features - Thin, curvy and full of features
If you have seen the Honor 6 then you've seen the Honor 6 Plus as it uses literally the same design. This isn't entirely a bad thing though as it features the same attention to detail with all the buttons and trays symetrically aligned and the same well polished and durable metal frame on the top and sides. The back has the same pretty layered glass look which has a sort of diamond like underlaying pattern while the bottom is curved plastic. At 165g the Honor 6 Plus is light for a phablet but still manages to maintain a 5.5-inch full HD display. It is also quite thin at just 7.5mm which is the same as the Honor 6. Obvious upgrades to the Honor 6 Plus over the Honor 6 include the faster 1.8GHz HiSilicon Kirin 925 processor, 8MP front camera and much larger 3600 mAh battery along with a dual 8MP rear camera but for the full comparison check out our Honor 6 Plus vs Honor 6 Comparison tool. For the full tech specs and features list check it out below:
1.8GHz octa-core HiSilicon Kirin 925 processor
3GB RAM
16GB storage + up to 128GB microSD (uses SIM 2 slot)
5.5-inch display (IPS, 1920 x 1080 pixel resolution, 73.2%screen to body ratio)
Dual 8MP rear camera (autofocus, dual LED flash, wide aperture) + 8MP front camera
Supports 4G LTE, Dual SIM Dual standby, WiFi 802.11 a/b/g/n, WiFi Direct, Bluetooth 4.0, FM Radio, GPS, DTS Audio, IR blaster, NFC
150.5 x 75.7 x 7.5mm | 165g
Android 4.4.2 KitKat
3600 mAh battery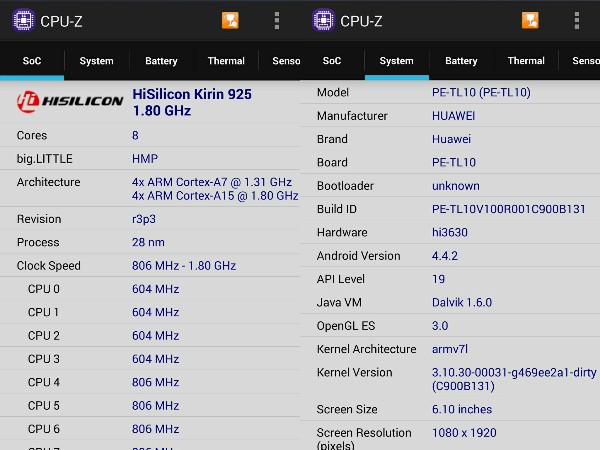 The Honor 6 Plus tech specs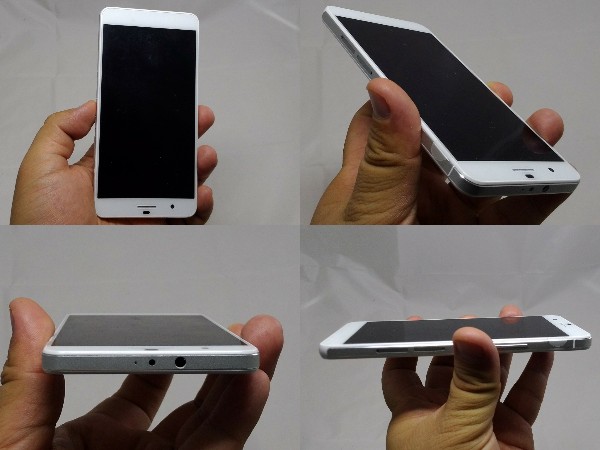 At 7.5mm thin, the Honor 6 Plus is just as thin as the Honor 6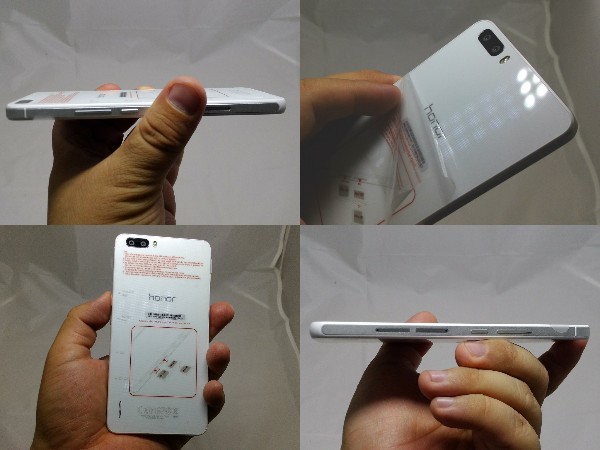 Sturdy and well made, all the buttons and trays are aligned with a great overall feel to them
Adding on a bit more value to the pack are dual screen protectors for both the front and back of the Honor 6 Plus which come free in the bundle. Powered by the stable Emotion UI 3.0, you can wake up the Honor 6 Plus with a double tap and you can also double press the volume key to get a quick snapshot using the rear cameras. The dual rear camera setup is designed to offer wide aperture features which allow for after focus shots and bokeh effect shots. There are limitations though as the interface clearly says to take pictures of objects within a 2 meter range.
Check out the unboxing of the Honor 6 Plus
Performance - Feels like a flagship with 3 day battery life
Considering it's RM1399 pricing and top-of-the-line features, the Honor 6 Plus is well placed as the flagship smartphone of the Huawei Honor range here in Malaysia and for the most part it does deliver near flagship level performance. This includes a flagship level 44051 score in AnTuTu, very high score of 13560 in 3DMark Ice Storm Unlimited and 3118 multi-core score in GeekBench 3. Gaming benchmarks are good as well with a score of 35.7 frames per second in Epic Citadel and fairly smooth Asphalt 8: Airborne. The onscreen navigation bar does detract from the overall gaming experience though (as it takes up display space) but the phablet is responsive for most games. While it does get warm after a few games it does not become overly hot.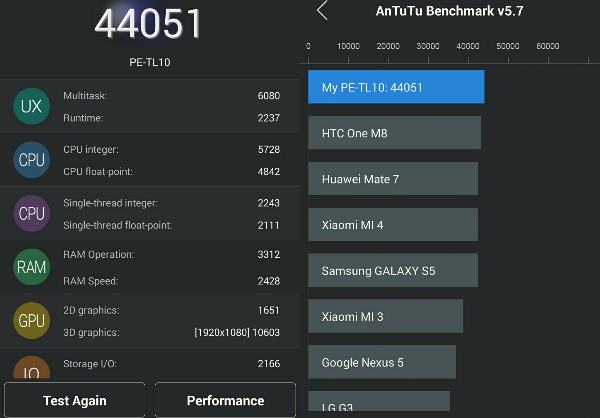 The Honor 6 Plus still manages flagship level performance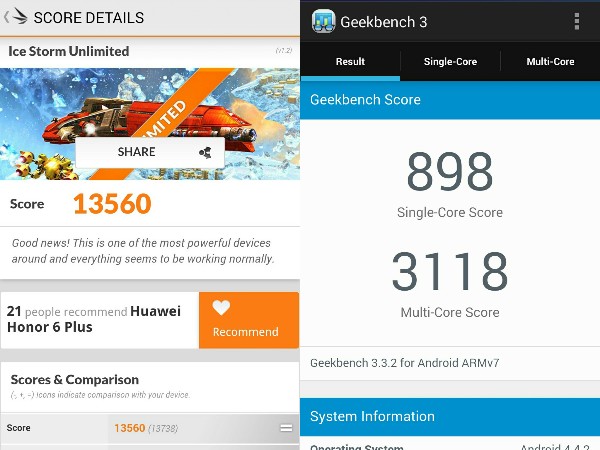 3DMark scores were impressive along with multi-core scores in GeekBench 3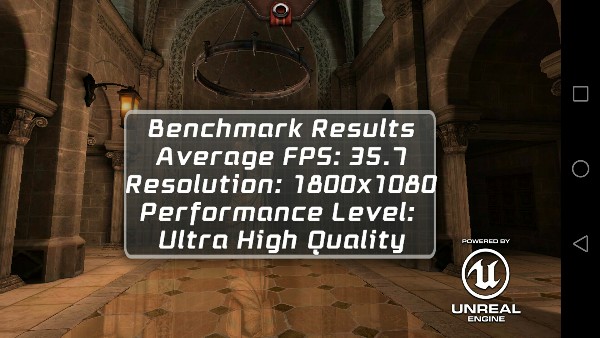 The Honor 6 Plus does fairly well in Epic Citadel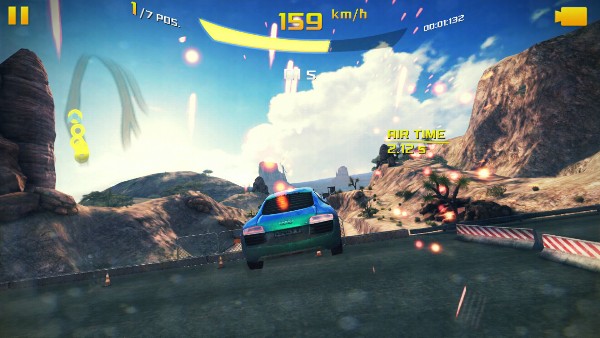 It also handles Asphalt 8:Airborne on high visual quality settings as well
Unlike some other flagships, the battery life on the Honor 6 Plus is simply phenomenal. On normal to medium usage (browsing Internet, answering calls, chatting, play a game) we recorded 3 days usage and a bit more. In a specialized case where the device was used just to play Asphalt 8:Airborne 2-3 times a day with just WiFi on, the Honor 6 Plus lasted 5 days, proof that the agressive power-sipping power management is effective. There are downsides to this though as WiFi gets cut off almost completely when the phone is on standby unless you set it but even if you do, the Honor 6 Plus really lasts a long time, partly due to the massive 3600 mAh battery. Connectivity when the phone is active is just fine though with reasonable call quality and signal strength for the most part. The IR blaster works just fine as a universal remote and the Smart Controller app is already pre-loaded. We used it to turn on the TV but it didn't detect our air con, perhaps because ours is a rather unknown brand.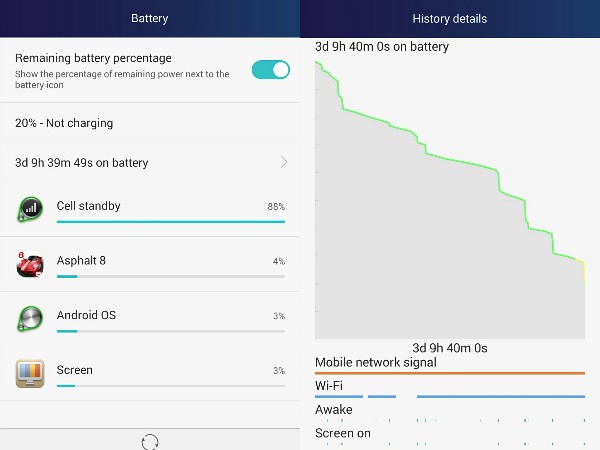 On normal usage we got well over 3 days battery life on a single charge with the Honor 6 Plus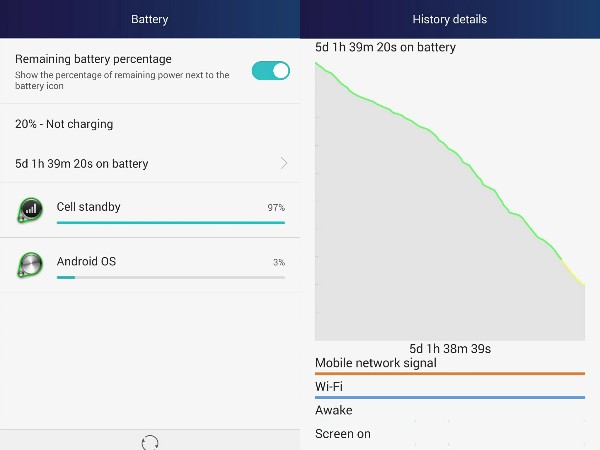 For specialized mostly WiFi usage and Asphalt 8:Airborne, we recorded more than 5 days battery life
Camera performance is good for the most part, with excellent colour reproduction and fairly fast autofocus. The dual rear cameras and wide aperture feature are particularly useful for those of you who like bokeh effect pics and with the right subject and control, you can pull off some really stunning shots. The Wide aperture interface is simple and easy to use with real-time preview of what happens afterwards. Unfortunately, this wide aperture function is only useful for close objects within a 2 meter range and even then for objects with depth. Flat pictures (people in a single line, objects at the same distance, etc.) don't utilize the wide aperture feature that well. Wide aperture pics can be refocused afterwards but there is an increase in size of about 1MB or so. Under low-light conditions, the dual cameras work quite well, but to use the night mode fully, you need a tripod and about 15 seconds to get the shot. On the other hand, the 8MP front camera works wonderfully in both bright and low-light conditions, with the selfie panorama mode catching all the details in a dimly lit auditorium quite well.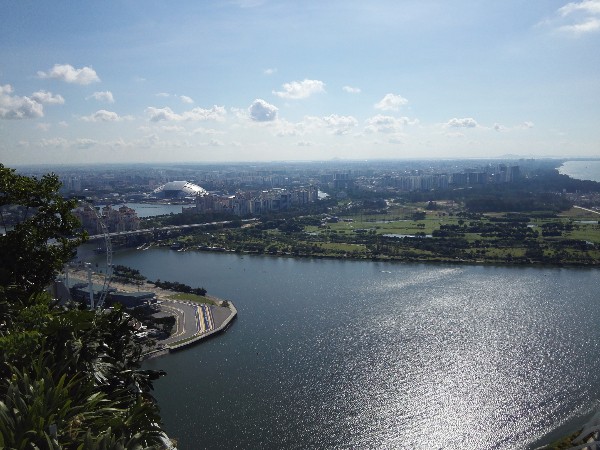 While it may not be 13MP resolutions it is still very nice looking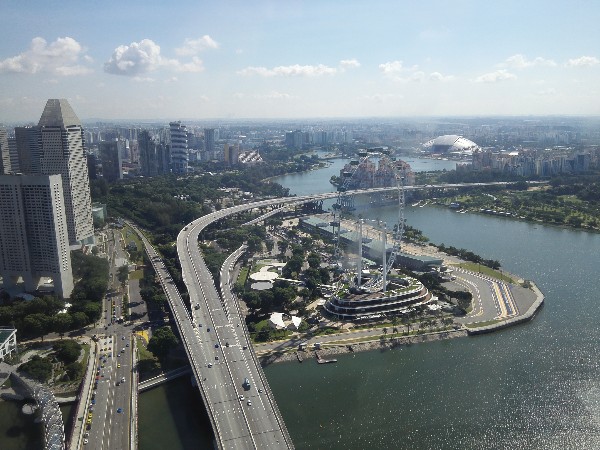 The dual 8MP rear cameras create a 13MP image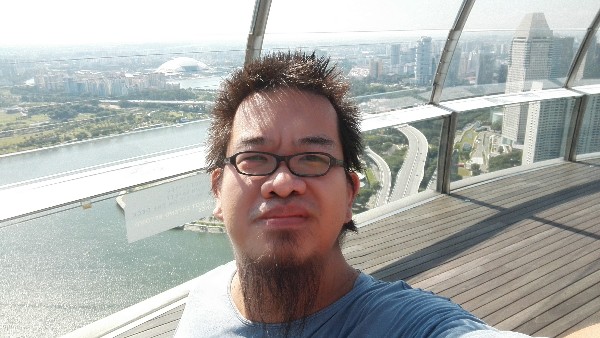 The Honor 6 Plus front camera works well in bright conditions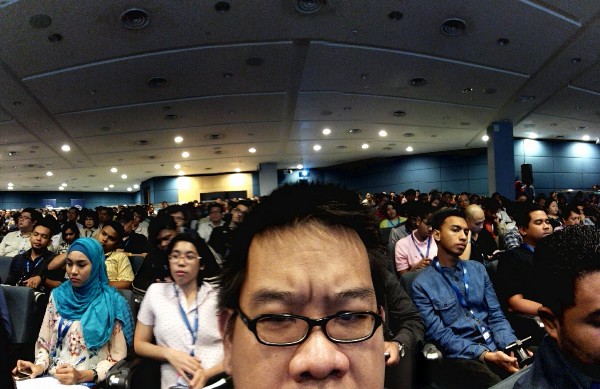 And even in low-light conditions, complete with fairly fast selfie panorama mode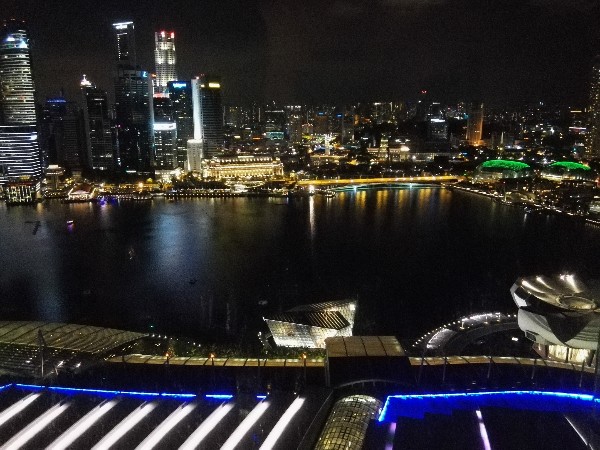 13MP, Super Night mode (requires a tripod and 15 seconds or so)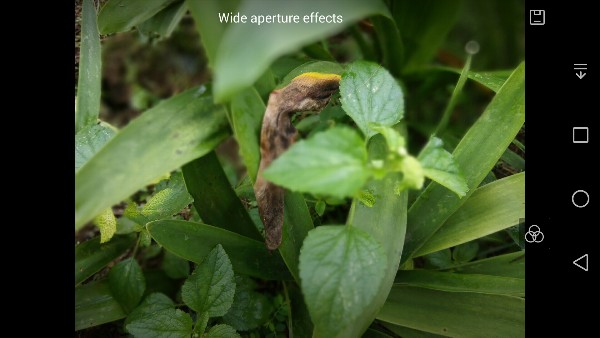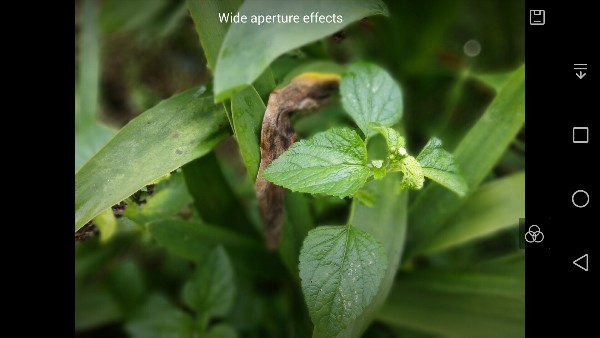 The Wide Aperture feature lets you do detailed afterzoom bokeh effects after the shot has been taken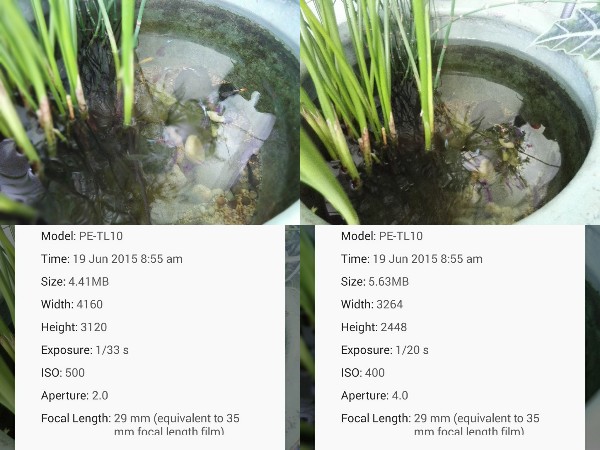 There is a cost to it though with an increase in file size and decrease in resolution with the wide aperture picture on the right
Conclusion - Feature-filled value phablet with excellent battery life
Flat, thin and flagship-worthy, the Honor 6 Plus offers features that exceed even that of some flagship smartphones or phablets and while it doesn't bring anything new in terms of design to the table it still offers a solid phablet experience. Officially priced at RM1399 we have seen sellers offering it for lower pricing like RM1369 but it does offer nearly all of the features you'd come to expect in a flagship smartphone like an IR blaster, NFC, 4G LTE, 3GB RAM and an octa-core processor. The dual rear camera is a bit of an odd extra feature but for those who like bokeh or depth of field shots, the Honor 6 Plus is the perfect cameraphone.
There may be a slight drop in terms of resolution due to this setup, but for the most part, the dual rear camera setup works well. However, the one feature which sets it apart from all the other flagships is its awesome battery life, so if you're looking for a feature-filled smartphone that does everything and won't die on you after just 2 days then this is definitely the smartphone for you. Those looking for a bit more performance sould probably consider phablets like the ASUS ZenFone 2 ZE551ML which is more performance-focused but the combination of many features and excellent battery life still make the Honor 6 Plus a top contender in our books.
Check out our hands-on video of the Honor 6 Plus
*TechNave.com would like to thank Honor Malaysia for providing us with the Honor 6 Plus smartphone for this review. It allowed us to do a more in-depth review and highlight more features.
Honor 6 Plus Specs & Price >