Honor MagicBook 14 review - Great performance for daily tasks for a price that doesn't break your bank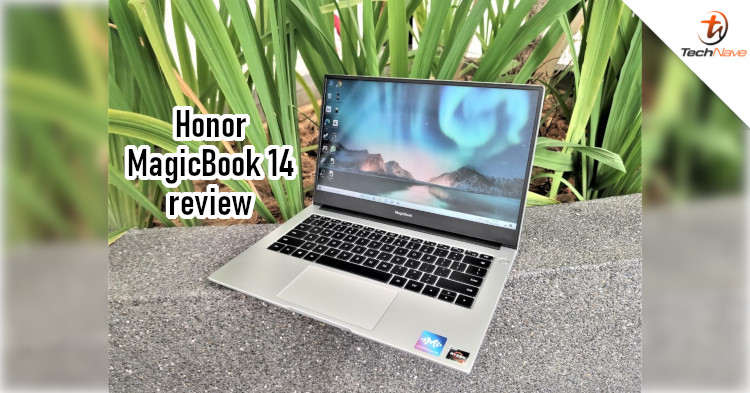 Laptops from smartphone brands? Most people would probably be sceptical about whether they know how to make a good one. However, the Honor MagicBook 14 made its way to the Malaysian market and it does enough to help change the general perceptions.
Before you buy any laptop, it's a good idea to know what you need and check out reviews. You could even check out our write up on the 4 key tech specs you should consider before buying a laptop. Anyway, when it comes to Honor we mostly know it for its smartphones. But we have not gotten a chance to review an Honor laptop yet, so will this one manage to impress us? Read on for our review of the Honor MagicBook 14 to find out.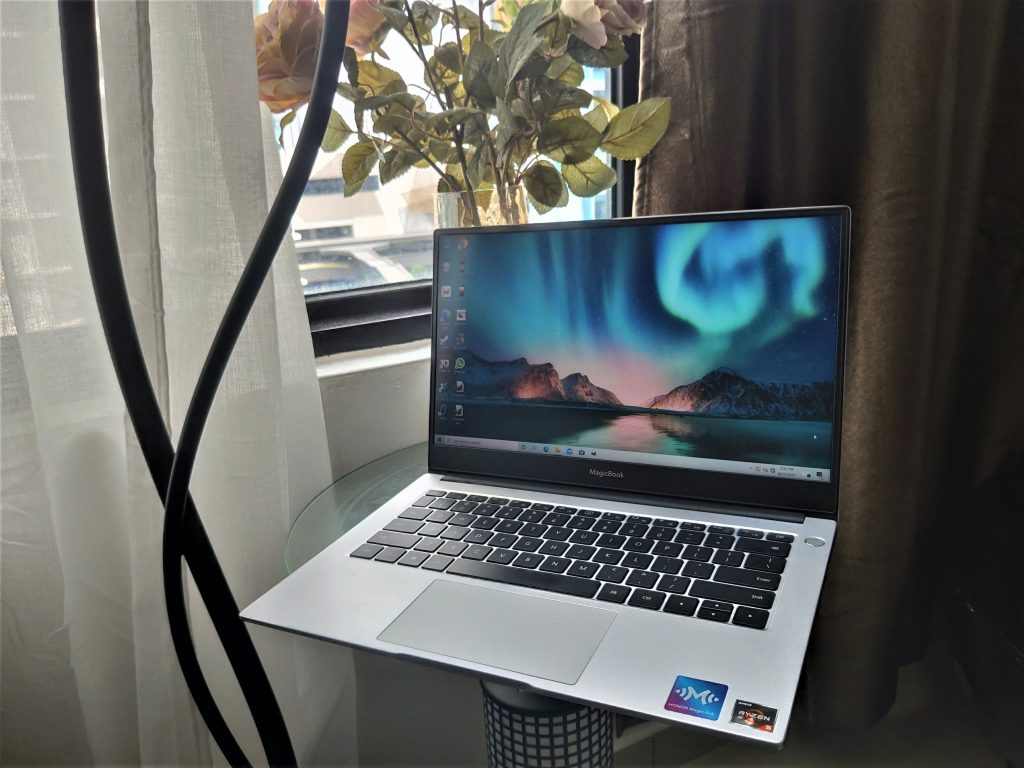 Before going into the specifications and performance of the laptop, let's talk about the design first. One thing that really stood out for us with the Honor MagicBook 14 is the Azure Blue Chamfer on its aluminium body. This blue line looks prominent because it gives a blue glow if you angle it towards the light.
In addition to that, this is a highly compact laptop that combines a thin 15.9mm body and weight as low as 1.38kg for great portability. After 2 weeks spent using it daily, we are pleased to say that we have no complaints about bringing this laptop anywhere.
Besides how portable it is, we also appreciated the 4.8mm ultra-thin bezel and the 14-inch display, which resulted in a decent screen-to-body ratio of 84%. It's great for watching videos on YouTube after a long day of work!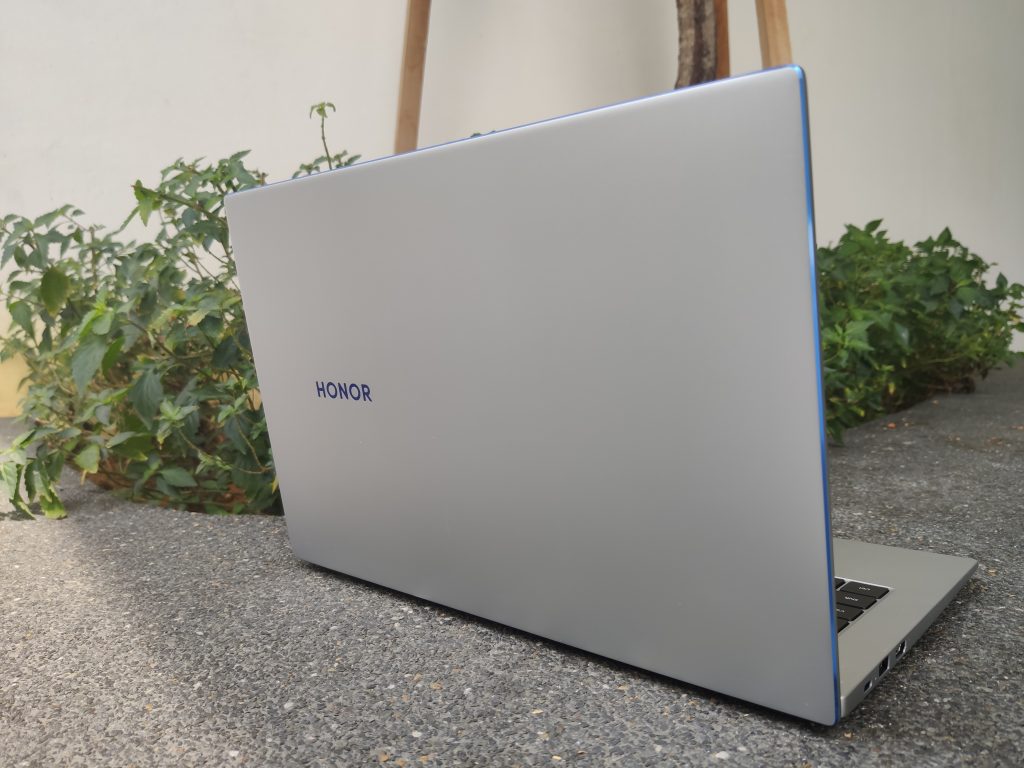 There is a blue tinge on the laptop frame and logo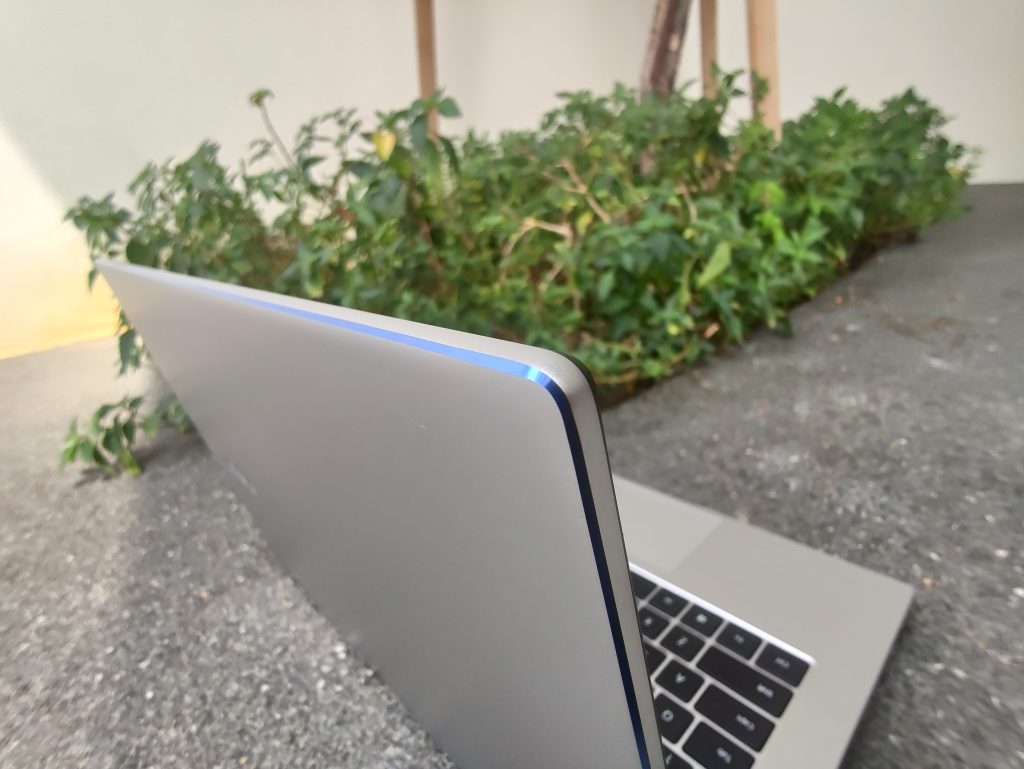 A closer look at the Azure Blue Chamfer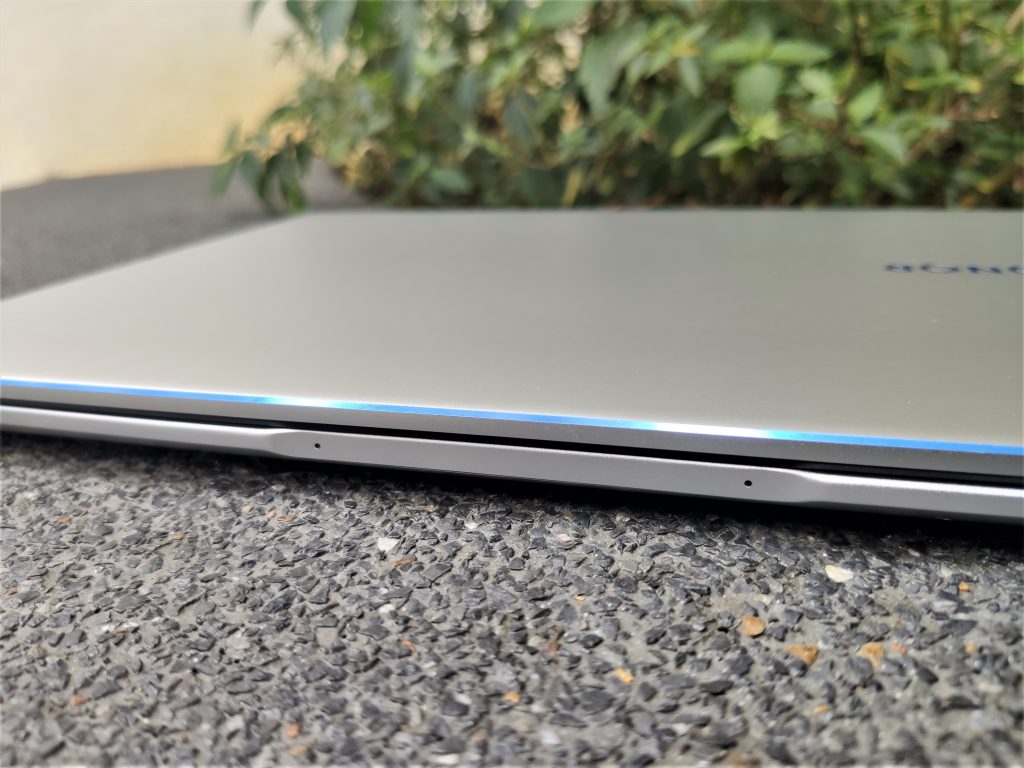 This design makes it easier to open the laptop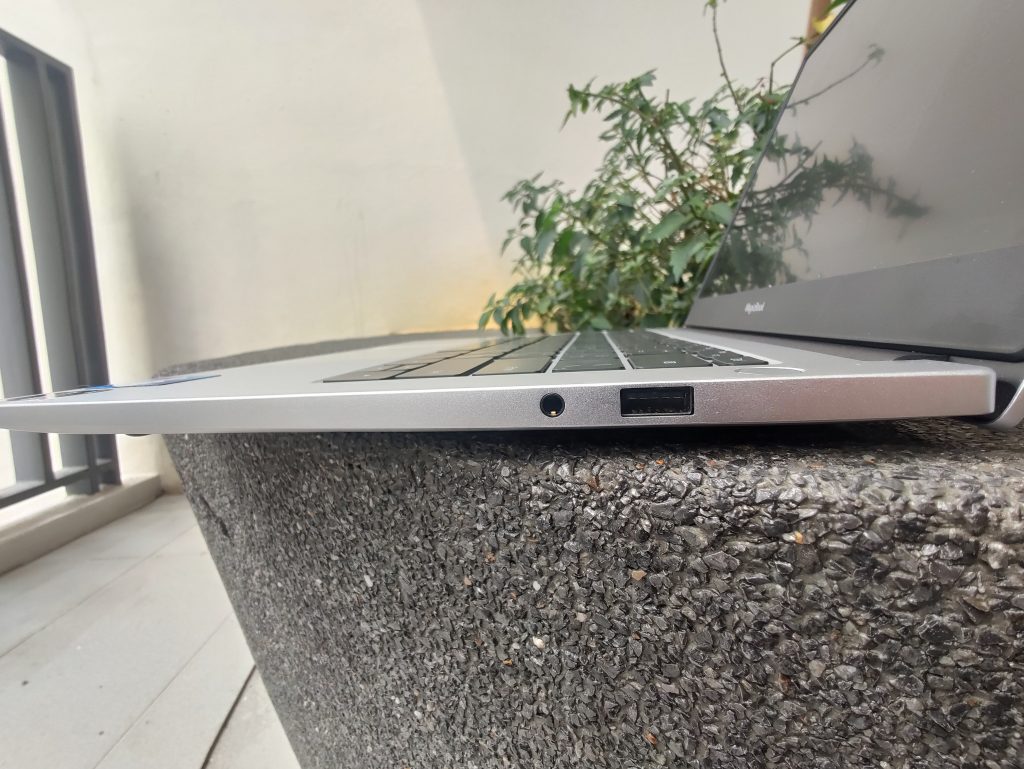 USB-A 2.0 port, 3.5mm audio jack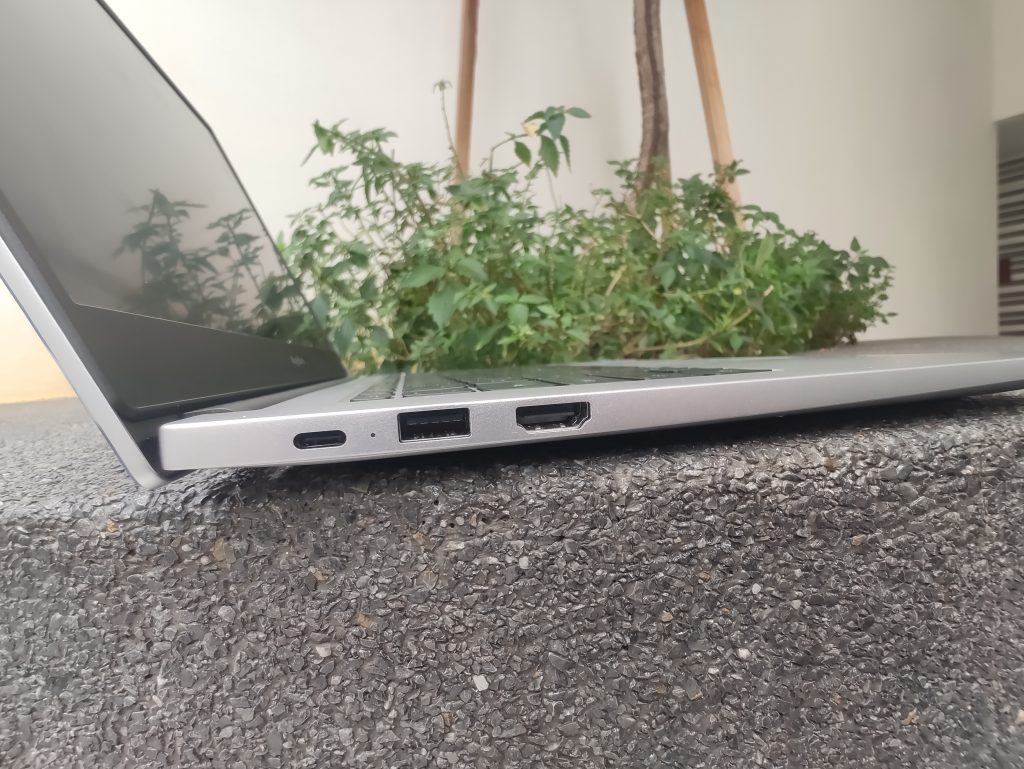 USB-C port, USB-A 3.0 and HDMI connector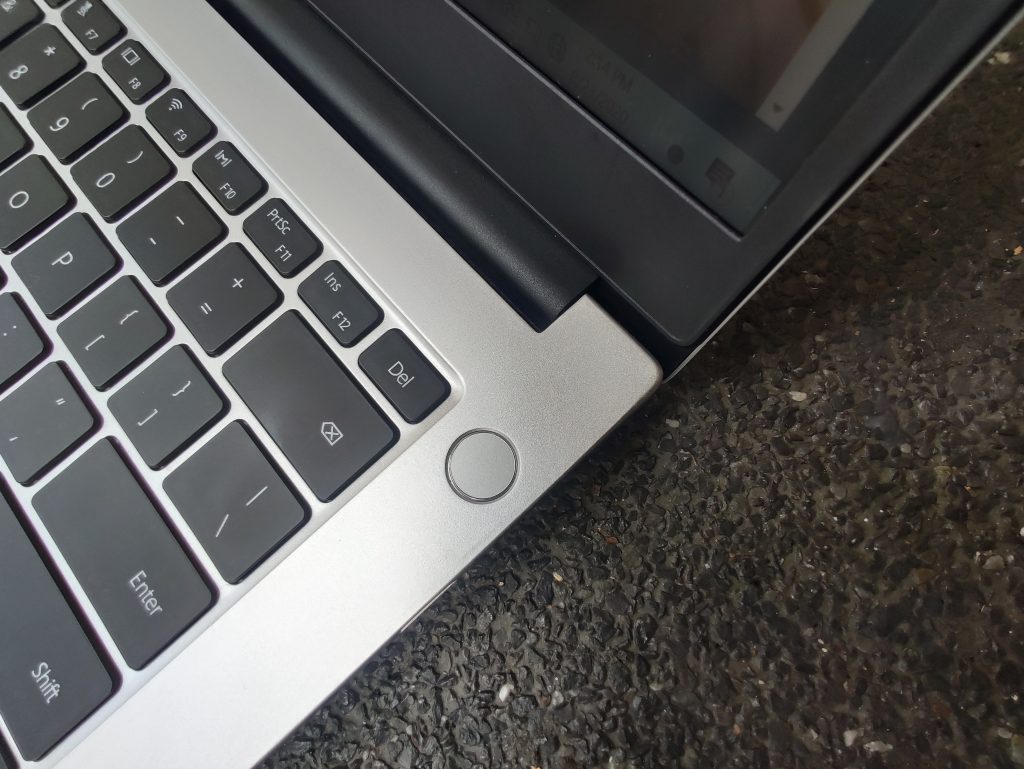 The fingerprint sensor integrated into the power button
In terms of connectivity, the MagicBook 14 comes with nearly the bare minimum. On the right side of the MagicBook 14, you'll find a USB-A 2.0 port and 3.5mm audio jack, while on the left are the USB-C, USB-A 3.0 and HDMI ports.
While the lack of ports (especially Ethernet) could be unfortunate for some, there's enough for the average person for daily office tasks or schoolwork. Another thing about the laptop that we noticed right away is the 'Del' key. It's placed very close to the power button, so it was important to keep it in mind or we'd accidentally send the laptop into sleep mode.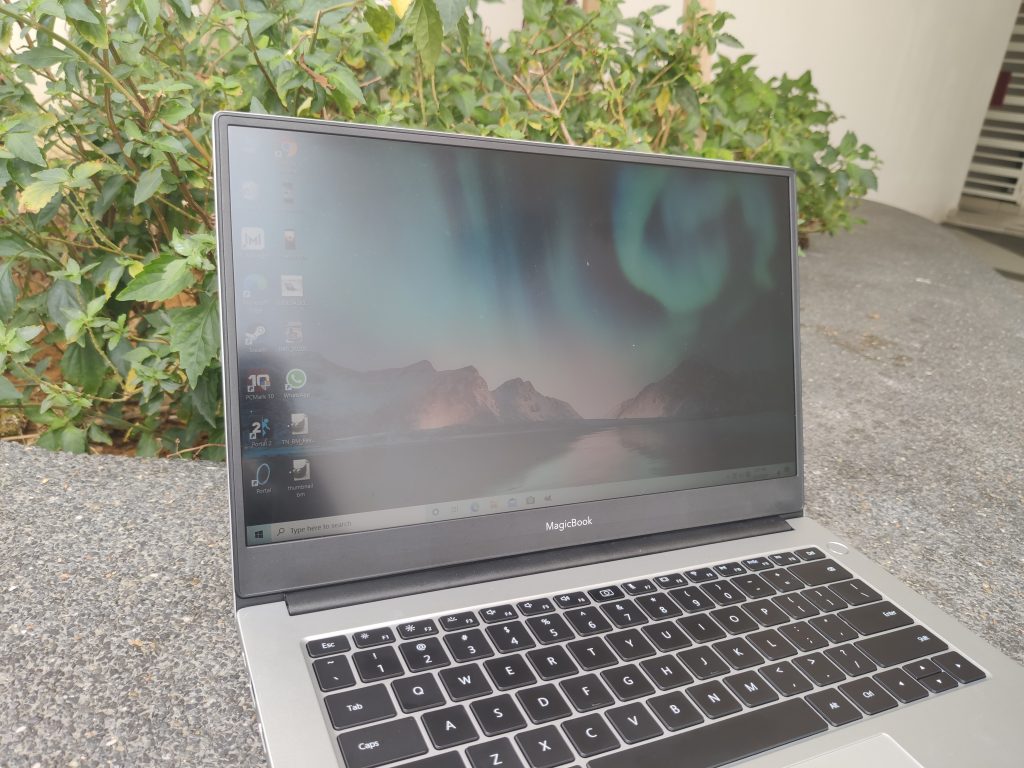 Screen under the bright sun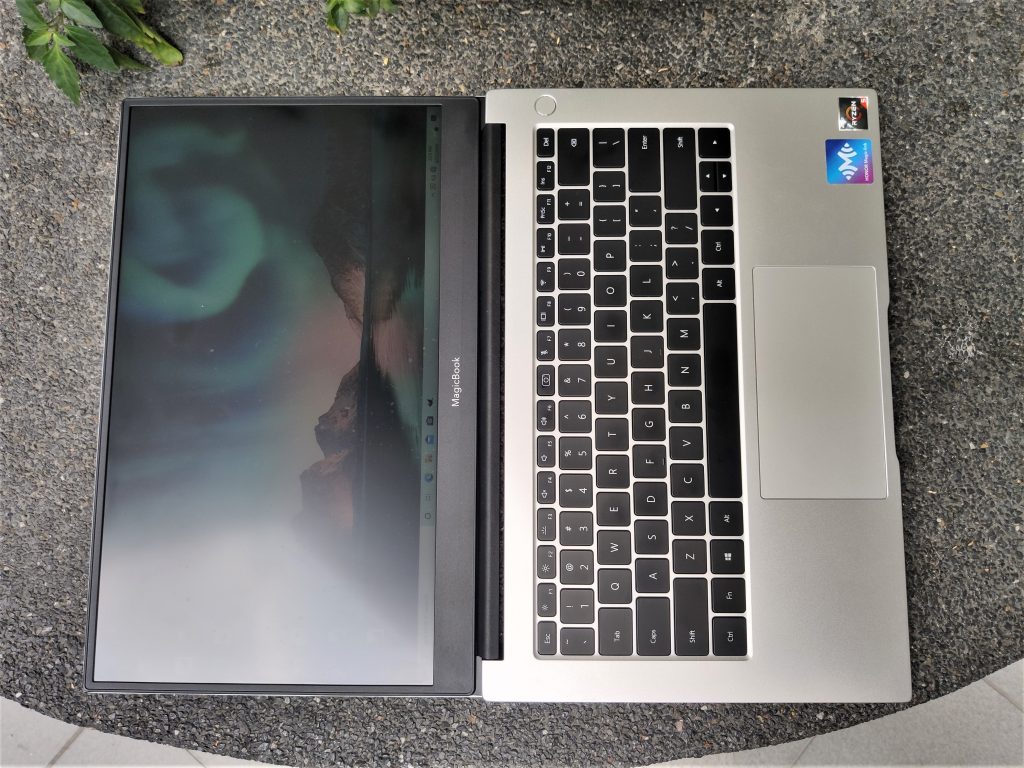 The screen can be tilted 180 degrees and laid out flat like this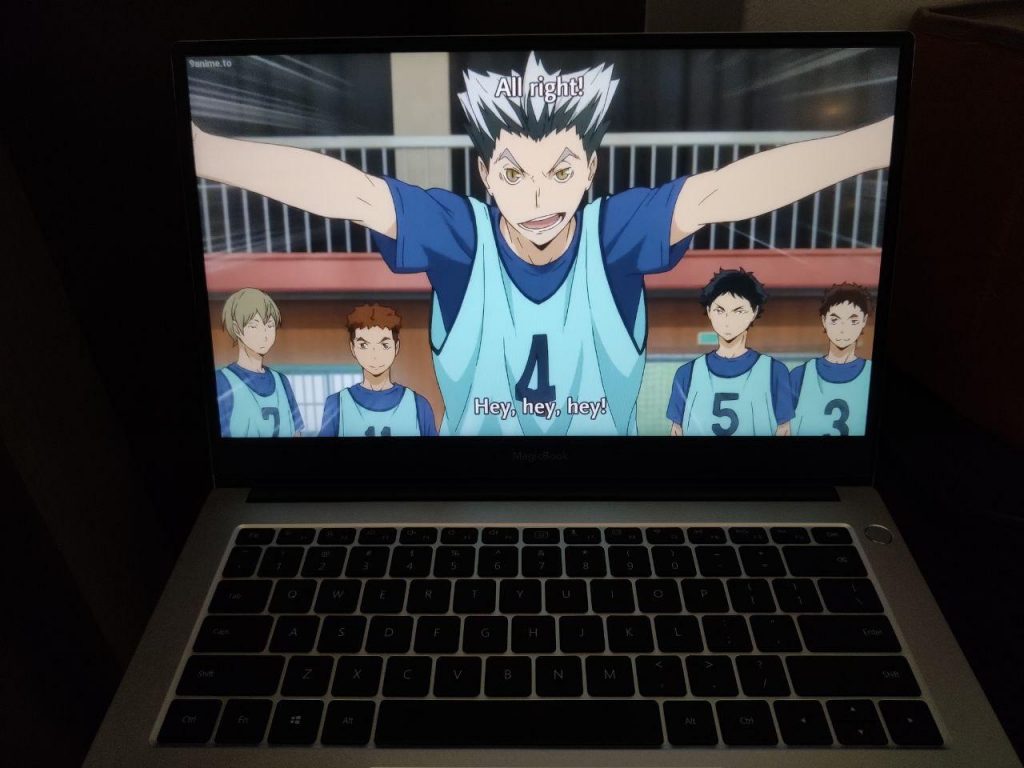 We watched Haikyu on the laptop in the dark! The TUV Rheinland certified screen helps reduce eye strain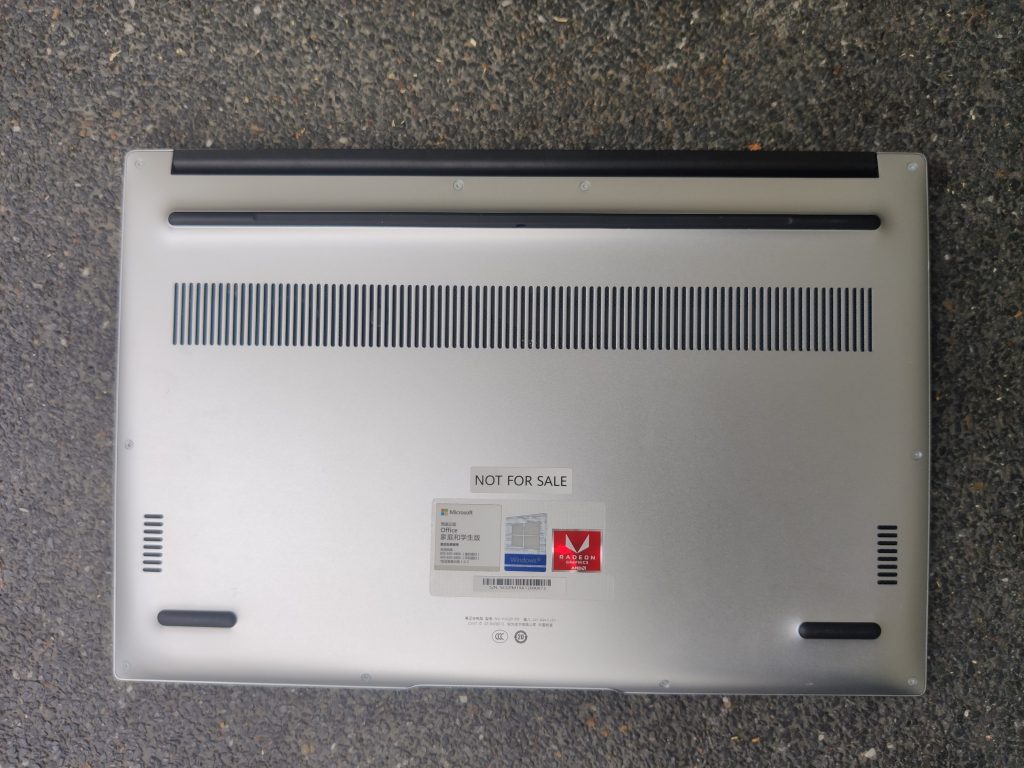 Two speakers can be found on the bottom of the laptop on the right and left side, along with the air vents for the laptop
Let's talk about the display next. For this laptop, you get a 14-inch FullView display with a resolution of 1920x1080 that does well enough. It doesn't have enough brightness to be seen clearly under bright daylight but we assume this is because of the blue light protection feature that has affected it. Mind you, we can still see the screen, just not well enough as you can tell from the picture above. One cool thing we want to point out is how you can lay the laptop flat. This can be useful if you have something you want to show to someone sitting in front of you!
When it comes to watching videos, the overall viewing experience was decent but the one problem is that audio feels like it's 'trapped' under the laptop. This is because the two speakers are at the bottom of the laptop and are down-firing, so it's easy for the audio to become muted, especially if you place the laptop on your lap. However, it is still clear and pleasant to hear while watching dramas or anime.
Another thing we want to point out is that the thermal performance on this laptop is quite decent. As long as you're only watching the occasional movie after work and are using it mostly for daily tasks, you'll probably not feel the laptop become too hot. Honor managed this by giving the MagicBook 14 a heat dissipation fan blade design that's capable of more efficient cooling.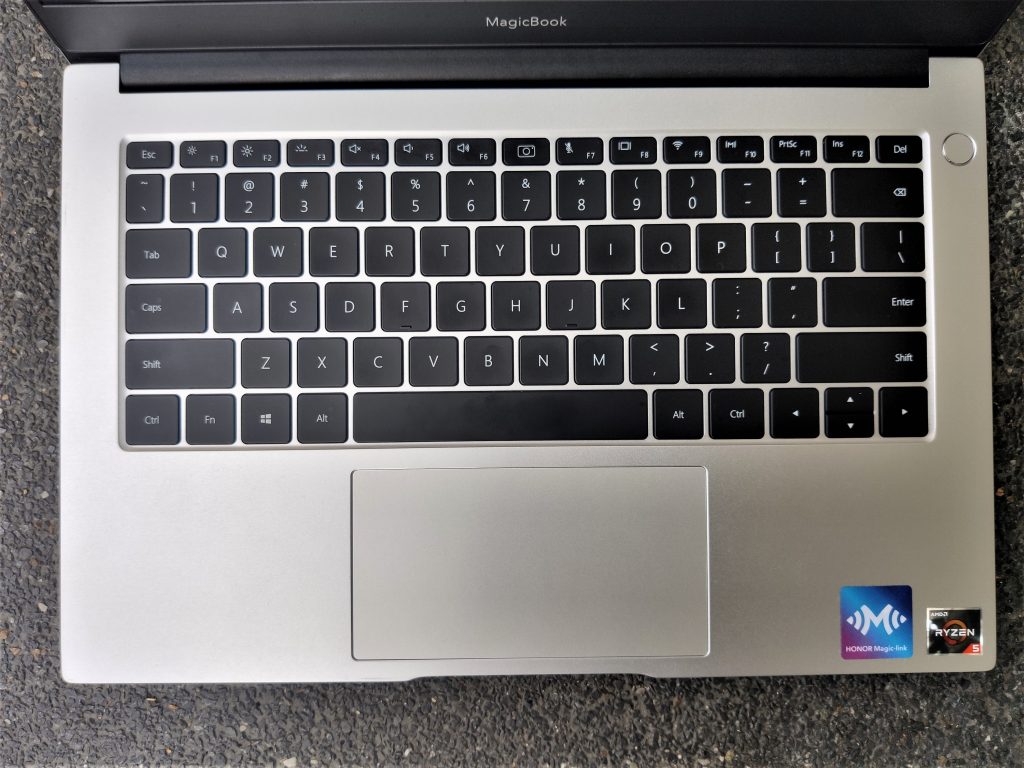 Keyboard and touchpad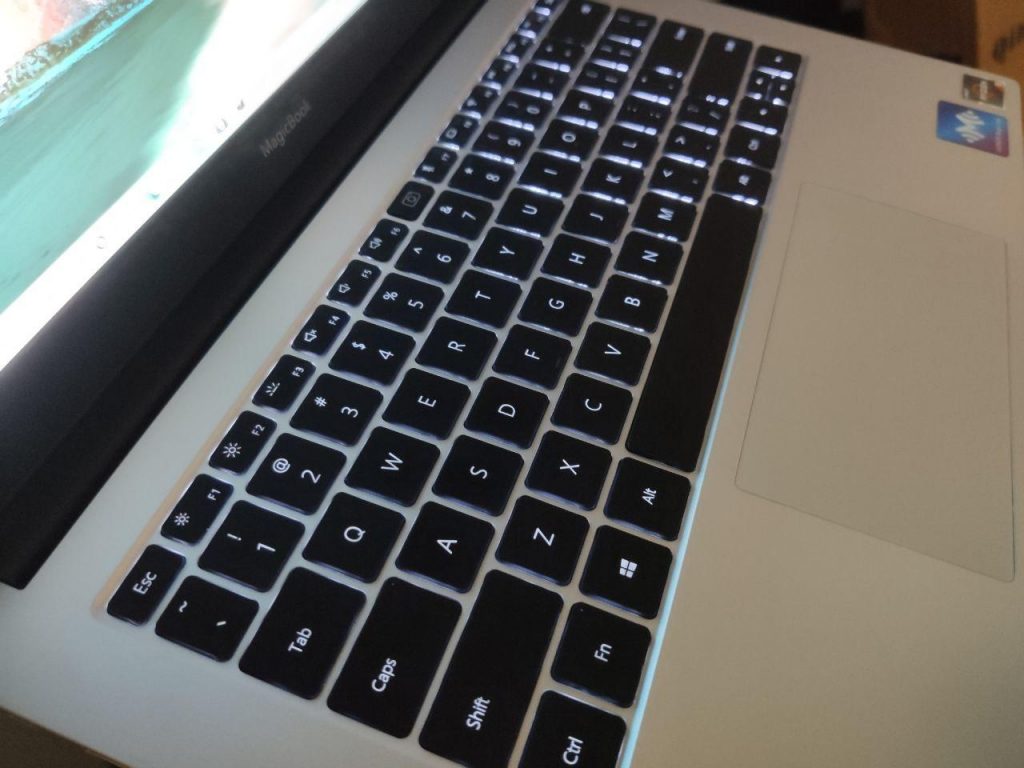 The keyboard has a bit of white backlighting to it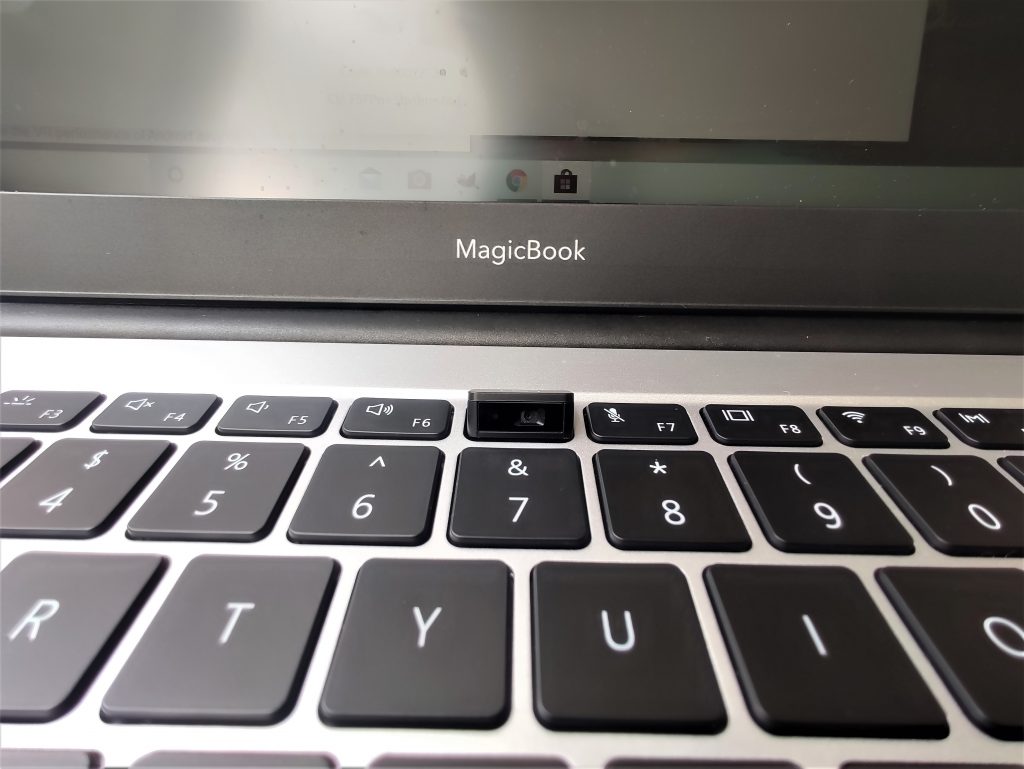 One of the more interesting features of this laptop, the hidden pop-up camera
Moving on to the keyboard, we found that it was comfortable enough to type on and the key travel is decent. It also has a relatively wide touchpad that does well with tracking our swipes.
Interestingly enough, the webcam isn't in the usual spot where most laptops have it - above the display. Instead, it's hidden under the keyboard! If you look at the key between the F6 and F7 key, you'll notice that it has a camera icon. Pressing that makes the webcam pop up, and you can hide it by pressing down on it again. This is a form of protection against potential webcam hacks.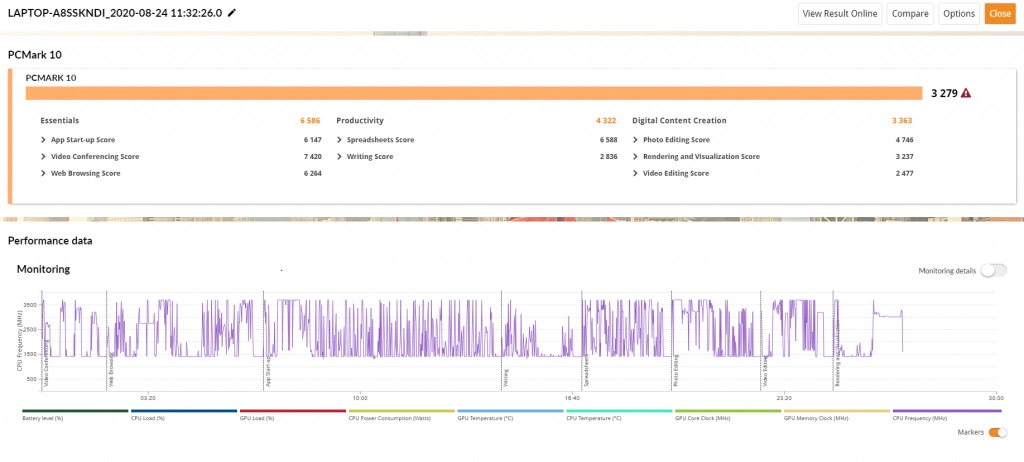 Marks on PCMark 10
Next, we come to the performance of the laptop. We started with a standard benchmark on PCMark10 and as you can see from the scores, it did well for a laptop in this class. A score of 3279 means it's more than sufficient for daily task and some light entertainment.
In terms of tech specs, the MagicBook 14 is equipped with an AMD Ryzen 5 3500U processor, Radeon Vega 8 graphics, 8GB of DDR4 RAM, and 256GB of SSD storage. It can handle programs like Adobe Photoshop, allowing you to do light image editing with no problems. You can also use it to do video calls, though the angle of the webcam would be quite unusual compared to a standard laptop.
What we don't recommend doing with this laptop is gaming. Technically, you could play some titles like League of Legends, Dota 2, or Portal on it. However, the laptop can get quite hot if you do so and it's not really going to run well anyway. You can refer to the video below for our Portal test run.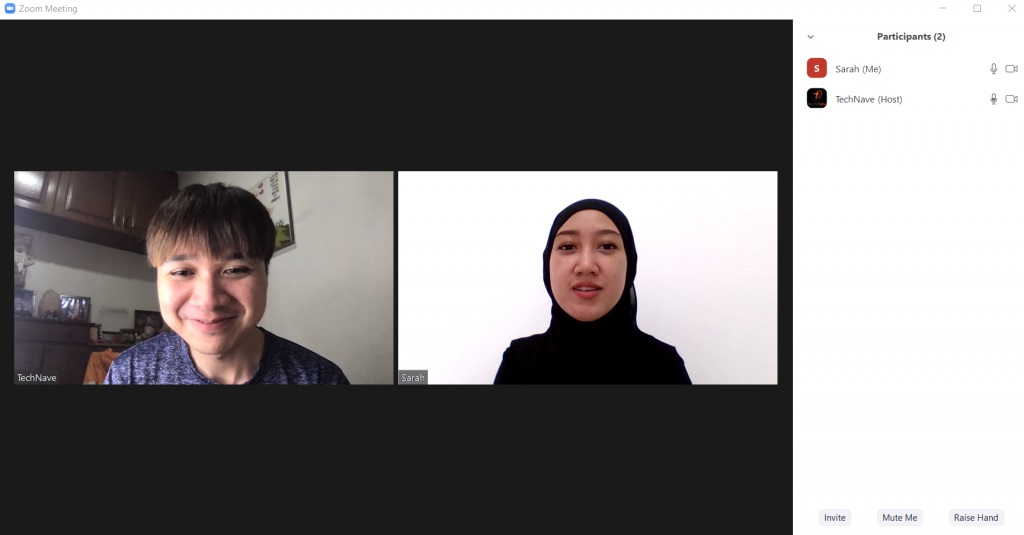 Zoom in with friends! Friends on the right use HONOR MagicBook 14
The actual graphics are slightly better, but it looks bad here because of the recording's low quality
We also want to talk about the laptop's battery life and durability. Since it's equipped with a 56Wh battery and a 65W Type-C fast charger, this laptop can last quite long if you know how to pace it well. During our time with the laptop, we found that you only needed about 35 minutes to charge it from 0% to 50%.
In terms of daily use, you can reliably get about 8 hours out of the battery before it goes out on you. Of course, this does depend on how you use the laptop. If you're watching a lot of YouTube videos, you can bet that the battery would drain out much faster.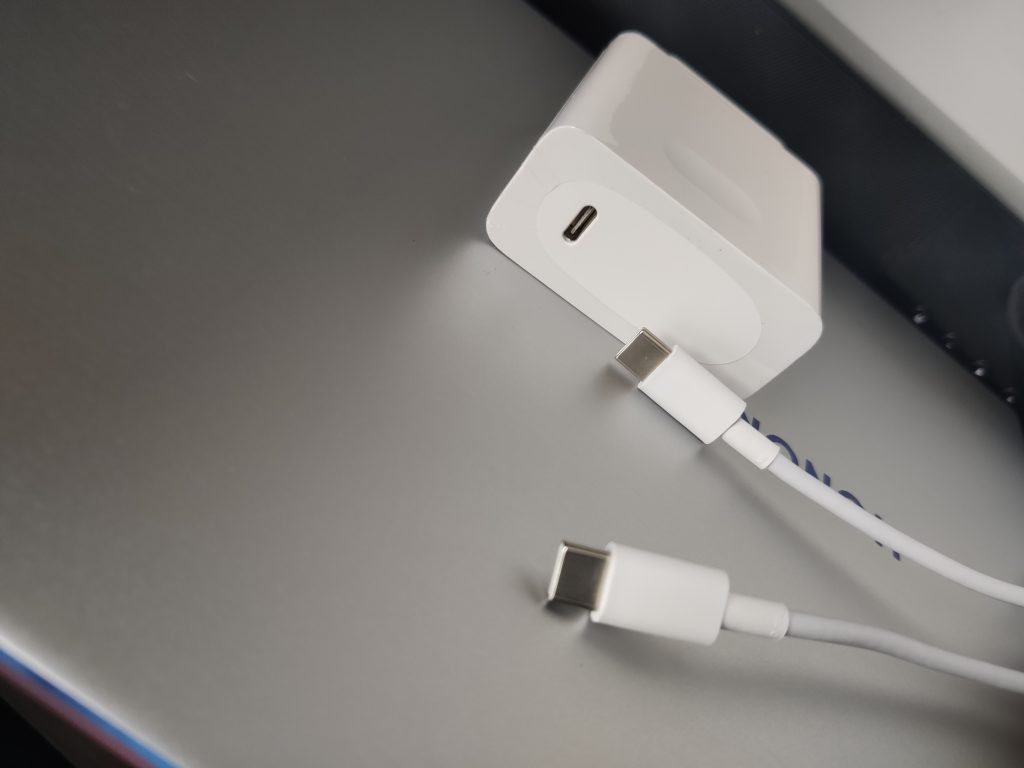 65W charger and two USB-C cables
Before we conclude, we want to point out that the Honor Magic Link is actually a rather useful app if you happen to have an Honor device with NFC connectivity. With it, you can see your smartphone or tablet's screen directly on the laptop.
Priced at RM2499, the Honor MagicBook 14 is a laptop that's worth making into your daily driver. While it has some areas it lacks in, but for less than RM2500 it's hard to ask for more.
Within the same price range, there are laptops from the Lenovo IdeaPad series or the Acer Swift series. Overall, there's not much to compare as the features and tech specs more or less line up with the offerings from other laptop brands.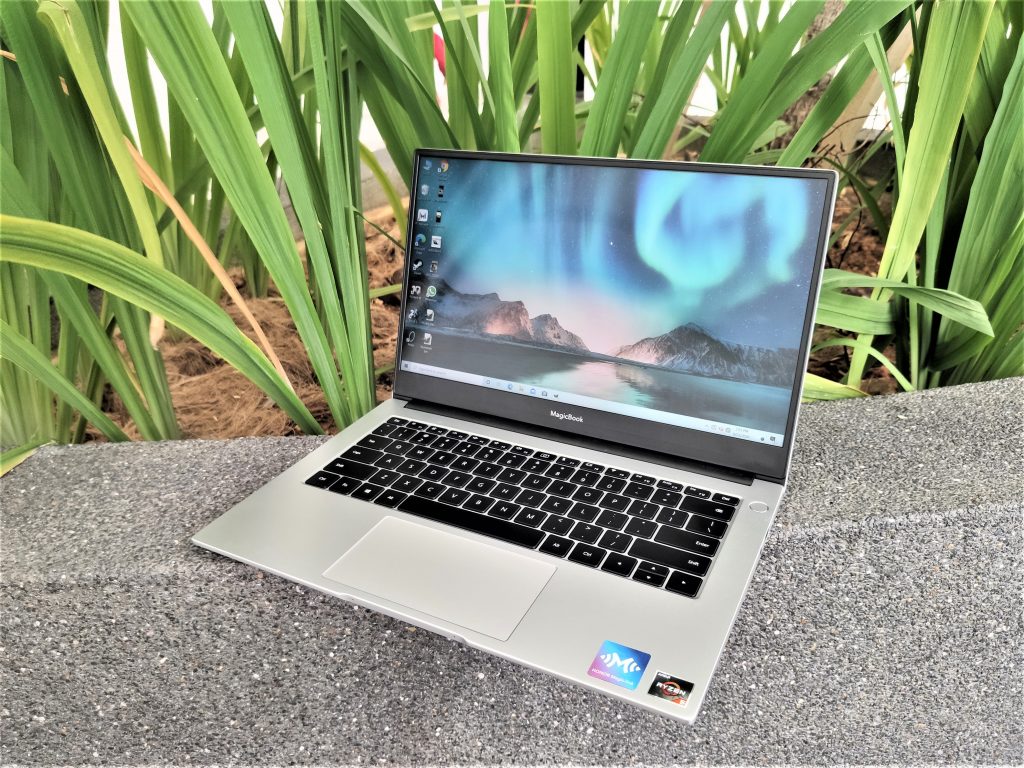 Tech specs and features
Dimensions 322.5mm x 214.8mm x 15.9mm
Weight 1.38kg
AMD Ryzen 5 3500U CPU
Radeon Vega 8 integrated GPU
8GB DDR4 RAM
256GB SSD
56Wh battery
65W fast charging
Screen-to-body ratio 84%
14-inch IPS screen with 1980 x 1080 resolution (TUV Rheinland certified)
2x microphone, 2x speakers
1MP pop-up webcam
Mystic Silver colour
IEEE 802.11a / b / g / n / ac WiFi support, 2 × 2 MIMO
Bluetooth 5.0 support
USB 2.0 x 1, USB 3.0 x 1, USB Type-C (for charging and data) x 1, HDMI x 1, 3.5mm audio jack
Windows 10
Pros: A camera you can hide, nice Azure Blue Chamfer, display with 180-degree tilt, and an affordable price
Cons: No LAN port, webcam position is awkward, and speakers are easily muted
Conclusion: A good option if you're looking for a laptop that can comfortably handle your daily tasks.
So, what do you think of the Honor MagicBook 14? Is it a laptop you be interested in? Let us know in the comments below and please continue to stay tuned to TechNave.com for more reviews like this.
HONOR MagicBook 14 Specs & Price >