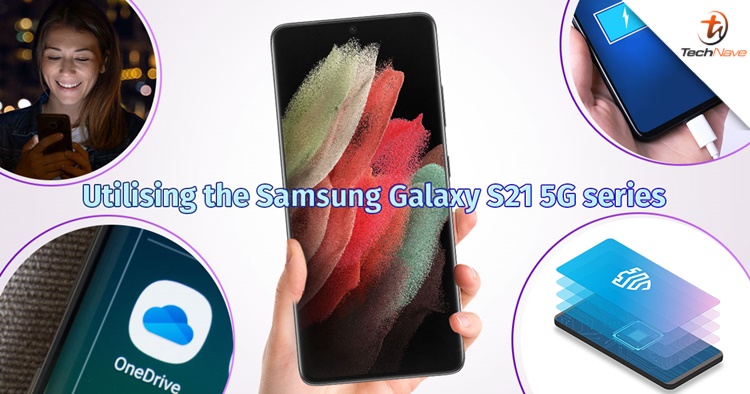 When it comes to promoting flagship, brands like to highlight basic features like the chipset, memory configuration, battery size, and more. Obviously, those are unique selling points. But they tend to sideline other lesser-known features, which we are about to tell you.
If you have a Samsung Galaxy S21 5G, Galaxy S21+ 5G or Galaxy S21 Ultra 5G, this is the article for you. There are other lesser features useful for your daily activities, from security features to Intelligent Battery Charging. Here's what you need to know more about your smartphone.
It has an adaptive refresh rate
By now, you should know that the Galaxy S21 5G series has a refresh rate of up to 120Hz. You can also go into the Setting's Motion Smoothness to change it to 60Hz to preserve battery life. But did you also know that it has an adaptive refresh rate?
Previously, you could only choose between 120Hz at 1080p or 60Hz at 1440p. Now, there's also an adaptive refresh rate
If that sounds like an automatic feature to you, that's because it is. You can dub it as if it's an 'intelligent display', as it learns to lower the refresh rate in different scenarios. It can drop to as low as 10Hz if needed, and the same goes for peak brightness and contrast ratios.
Turn on the Eye Comfort Shield
On that topic, the Galaxy S21 5G series probably has the best display in the market. Usually, they are known for using a Super AMOLED display, but the latest flagship is sporting a Dynamic AMOLED 2x display.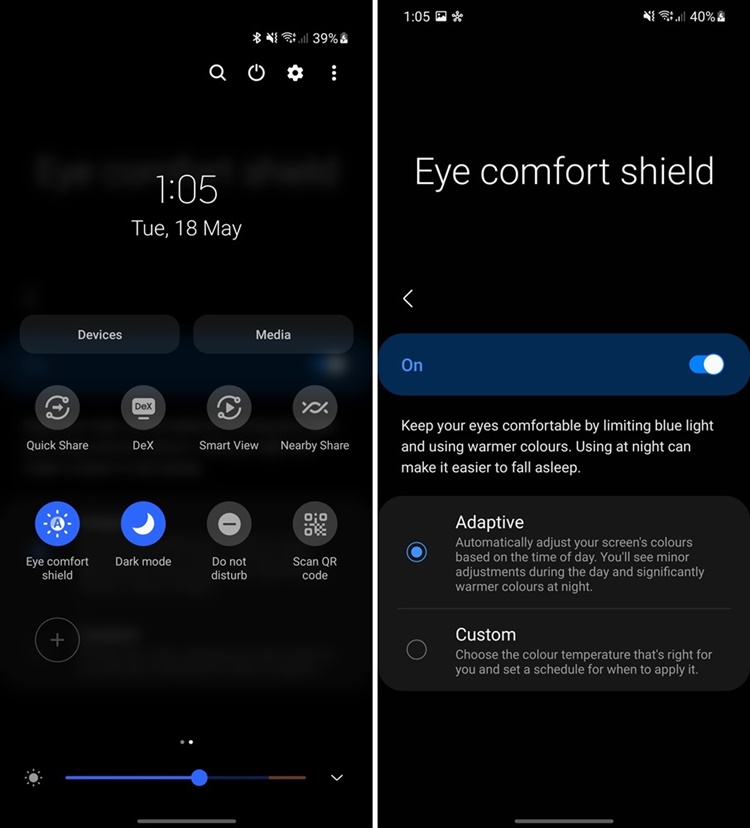 The Eye Comfort Shield also got an adaptive mode, but you can also customise it yourself if you want
It can provide up to 1500 nits of brightness and 100% colour volume, which sounds wonderful on paper. But we still have to avoid starring at the display for too long (I'm guilty of this too before going to sleep). As such, we recommend enabling Eye Comfort Shield at night, as it reduces the invisible harmful effects of blue light. SGS, a leading global certification company, has already awarded the Galaxy S21 Ultra 5G with an Eye Care Certification for this.
Intelligent Battery Charging
Another feature that the Galaxy S21 5G series has is its intelligent battery charging. Yes, the term intelligent battery is not something new but hear us out a bit. This feature can allegedly help the battery (up to 5000mAh) last even longer than it should, thanks to the optimisation leading to improved energy efficiency.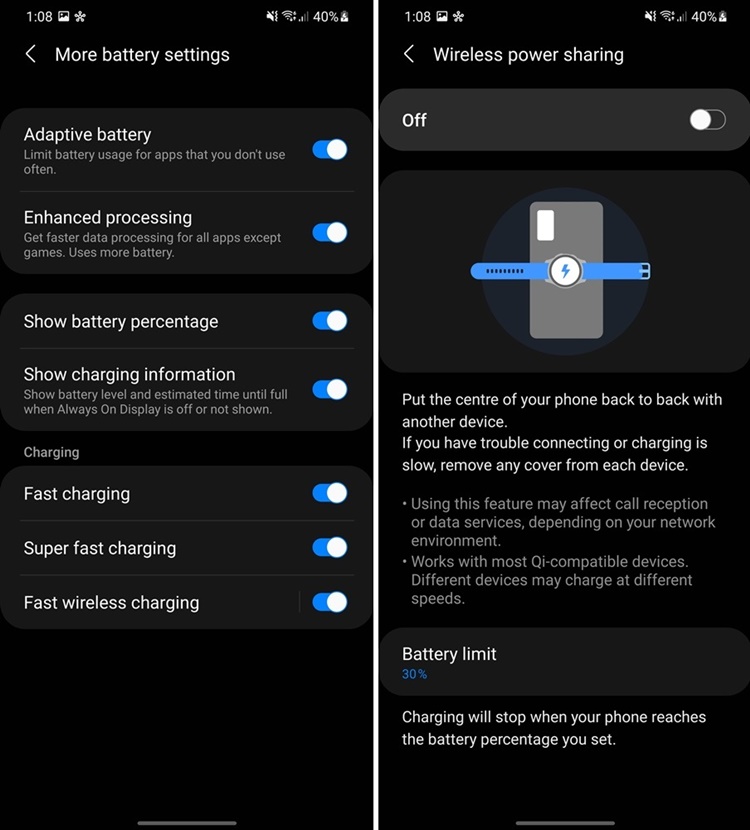 You can find these in the 'more battery settings' section
While battery usage varies for everyone, our experience with the Galaxy S21 5G series' battery performance has been improved from the predecessor. It would usually last more than a day, and that's including some minutes of mobile gaming playtime! Furthermore, the Exynos 2100 chipset is a 5nm chipset, which is more efficient and reduces battery consumption.
In terms of charging, the phones feature a Super Fast Charging of up to 25W that allow you to reach 50% in just 30 minutes. You can also charge wirelessly and use the Wireless PowerShare to recharge your Galaxy Buds and other Qi-wireless enabled devices.
OneDrive Storage and others
For your information, the Galaxy S21 5G series has a variety of storage options. Both the Galaxy S21 5G and Galaxy S21+ 5G have the option of 128GB or 256GB internal storage. But the Galaxy S21 Ultra 5G has 128GB, 256GB, and 512GB variants. It doesn't take a rocket scientist to tell you that it lets you store thousands and thousands of high-quality photos and videos, but what if you want more?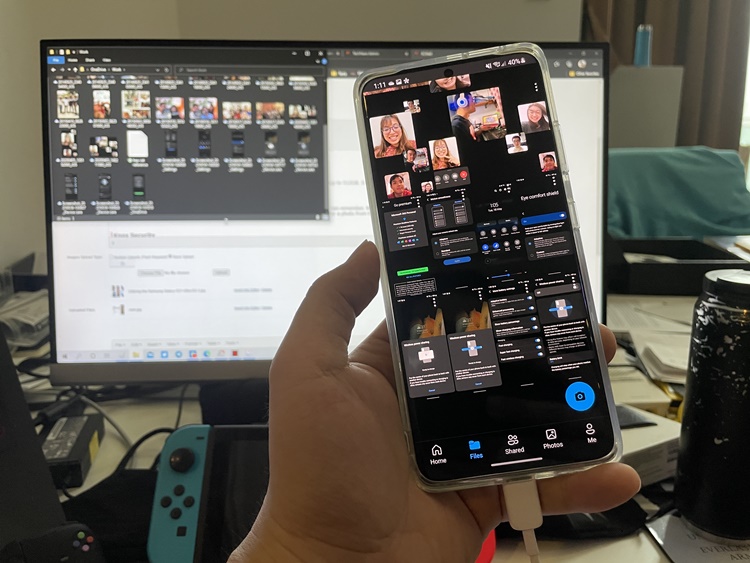 A protip - whenever I want to transfer a photo from the phone to a laptop, I'll just use OneDrive because it's fast and easy!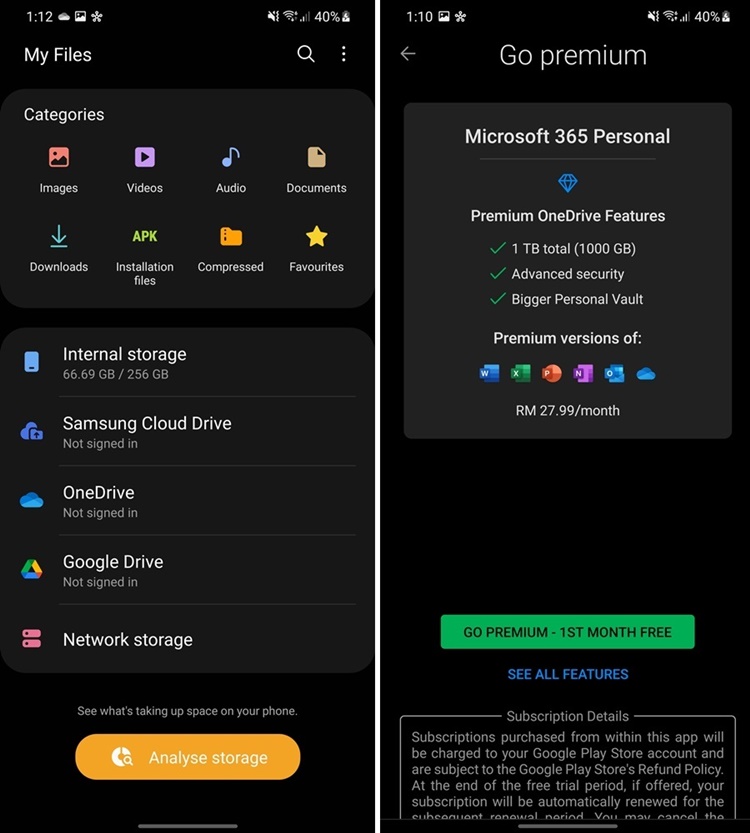 There are other cloud storage platforms, such as Samsung Cloud Drive and Google Drive
If you didn't know, Samsung and Microsoft have been working together for as far as we can remember. Due to this partnership, the OneDrive app pre-installed on the phone can be synced to your Microsoft account. Additionally, you can go premium and get a total of 1TB of space for your files and data. Let's not forget that you can still use the Samsung Cloud Drive and Google Drive, so there is plenty of storage for you.
Knox Security
But what if my files and data get stolen online? Actually, that rarely happens unless you happen to tell another person about your password or visited a phishing site. Anyhow, no worries - the Galaxy S21 5G series has Knox Security as part of the OneUI 3.1 OS.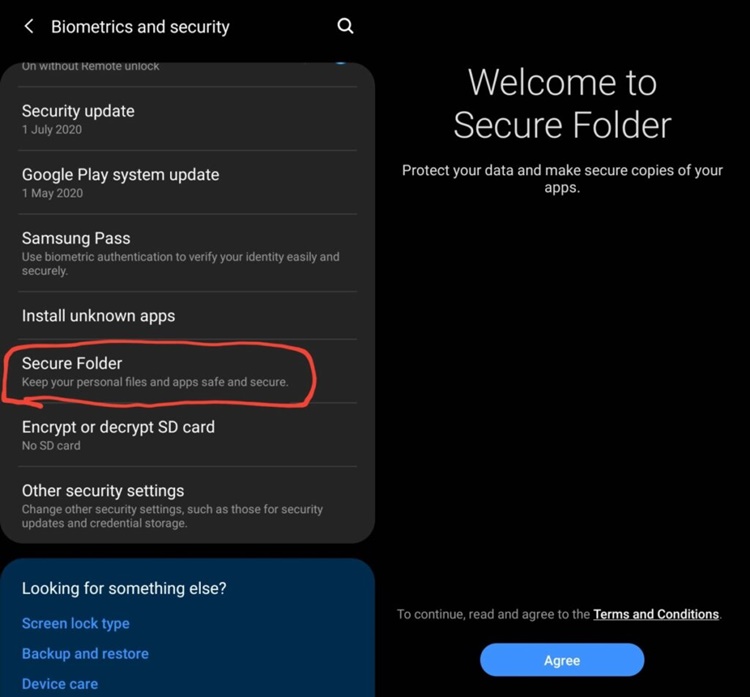 You can easily find the Secure Folder in the Biometrics and Security settings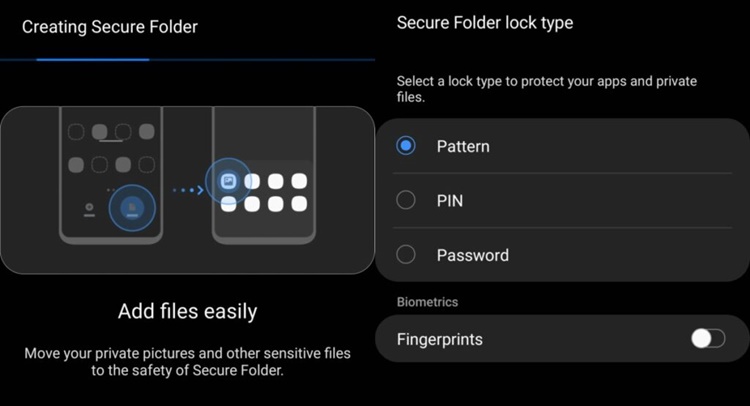 Set a different password!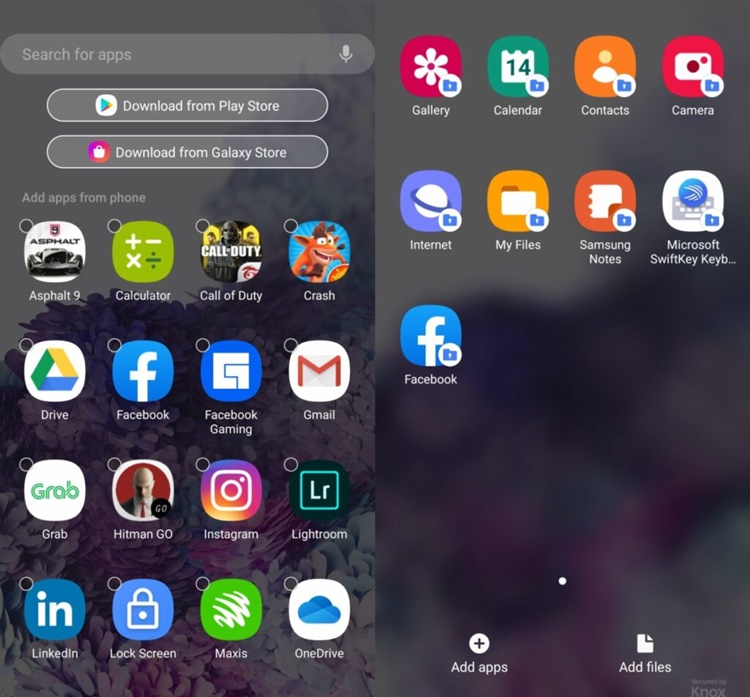 You can also add apps into the Secure Folder
Like most security platforms, Knox Security offers protection for your phone data and app permissions. For starters, its Secure Folder feature lets you store all your sensitive information. Once stored inside, users have to use a different biometric authentication, pattern, pin or password to unlock it. Moreover, you can also use the heavily encrypted Samsung Pass to remember all your usernames and passwords.
So that's it, folks. What do you think of these features on the Samsung Galaxy S21 5G series? We bet you didn't know about the adaptive refresh rate and the secure folder accessibility! If you had a favourite feature that you like, let us know in the comments below.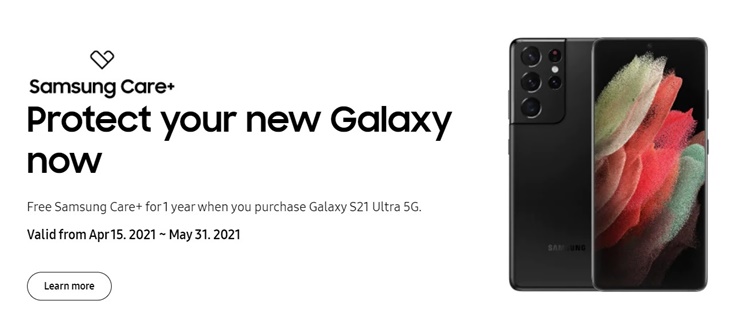 By the way, the Samsung Galaxy S21 5G series has an ongoing promotion until 31 May 2021. If you purchase one during this period, you get a free Samsung Care+ plan for a year. For your information, Samsung Care+ offers Samsung Galaxy users warranties for accidental and liquid breakage repairs. With this plan, you can send multiple service requests throughout the protection period. Moreover, you get pickup and delivery services right to your doorstep.
Moreover, Samsung Malaysia will have a special Epic Weekend Sales for the Samsung Galaxy S21 5G series. Starting from the 26th until the 30th of May 2021, you get RM400 off + free 2 years of Samsung Care+ (worth RM630)! Also, if you're getting the ultra variant, you will bring home a free Galaxy SmartTag, Galaxy Buds and Wireless Charger Duo. As for the other two models, you get the same thing except for the Wireless Charger Duo.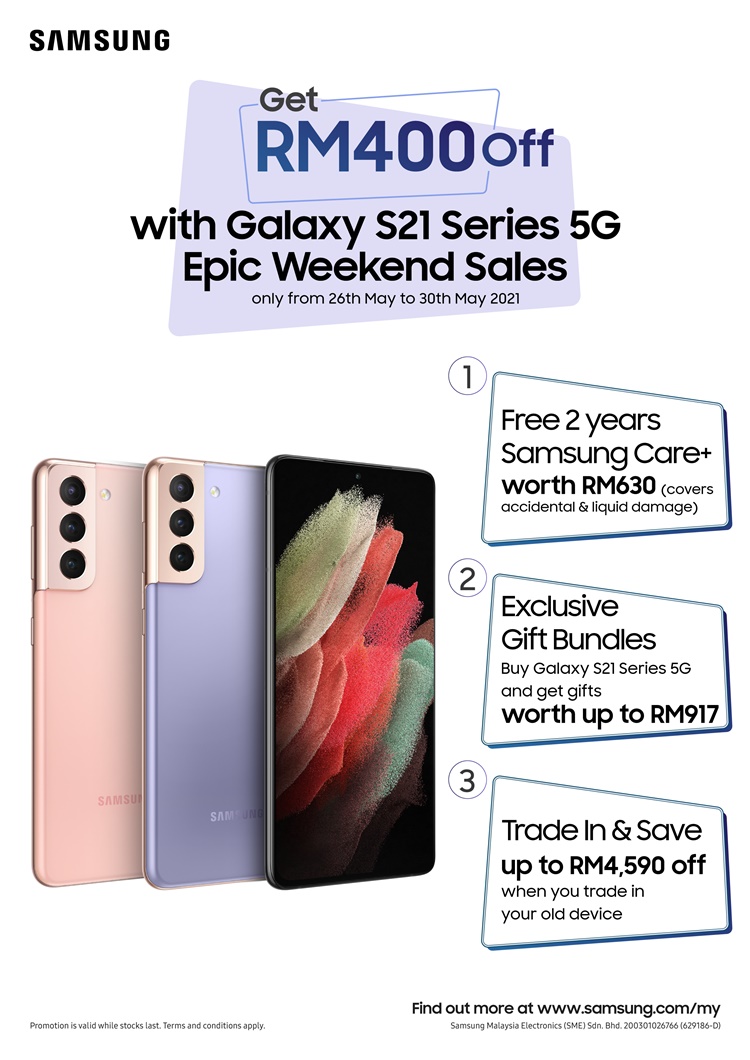 For more information about Samsung Care+ and Epic Weekend Sales, you should visit the website here and here respectively. Alternately, you can find out more about the Samsung Galaxy S21 Ultra 5G, or the Galaxy S21 and Galaxy S21+ from the official product pages. Stay tuned for more tech articles like this at TechNave.com.