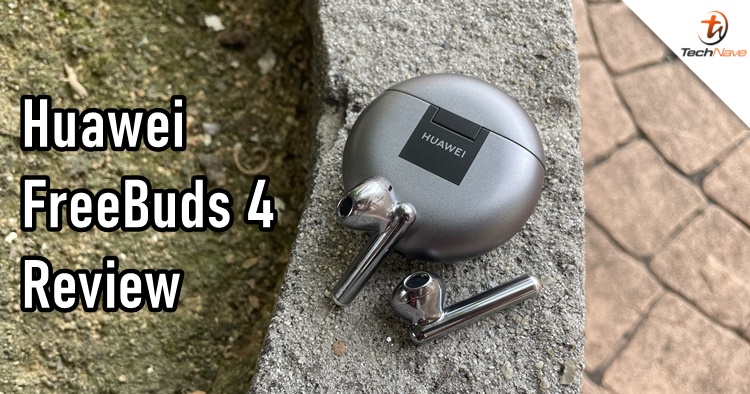 When it comes to peripherals and accessories, brands are slowly introducing their own models to consumers. In Huawei's case, they are steadily building up a range of products that interconnect with each other for convenience and lifestyle.
In this review, we take a look at the Huawei FreeBuds 4 wireless earbuds. Launched at the end of July 2021 for RM599, it may sound just a bit pricey to Malaysians, but we think it's just the right price. I got to play with it for two weeks to get a feel for it. So here is my review of the Huawei FreeBuds 4 - the pros, the cons and whether if it's worth it.
The FreeBuds 4 come in simple packaging, so I won't be going through the unboxing. But if you must know, you can find the typical warranty card, safety information, a manual book, and a USB-A to USB-C cable inside. The colourway that we got from Huawei Malaysia is Silver Frost, and it looks great. It's too bad that the red model isn't available, as it's the better-looking colour. But maybe it will come at a later date, just like before.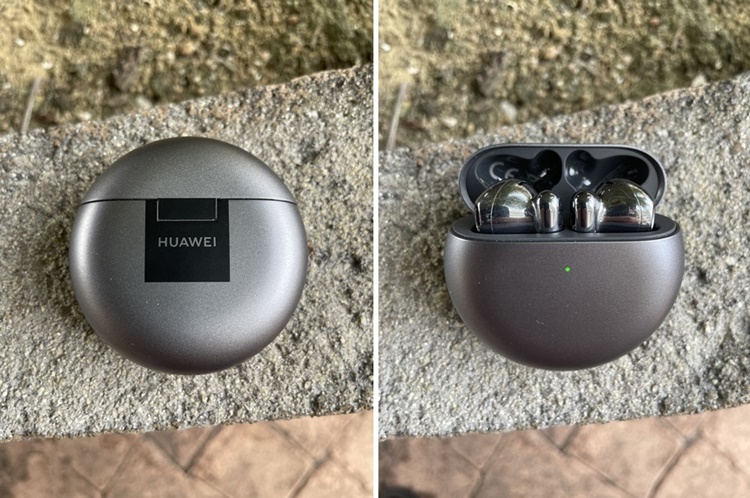 Still pretty much the same design as the predecessor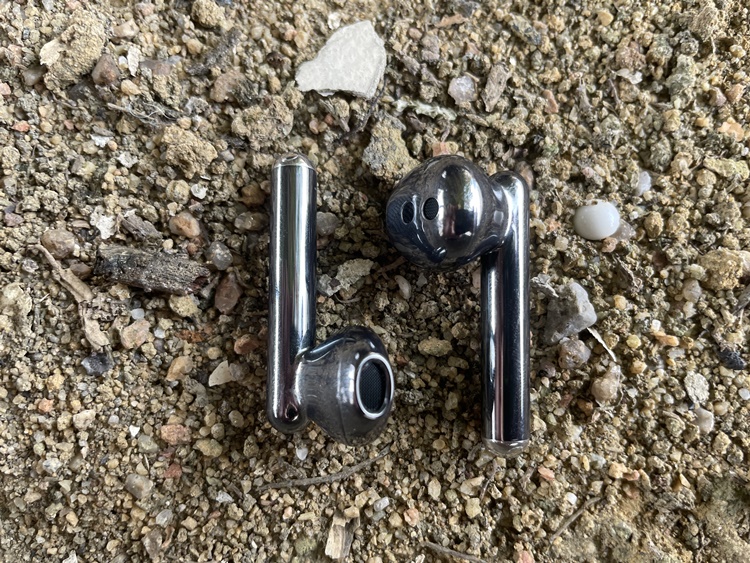 Mhmm, shiny silver frost
Just like the Freebuds 3i, the FreeBuds 4's case is circular but flat enough to fit into your pocket nicely. Even the Bluetooth pairing button is still there, while the USB-C port can be found at the bottom as usual. In case you're wondering, you can still charge this model wirelessly, and the case offers the same amount of battery life. Despite that, the FreeBuds 4 has an additional two hours of music playback. More on that later.
Since it uses the same charging case, the FreeBuds 4 and its predecessor can almost be considered the same. Well, almost. Although it has an identical design, its Active Noise Cancellation feature was upgraded to version 2.0. It also has additional Swipe Controls, a "higher" resolution sound, and Intelligent Audio Connection which doesn't need any explanation. Let's go through each feature one by one, shall we?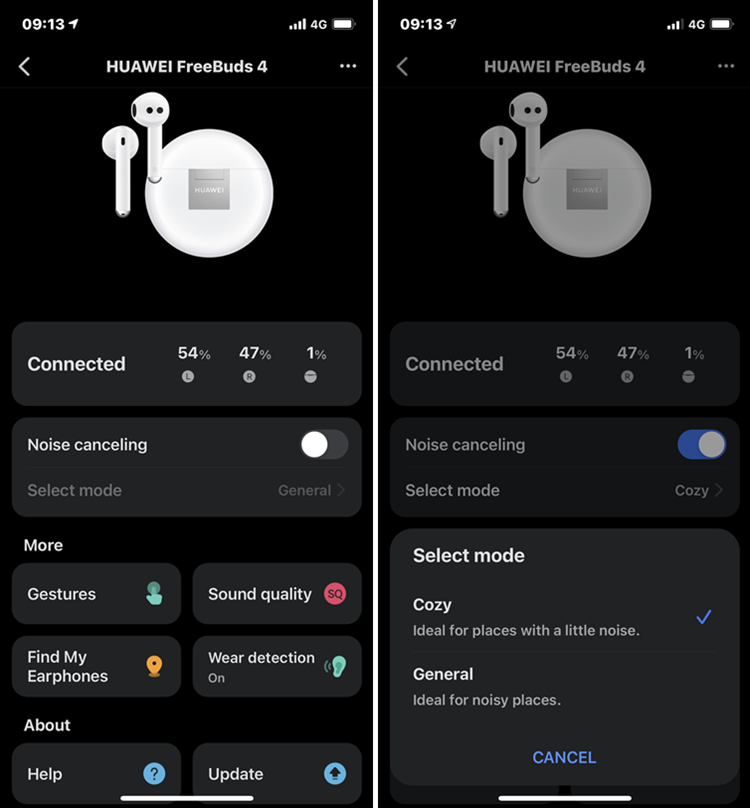 You can download the HUAWEI AI Life app on any Android and iOS device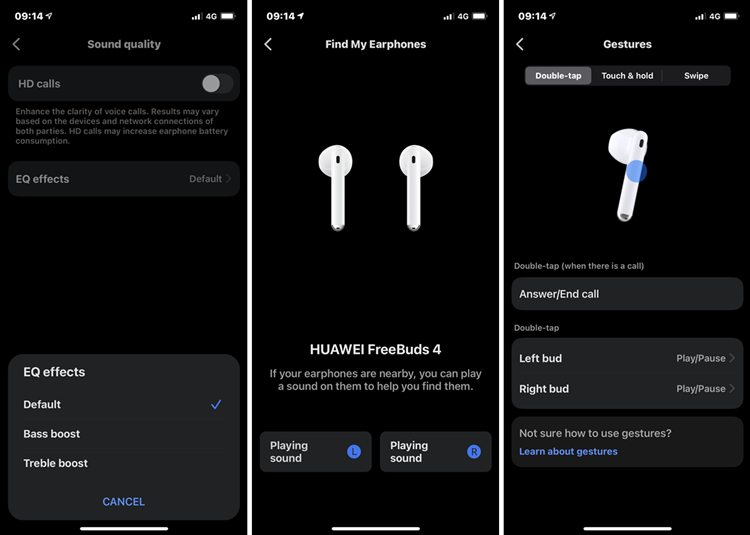 (L-R) You can set the EQ effects, find your earphones if you misplace them, and my favourite - customising the gesture controls for each earbud
Let's start with ANC 2.0. Huawei claimed that the FreeBuds 4 has an open-fit ANC with greater audio immersion. It can block the sound of birds chirping and vehicles on the road outside of your room, but I can still hear some faint sounds from my fan and mechanical keyboard. To be fair, Huawei insisted that having an open-fit design is important to retain environmental sounds. This is for safety reasons, especially if you plan to wear them for many hours, so I can't really blame them for that.
However, I don't really like the audio software because it makes me feel like the bass volume increases whenever I turn it on. I also don't like the voice system interrupting me with "it's turning on" while my songs are playing in the background. Furthermore, for some reason, the sound is a lot better without ANC 2.0. It isn't very obvious, so it could just be my preference.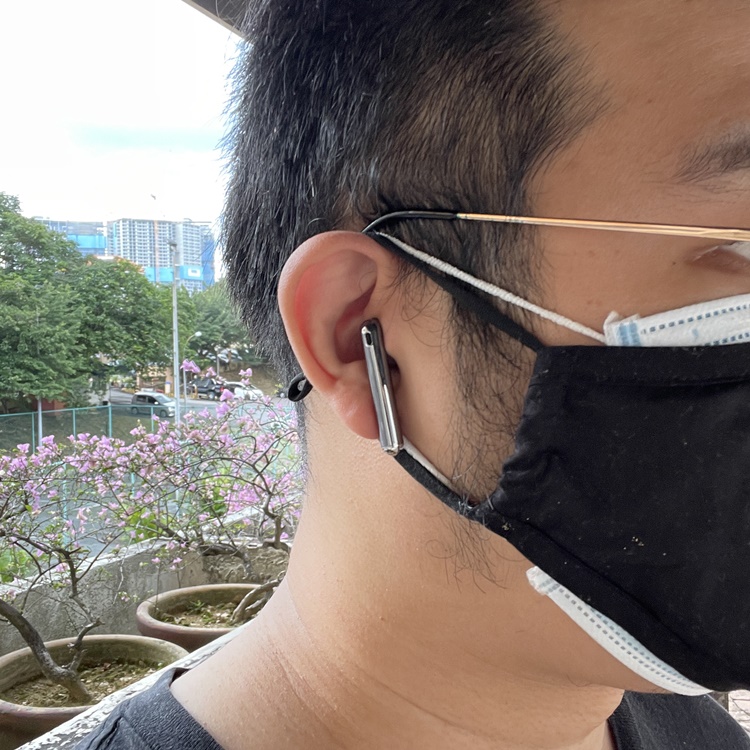 Fitting into my ear seamlessly
Wearing these wireless earbuds can be quite nice, and they almost feel weightless. However, your ears may need to take a 'breather' after half an hour or more, so I wouldn't recommend wearing them for long periods. That said, my favourite feature of the FreeBuds 4 is none other than the Swipe Controls for volume control or skipping tracks (it's customisable). In my OPPO Enco X review, I mentioned that it was (and still is) mindboggling that phone brands still aren't implementing this feature. I mean, it's 2021!
Compared to its predecessor, the FreeBuds 4 has a larger 14.3mm LCP dynamic driver with a frequency range of up to 40kHz. For the most part, the audio quality is good. There's nothing much to nitpick on, especially when the AND is disabled. As I said before, I prefer not to have too much bass boost. But if you are a bass head, you would enjoy the FreeBuds 4 a lot more than I did.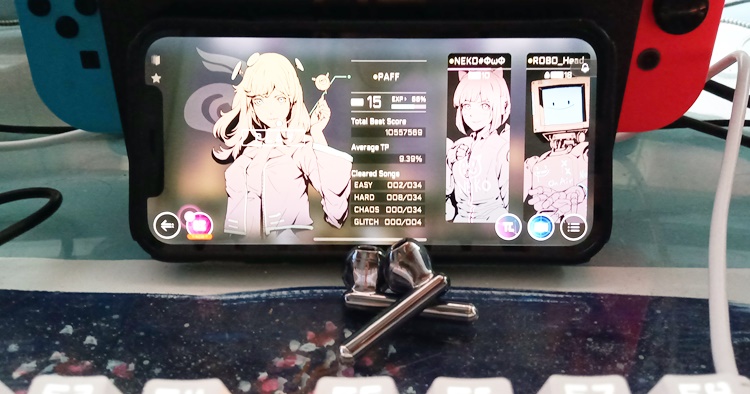 Mobile gaming audio quality performance is fine
Besides listening to music, network calls and voice chats are handled well, so there isn't much to complain about. The FreeBuds 4 can last really long, though I never went over its maximum 4 hours (as advertised) music playback time. With the charging case, these wireless earbuds can last up to 22 hours with ANC off, so that's one of its best points. You can also connect these wireless earbuds to a PC, iOS, or Android device. But its sound quality is much better when it's paired with a phone.
All in all, the FreeBuds 4 is quite straightforward. Compared with its predecessor, this model offers greater value because it has a lower price (RM599 vs RM679) and has better features. My favourite feature is the Swipe Controls, which you can set to volume control or skipping calls. Besides that, it has pretty good audio quality, especially if the ANC is disabled. Finally, it has excellent battery life.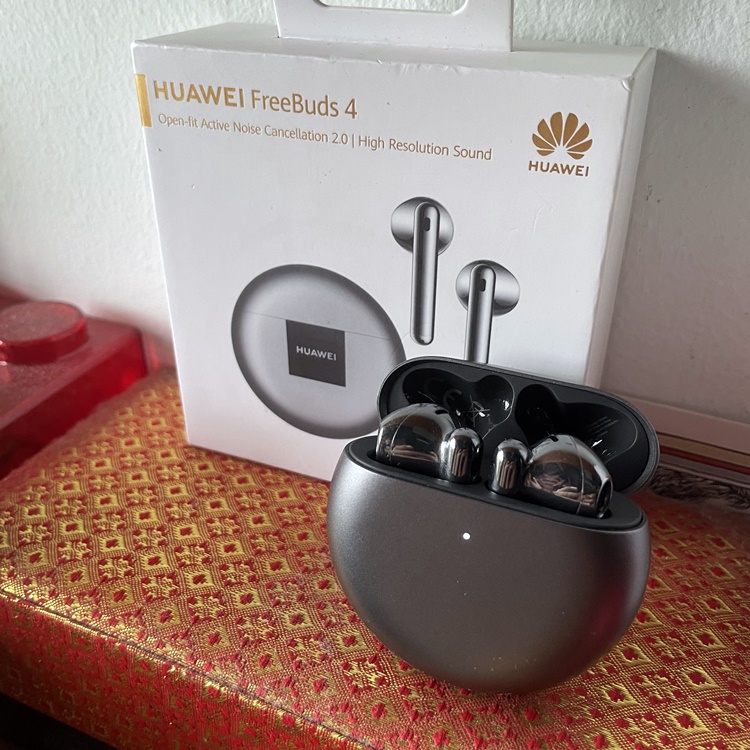 Worth it? Yes
Of course, it has competition in the market like the OPPO Enco X (RM699) and Apple AirPods Pro (RM1099). These three wireless earbuds are similar to each other. But admittedly, the AirPods Pro is still superior thanks to the Spatial Audio feature that delivers Dolby Atmos support for Apple Music users. But if you're budget-conscious, then you have a good reason to go for the FreeBuds 4, even more so to fit into the Huawei ecosystem if you own a Huawei phone.
So that's our review so far about the Huawei FreeBuds 4. Do you agree with us, and do you own one yet? Let us know in the comments below. Stay safe and stay tuned for more tech gadget reviews only at TechNave.com.