Huawei FreeBuds 4i review - Solidly versatile yet affordable TWS with ANC and other premium features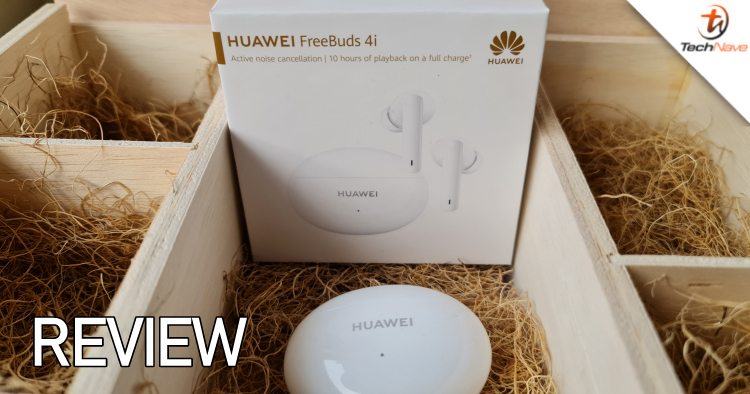 The Huawei FreeBuds 4i are Huawei's latest TWS or True Wireless Stereo headsets and they also come with Active Noise Cancellation or ANC for below RM400. Are they the TWS for you? Read on and find out.
Going for a circular yet compact design, the Huawei FreeBuds 4i case is portable and easy to carry about. There's a USB Type C port on a side, a status LED right below the Huawei brand and side button. The lid flips open to reveal the FreeBuds 4i earbuds.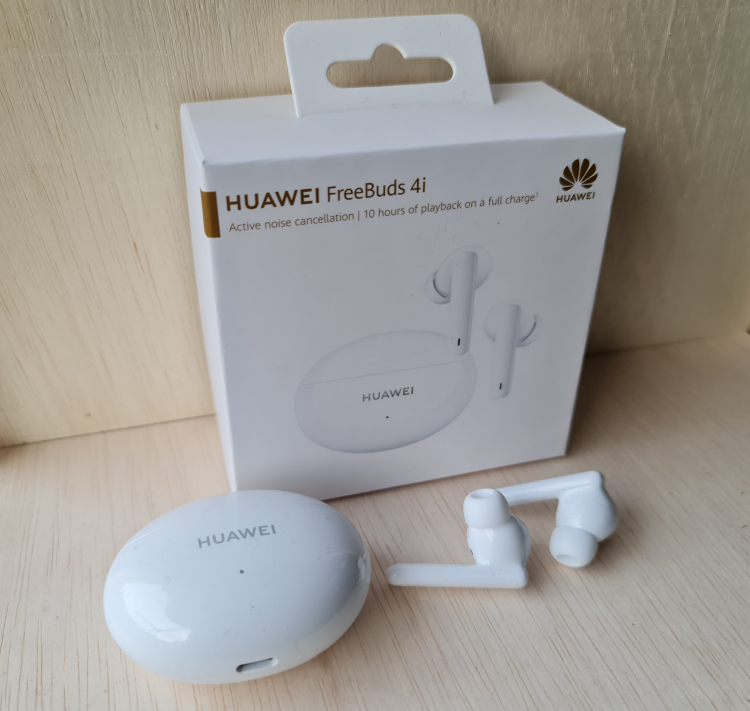 The Huawei FreeBuds 4i come with a compact charging case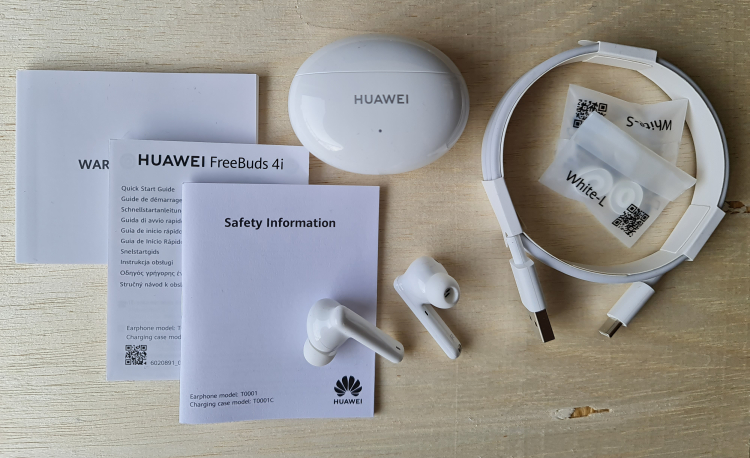 What's in the box for the Huawei FreeBuds 4i - replacement silicon eartips in S and L for the right fit
Looking much like the Apple AirPods Pro, the FreeBuds 4i follow the same overall look with a few sharper angles here and there. They fit easily and securely in the ear though and even come with L, M and S sized silicone replacement tips, so you can customize it for your ear size. Once you put them in your ears, they're quite comfortable and don't easily fall out, even with some serious headbanging.
The first time I listened to them, the Freebuds 4i almost seemed like they had an echo going on but after I got used to it, it's just really strong treble performance. This results in crystal clear audio for songs with singing voices but not so much in terms of bass. To put this into perspective, listening to Whitney Houston's "I will always love you" on the FreeBuds 4i is awesome but not so much the Game of Thrones intro theme.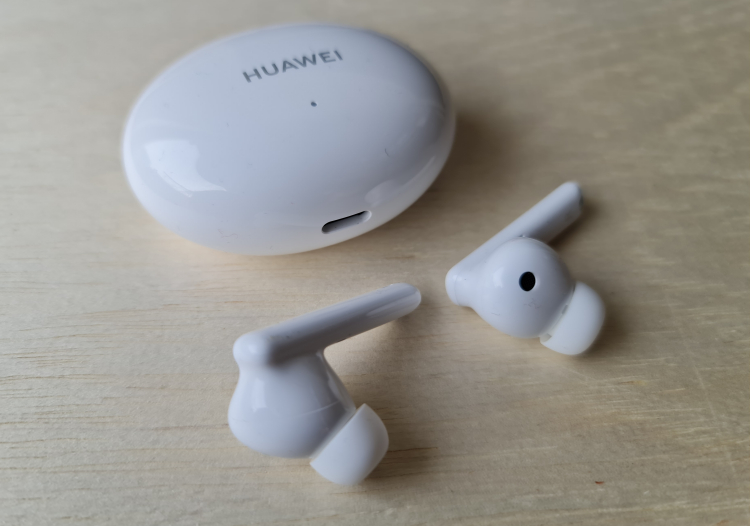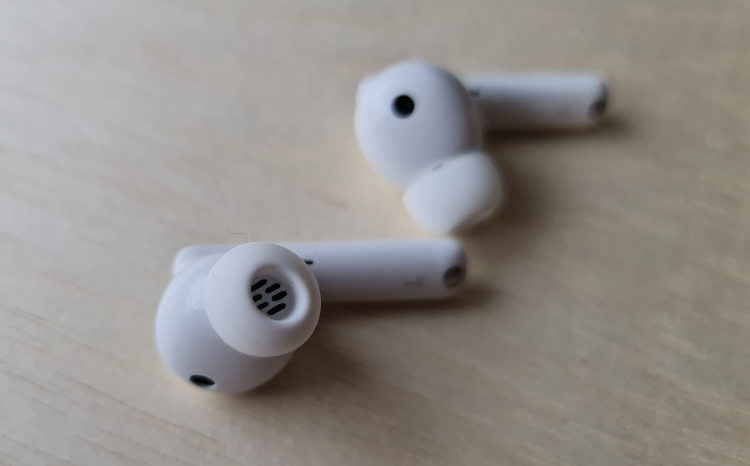 The Huawei FreeBuds 4i are comfortable to use
Pairing is relatively painless even on a non-Huawei device, just flip the lid and press the button on the side of the case for 2 seconds until the center LED blinks white. With a Huawei device, just flip the case lid open and your Huawei phone will automatically detect it and ask if you want to pair.
To be honest, I'm not so sure that linking this kind of functionality to the FreeBuds 4i case lid was a good idea though as the lid is a bit flimsy. A little bump or even just a bit of force seems strong enough to break the lid off even when it's closed.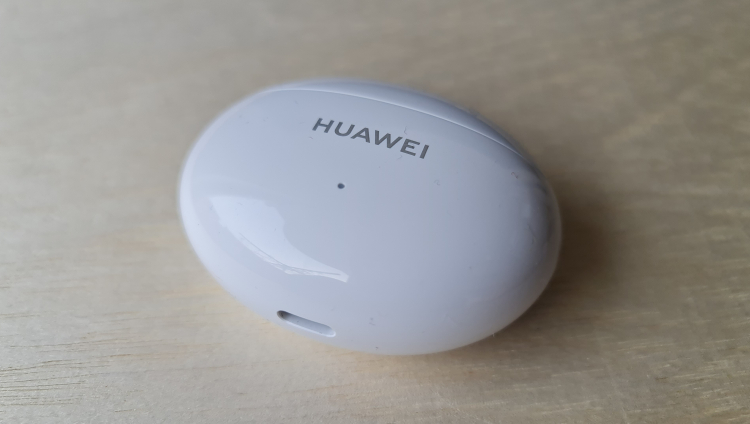 The Huawei FreeBuds 4i case is powered by a USB Type C port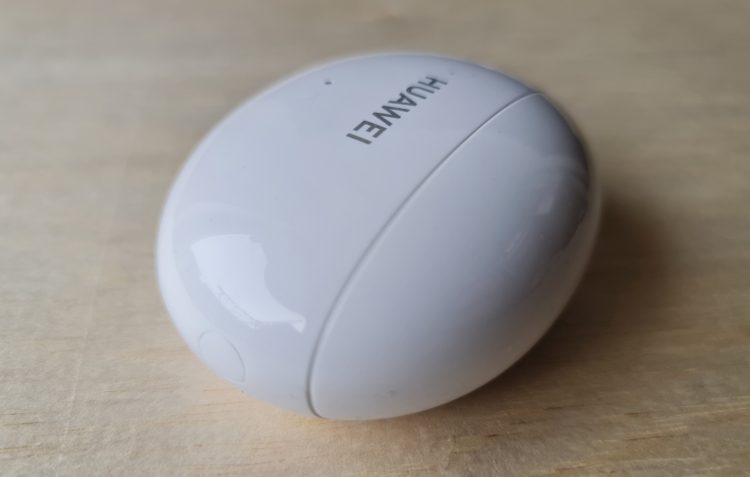 There's a button cleverly disguised on the side
Controls are done through touch sensors on the earbud stem, so a double tap to pause and play or answer calls and a long hold to activate ANC. These are responsive most of the time (you can easily miss the touch area though), but there's a definite lag between the double tap and the pause or replay action.
The Dynamic Active Noise Cancelling or ANC work quite well for constantly and regularly repeating noise, so they do block out stuff like the rain, the hum of an aeroplane and so forth. However, they don't block out voices and other noises completely, so you can still hold a conversation with the FreeBuds 4i still in your ears.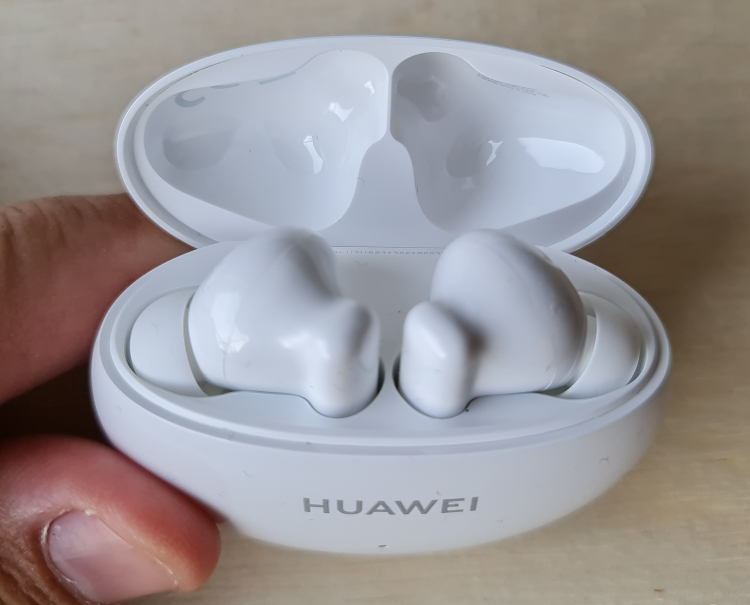 The lid flips open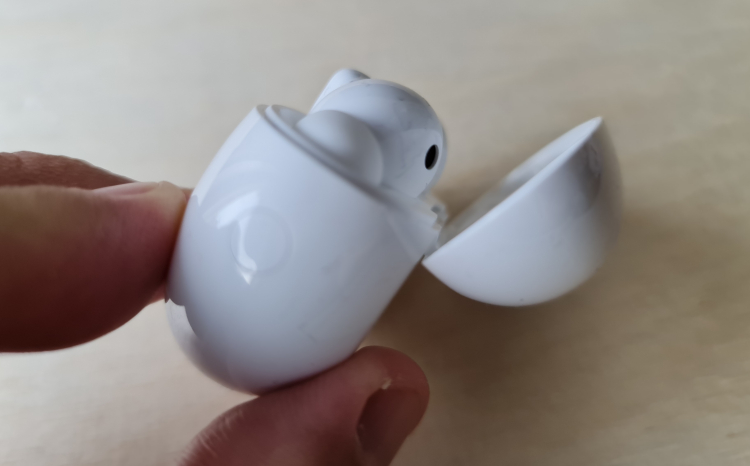 The lid is rather flimsy to be honest
Connection range and stability are superb and the FreeBuds 4i are by far the best TWS in terms of this aspect I've tried so far. I got crystal clear audio even on the outskirts of the usual 10m range and behind doors or other rooms (yep, passed the bathroom test with flying colours).
Call quality was also excellent with clear audio from calls while those on the other side said that this was the same for them as well. This means that they should also be fine with online meetings and so forth. For games, the FreeBuds 4i work quite well with almost no lag at all.
The case looks like an egg with it's smooth white surface but it also should look great in red and black
According to Huawei, the FreeBuds 4i have 10 hours worth of continuous music playback on their own and 22 hours with the case. All we know is that we haven't had to charge them yet over the course of a week and several days. Huawei also said that you can get 4 hours of battery in 10 minutes via the FreeBuds 4i fast charging.
Overall, the Huawei FreeBuds 4i are excellent TWS that work well over long distances and have pretty good battery life. You probably won't like them if you're used to TWS with Extra Bass but for everything else including gaming, the FreeBuds 4i are simply superb, especially if you own a Huawei phone. Just be careful with the flimsy case lid and you should be fine.
In terms of the price, the FreeBuds 4i are surprisingly affordable at a brand spanking new pricing of just RM379 (but there's also an RM60 discount you can get for an RM319 price tag, at least up until 31 March 2021). The closest TWS in that price range and features are the Edifier GM5 - Hecate which costs less but is designed more for gaming. What do you think? Would you be interested in the Huawei FreeBuds 4i? Let us know on our Facebook page or in the comments below and stay tuned to TechNave.com
Tech Specs and Features
Here are the Tech Specs and features for the Huawei FreeBuds 4i:
10mm Dynamic drivers

Supports Bluetooth 5.2

Features built-in capacitive sensors, Dynamic Active Noise Cancelling, Call noise cancellation

earbud measurements: 37.5 x 21 x 23.9mm | 5.5g

case measurements: 48 x 61.8 x 27.5mm | 36.5g

earbud battery: 55 mAh

case battery: 215 mAh

available in carbon black, ceramic white, red
Pros and Cons
Pros: Works well for everything including gaming. Super light and comfortable. Works better for Huawei phones.
Cons: Dynamic ANC is selective. No Extra Bass. Works better for Huawei phones.
Summary: Affordable premium TWS with all the bells and whistles including dynamic ANC, low latency, fast charging and more.