Huawei Honor 7 vs Meizu MX5 comparisons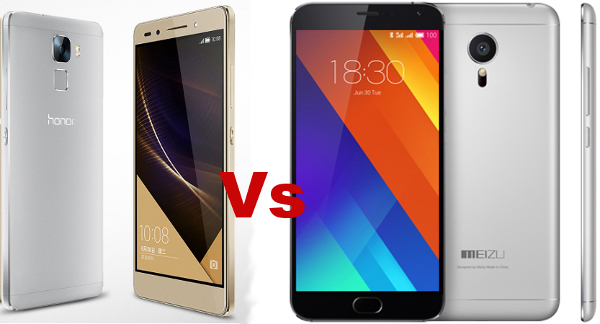 Announced at around the same time, the Huawei Honor 7 and Meizu MX5 share a number of similar features such as an all metal body, more than 5-inch sized full HD display, fingerprint scanner and 20MP rear cameras. Neither are currently available here in Malaysia yet but at 1800 CNY (RM1081) the Meizu MX5 is priced lower than Honor 7 which is going for 1999 CNY (RM1214). The Honor 7 is more compact due to its 5.2-inch display but the Meizu MX5 is thinner at 7.6mm and lighter at 149g despite the larger 5.5-inch display. Both come packing with the latest 64-bit processors, the Honor 7 with a HiSilicon Kirin 935 while the Meizu MX5 comes with a MediaTek MT6795 Helio processor.
The Honor 7 ups the Meizu MX5 with an 8MP front camera but the MX5 has a slightly higher 20.7MP rear camera compared to the 20MP rear camera on the Honor 7. The Honor 7 rear camera uses phase detection autofocus while the Meizu MX5 uses a laser autofocus. Which autofocus is better? Well, the debate on that still hasn't quieted down yet, especially if Huawei uses newer algorithms and sensors like in the Samsung Galaxy S6 which also uses phase detection autofocus. So far, there are still no details yet on which will be coming to Malaysia first, but both have a presence here so we would say in the coming months. For the full comparison check out our Huawei Honor 7 vs Meizu MX5 tech specs comparison tool. Check out our other comparisons below or take a spin with our phone comparison tool yourself.
Honor 7 Specs & Price >