Huawei announced new accessories at P30 launch which include 12000mAh powerbank, smart glasses and more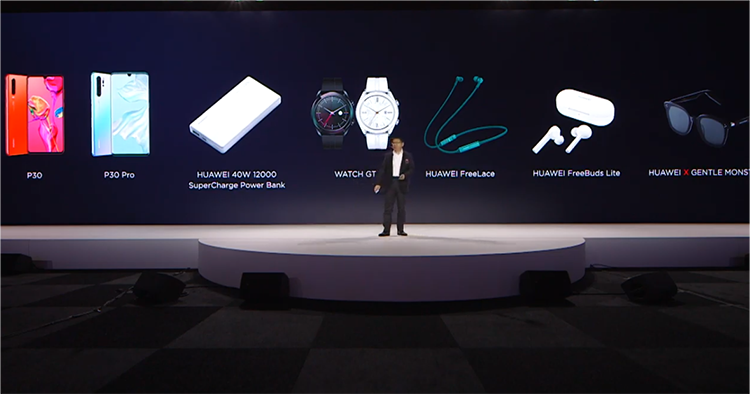 The Huawei P30 series did nothing but wow us with their extreme camera capabilities yesterday. However, as soon as we thought the presentation was over, the Chinese manufacturer brought out an array of interesting smart accessories which included the Huawei Watch GT, 40W 12000 SuperCharge Power Bank, some earphones as well as smart glasses.
Let's start off with the Huawei 40W 12000 SuperCharge Power Bank. Hearing the name in itself is pretty intimidating as it is with the 40W charging ability and the 12000mAh battery capacity. The power bank does more than charge your phone. It can pretty much charge all your electronics, be it your laptop, your Nintendo Switch, you name it.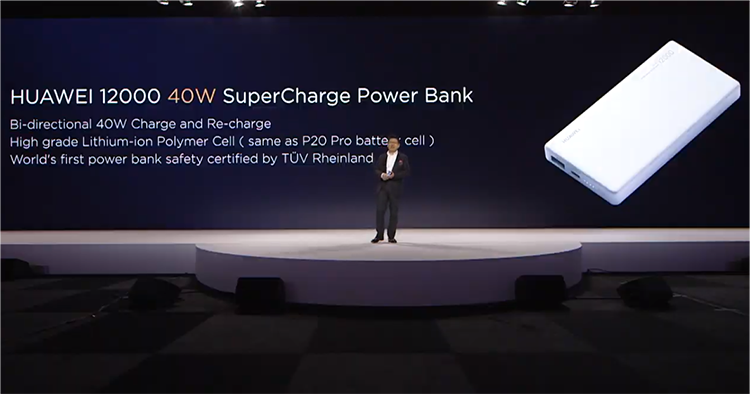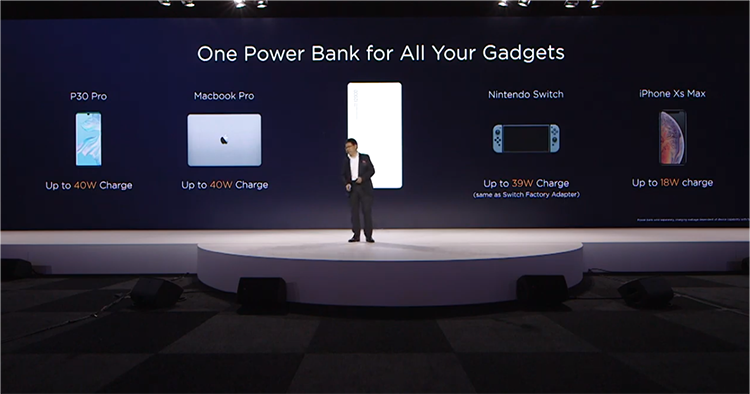 The powerbank is made from the same battery cell as the Huawei P20 Pro (high grade Lithium-ion Polymer cell) and is the world's first power bank to be certified by TUV Rheinland. Huawei's executive teased the powerbank yesterday on Weibo, mentioning that he has been testing the power bank for 3 months prior to the announcement. The Huawei SuperCharge Power Bank sells at 99 Euros (~RM454).
Huawei also announced a very interesting accessory last night which no one expected in collaboration with Gentle Monster which is subsequently called Huawei x Gentle Monster: a pair of smart sunglasses - or rather, a range of smart glasses. The glasses have in-built batteries, a charging module, dual mics, speakers, antenna and a chipset which enables it to be paired with your smartphones.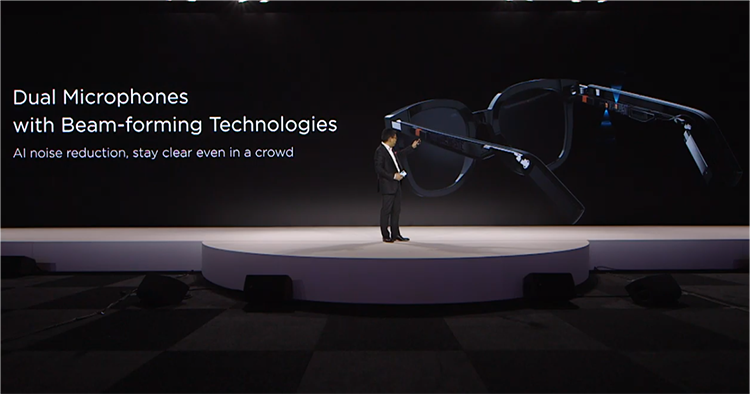 The mics come with noise reduction with dual beam technology and the speakers are dual semi open speakers which give you a studio stereo experience. Answering calls with the glasses is easy: just tap the side of the glasses like you would on your wireless earbuds. It is also IP67 water and dust resistant so you don't have to worry about it getting ruined in the rain or dusty conditions. I'm a little disappointed that we can't watch movies on the glasses itself or scan things like in sci-fi movies but I have a feeling it won't be long till it happens now. We can expect to see the Huawei x Gentle Monster smart glasses unveiled officially in July this year.
Speaking of wireless earbuds, Huawei also announced their Freebuds Lite last night. It comes with a total battery life of 12 hours including the charging case and IPX4 rated water and dust resistance. From its design, it has in-ear buds which gives it better audio and noise cancelling capabilities and comes in two colours, black and white. As for the charging case, it is pill shaped with a clamshell design with a LED notifier in the front which acts as a battery indicator. This device sells at 119 Euros (~RM546).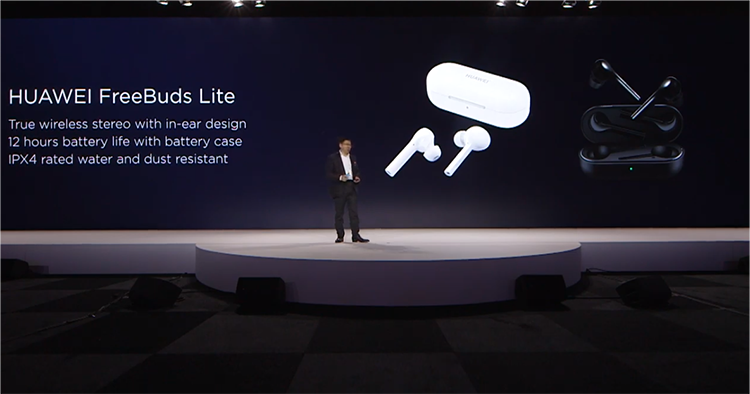 For the sportier crowd, Huawei has unveiled some earphones for you guys as well, the Huawei FreeLace. The device comes with a band like most sportier earphones do so they do not fall off in the case of it falling out of your ears. It comes with a Type-C port, which is very convenient as you only need to plug it into your smartphone to pair it. You can even charge it on your smartphone as well. This item sells at 99 Euros (~RM454).
The FreeLace comes with 18 hours of playback on a full charge and 5 minutes of charge is capable of giving you 4 hours of battery life. When you're not using them, the earbuds connect together via magnets, ensuring that it does not fall off your neck. The FreeLace comes in 4 colours, Amber Sunrise, Emerald Green, Graphite Black and Moonlight Silver.

Besides that, the Huawei Watch GT also got a cosmetic makeover. A brand new colour has been announced for the 46mm case which is in Titanium Grey with a new bezel pattern colour. In addition, a new 42mm case was also announced, the Elegant Edition. This edition of the Watch GT comes in a unique Ceramic Bezel cutting with a fluoroelastromer strap and 2 colours, Magic Pearl White and Tahitian Magic Black Pearl. However, the Elegant edition of the Watch GT only comes with 1 week battery life instead of the 2 week battery life on the standard Watch GT.
New customizable watch faces made by 3rd parties are also out on the market for you guys who love to change things up every now and then. Also, an all new Triathlon mode has also been added to the Watch GT's software. The Elegant Edition of the Watch GT sells for 229Euros (~RM1051) and the standard edition at 249 Euros (~RM1142).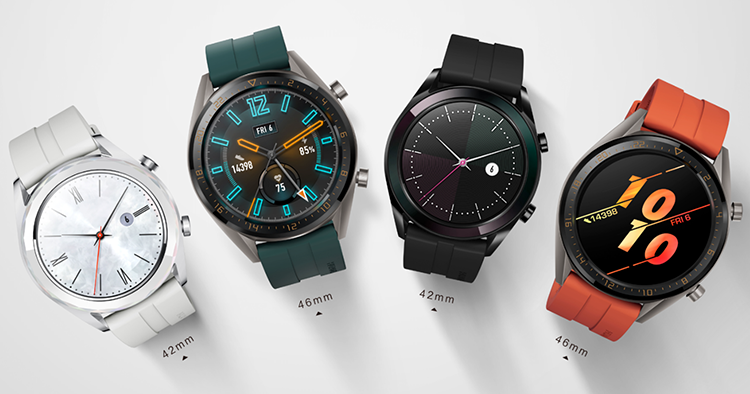 The Huawei Watch GT. The 42mms are Elegant Editions and 46mm standard edition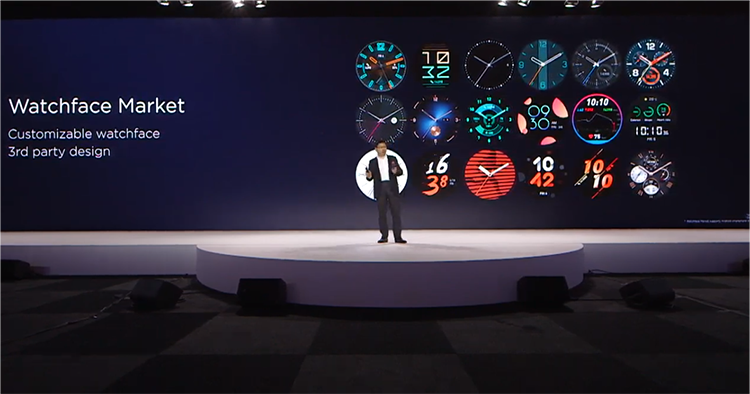 The brand new watch faces
To spice up your phones, Huawei has also introduced some pretty cool and functional cases. For people who are girly and love #aesthetics, a Pearl Pink Glamorous case was unveiled covered in Swarovski crystals (which I think I would cry every time a single crystal were to fall off the case) which comes in a pretty glitter dusted, Special Edition Gift Box.
For those who are on the fashionable side, Parisian designer Mr Quentin Obadia has created some Arts & Craft cases which comes with a lanyard to hold your phone which is not only fashionable but also practical. Besides that, other varieties of cases were unveiled which includes flip cases, wallet cases, some stylish cases (which are very pretty in my opinion) as well as a dive case which can go up to 10 meters under water.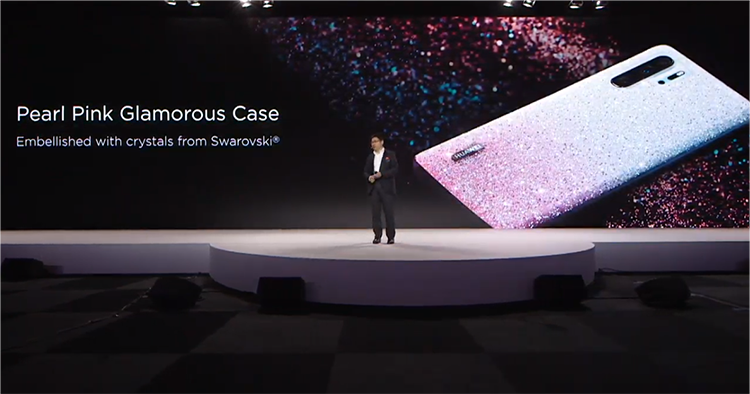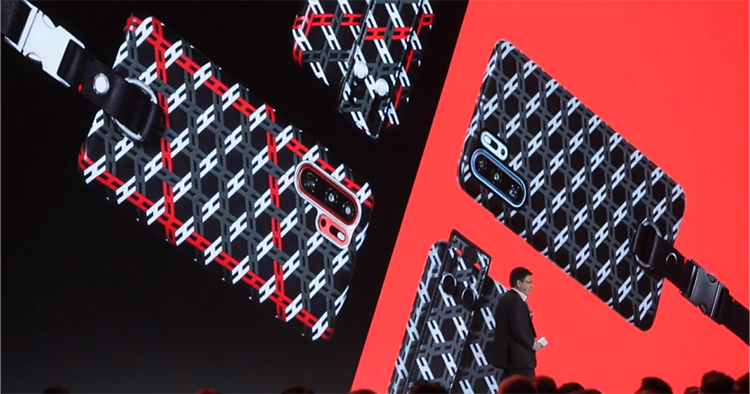 Art & Craft case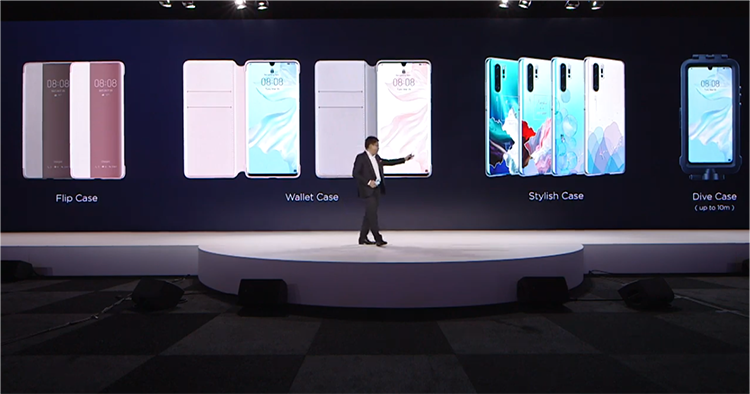 And that sums up the companions to the Huawei P30 series that was unveiled last night! No word of a Malaysia release date or pricing for these accessories but we'll keep you posted on TechNave.com. Which accessory are you most interested in?
Huawei P30 Specs & Price >