Huawei introduced AppTouch as a new digital service platform for global carrier at MWC 2019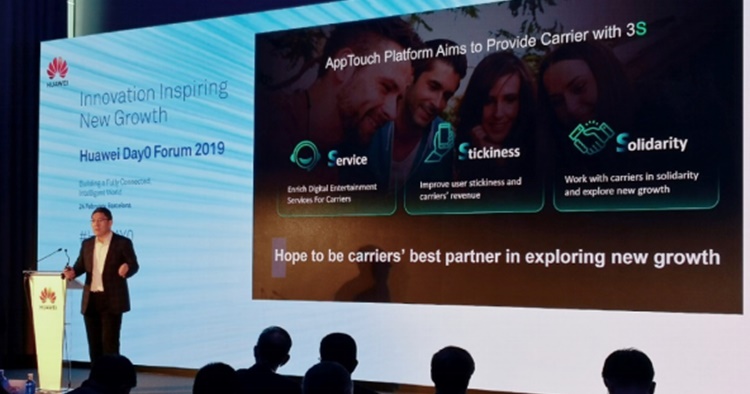 During the MWC 2019, aside from showcasing the world's first foldable 5G Huawei Mate X smartphone, the MateBook X Pro (2019), MateBook 14 and some new 5G devices, Huawei also did another announcement, saying that the company is planning to build a new digital service platform called the Huawei AppTouch.
What's the AppTouch and what does it do? Well, it's said that Huawei designed it for global carriers based on their existing services, helping carriers to provide users with more and better digital content cloud services, such as games, videos, music, information flow and many more. To add in, Jervis Su, Vice President of Mobile Services of Huawei stated that the company hopes to provide support for carriers' digital transformation, with innovative, streamlined business solutions that address customer's pain points and problems, broaden business boundaries and help customers succeed in business.
At this moment, Jervis also mentioned that AppTouch is already deployed in more than 60 carriers over 40 countries in Asia Pacific, Middle East, Africa and Latin America with over 20 million subscribers. Below are four main strengths of using AppTouch:
Globalized ecosystem: Through AppTouch's aggregation of various global contents, including games, videos, music and others. Carriers can easily access the global ecosystem resources by single-point cooperation with Huawei.
Cloud-based deployment: AppTouch platform enables carriers to quickly deploy new digital services
Multi-channel promotion: AppTouch platform integrates global top marketing channels to help quickly reach users
Localized operations: HUAWEI local employees are responsible for marketing and operations to enable local operations in different countries
The new AppTouch platform will officially be shown at the Digital Game Conference (DGC) in Dubai on March 5, hoping to promote the platform. Stay tuned for more Huawei news at TechNave.com.