Huawei nova 8i review - Enough features for the average user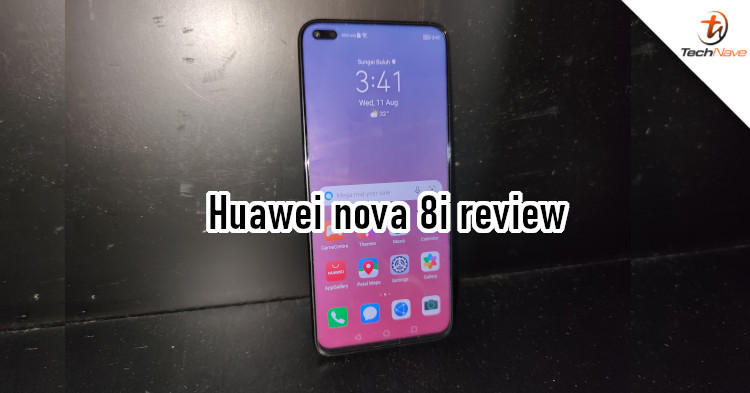 While most brands only have a flagship smartphone or two, big brands tend to have a lot of mid-range models. It's not always easy to figure out which one would be the best fit for a user, but the great thing about quantity is that you get choices.
On the topic of choices, Huawei is definitely one of the brands that give you plenty of options. Among its portfolio of smartphones would be the nova series, which focuses more on delivering decent specs and features at an affordable price. With that said, let's take a look at what the new Huawei nova 8i has to offer.
Design - Well-designed with a fancy camera module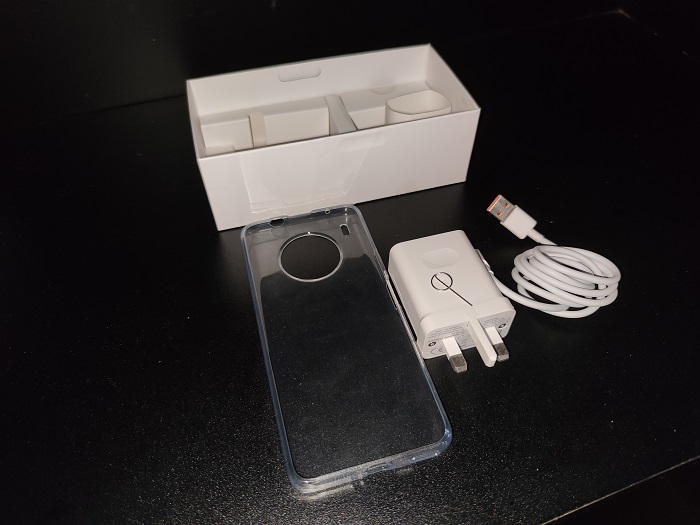 The stuff you'll find inside the box (sans manuals)
At a glance from the front, you can immediately see a distinctive difference in the Huawei nova 8i, compared to last year's nova 7i. Namely, it's now running a dual-camera instead of the single-camera from before. It's also got a taller dimension, which means the screen is now slightly taller and wider in landscape orientation. However, it doesn't look bulkier at all.
The back definitely looks fancier, thanks to the round camera island. You can see how the quad-camera module clearly sticks out of the back, which gives it a visible camera bump. However, the phone doesn't wobble when you place it flat on a table, so we call that a win for the nova 8i. A drawback it has is the glossy plastic body, which does attract fingerprints. Due to that, it's best to cover the phone with the silicone case included in the box.

The right side has the volume controls and power button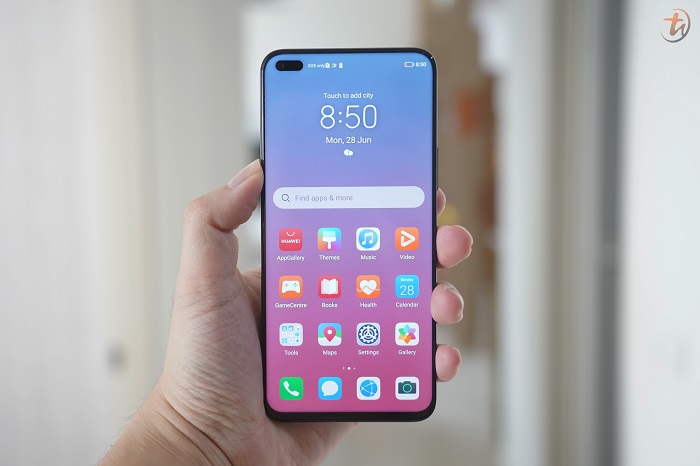 The front view - a simple but clean design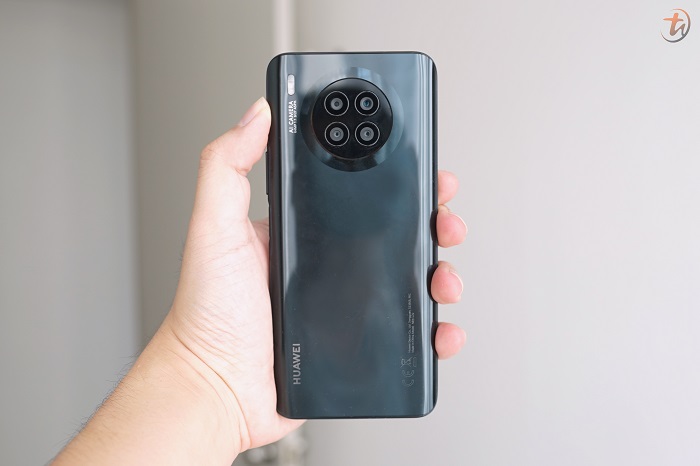 The glossy plastic attracts fingerprints, so you should use the included case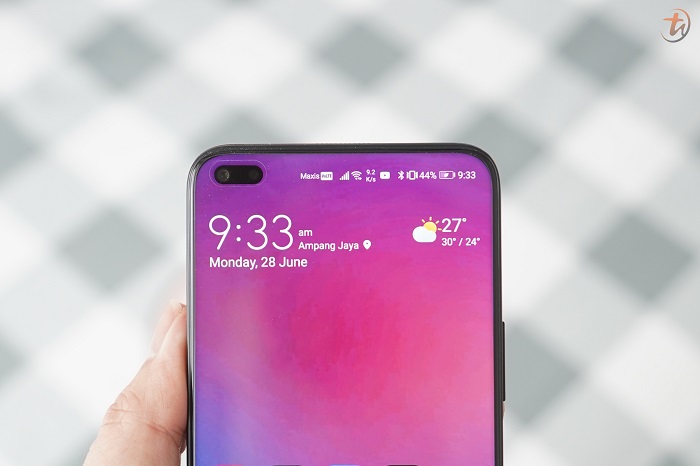 A closer look at the front cameras, it's a dual-camera setup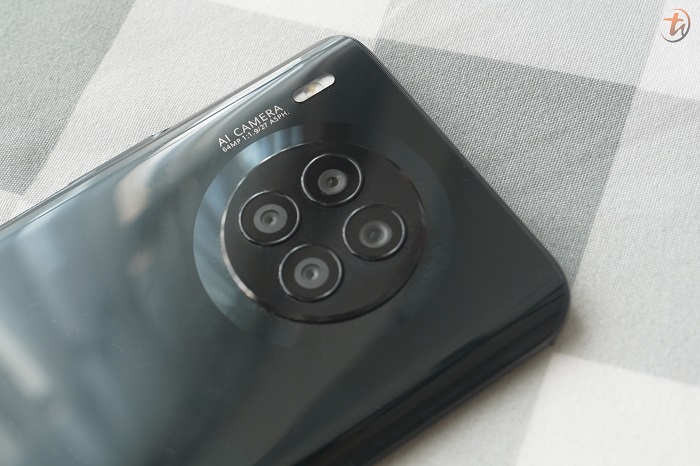 The rear cameras are in a circular module
Moving on to the other sides, you'll find the volume buttons on the right with the power button. There's also a fingerprint reader that's into the power button, which is how I personally like it. Besides that, you'll find a 3.5mm audio jack on top, while the USB-C connector, SIM tray, and speaker grille are located at the bottom. Nothing fancy, but overall it's well-designed.
Tech specs & features – Okay specs, but lacks features
Display - 6.67-inch IPS LCD
Chipset - Qualcomm Snapdragon 662
Memory - 8GB RAM + 128GB ROM
Rear cameras - 64MP (main lens) + 8MP (ultra wide-angle lens) + 2MP (depth lens) + 2MP (macro lens)
Front cameras - 16MP
Battery - 4300mAh, with 66W fast-charging
Colours - Moonlight Silver, Interstellar Blue, Starry Black
As you can see from the short spec list above, the Huawei nova 8i is more of a lower mid-range smartphone. Under its chassis, the device features Qualcomm's Snapdragon 662 chipset, 8GB of RAM, and 128GB of storage. There's no microSD card slot available, but 128GB should be enough for most people unless you plan to take a lot of photos and videos. It does have a dual-SIM tray, which is useful when you're travelling.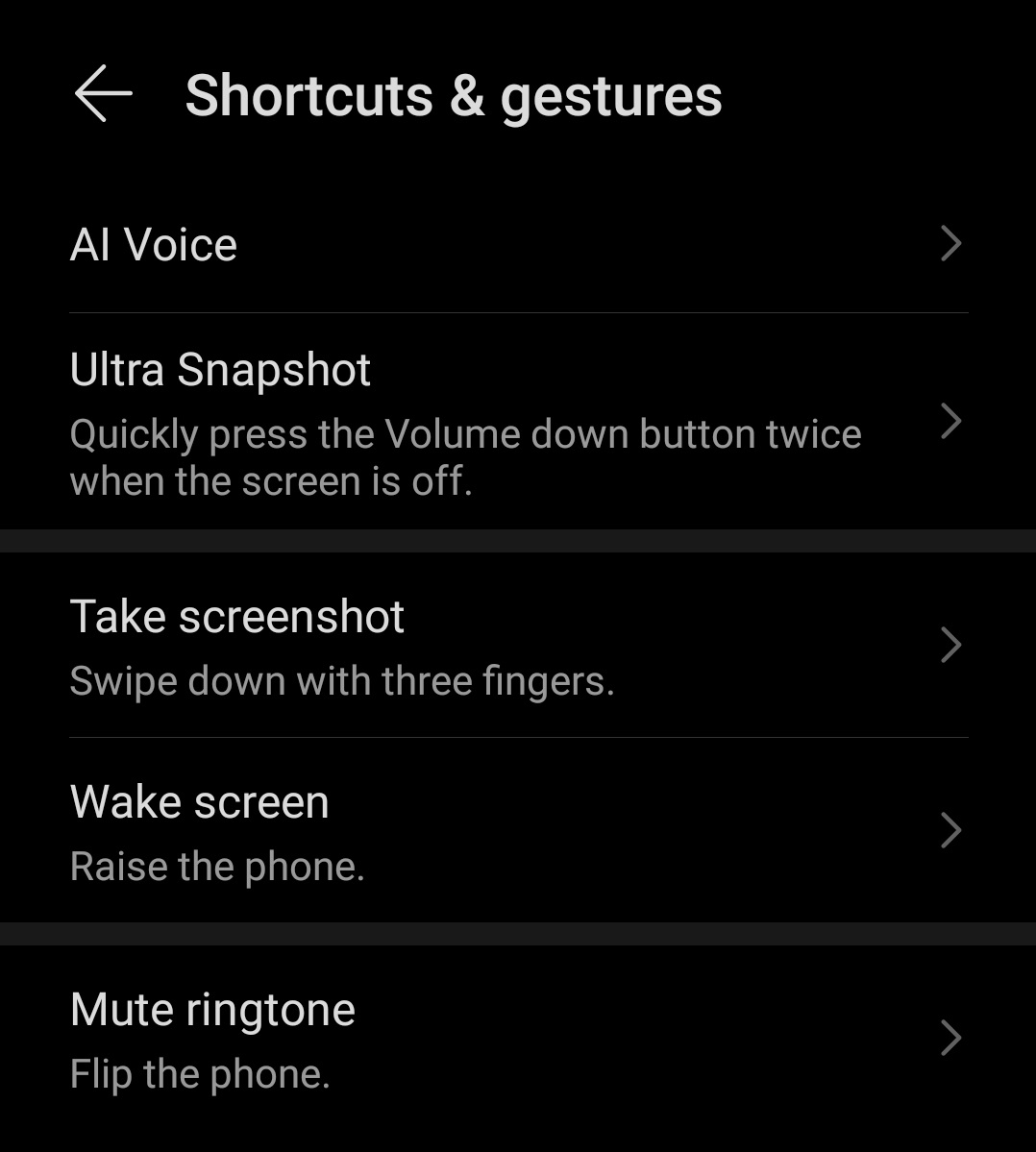 Some basic gesture shortcuts
The display is relatively large for a mid-range at 6.67 inches. It doesn't have any fancy features like high refresh rates, but the display performs well enough that casual users can enjoy it. If all you're doing is browse the Internet or watch YouTube videos on the device, this display will do the job.
It does have an interesting eBook Mode, which is basically a monochrome mode that disables colour. This is great if you like reading articles on your phone, or plan to install eBook apps like Kindle on it. The UI also supports some basic shortcuts and gestures, such as swiping down with three fingers for a screenshot. Of course, it does have some features that are exclusive, namely Huawei Share.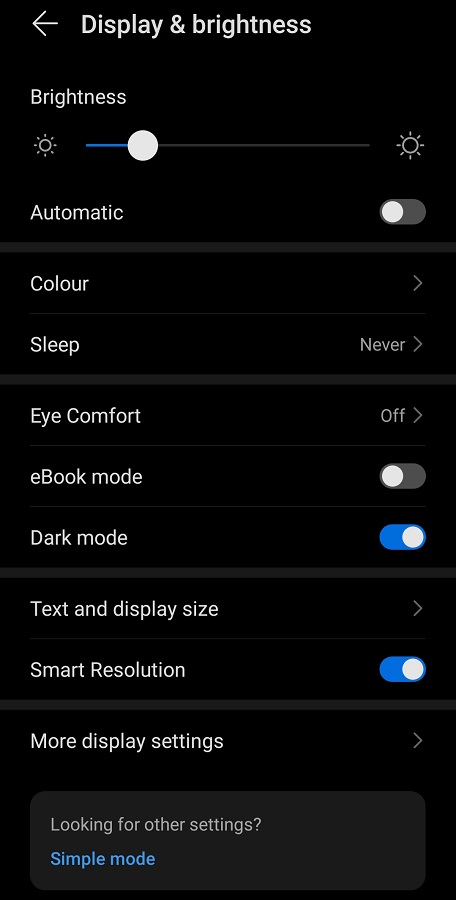 The eBook mode basically turns the display output into black and white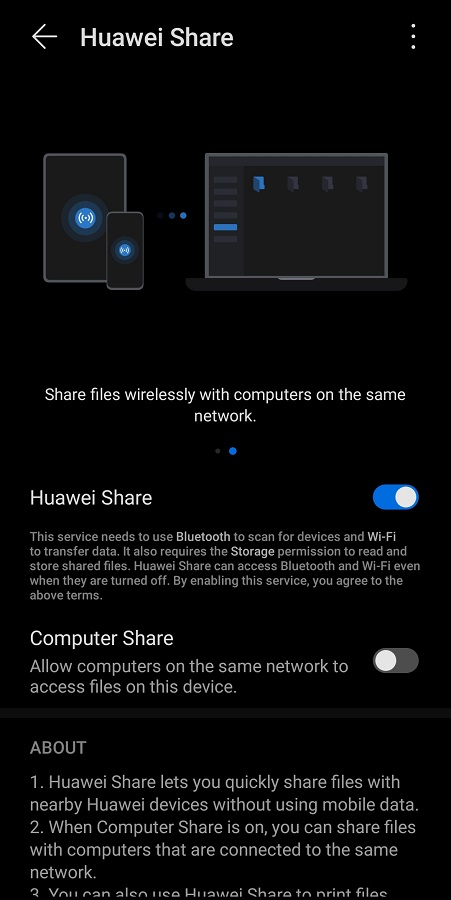 Huawei Share is supported on this device
As mentioned, there's a quad-camera module located on the top centre of the phone. It consists of a 64MP main lens, 8MP ultrawide-angle lens, 2MP depth lens, and 2MP macro lens. There's also a 16MP wide-angle selfie camera on the top left, placed under a pill-shaped cutout with a sensor that enhances selfies in low-light areas.
In terms of camera features, it comes with different modes such as Night, panorama, time-lapse, and super macro. There's also a Pro mode if you want more fine controls for settings like the ISO, white balance, or aperture. As for video recording, his phone allows you to record in 1080p or 720 at 30 fps.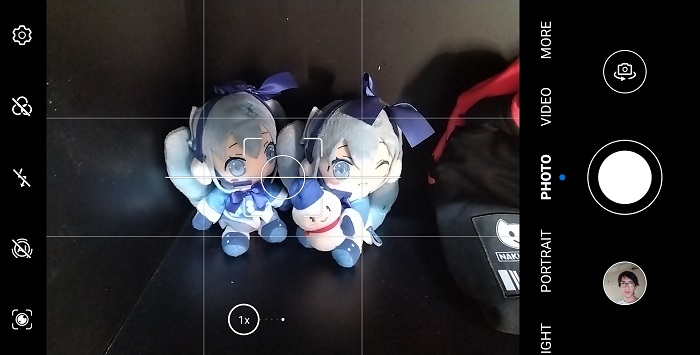 The basic camera UI
The camera features available on the camera app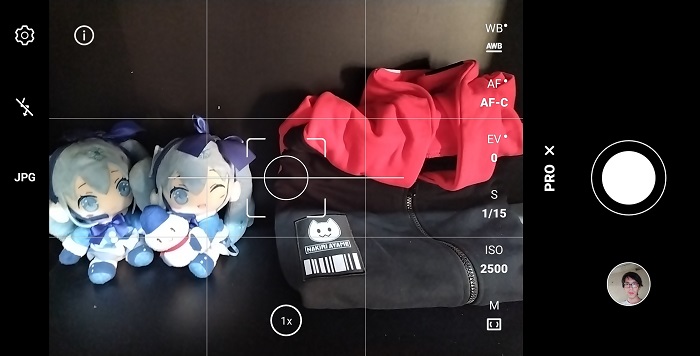 It has a pro mode too, though that's guaranteed in all phones these days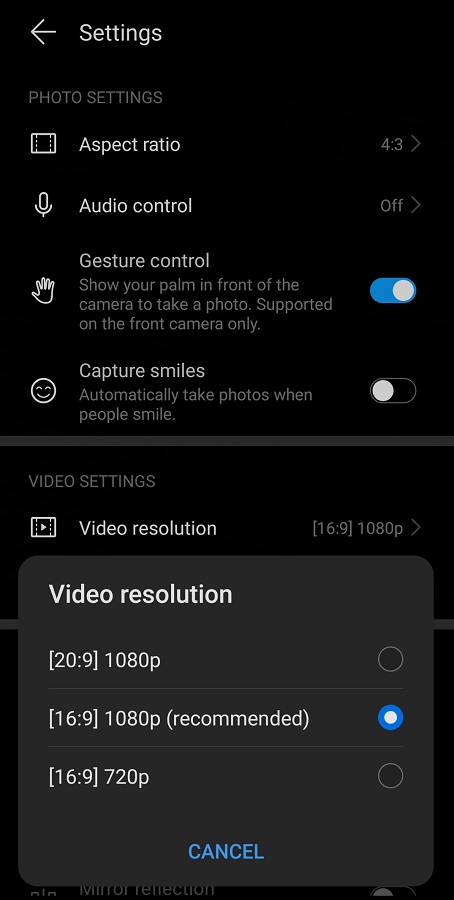 You can record up to 1080p at 30fps
As for the features on the operating system, there are a few unique to Huawei devices and the EMUI. For example, there's AppGallery, Petal Search, Petal Maps, and GameCentre. The first three are Huawei's app store and related apps, while the last one is something we see often these days. For this phone, GameCentre can do simple things like disable notifications when gaming or record your gameplay.
For security, the nova 8i comes with the standard fingerprint sensor (side-mounted) and face unlock. It can't detect your face if you're wearing a mask though, so that's something to keep in mind. Anyway, there are also a few security features for your data, allowing you to lock certain apps with a pattern or your files with a password.
No Google Play Store, but the Huawei AppGallery has plenty of apps too
The Game Center lets you play mobile games uninterrupted
Performance – Enough power to handle daily tasks
The nova 8i is intended to be a simple device that delivers a basic set of features to users. But it's held back by the Snapdragon 662 chipset. It only scored 307 for single-core and 1289 for multi-core on the Geekbench 5 CPU benchmark. For graphics, it managed 1063 points in 3DMark's Sling Shot Extreme.
Of course, you can still do a lot of things with the hardware that this phone packs. For instance, you could easily play PUBG Mobile (still quite popular in SEA) on Medium settings with no issues. High-end games like Genshin Impact are also possible, but you won't be able to enjoy it with good graphics and frame rates. The chipset is still more than capable of handling regular tasks like web browsing, though the screen would sometimes stutter when we're scrolling.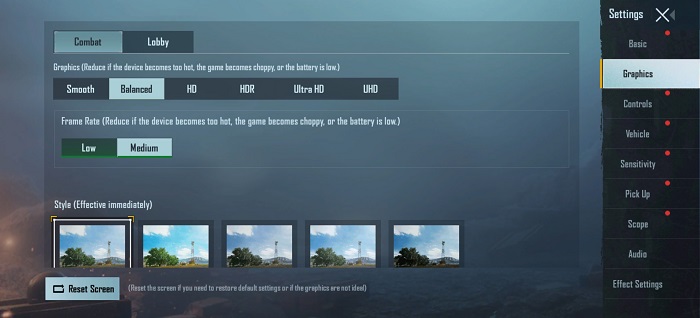 You can play PUBG Mobile on Balanced settings at Medium frame rates
You can also use this phone to watch videos or listen to music. The 6.67-inch Full HD IPS screen has decent video quality at a max refresh rate of 60Hz. That and the chipset are probably why the screen sometimes stutters when using certain apps. As for the audio, it's quite crisp and the overall quality of the speaker is above average.
In terms of battery life, the 4300mAh battery on the nova 8i can last long enough for an entire day. The battery drained by 40% within 3 hours while we were downloading stuff, benchmarking, and testing out games. But dropped less than 10% when unused for over 8 hours. You can easily get about 7-10 of use out of a full charge, depending on how you use the phone. And if you need to recharge, the phone can regain 80% of the battery within 40+ minutes thanks to the 66W fast charger.
Next up, let's touch on the cameras for the phone. As expected, the main 64MP camera can take pictures with good detail in natural light. The contrast for photos was okay too, though the colours felt a bit oversaturated. Overall, it's about average and what we expect for more mobile camera sensors these days.
Photos taken at night are mostly average. Specifically, photos taken at night don't seem to have a lot of detail. This happens even if you use the night mode. On the flip side, there's not much noise so that's a point in its favour. Overall, we'd consider the cameras here decent enough for photos in low-light areas. You can check out some of the pictures we've taken below for reference.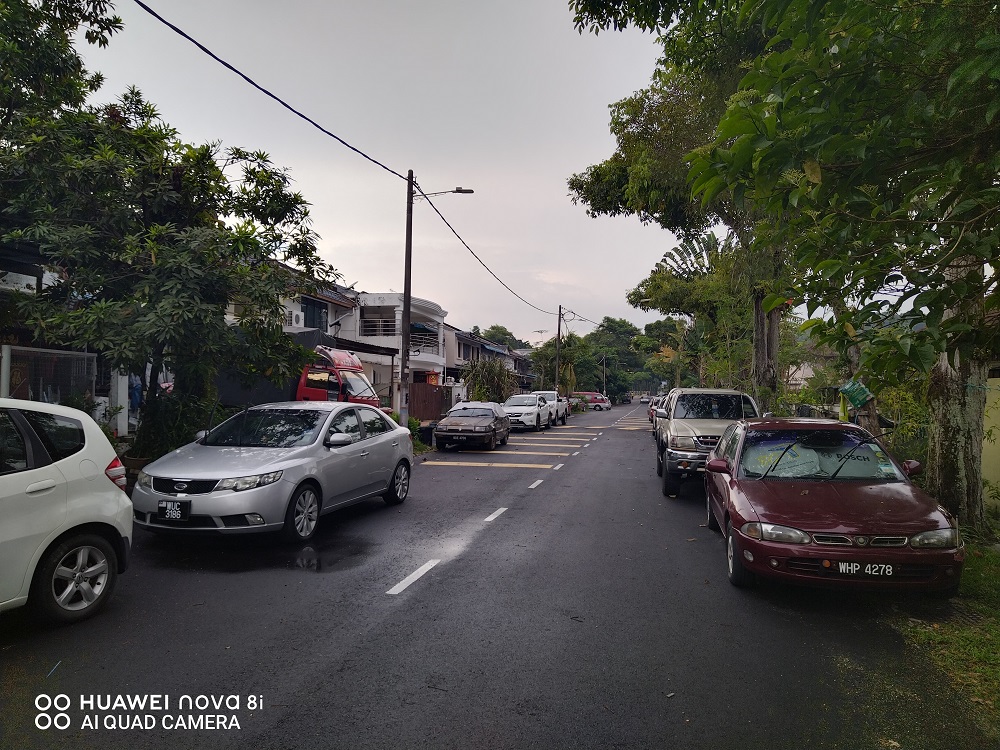 Normal camera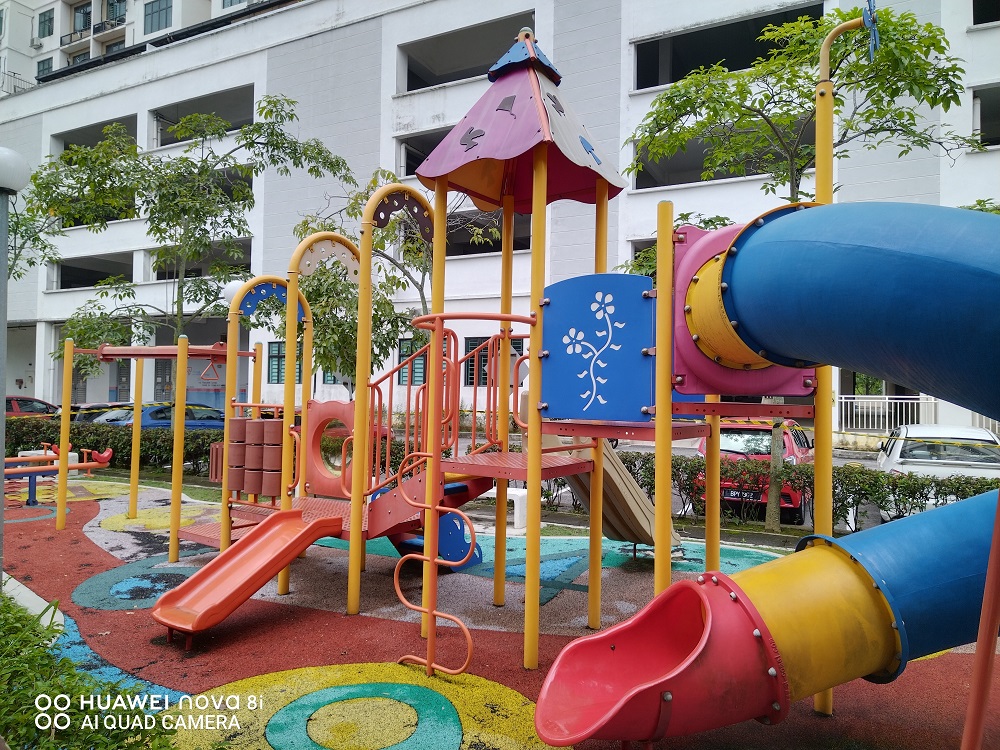 The main camera delivers good details but colours are a bit oversaturated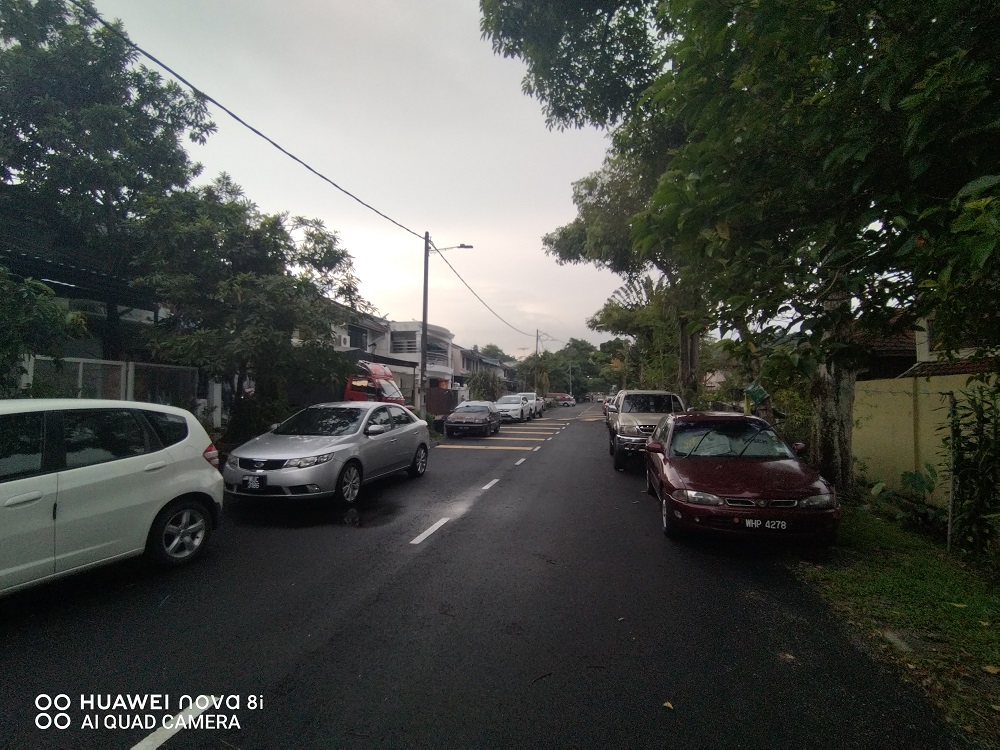 Ultra-wide camera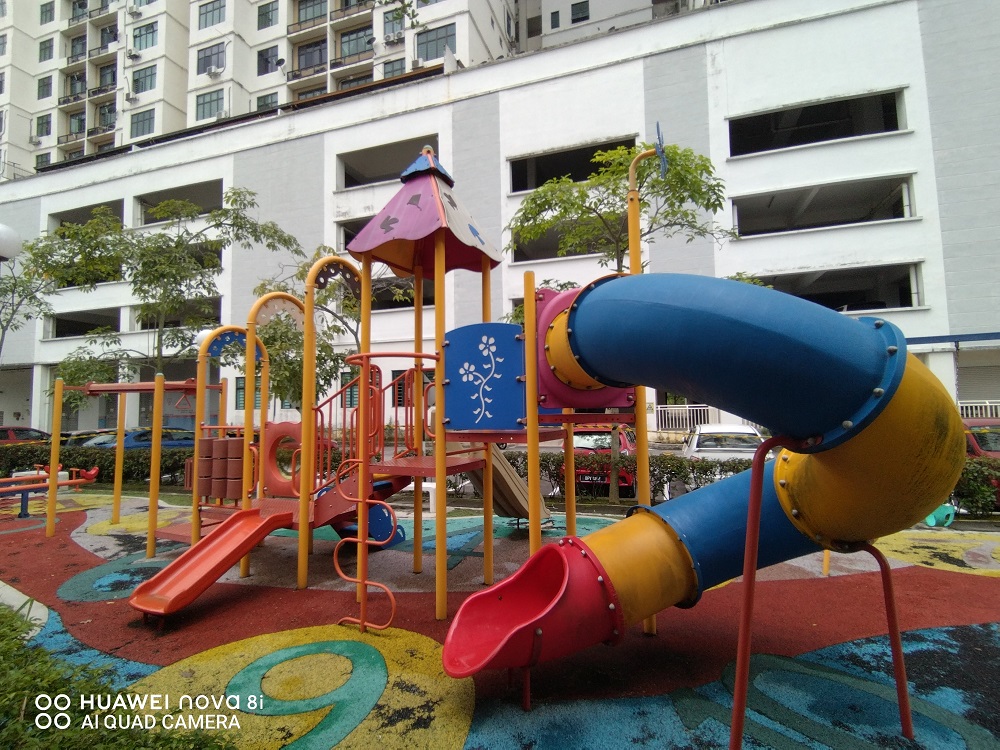 The colours are a bit more natural on the ultrawide lens, though the photos don't look as sharp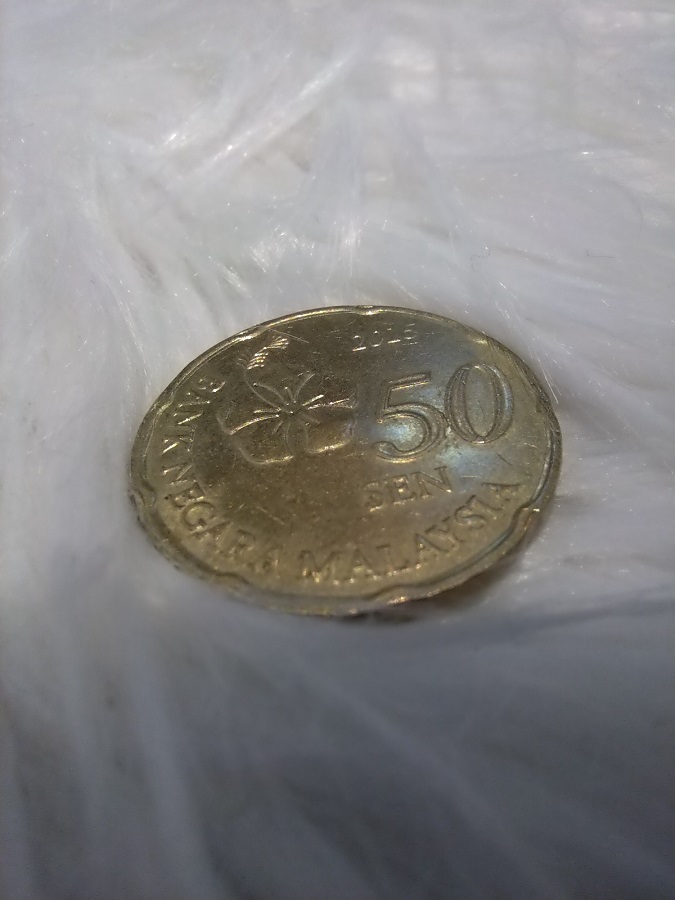 Macro mode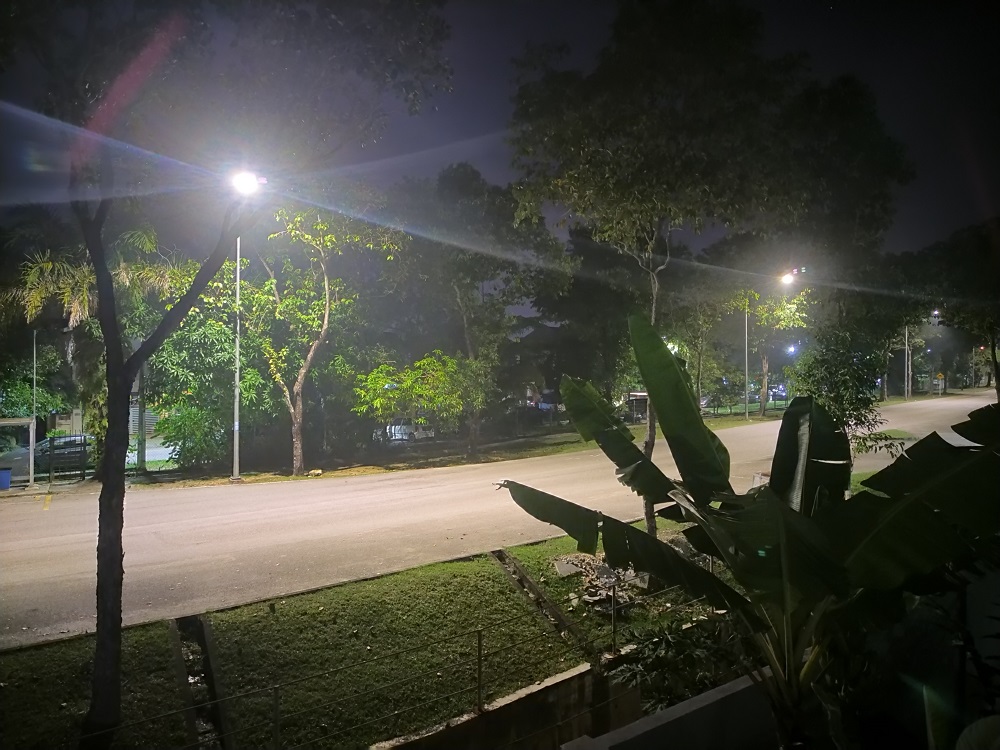 Night mode enabled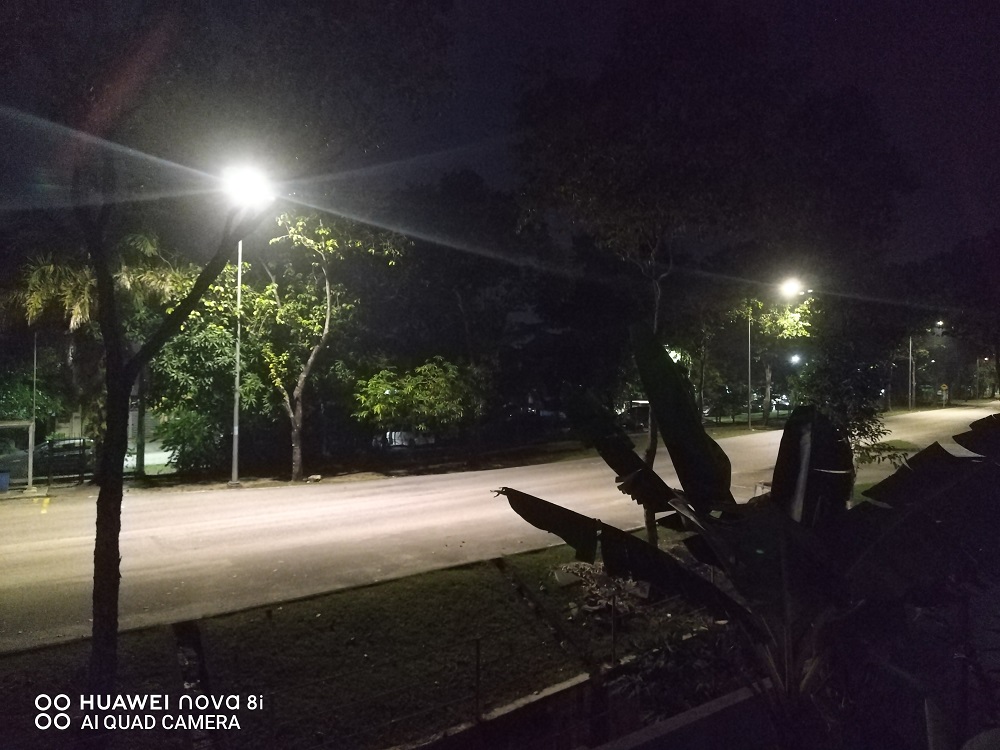 Night mode disabled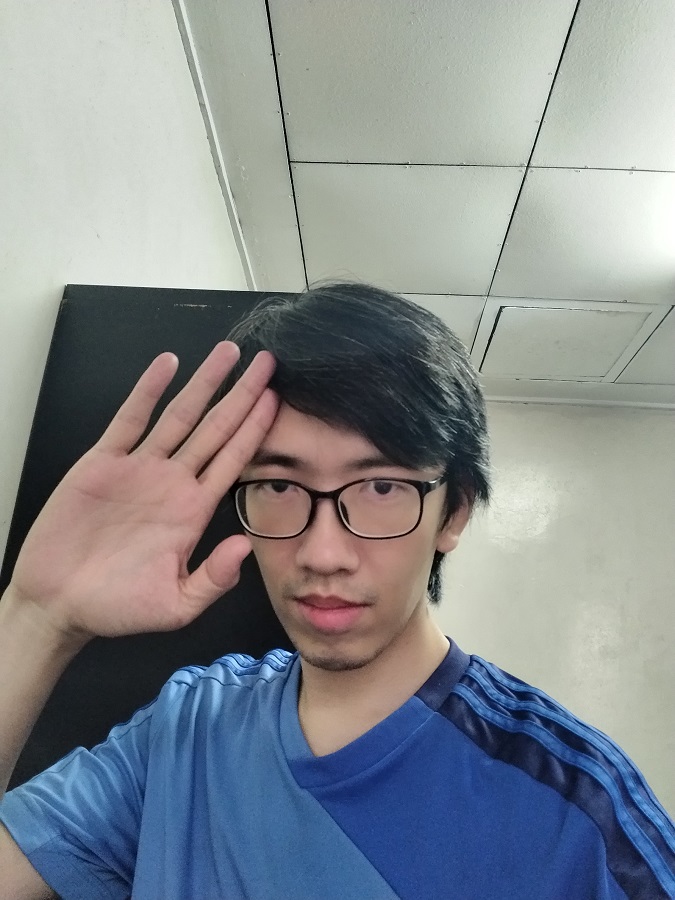 You can raise a hand to trigger a 3-second countdown to a selfie, convenient!
Conclusion – Decent set of features, but nothing impressive
As you would expect with mid-range phones, there are often trade-offs so that companies can keep the device at a price point they want. The Huawei nova 8i offers features typically found in a mid-range device, with tech specs and features that are a level above an entry-level phone. The display, memory configuration, and camera offerings are all pretty good.
Its chipset isn't the best, but it's not too bad of a phone overall. If there's a problem, it would probably be the price. For RM1299, you could get the POCO X3 GT, which comes with more powerful hardware and a better-looking design. Another alternative is the OnePlus Nord N10 5G, which has an OS that's almost vanilla Android OS and an RM1199 price tag.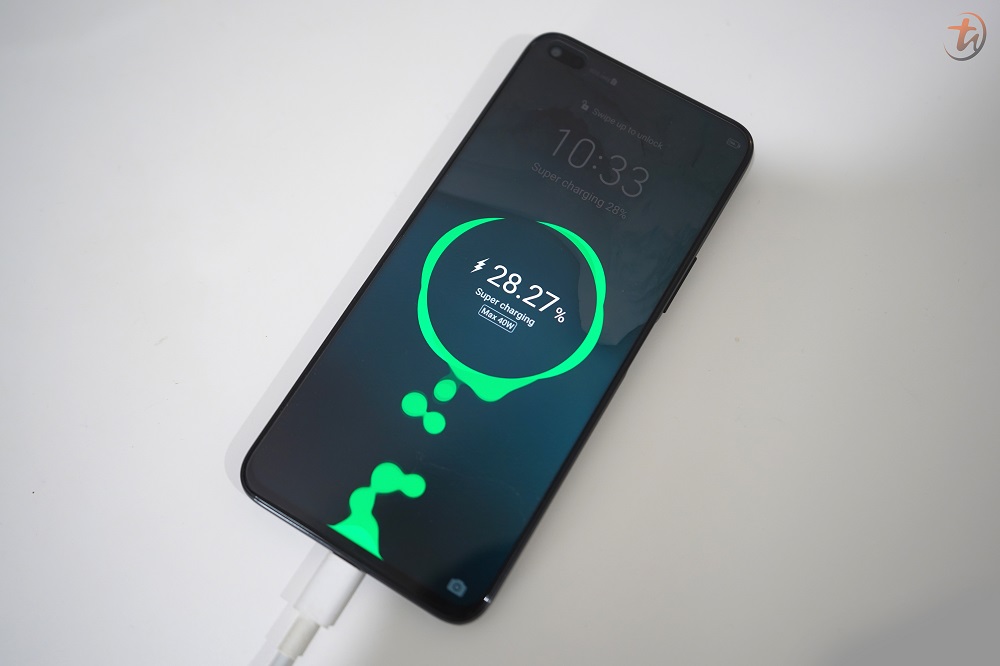 So, what are your thoughts on the Huawei nova 8i after reading our review? Is there another device you'd like to see us write about? Do let us know in the comments below! Also, thanks for reading and please stay tuned to TechNave for more review articles like this.
Huawei Nova 8i Specs & Price >