Is honor 10 the Best Overall Flagship Smartphone of 2018?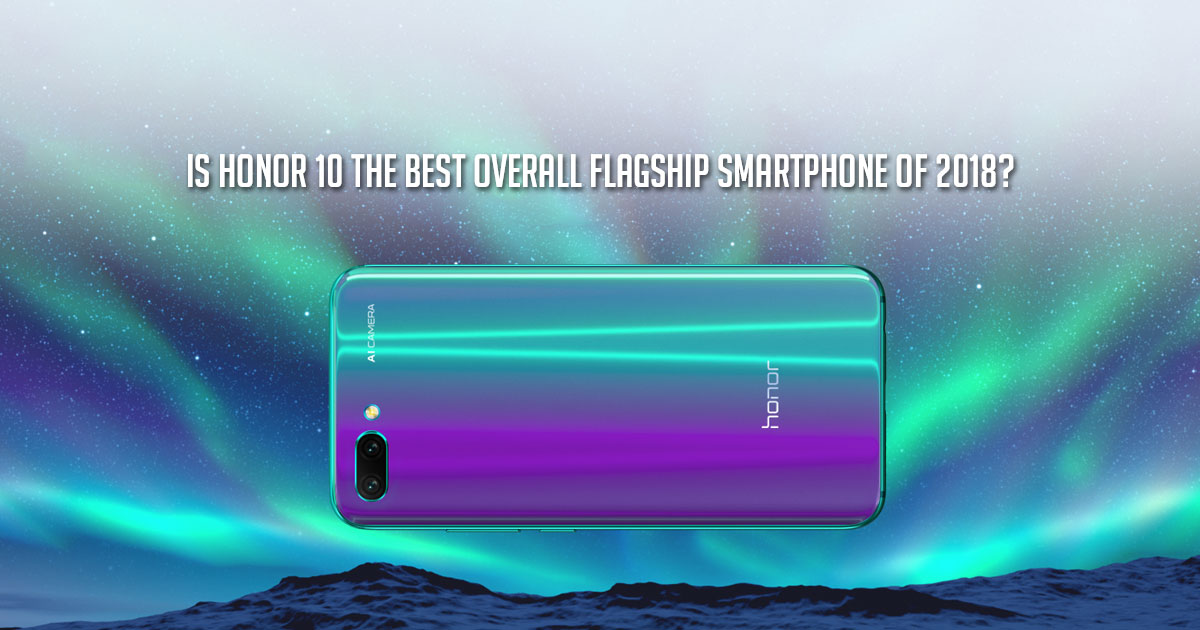 Whenever you hear the name honor, you will most probably think of it as the cousin of Huawei. Granted, honor is always using similar specifications after Huawei releases their devices, but what gives honor the edge is always the price tag. For the honor 10, we've never seen a flagship tier device priced so low at RM1599 (thanks to 0% GST) for a long time and considering its tech-specs and features, does this make it the Best Overall Flagship Smartphone of 2018?
That Phantom design
There are some factors to look into, the first one is obviously the premium design look which flagships strive for. The honor 10 has four colour options but the two that really stands out are the Phantom Blue and Phantom Green. We reviewed about the Phantom Blue before, looking straight at it it looks pure blue but when you look sideways, top or bottom, the purple shades comes out like a phantom. We thought the Phantom Green would be the same but it takes it to another level, instead of showing green and purple, it also shows blue in between the colour transition and it's truly eye-catching.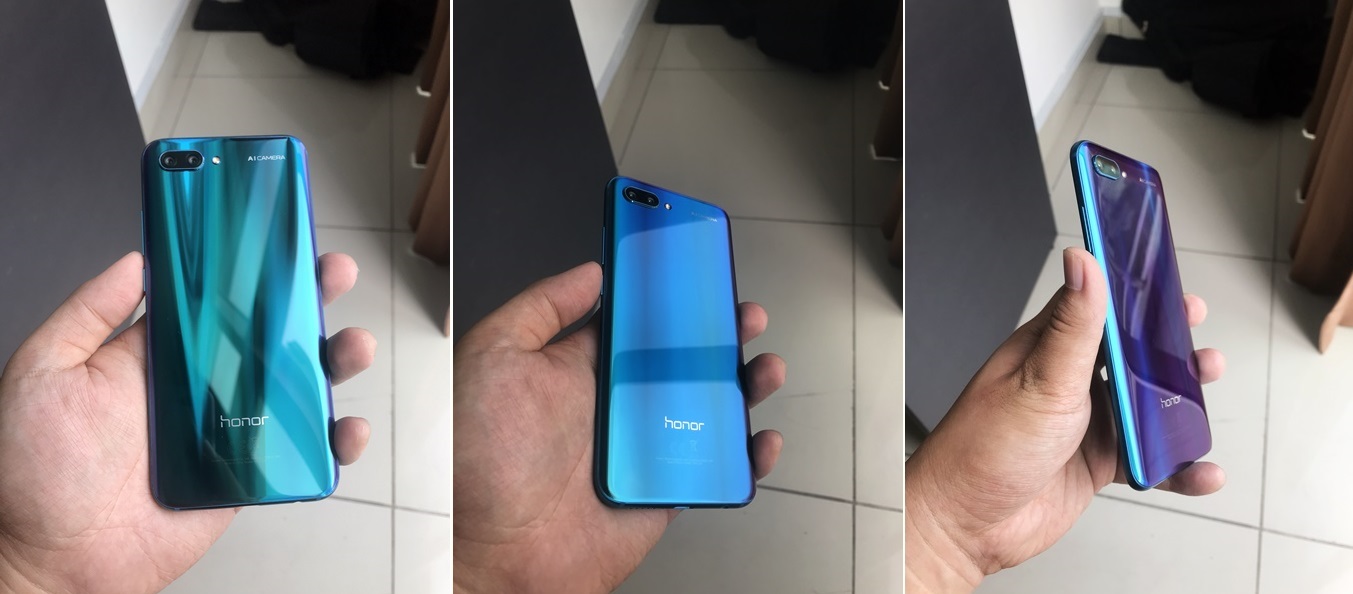 From green to blue to purple, what sorcery is this?!
So how did they achieve this? Well, instead of settling on a non-conductive vacuum metalizing (NCVM) coating, honor decided to use 15 layers of optical nano coating on the rear glass and dubbed it as the "Aurora Glass" for a good reason. If you still remember your science classes, this results in a prismatic effect and hence, the different shades of colours appearing depending on the light and your viewing angle. From our experience, many of our friends and family have agreed that it's very attractive.
On a side note, the Phantom Green model is already out in Malaysia so if you want to get your hands on it. Better act quick because it has limited stocks.
An Independent AI
Then in the tech-specs corner, the honor 10 houses a Kirin 970 chipset and an independent Neural Processing Unit (NPU) which means it has Artificial Intelligence (AI). Ah yes, AI is like on every-smartphone-ever nowadays and as users, you aren't the only one rolling your eyes over the term. And what does an "independent" AI really mean anyway?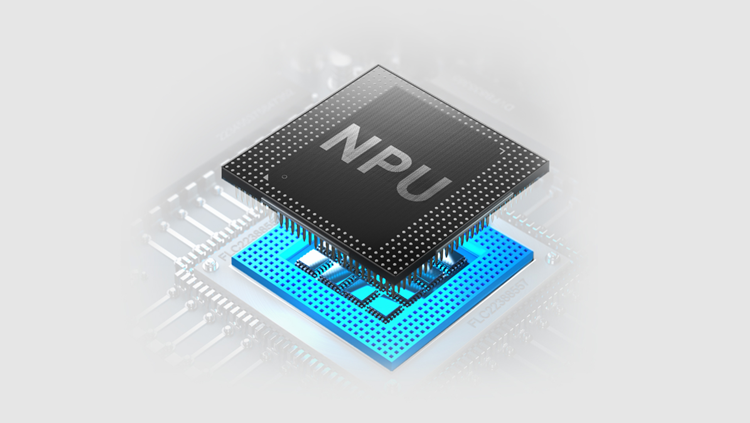 We have yet to see the NPU taking effect but don't scoff now, the honor 10 was only released recently, but there are other devices that use the same stuff (hint, it's Huawei) and according to Forbes, the writer has finally witnessed the NPU's effectiveness after five months of usage being able to recognize obstacles instantaneously while driving (yes, it drove a car) and that's a relief. This is because often times, most media reviews will only have 2-weeks time to review and most of us don't actually get to see the long-term benefits of the NPU.
That's basically what Machine Learning is - the NPU learns how the user uses the device after learning the usage of apps, habits, patterns, whatever, then allocates the necessary number of memory to minimize energy wastage. Like a newborn baby, this takes time and as an independent unit, it doesn't rely or ride on the Kirin 970 chipset's CPU and GPU cores, which also means that it doesn't make the honor 10 and other devices using the same specs lag or drain the battery like a vampire, making it more powerful yet power efficient in the long run.
Not just another AI Camera
While we are still on the topic of AI, the company slapped the "AI Camera" tag next to its dual rear camera and you can also toggle it on the camera UI. Like every-smartphone-ever, the honor 10 is capable of detecting 22 sceneries (and more to come) but it's more than that. How so? Well, the company said the honor 10 has this feature called Semantic Image Segmentation Mode for the camera. It sounds complicated, but the technology behind it is pretty cool.
Most of you should know that the MasterAI can differentiate between a sun and a cat (you know, that scene detection stuff) but this segmentation mode takes it to another level - instead detecting just one type of object, it does multiple scene detections and applies a filter to each of them at the same time and the NPU learns from it. At first glance, it may look like a gimmicky move and is quite similar to turning on the High Dynamic Range (HDR) mode on, so we decided to take it out for a spin and we are pretty convinced that it really works. Check out photo comparison below with AI Camera mode turned on.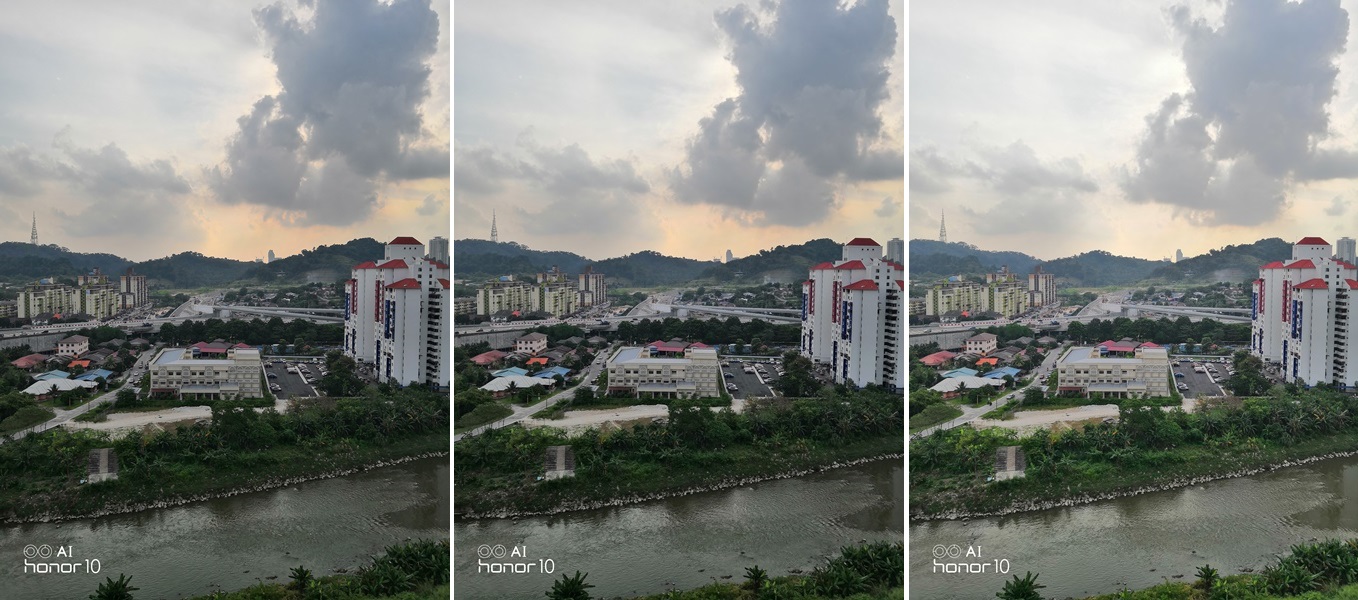 (L-R) Focus on the sky, no focus + point-and-shoot and focus on greenery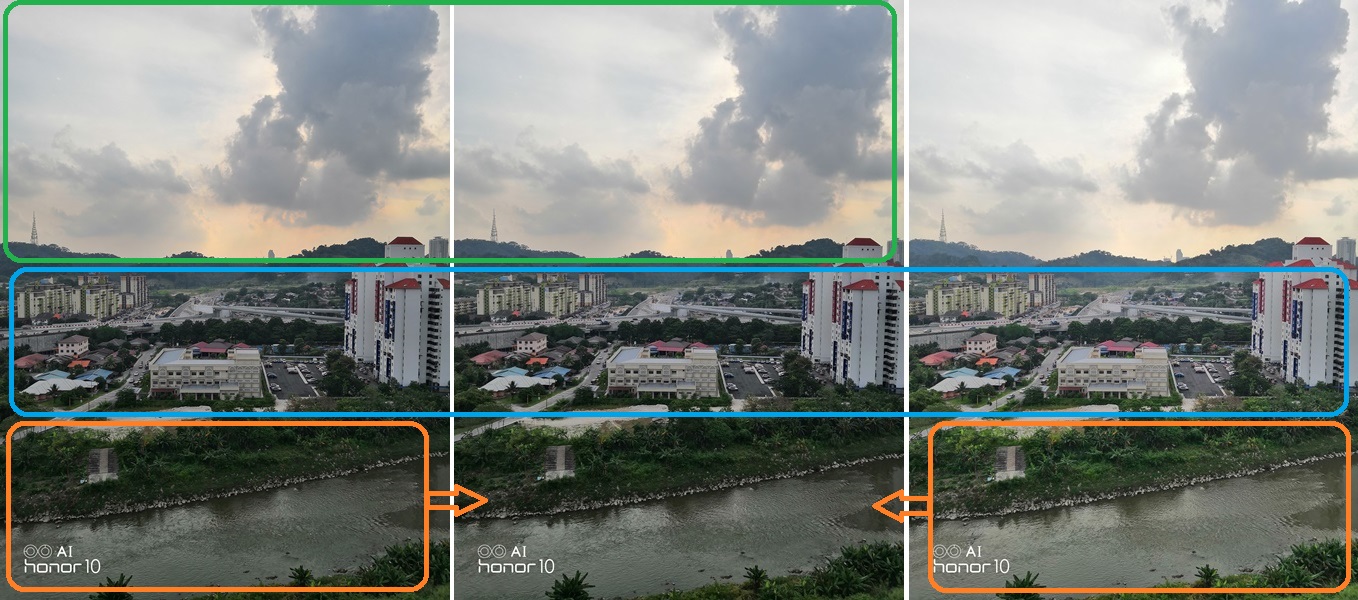 Can you see any difference between the three photos? Perhaps the most obvious one is at the most right, where the overall colour saturation looks brighter on the greenery plants which is the result of focusing on that. The middle and left photo are almost identical but a sharp eye would noticed that the middle's greenery is just slightly more lighter and it's the result of having an overall greenery balance from both left and right.
For the left photo, I actually focused on the sky and it looks exactly the same as the middle photo, the sky from the right photo is almost similar but brighter. Then finally, the buildings in all the three photos are also 99% the same. This proves that the Semantic Image Segmentation actually works.
Other perks - Fast charging, ultrasonic fingerprint sensor, 3D Portrait lighting and others
Moving on, there are also other plenty of perks that make the honor 10 a valued for money flagship. If the battery is going flat, SuperCharge (5v/4.5A) is here to the rescue and in just within half an hour, 50% of battery will be back. The Easy Talk function is convenient too as it automatically reduces background noise or increases volume if you're whispering. Face Unlock is quite good and works in a low-light environment, but we prefer the fingerprint sensor which unlocks really fast with its ultrasonic technology. Then finally, the AI Portrait Mode and 3D Portrait Lighting can be powerful tools when mastered.
So with all the aforementioned factors above and RM1599 price tag, we think this is why the honor 10 is the best overall flagship smartphone of 2018 (for now) until a new opponent comes along. You can get it online now either at Shopee or hihonor.com. But what do you think? Anything else we missed? Let us know in the comments below and stay tuned for more opinion pieces from TechNave.com.
Honor 10 Specs & Price >