honor 10 review - Almost a 10/10 flagship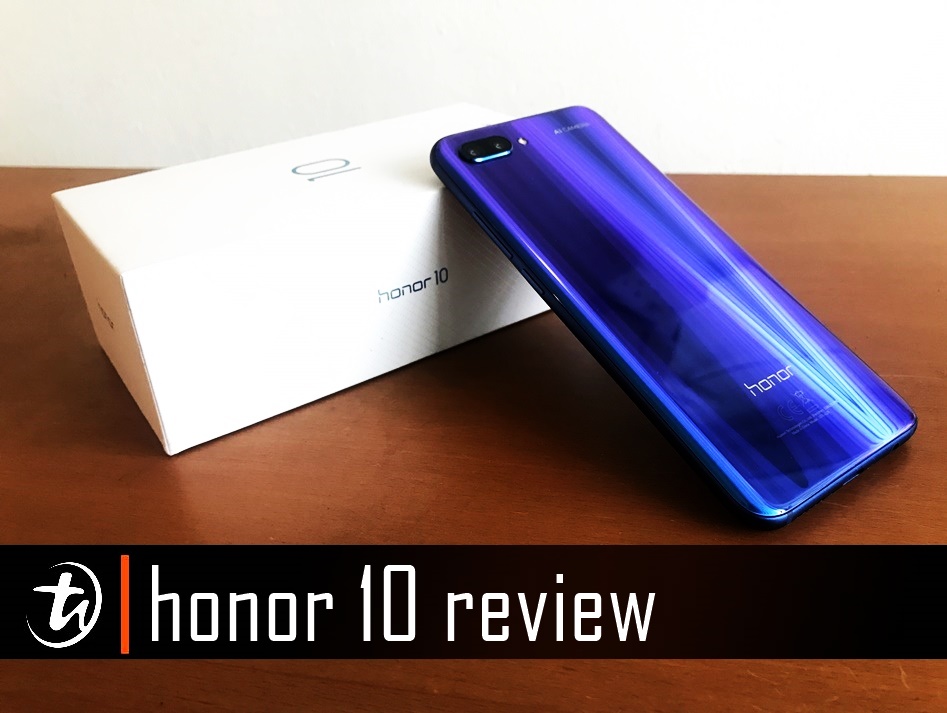 What? Another new honor phone? Isn't it the same one as the honor View10? Granted, both phones have the number 10 in the name but both are different from each other in terms of purpose. If you've followed us in our praises for the View10, you know that it's a device great for gaming. As for the honor 10, it's an upgrade and successor of the honor 9 (which never came lol) and boy, does it truly come in style. It's also a shocker that the price is only RM1699, is it too cheap for a flagship? Read below to find out.
Design - The second twilight
Before I start praising this device's unique colour design, let me just say something about the notch first. This year alone, this will be the third time in my review to comment on it and I'm getting a wee-bit tired of repeating the same thing. Yes, the notch is smaller than the iPhone X's and it has more screen-to-body aspect ratio percentage, but one thing remains - casual consumers are just going to automatically think Android smartphone manufacturers are ripping off Apple but this is just Huawei (and nearly every other phone manufacturer) trying to implement a totally full view display design (Editor: also Apple wasn't the first to put a notch). There, I said it, phew.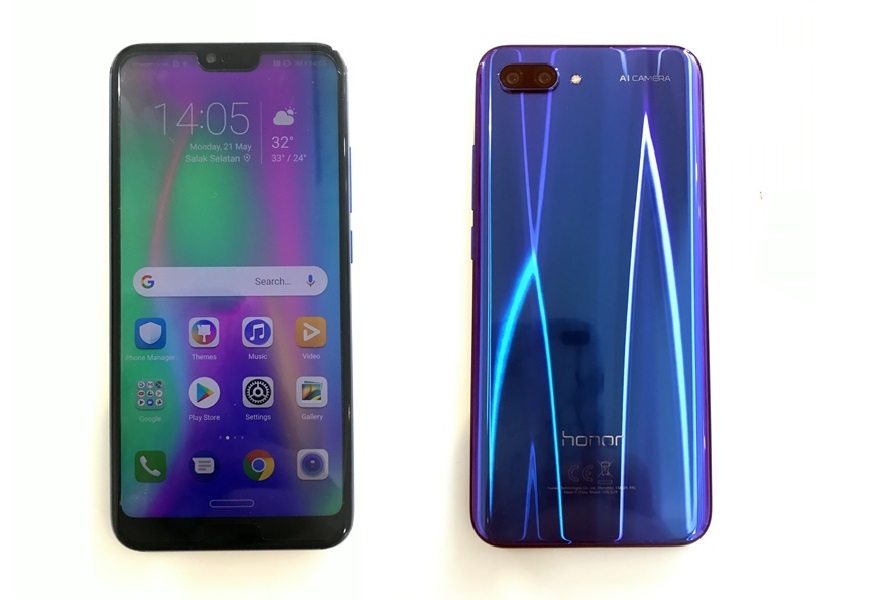 The front and back view of the Phantom Blue model, the display contrast is really strong and it's recommended to have Eye Comfort mode on before you go to sleep
Now that I have got that off my chest, we can now move on to the amazing colour design. Obviously, the Phantom Blue and Phantom Green are eye-catching, it's almost like the Twilight model from the Huawei P20 Pro but not really because you are required to shift the phone sideways to see the purple shades coming out like a phantom (hehe, I had to). The shiny metallic surface is truly a marvel to look at and it'd be a shame if you cover it with a protective casing, even if it's a transparent one. Fingerprint smudges can be annoying to some users, but it's still tolerable for me because I like showing off the Phantom Blue model.
Overall, the device design is excellent and very lightweight for a flagship. The curvatures on all sides, top and bottom are perfect and even though the display is 5.84-inch long, the model itself still fits nicely in your hand. honor may have just outdone themselves and it's hard to see how they will top this one with the next generation model.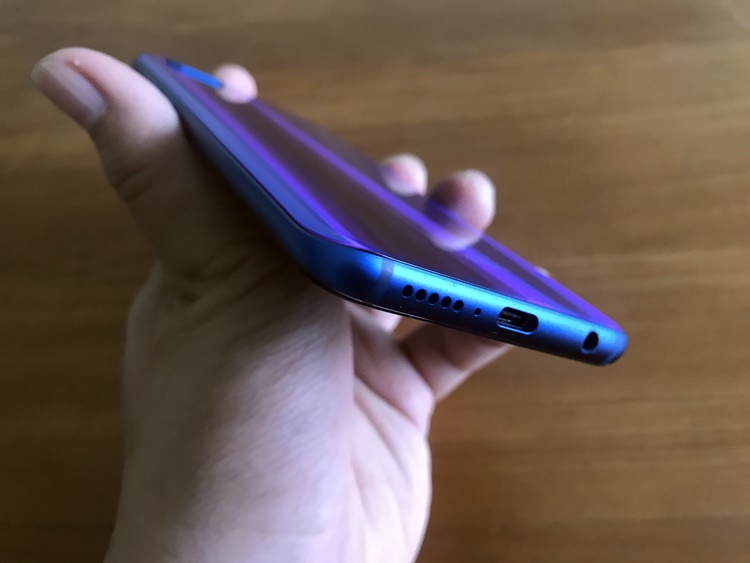 Speaker grill, USB Type-C (yay!) and a headphone jack, you can also see the shade of purple coming out from a different angle. There's an infrarred sensor on top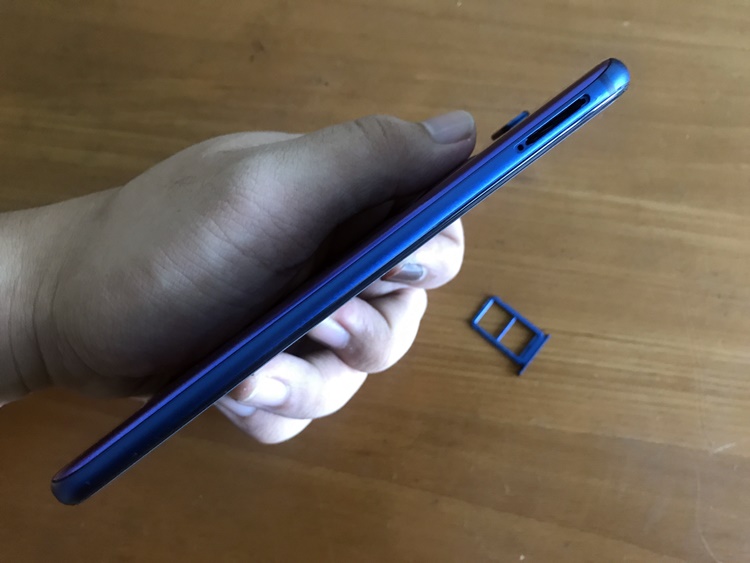 Side view, you can see the dual SIM card tray in the background, no slot for a microSD card
Tech-Specs and features - No 6GB of RAM, but enough to get by
Here are the specifications for the honor 10: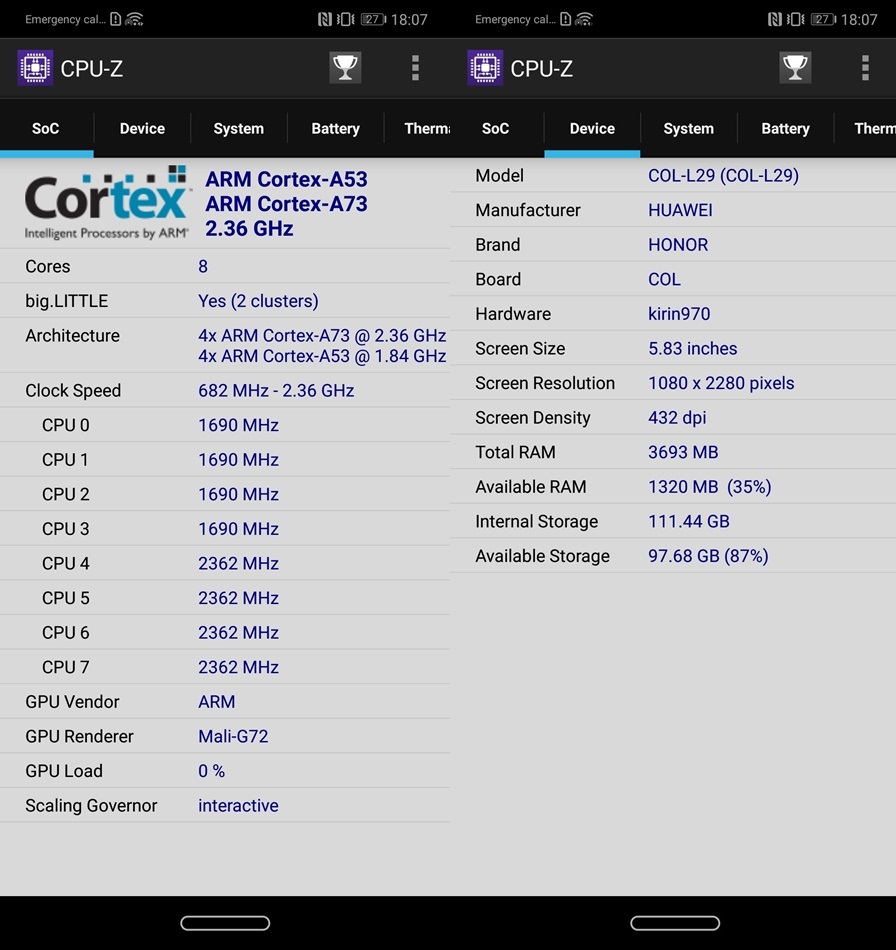 Kirin 970 processor + Neural Processing Unit
4GB of RAM
128GB internal storage (expandable memory unavailable)
Measures 149.6 x 71.2 x 7.7 mm, weighs 153g
5.84-inch FHD+ display (19:9 aspect ratio, 1080p)
16MP (f/1.8) + 24MP (f/1.8) dual rear camera, 24MP front camera,
Feature fingerprint scanner, face unlock, SuperCharge technology, AR Stickers, AI Camera, Portrait Lighting, Ai Portrait Mode, USB Type-C, HiFi technology (AK4376A)
Supports dual-band Wi-Fi 802.11ac, 4G VoLTE, Bluetooth 4.2, NFC
EMUI 8.1 based on Android 8.1 Oreo
3400mAh battery
Although there's no expandable memory, I honestly think having 128GB of internal storage is more than enough (do you need that much space anyway?). But it'd be nice if we could get a 6GB RAM just like the China market, but alas, the global unit which we are getting is only 4GB of RAM. Despite that, its processor and Neural Processing Unit (NPU) are good enough for our basic needs, even for graphic-intense gaming like PUBG Mobile.
Honor also tried to market that the honor 10 has an ultrasonic under-glass fingerprint sensor. Note that I said it's an under-glass, not under-display so technically speaking, it's still using ultrasonic and unlocks really fast. But since it's located on the bottom chin instead of the display itself, that doesn't feel special as it should. You can say the honor 10 came quite close as the first device to have such a feature, macam yes, tapi bukan.
On the other hand, the face unlock speed is wee-bit slow if compared to other Android phones with the same feature. Even though that's the case, the sensor is actually stronger as it's able to unlock in an extreme low-light environment thanks to the "Wake Up" device like the Apple iPhone. You can also switch to "Slide to Unlock" if you don't like the "Direct Unlock".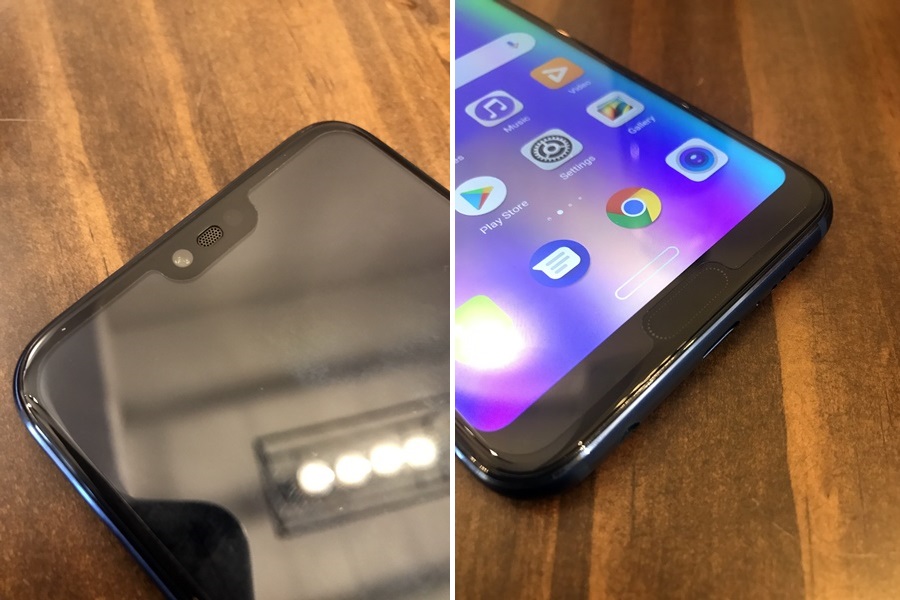 The face unlock (left) and the ultrasonic under-glass fingerprint sensor (right)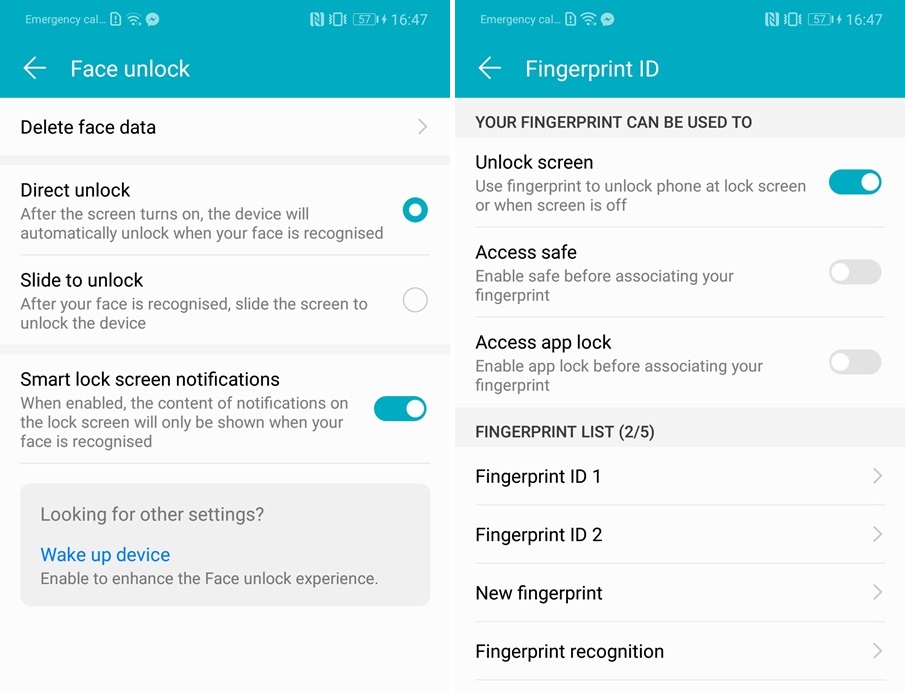 A bunch of security measures for your preference
The camera user interface is more or less the same with the Huawei P20 series, just that the only difference is you will need to toggle up the AI Camera which is one of the highlights of the phone, it's able to detect 22 types of sceneries and there will be more to come whenever honor decides to update via over-the-air. Unfortunately, turning the AI Camera on will automatically switch the sensor to 16MP no matter what, you can't have AI Camera mode on both the monochrome and selfie mode.
There is a 3D Lighting feature too in Portrait Mode for the back and front camera, but I find it kind of gimmicky at the moment because there are times that the software finds it hard to get the correct lighting on your face especially if there's a strong natural light source nearby, so if you're trying Stage and Classic lighting mode in that environment, be ready to have the "invisible shield" around you or the subject. Don't' get me wrong, it's a fun tool and you can move the digital light around the subject's face, but it's annoying and I hope honor can send a fix patch on a more accurate lighting software, if possible.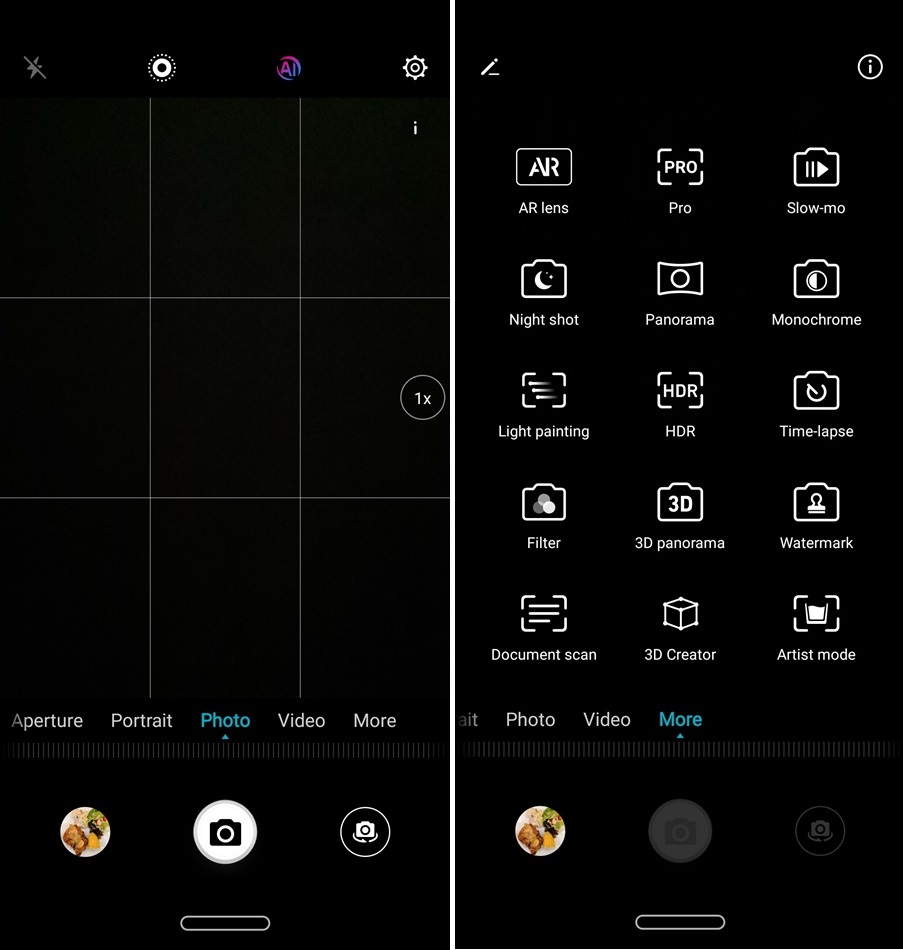 Camera UI, you can see the AI Camera toggle on top there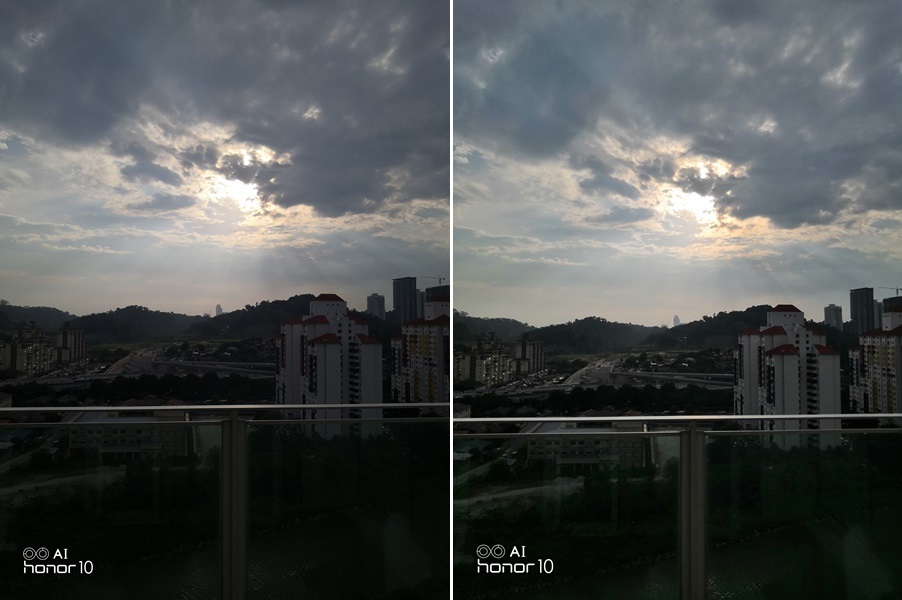 Before and after using AI Camera, can you spot the difference?
Split lighting and Classic lighting sample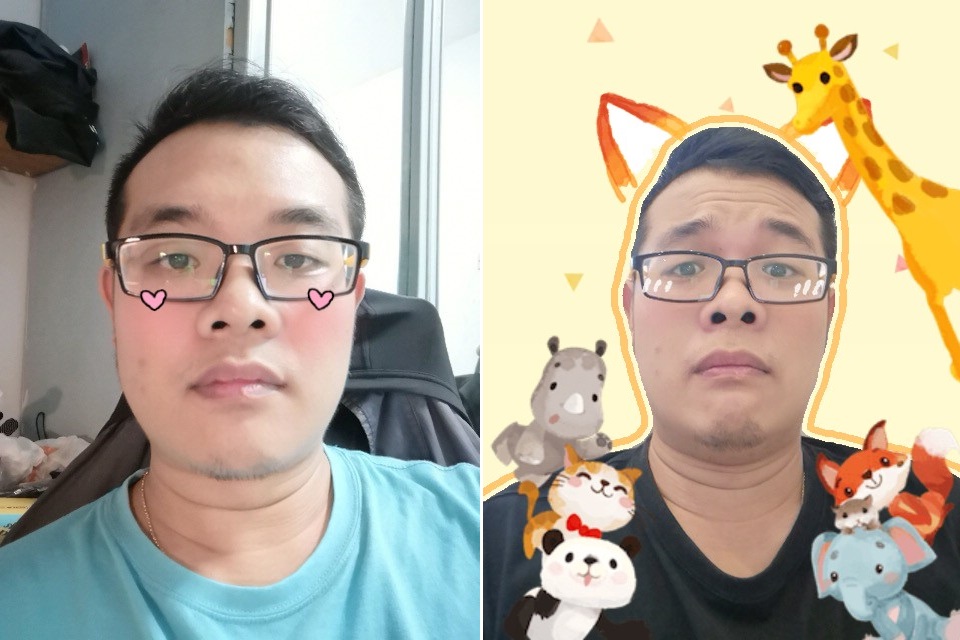 AR Lens is available too
This is an honourable mention, honor comes with a HiFi technology (AK4376A) and the audio quality is quite good. Too bad I don't have any Huawei earphones with me to know if there's any difference or not
Performance - AI to the rescue
With the Kirin 970 chipset and NPU on board, the honor 10 can do a lot of heavy duty lifting. In PUBG Mobile, the phone will immediately set the settings to the highest by default so this means that for other games like Asphalt 8: Airborne, Arena of Valor and others, it's a piece of cake for the honor 10. Battery consumption from playing PUBG Mobile and screen recording for 26 minutes will drain approximately about 20% (don't forget to count in the constant connection during gaming with other players), that shows just how durable it is. However, the phone tends to get quite warm and this is the same case when you do some photography.
PUBG game demo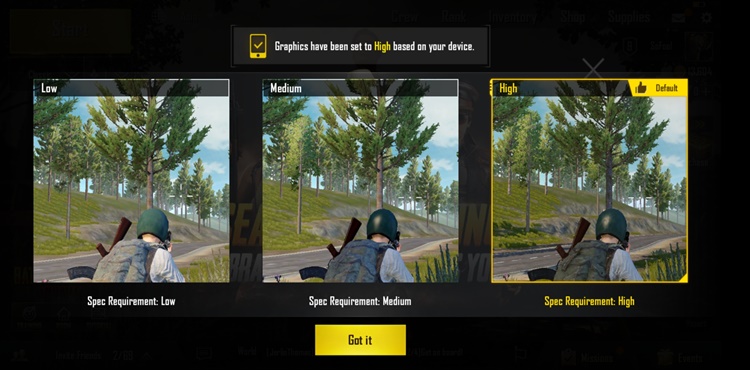 Aw yisss, high settings!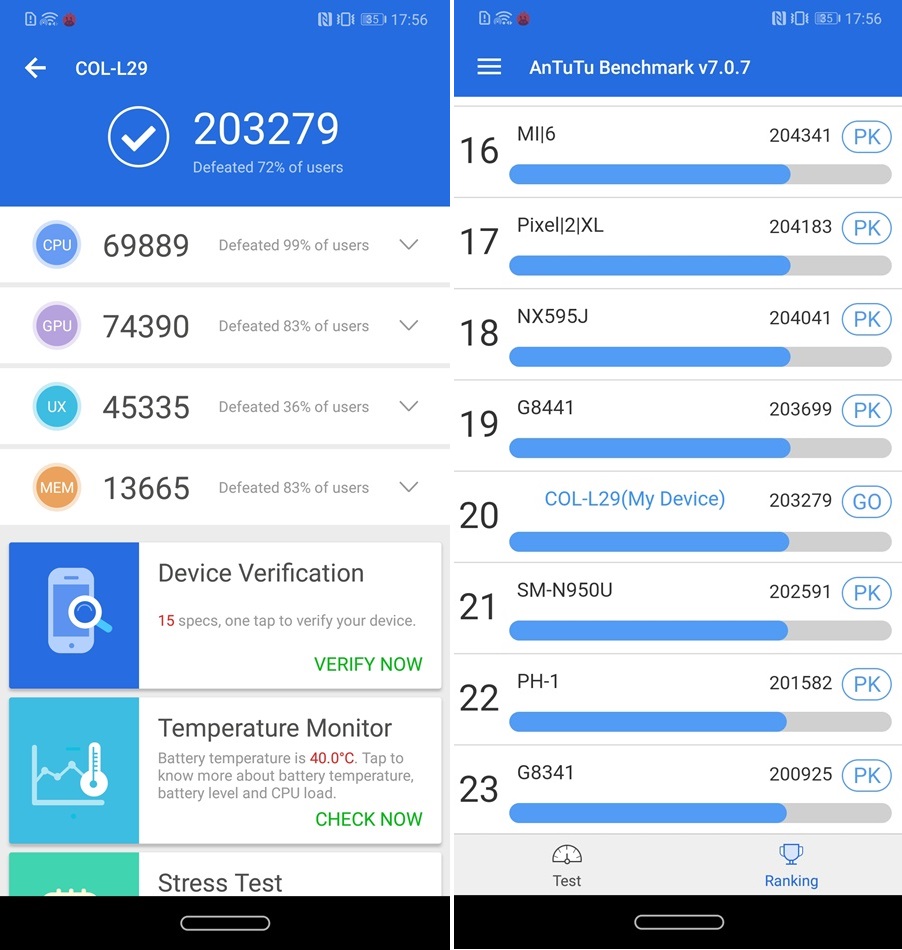 AnTuTu score, not bad for being top 20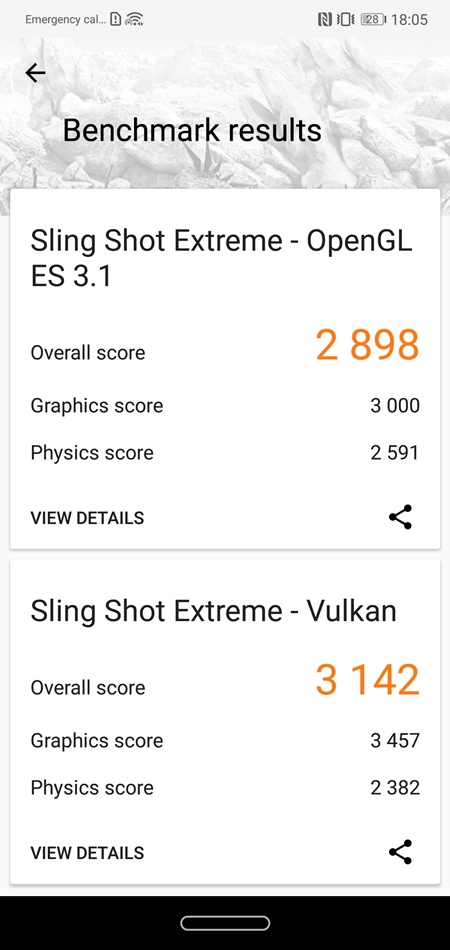 Impressive 3DMark score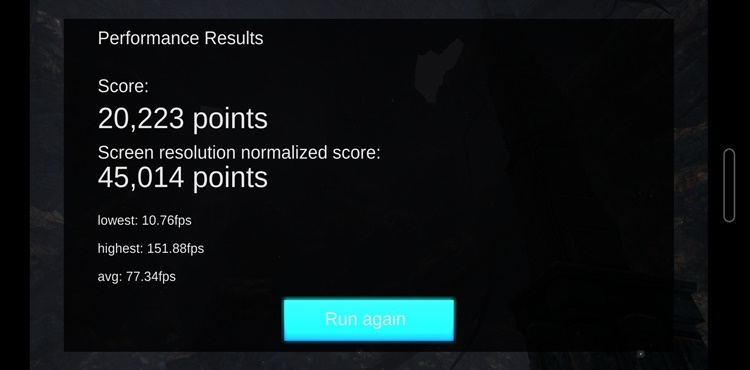 GPUBench score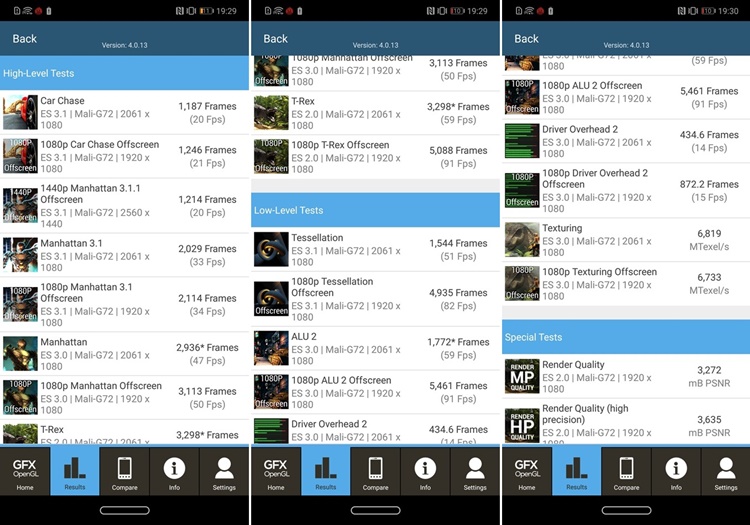 GFXBench score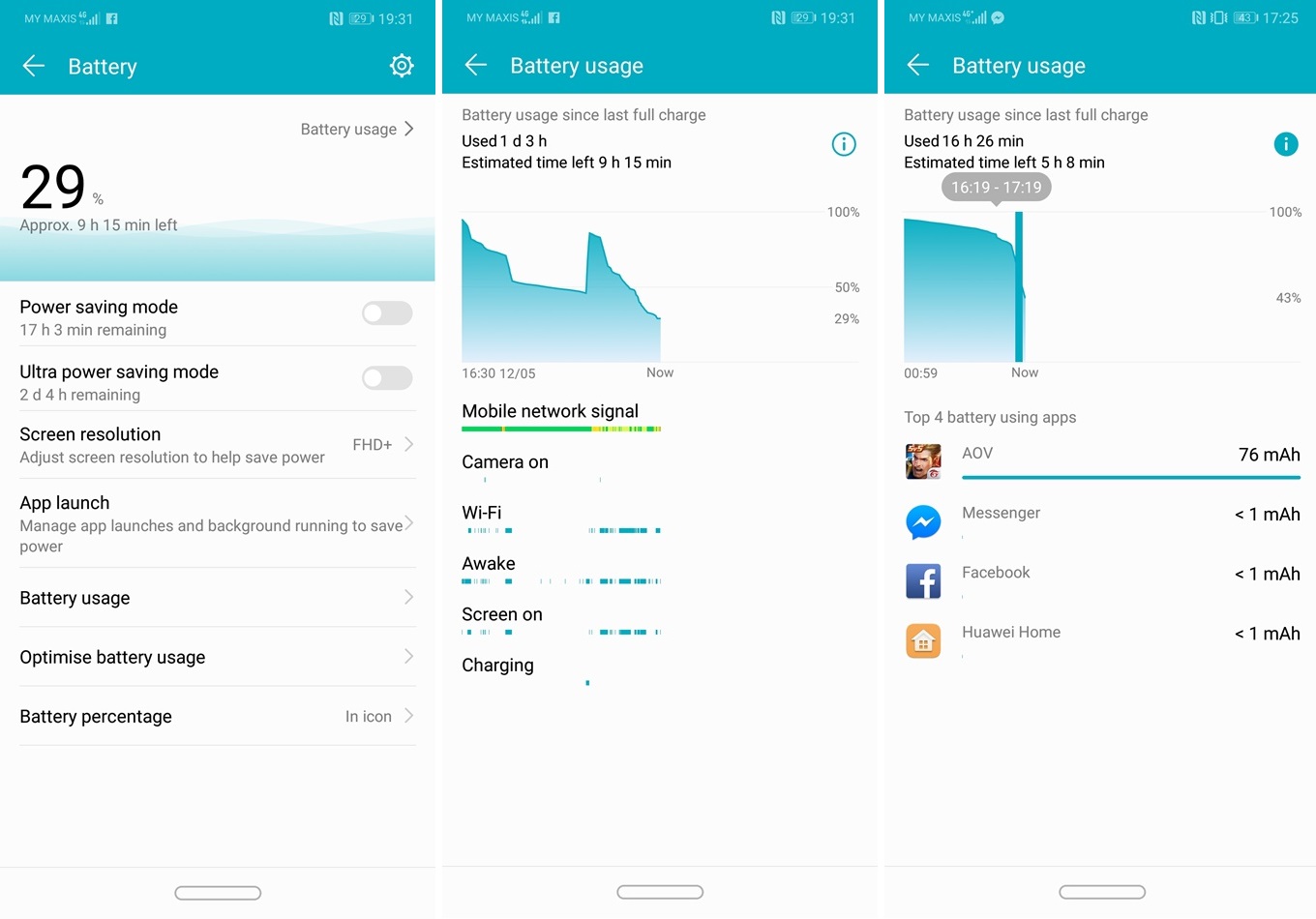 On the right side of the battery chart, playing AoV for 2 hours straight will drain about 40%
On average, the battery performance is quite decent but not as impressive compared to the View10 (to be fair, the latter has more battery juice). It will definitely last the whole day for sure, and if you forgot to charge before heading out, the SuperCharge technology can charge up the battery easily within 10 minutes by at least 20%. It's a lifesaver.
The AI Camera labelled at the back is also no joke, thanks to the NPU. At first glance, turning on the AI Camera may look like it's just enhancing the colour contrast just like what HDR mode usually do, but it does wonders if you take landscape type of shots such as the sunset and night photography. I also love the monochrome mode and the honor 10 has really surprised me on the photo quality without the need of any specialized lens.
All photos taken below with the honor 10 have AI Camera enabled, except for monochrome mode and selfies. Check out the photos below!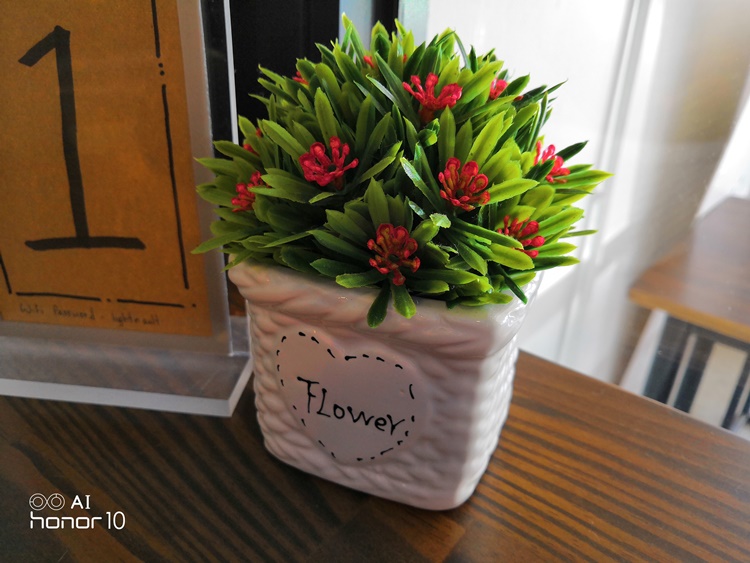 Close-up, auto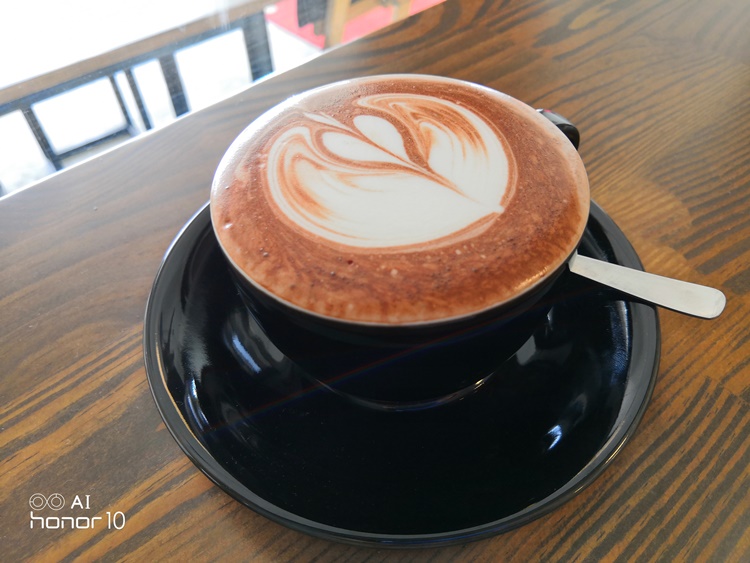 Close-up no.2, auto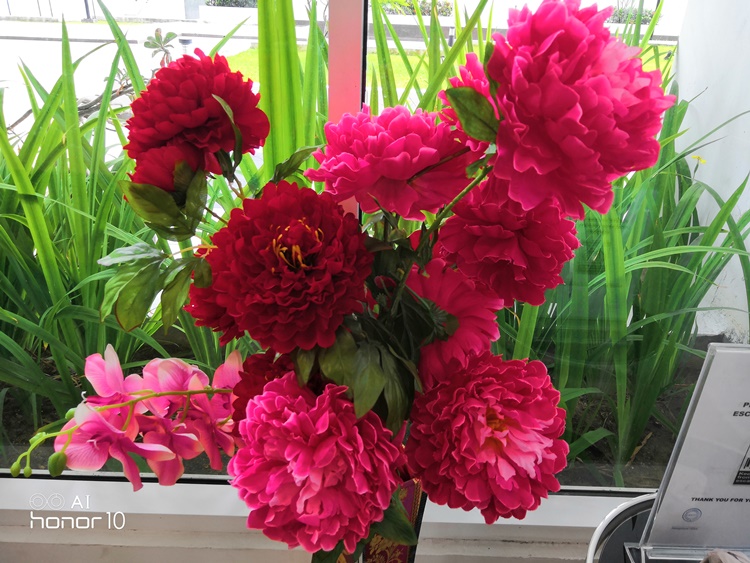 Medium shot, auto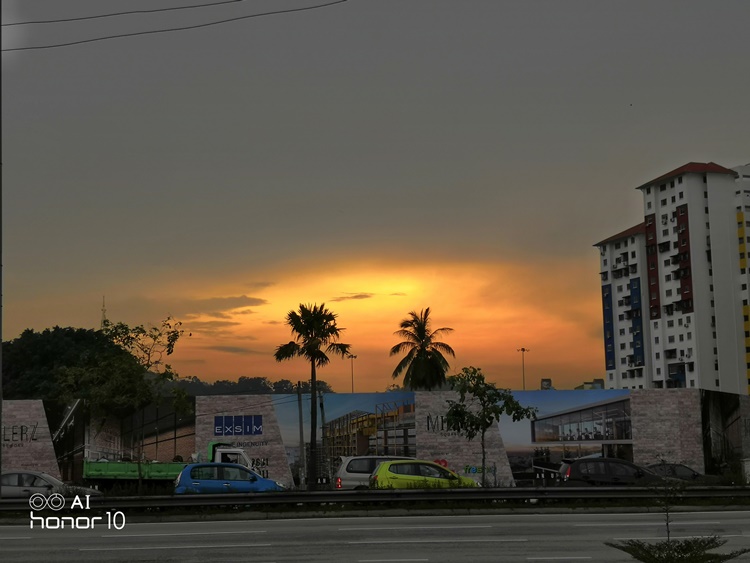 Wide shot of the "sunset" on a cloudy day, look how smooth it is!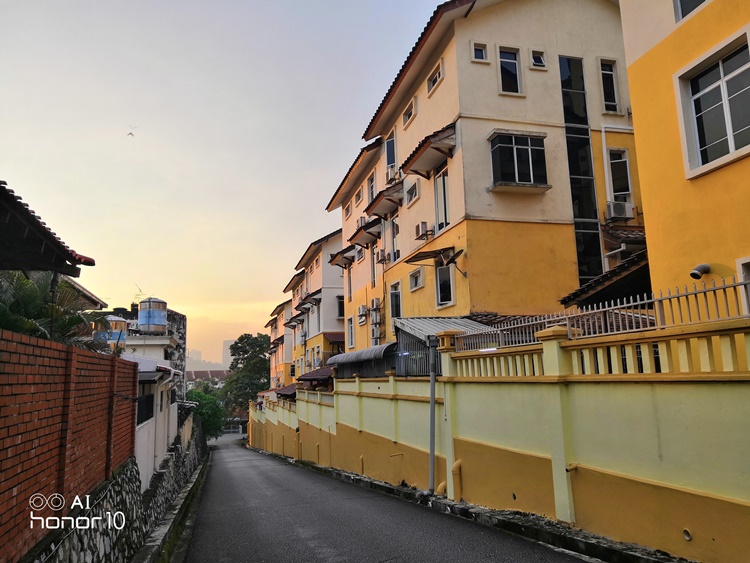 Colour reproduction from the sunlight on the buildings and sky is just lovely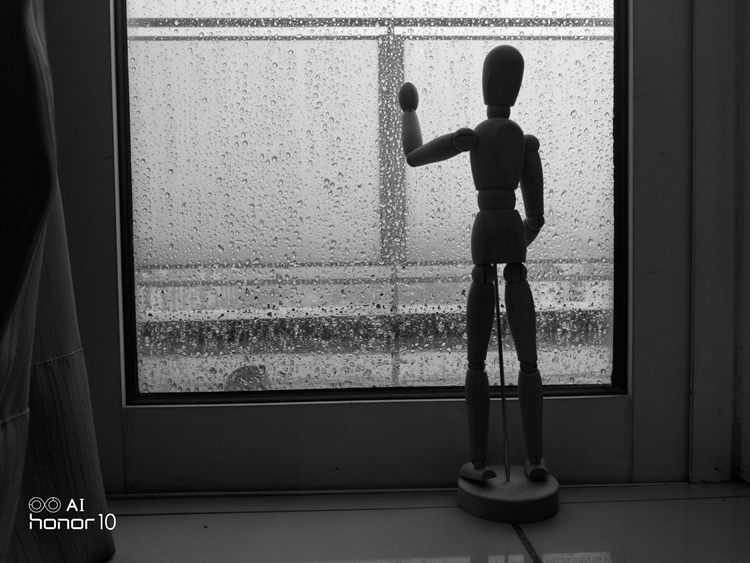 Monochrome in portrait mode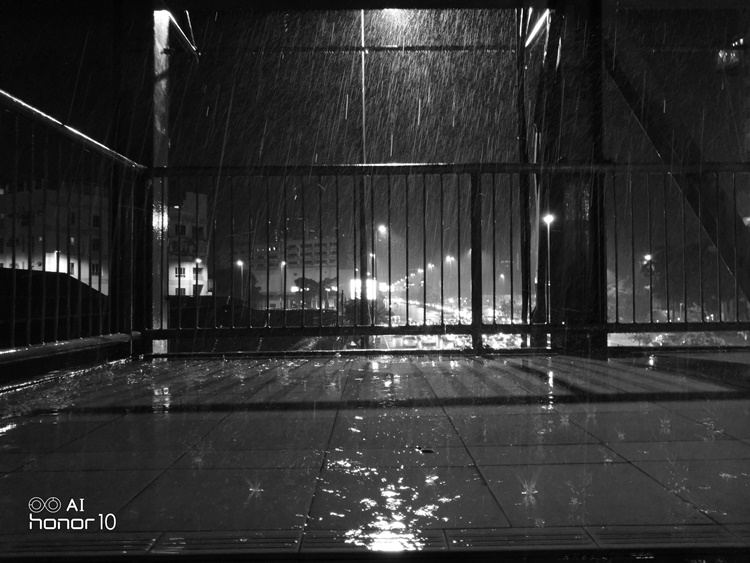 Monochrome in normal mode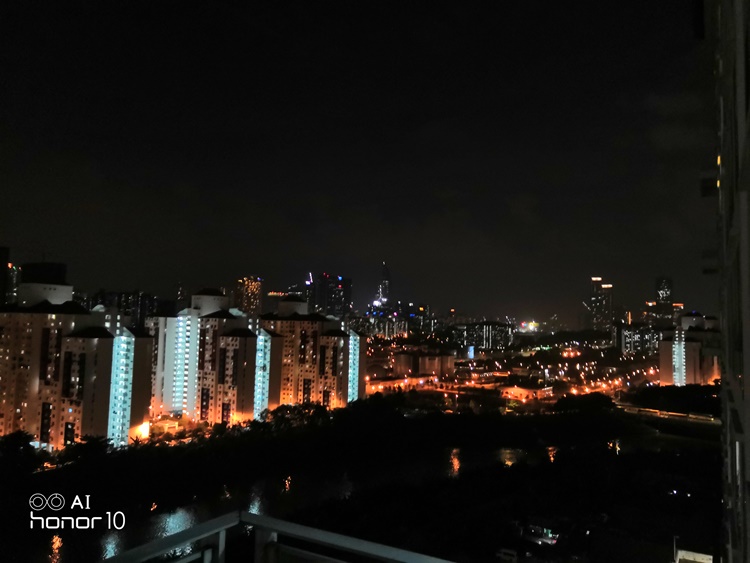 Night shot, auto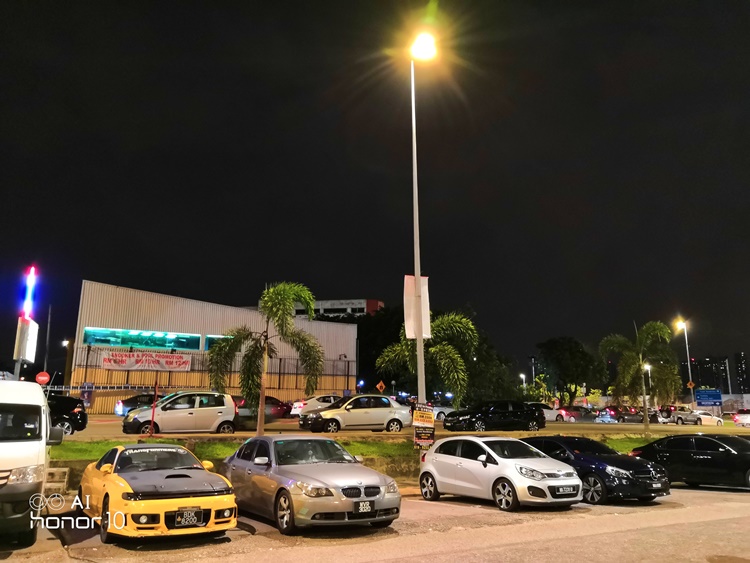 Another night shot, not much noise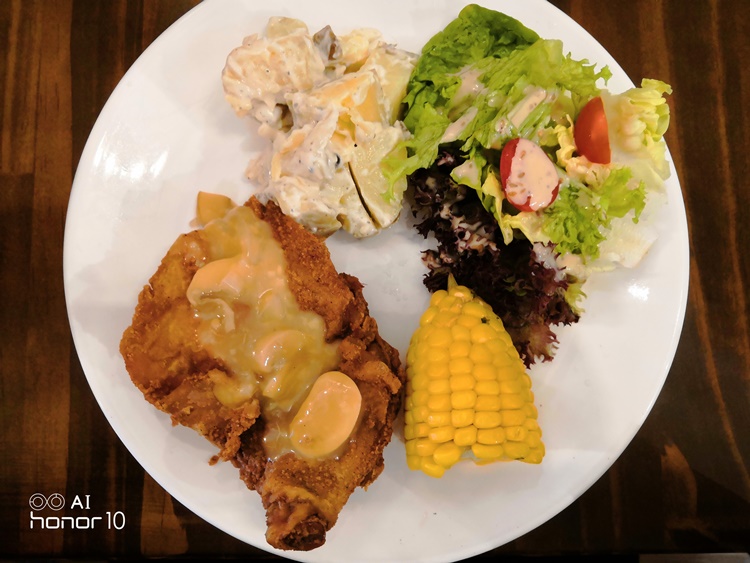 Gotta have a food photo, am I right?
Panorama mode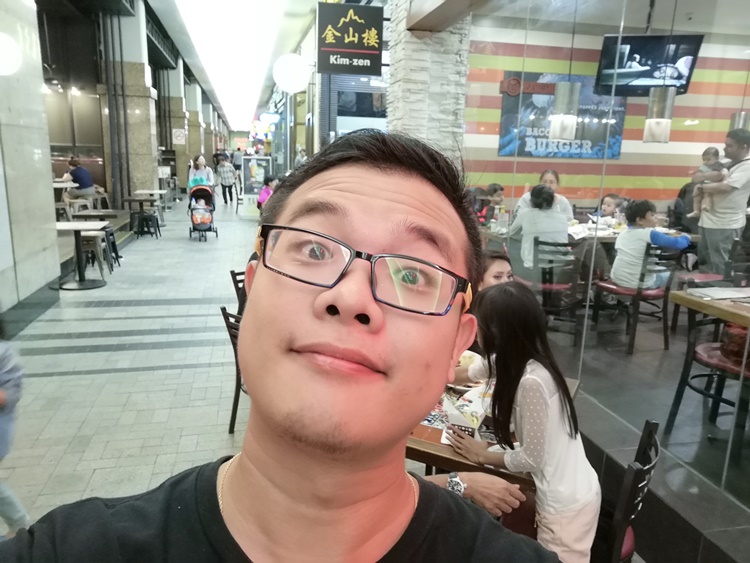 Selfie with beauty mode level 5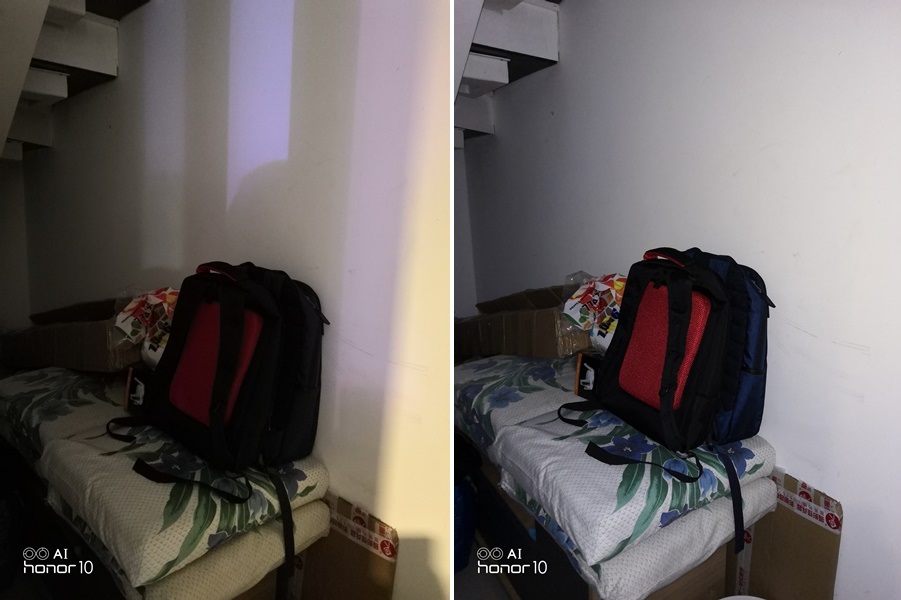 Before and after using flash
Conclusion – An almost perfect flagship
We are almost halfway through 2018 but for some reason, most of the phones that were introduced in Malaysia are all mid-rangers or selfie centric devices which aren't on par with the flagship level honor 10 at all. It has an almost perfect + enchanting Phantom Blue (or Phantom Green) design, great performance capability for gaming and battery, as well as having AI Camera for producing nice photos.
At the price of RM1699, the honor 10 beats out a lot of flagships, except for two smartphones which are the Xiaomi Mi Mix 2 and its own brother, the View10. For the same price the Mi Mix offers a larger screen-to-body ratio with no notch and a more powerful Snapdragon 835 processor with 6GB of RAM but the 5MP front camera, rear camera and 64GB storage can't compare against the 24MP front camera, 16MP + 24MP dual rear cameras and 128GB storage of the honor 10. Then for the View10, even though it costs slightly more, I'd personally go for the View10 simply because it has a dedicated Game Suite feature, 6GB of RAM and more battery, but the honor 10 definitely turns heads more with the phantom backside.
The honor 10 will officially be released online on 24 May 2018 at hihonor.com/my. Thanks for reading our review as always and stay tuned for more future reviews at TechNave.com
Honor 10 Specs & Price >