KLIA is now using thermal scanners for body temperature check for all departing passengers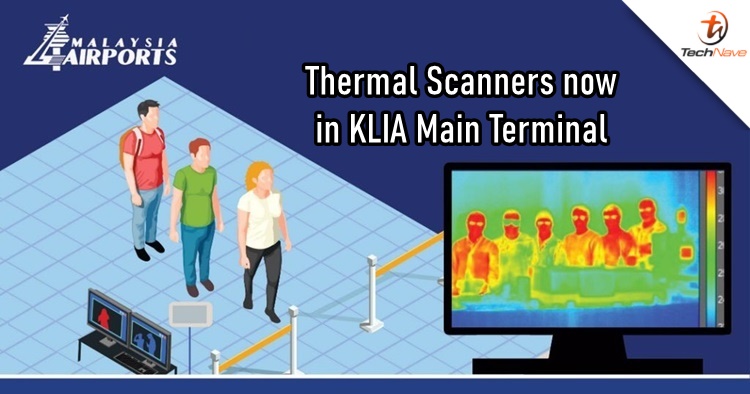 Previously, we wrote that the Royal Palace was integrated with thermal scanning to check for COVID-19 symptoms and we thought the airports should have it too. Today, it seems that our wish has come true. According to @MY_Airports, a few thermal scanners have been set up in KLIA main terminal for all passengers, staff and crew since yesterday (23 March). Here's how it works.
For all staff and crew who are working, and also for passengers who are travelling (why are you even travelling at this period? Stay home!), you will need to go through the thermal scanning before going to the check-in counters. The thermal scanners are currently located in between the entrances to check-in counters B and C, as well as counters H and I. As you already know, your body temperature must be below 37.5 degrees or else your access will be denied. No senders and greeters are allowed into the check-in areas too, except for those who need special assistance.
Thermal screening for departing passengers at klia2. Stop and have yourself checked first before entering the check-in areas. Please remain vigilant about your health condition and stay safe all the time. #thermalscanners #klia2 pic.twitter.com/ZZt0LhBq3l

— Malaysia Airports (@MY_Airports) March 24, 2020
Practise social distancing at our airports nationwide. Thank you airport teams for getting these markers up and ready over the weekend. Passengers are advised to travel responsibly. Don't forget to wash your hands frequently too before you board your flight! #MYairportsupdates pic.twitter.com/54gtUyC3q7

— Malaysia Airports (@MY_Airports) March 23, 2020
Moreover, the KLIA team are also practising social distancing by putting up markers on the seats and check-in areas. All travellers are reminded to regularly wash their hands and look after their hygiene before boarding the flight. In case of being denied entry for going over the recommended body temperature, kindly do a quick health check-up at the nearest clinic or hospital.
This action might be long overdue but it's better than nothing. As always, stay at home as much as you can and stay tuned for more tech news at TechNave.com.