Lenovo Legion 5 Pro review - A high-class gaming laptop with a price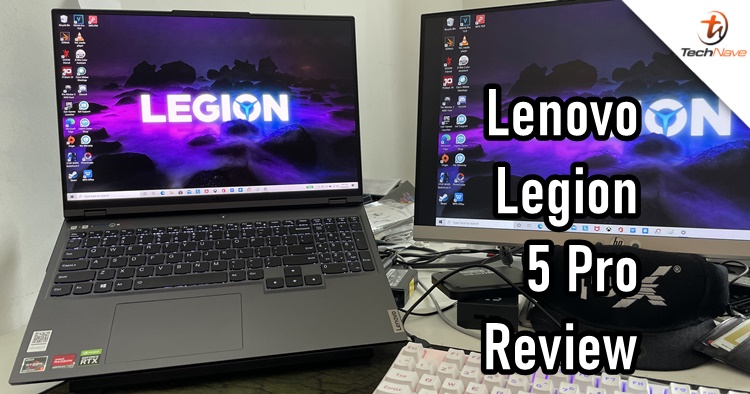 Over the years, I have reviewed some gaming laptops here and there. But for some reason, I have never touched a Lenovo Legion laptop until two weeks ago. For the record, the first Lenovo Legion branded laptop was announced in 2017, and it was my first time testing one.
The Lenovo Legion 5 Pro was launched in Malaysia alongside the Lenovo Legion 5 AMD in early April for RM6799. Looking at the price tag, I believe most Malaysian gamers would have second thoughts about buying it. I can't deny that I would feel the same, but I can at least tell you my experience using it. So without further ado, read on below for my review of the Lenovo Legion 5 Pro.
Like all gaming laptops, the Legion 5 Pro is one big boy - no joke. You would probably notice the rather large display, measuring at 16-inches with a 16:10 aspect ratio which is a rarity. Compared to the 16:9 aspect ratio, the enhancement doesn't seem a lot, but it does make a difference.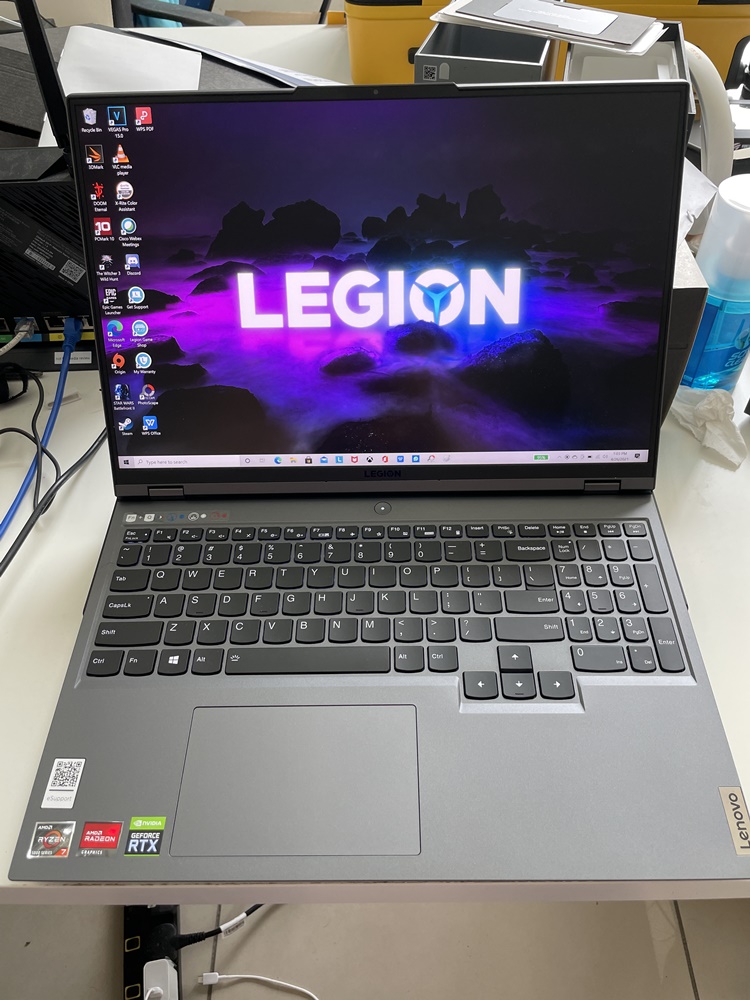 This is one big boy!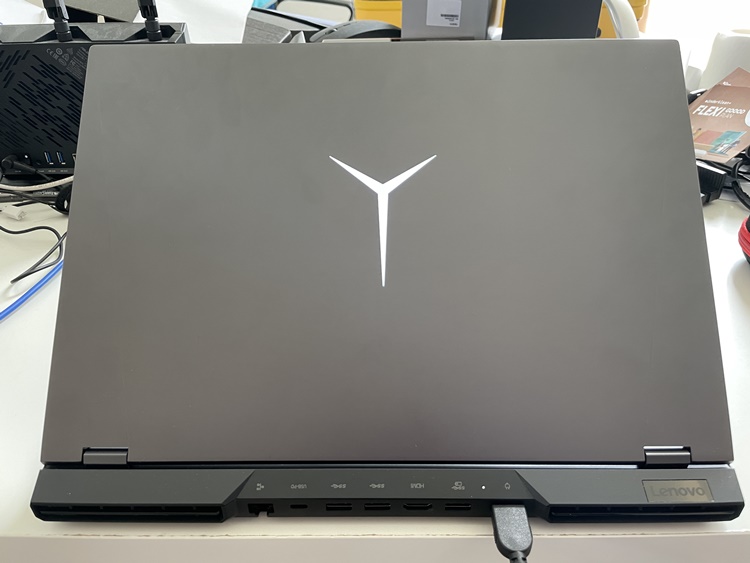 A simple design for the lid. There are also multiple ports at the bottom
The keyboard is nice to type on and comes with quick command shortcuts, though I didn't find much use for it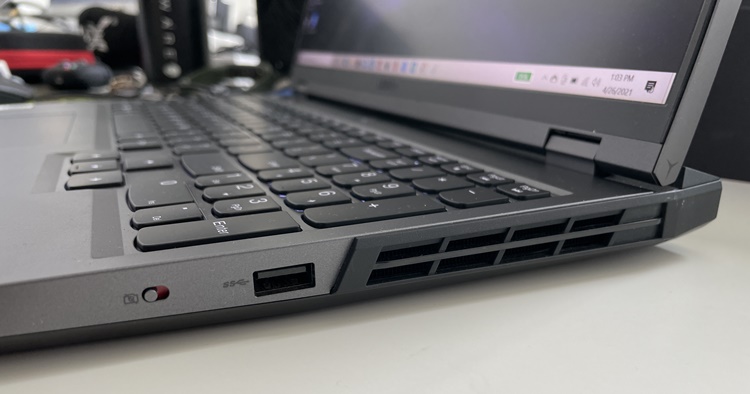 On the right side is one of the vents, a USB Type-A port, and the webcam switch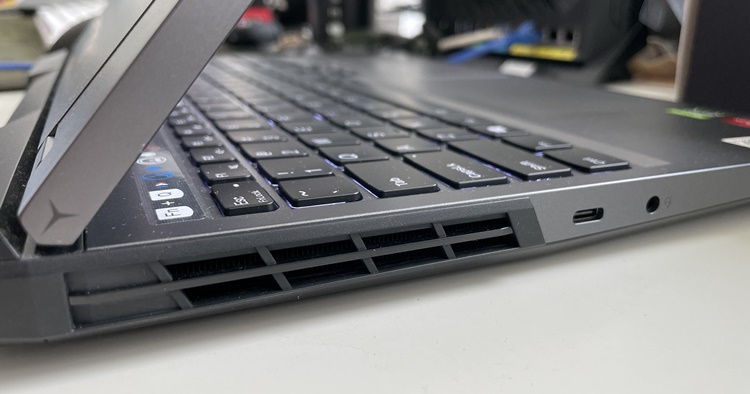 Then on the left, a USB Type-C port, and the 3.5mm audio jack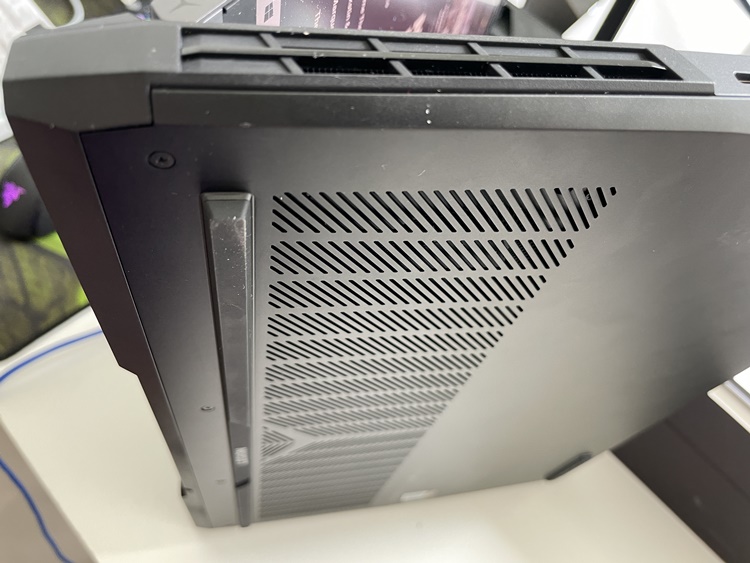 The bottom has a long rubber mini stand, allowing the laptop to breathe
To give you an example - it's like getting rid of the bottom bezels and putting a 4:3 display on the laptop. If you were watching Zack Synder's Justice League, it would almost eliminate the black bars on the side. This allows you to see the bigger picture than the 16:9 aspect ratio that we are so used to. You can always play that movie's trailer to see what I mean.
That's not the only thing you should be impressed with. I also liked how the ports and vents were strategically placed around the laptop. The HDMI, USB-A, and Ethernet are located behind, which results in better cable management. There's also a USB-C port on the left side and another USB-A port on the right, making it a total of 3 USB A ports. Alongside the USB-A port on the right side is a small switch to turn the webcam on or off.
I'm in love with the port placements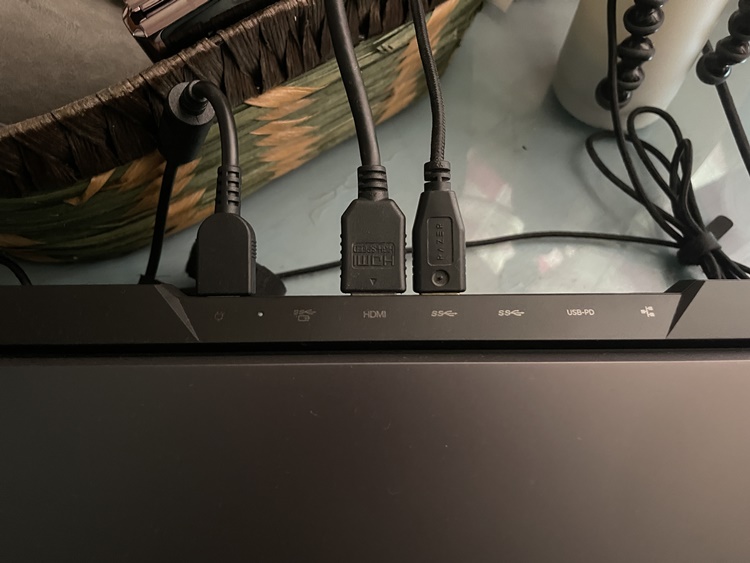 No more messy cable management!
I have to say, this is definitely one of the best gaming laptop designs I've seen, and I wish more brands would do this. However, that's just the tip of the iceberg. Before moving into the performance, let's have a quick look at the features on the laptop.
It's common practice for brands to pre-install a gaming centre program. The Legion 5 Pro is no exception with its Lenovo Vantage app, which can monitor performance in various areas. That includes hardware, updates, audio, and gaming customisations. You can also register your warranty and learn more about the Legion 5 Pro.
Personally, I don't use it much and don't know how many people actually use programs like this. Most of my gamer friends don't really bother, as we just want to go in and play our video games immediately. New PC components are more than good enough to run certain games smoothly, so if tech brands really want us to use these programs, they need to think outside the box. Nonetheless, they're useful for monitoring your PC's hardware and software status.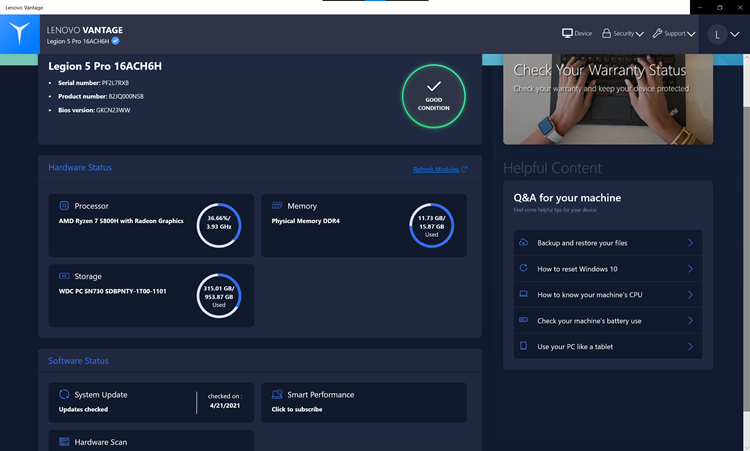 Lenovo Vantage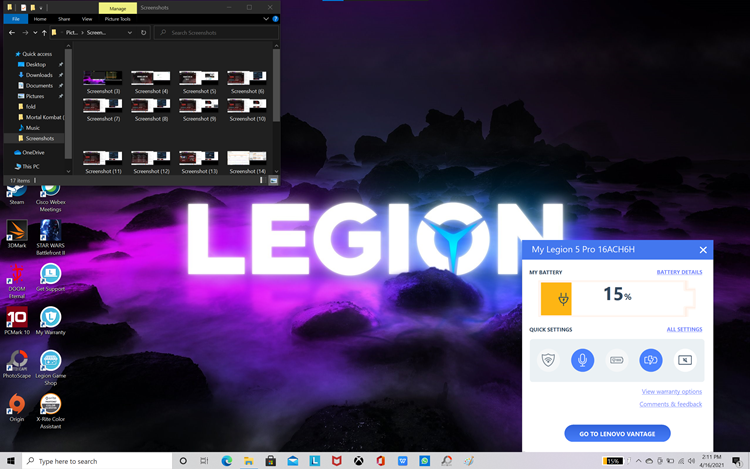 A shortcut to enable Rapid Charge Pro and other settings via Vantage quick launcher
While Lenovo Vantage may sound like a waste of space, that's not the case because it does have some handy features. The most useful one is the shortcut menu, which can be accessed from the taskbar. It comes with the option to enable Rapid Charge Pro (which you should), mic mute, shield protection, and more. There's also the webcam switch I mentioned earlier that's useful these days during online meetings.
Other than Vantage, there also are pre-installed programs such as the Legion Game Shop and X Rite Color Assistant. Much like Vantage, these two programs don't really have much use either. For example, there are already online game store platforms like Steam and Epic Games Store. So...what's the point of Legion Game Shop? As for the latter, if you're super into setting your preferred Display Color Profile, then go for it.
Now that we are done with the features, it's time to talk about the most important part of this review - performance. Packing an AMD Ryzen 7 5800H and NVIDIA GeForce RTX 3070, you can bet that this laptop can handle the latest graphics intensive video games with ease. Of course, user experience is a different story, but I'm glad to report that I had a good time using it.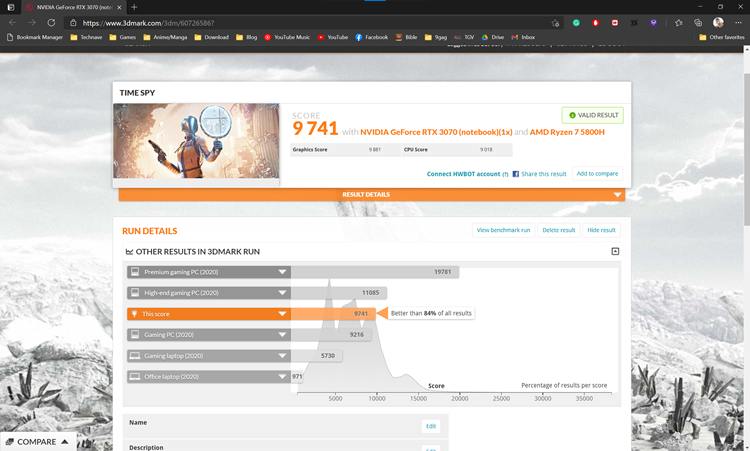 3DMark score in Time Spy - 9741 points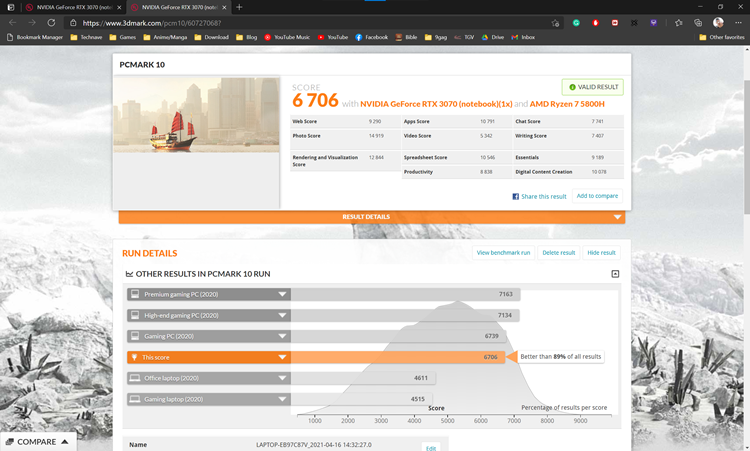 PCMark 10 score - 6706 points
For example, it was my first time playing Doom Eternal on the Ultra Nightmare graphics settings and the Legion 5 Pro handled it like it was nothing. No screen tearing, no millisecond buffer, and no time wasted when launching the game from the desktop - just perfect. Playing Star Wars Battlefront II on max settings was a charm too. Even though the game is already four years old, some GPUs back then couldn't run the game on max settings smoothly.
Besides that, I'm happy to report that the heat won't make your fingers or palm feel uncomfortable when gaming. On the flip side, the laptop fans do get a bit loud but remain bearable. Thanks to the thick heatsink inside, the Legion 5 Pro can divert heat towards the four vents for faster heat dissipation.
As for the audio, the laptop outputs surprisingly loud volume at good quality, which is perfect for doing online conference calls. Of course, wearing a gaming headset to talk to your friends is still very much preferable.
The laptop wouldn't let me record Doom Eternal, so here's Star Wars Battlefront 2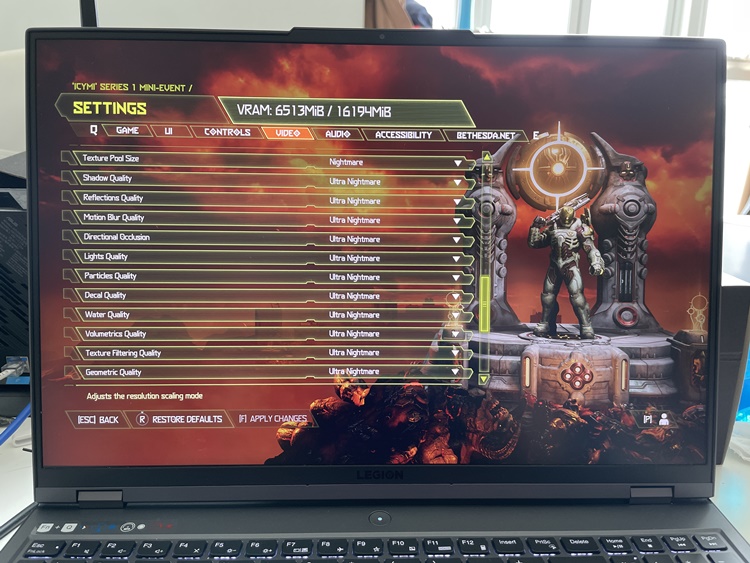 ULTRA NIGHTMARE SETTINGS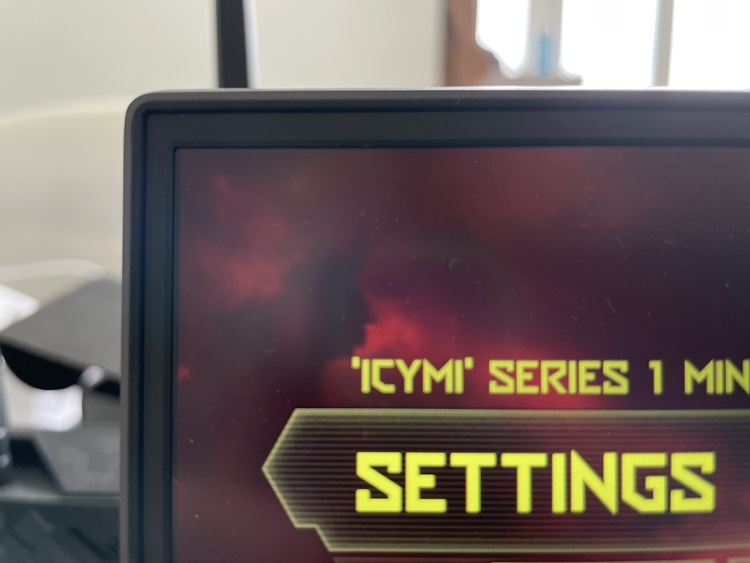 These thin bezels really maximise the gaming experience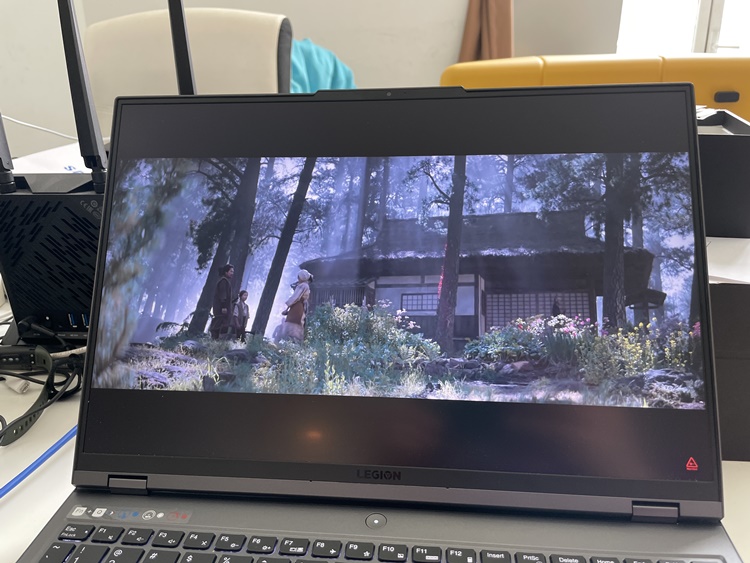 Watching movies on the laptop is great, thanks to the QHD resolution, 100% sRGB, and VESA DisplayHDR certified screen panel
Besides gaming, I find this laptop great for editing and rendering videos. If you're a video editor, you would know that some laptops cannot handle too many layers of media formats on top of each other. It's also a nightmare if the video editing program crashes halfway while rendering. Well, I'm glad to once again tell you that I had no problems with that. In fact, I could even do something else seamlessly while the machine does some rendering.
On the battery side, the performance is still pretty much the same as all gaming laptops. When unplugged, it can only last up to three hours. But thanks to Rapid Charge Pro, I at least won't need to wait too long for it to recharge. From my experience, it only takes an hour to fully recharge from 10%, so that's impressive.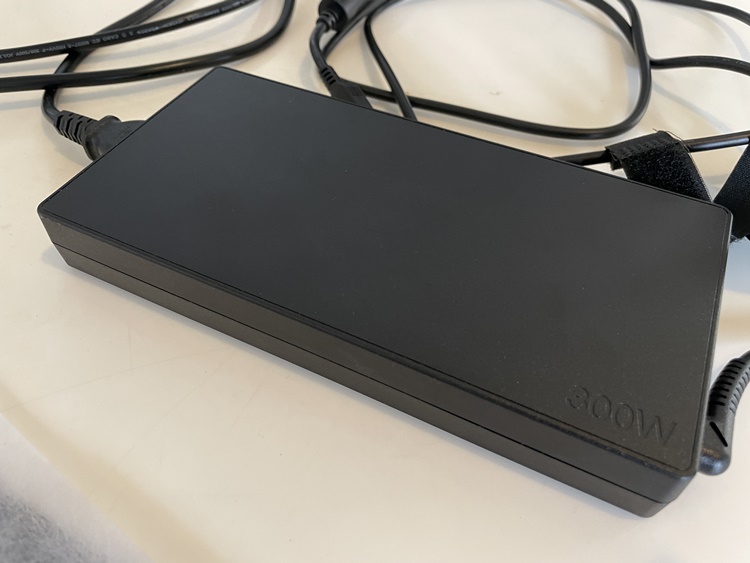 That's a huge power brick...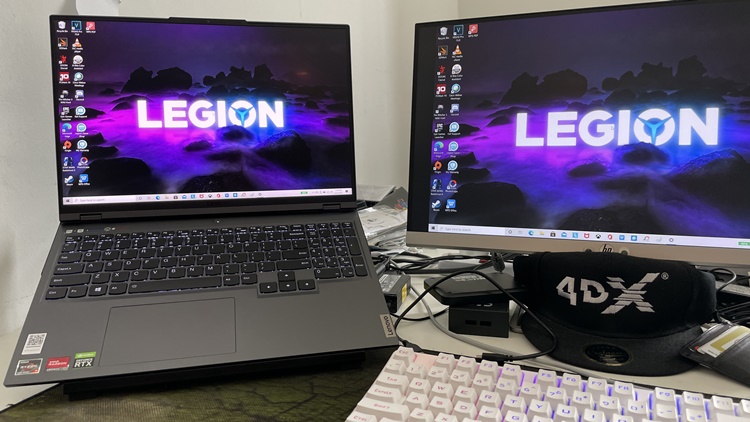 #approved
So far, I have spoken quite positively of the Lenovo Legion 5 Pro. It's definitely an absolute gaming laptop beast, the best that Lenovo can offer in the current generation. Almost everything about it is perfect, but the same can't be said for its RM6799 Malaysian price tag. Even for a PC gamer like myself, I would think twice before committing. But hey, you get what you pay for and the Legion 5 Pro is really, superbly good.
Even if you compare it with other gaming laptops from ASUS ROG, Predator, or MSI in the price range, I'd still choose the Lenovo Legion 5 Pro because of features like the 16:10 aspect ratio. Also, the ports for most gaming laptops are either on the left or right side, so having them behind is a bonus for me. That said, if you prefer desktop PCs, you're better off in the long run with building your own PC using that amount of money.
Tech Specs and features of the Lenovo Legion 5 Pro:
AMD Ryzen 7 5800H Processor (8 Cores/16 Threads, 3.20 GHz, up to 4.40 GHz with Max Boost)
NVIDIA GeForce RTX 3070 8GB GDDR6
16GB DDR4 RAM
1TB SSD, M.2 2280, PCIe Gen3x4 NVMe, TLC
Measures 21.7-26.85mm x 356mm x 264.4mm, weighs 2.45kg
16-inch 165Hz IPS display (2560x1600 resolution, 3ms response time, HDR, 100%sRGB, Anti-Glare)
Ports - 3 x USB-A 3.2 Gen 1, x2 USB Type-C (3.2 Gen 2), HDMI 2.1, Headphone/mic combo, E-Shutter Button, RJ45 LAN and Power slot
Features - Slim 720p Camera, 6-row 4zone RGB Backlight, Black Key, White Icon English, 2 x 2W Harman speakers with Nahimic Audio
Intel Wi-Fi 6 AX200, Bluetooth Version 5.0
Battery - 4 Cell Li-Polymer Internal Battery (80Wh), supported by 300W AC Adapter Slim (3pin)-UK
Windows 10 Home
Pros - Good port placements, 16:10 display ratio, reliable Rapid Charge Pro, and durable for gaming in long periods
Cons - The RM6799 price tag
Conclusion - A high-class gaming laptop in its own league
What do you think of the Lenovo Legion 5 Pro? Let us know in the comments below, and stay tuned for more trending tech news at TechNave.com.
Lenovo Legion 5 Pro AMD Specs & Price >