Lenovo Legion Phone Duel review - Best gaming phone for streaming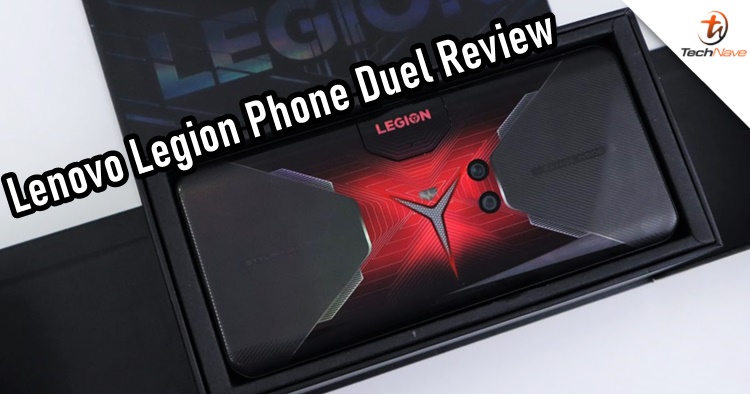 It was only a few years ago when Lenovo expanded into the gaming category. Branding it as Legion, it is now one of the most popular PC gaming brands around the world and surprise, surprise, Lenovo decided to make a move into the mobile gaming industry with the Lenovo Legion Phone Duel.
From a business point of view, it makes sense for Lenovo to tap into the market because of how well mobile gaming is going. However, it would surely face tough competition from existing gaming phones with the likes of the ASUS ROG Phone series and the Black Shark series. So does the Legion Phone Duel have what it takes to captivate the Malaysian mobile gamers' hearts or is it just another gaming phone? Let's read the review below to find out.
Design - Fierce-looking but oddly placed cameras
Gaming-centric phones always have this "cool" and futuristic design and the Legion Phone Duel definitely stands out on its own. There are various line patterns on the back and the one we got was Vengeance Red accompanied by some black lines here and there. Overall, very fierce-looking which is fitting for the name.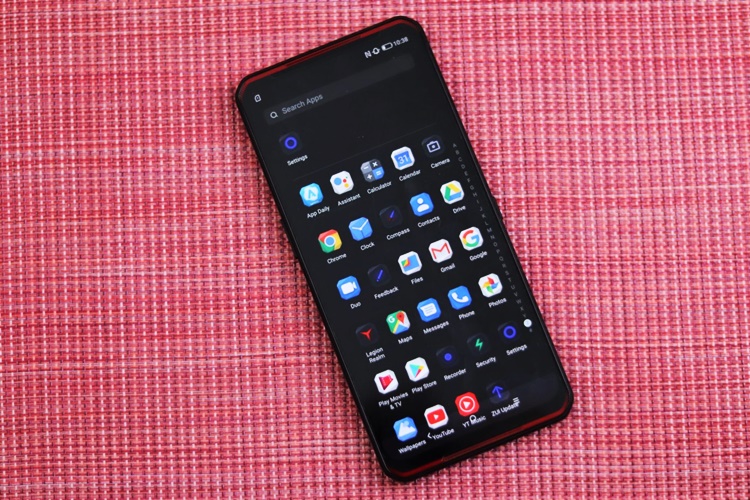 The front screen, no notch or a punch-hole front camera. The dual stereo speakers are at the top and bottom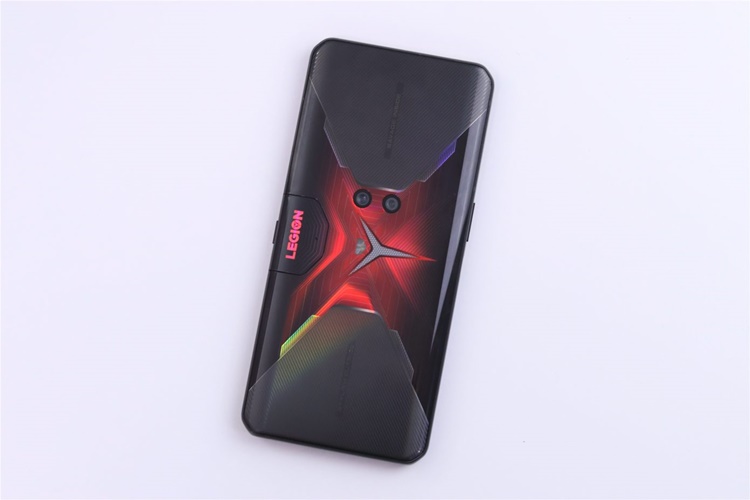 The Legion Phone Duel in Vengeance Red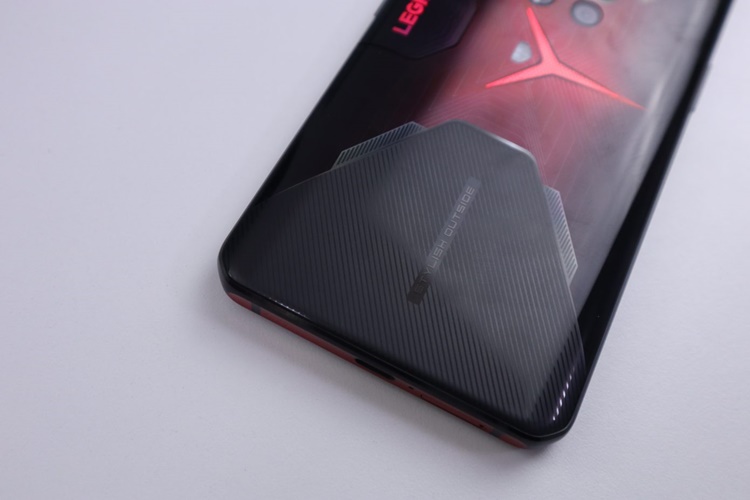 This black surface here has a nice grip and it's quite smooth too, you can also see the Lenovo Legion symbol lighting up in VENGEANCE RED
The USB-C and a dual-SIM card slot
The secondary USB-C port
Of course, the biggest attraction would be the X-like pattern in the middle of the phone that lights up as soon as you play a mobile game. There are also two black sections at the sides with a unique surface for you to hold while gaming. However, one of our writers thinks it's too helpful when holding it closer but to each their own. Also, the dual rear camera position seems...oddly placed.
In comparison, the Legion Phone Duel design is somewhat similar to the ASUS ROG Phone series. It also features a dual USB-C port, one at the bottom and the other on the left side for charging while gaming, as well as the 3D motion sensors. You can also find a dual stereo speaker which was expected, but what we didn't expect was the other oddly placed pop-up front camera on the right side of the phone.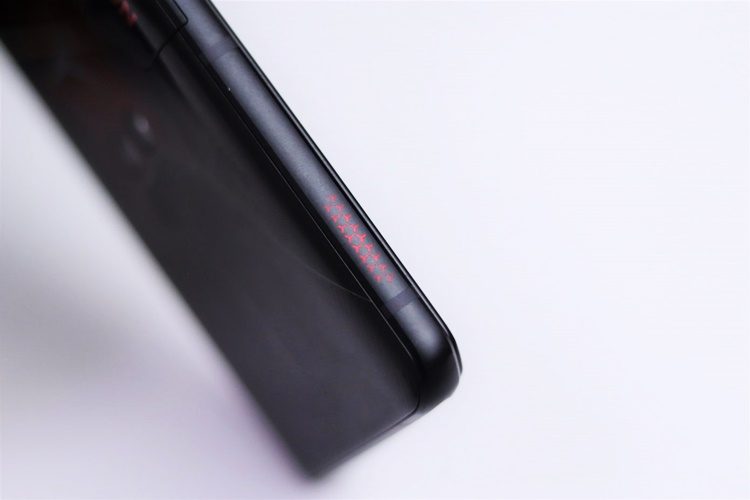 Extra 3D motion sensors for gaming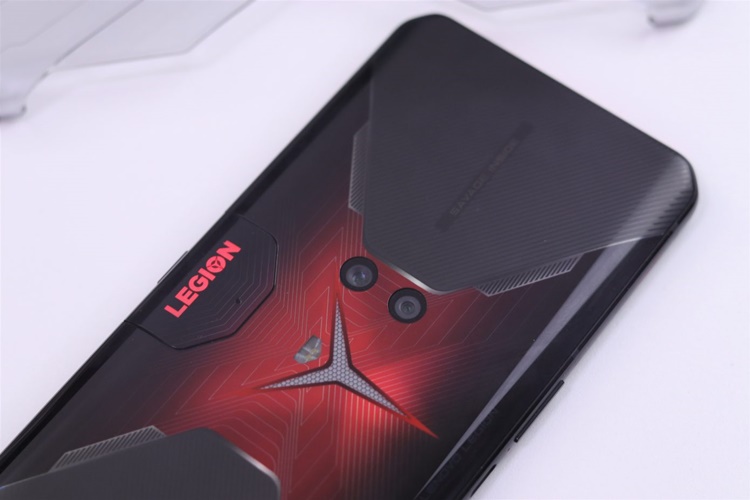 Maybe it's just me, but the dual rear camera setup seems out of place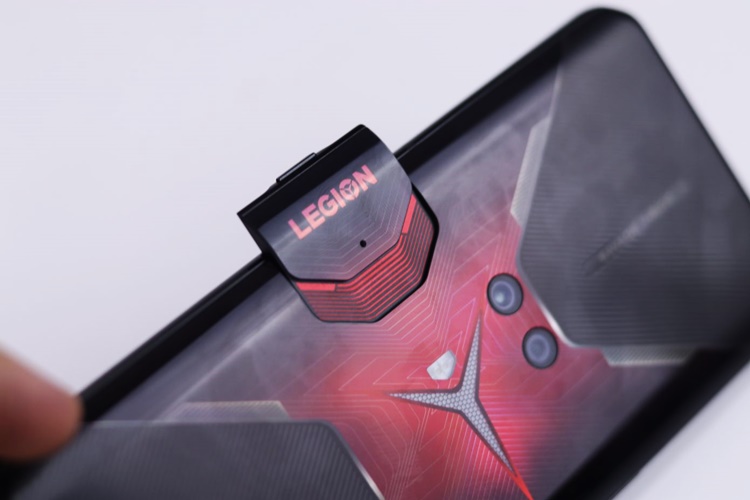 The power button is located on top of the pop-up side-mounted front camera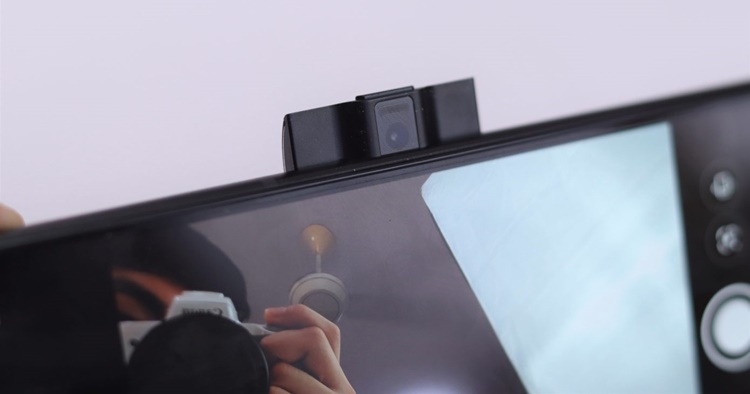 Here's how the pop-up side-mounted front camera looks like
Granted, taking a selfie from that position won't look natural as it's the same thing as the webcam hiding among the keyboard layout. The reason, Lenovo did this is because most mobile gamers aren't going to care much about taking selfies (generally speaking) and this feature was widely advertised as enabling a live broadcast while gaming which makes sense. By having a pop-up camera, it eliminates the need for a punch-hole or notch that distracts the display viewing experience or the grip while gaming.
Tech specs and features – Good recording features
Here are the official tech specs for the Lenovo Legion Phone Duel
Qualcomm Snapdragon 865+ 5G chipset

12GB or 16GB LPDRR5 RAM

256GB or 512GB UFS 3.1 internal storage

Measures 169.17mm x 78.48mm x 9.9mm, weighs 239g

6.59-inch AMOLED display

64MP (main) + 16MP (ultrawide) dual rear camera

20MP pop-up side-mounted front camera

Features Legion Realm, 3D motion sensors, up to 144Hz Refresh Rate, up to 240Hz touch sampling rate, Back Recorder, Stream Mode, 90W Turbo charge,

Dual front-facing speakers

Supports 5G, WiFi 6,

802.11a/b/g/n/ac/ax (2.4G &5G, 2 x 2 MIMO),

Bluetooth 5.0, NFC, dual USB-C ports

Legion OS based on Android 10

2x 2500mAh battery packs
As a gaming-centric smartphone, you can surely expect that it comes with all the high-end configurations. The slogan "Stylish Outside, Savage Inside" (which is found on the back) is not merely a statement and it really delivers the mobile gaming performance that we expected. As aforementioned, the Legion Phone Duel is similar to the ASUS ROG Phone in some ways but it's not a bad thing, there's nothing wrong by copying some features if they are convenient for the gaming experience.
Inside the Legion Realm app, you can adjust the refresh rate up to 144Hz, the game lighting effect, how much haptic feedback vibration you want, 3D motion sensor sensitivity and others. You can also choose the "Rampage" option which boosts up the CPU and GPU performance but at the moment, many mobile game apps can work just fine without it.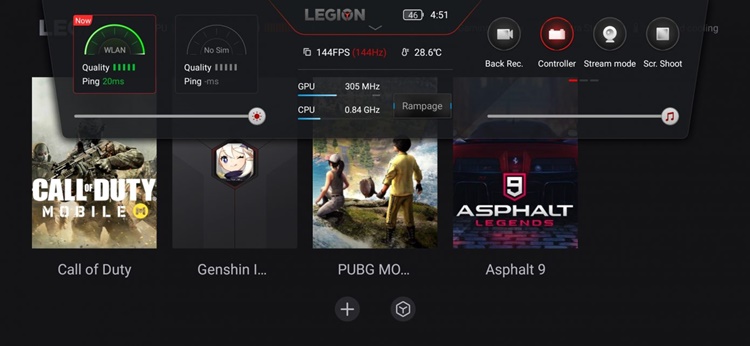 The Legion Realm app comes with a temperature check, refresh rate monitor, Internet signal strength checker, and the recording features on the top right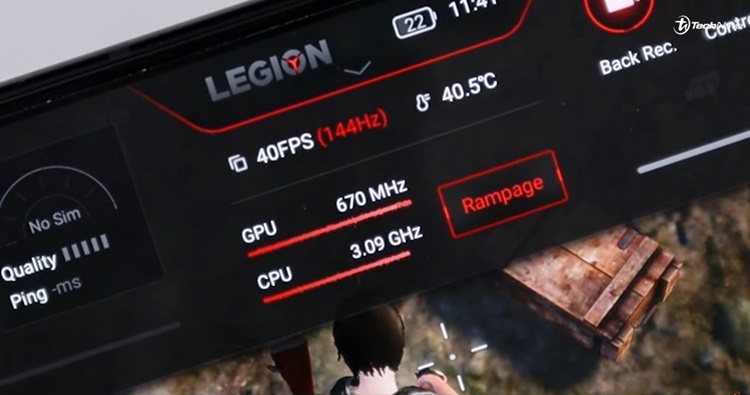 The Rampage Mode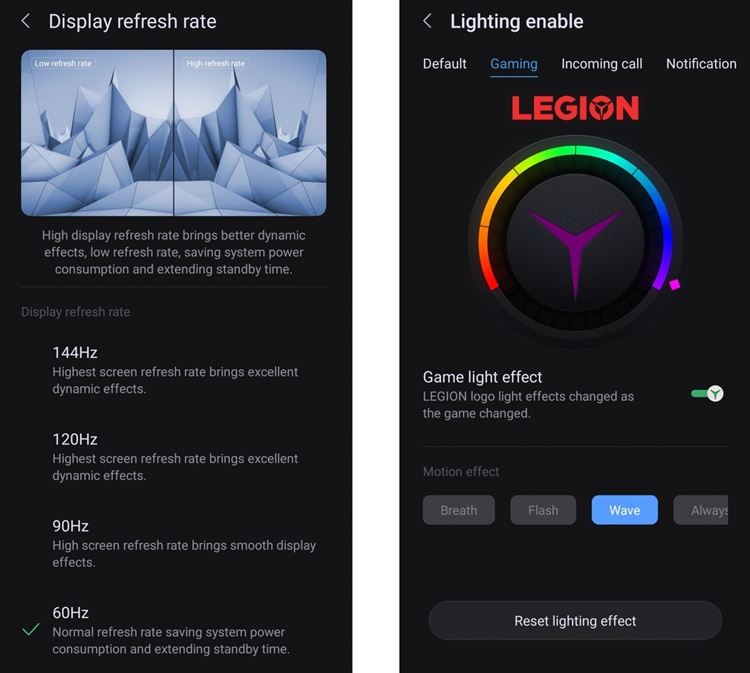 Setting mode for refresh rate and lighting effect
The phone uses Legion OS which works smoothly and looks neat, we also like the fact that it doesn't come with any bloatware so thumb's up for that. With the pop-up front camera, you can also manage your screen recording videos, live broadcast and turning off the notifications. Lenovo may be onto something here, as mobile streaming is getting popular in Asia so that's a convenient tool if you're a serious mobile gamer and streamer.
You can definitely use the Legion Phone Duel to broadcast your games in Twitch and we are quite satisfied with the video quality. The gameplay performance was never affected when we did it live on Twitch and as far as we are concerned, there are no other gaming phones out there that can do this.
Livestream demo with the front camera streaming
The Back Recording feature is also one of our favourites. This is because this feature helps to save 15 or 30 seconds of gameplay video, so you don't really need to record your entire gameplay via screen recorder and just keep the highlights in your album. On the other hand, the 3D motion sensors are definitely useful to have but unfortunately, not all the mobile games support this such as Call of Duty Mobile and Genshin Impact.
Performance - No compromises
From the benchmark tests, you can see that the Legion Phone Duel excelled in 3DMark and Geekbench. There is also no problem in playing the current popular mobile games with max settings but remember - most mobile games can't pass 60FPS but at least the frame rates are usually quite consistent over long periods of time.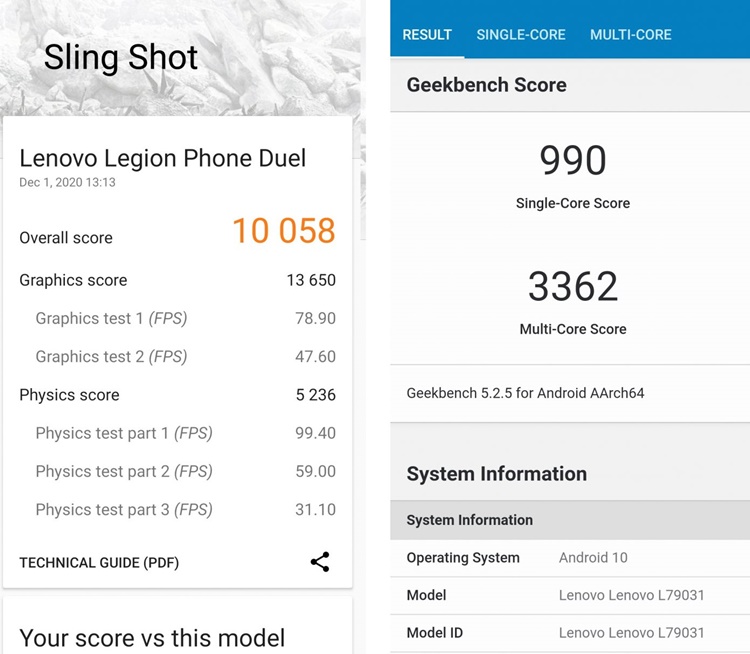 Overwhelming scores from 3DMark (left) and Geekbench 5 (right)
Speaking of playing for long hours, we didn't feel any serious heat issues. You can actually monitor the temperature in the Legion Realm app and so far, we never exceeded 45°C. Thankfully, this is thanks to the liquid cooling feature inside the phone and even if you turn on Rampage Mode, it won't affect the heat that much. However, the mode will use up around 30% of battery life within an hour of gaming, so be aware of that.
With the 5000mAh (in total) battery on board, it's more than enough to last you for a day of social daily usage including gaming for several hours. Charging up is really fast (90W!) and there's also an interesting charging feature, if you use one cable, it takes only 1 hour and 10 minutes. However, if you use two cables, it's just 30 minutes. How is this possible with two cables? Remember - the Legion Phone Duel is using a twin pack battery with 2500mAh each and there are 2 USB Type C ports.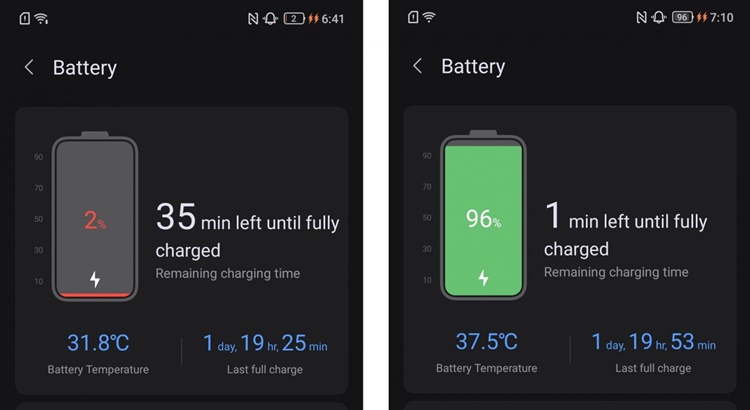 Fully charged in just 30 minutes
In terms of video recording, this phone can record in 4K resolution and it has electronic image stabilization (EIS) that works but sometimes, you can see a little warp effect. One feature of the recordings I'm interested in is Dual Mode, where you can record videos using the main camera and front camera simultaneously. It's technically impressive, though I'm not sure if every mobile gamer is keen to use it.
Although the Legion Phone Duel has only two rear cameras, this does not mean that the quality of its photography is lacking in any way. The phone offers various functions such as Night Mode, Macro, Pro Mode and more. It also has Portrait Mode but it's not perfect, as the line between the subject and background sometimes seems strange and inaccurate. Well, you can be the judge of that so check out our photos below.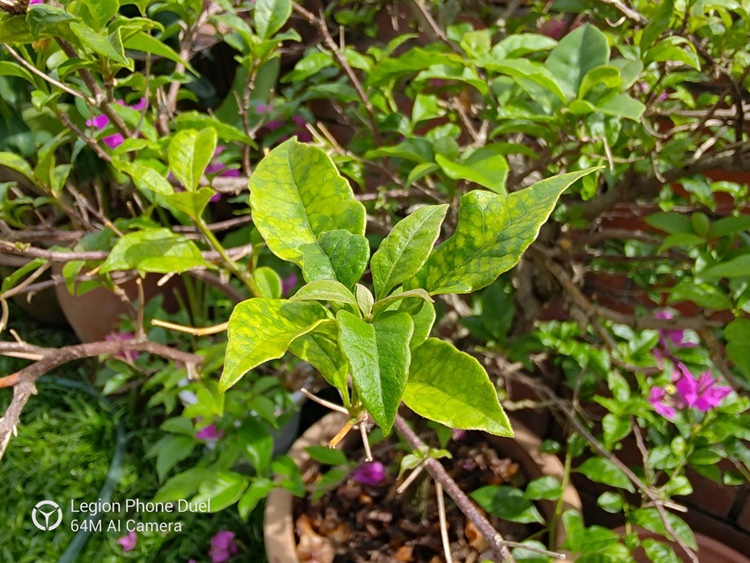 Fine details on the leaves, this is shot in auto mode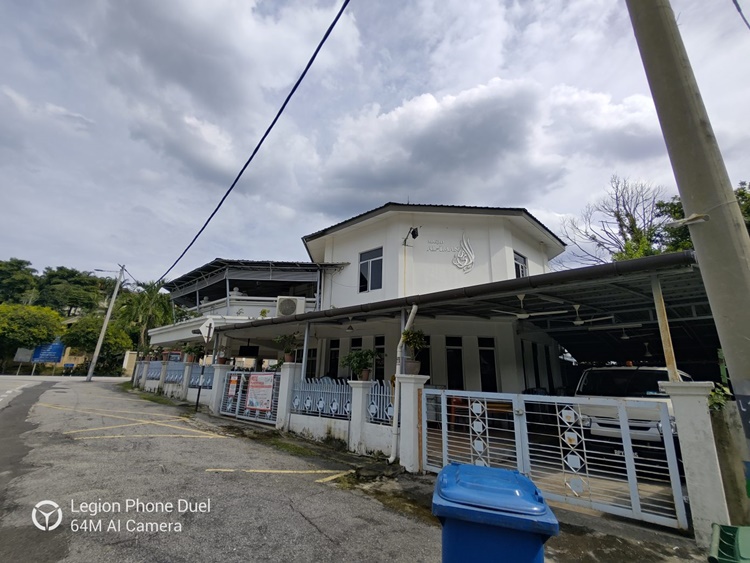 Ultrawide shot, clearly not perfect as you can see the fish-eye lens effect at the sides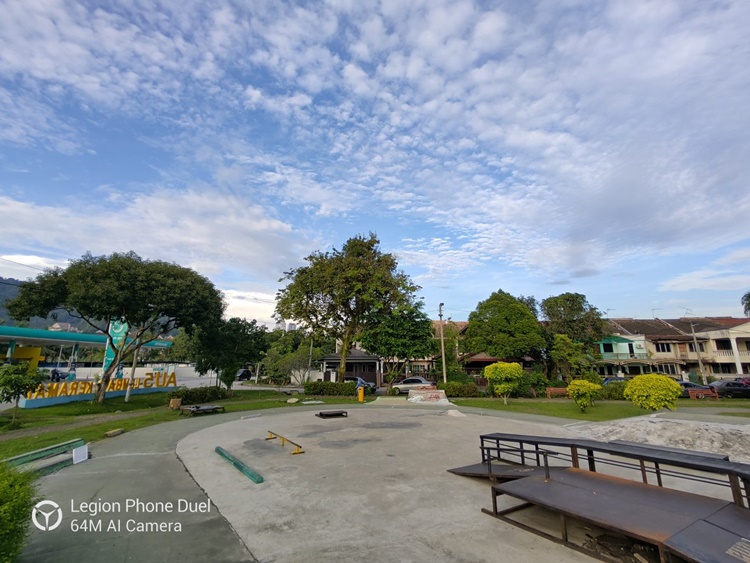 Another ultrawide shot, this one is better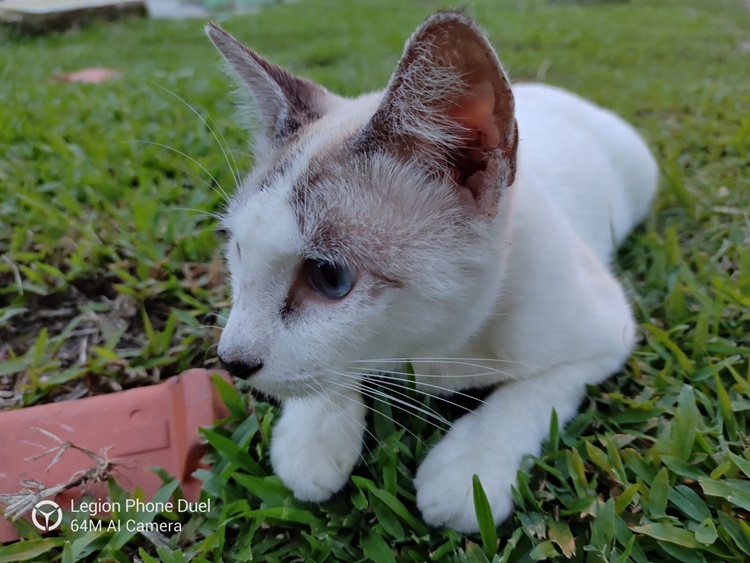 This one was taken in 2x zoom!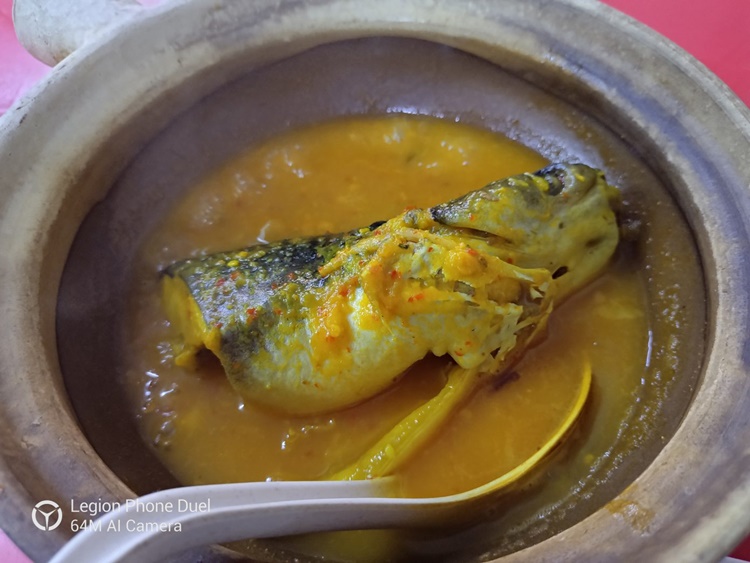 Mhmmm, curry fish :D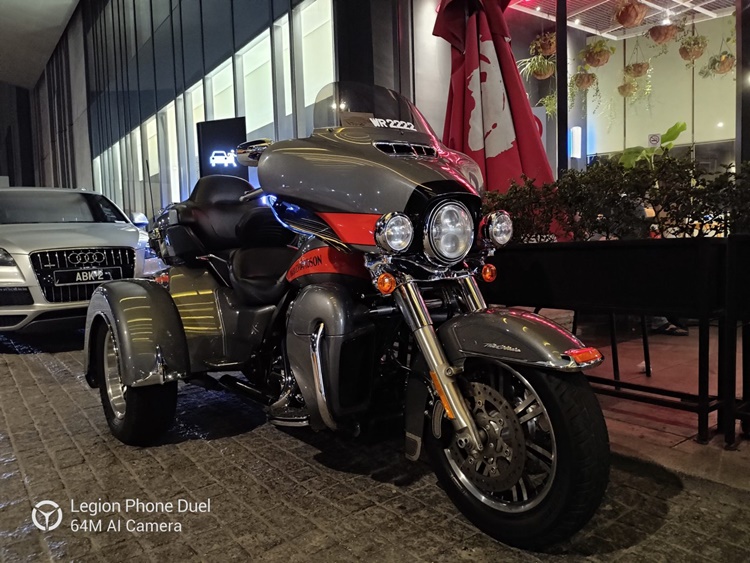 Night shots aren't an issue as long as the area has sufficient lighting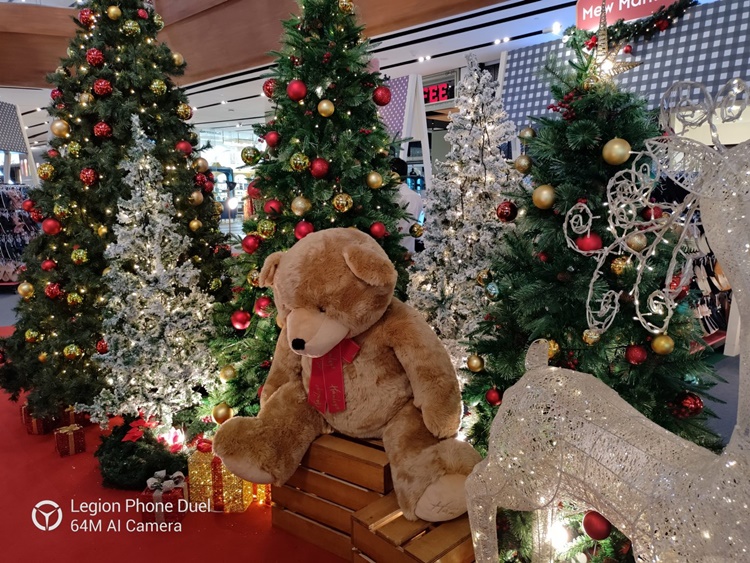 Overall, the photo quality on the Legion Phone Duel is surprisingly good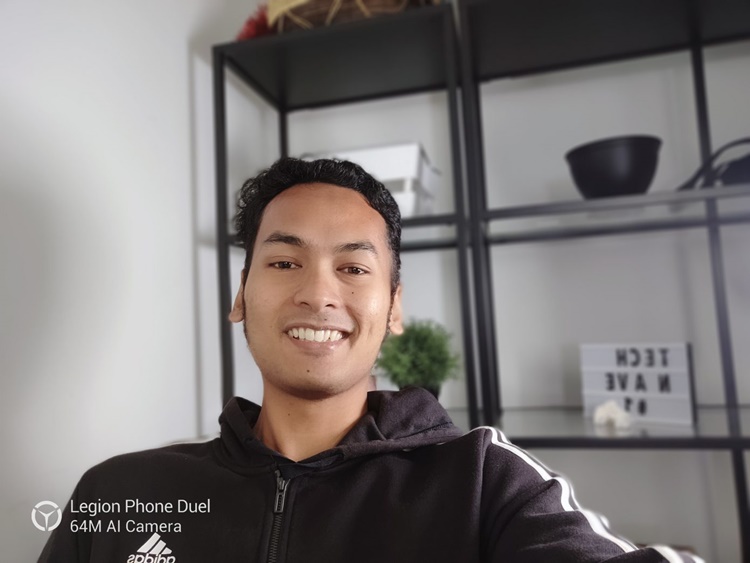 Portrait mode, it's not perfect as the arm part there is a bit blurred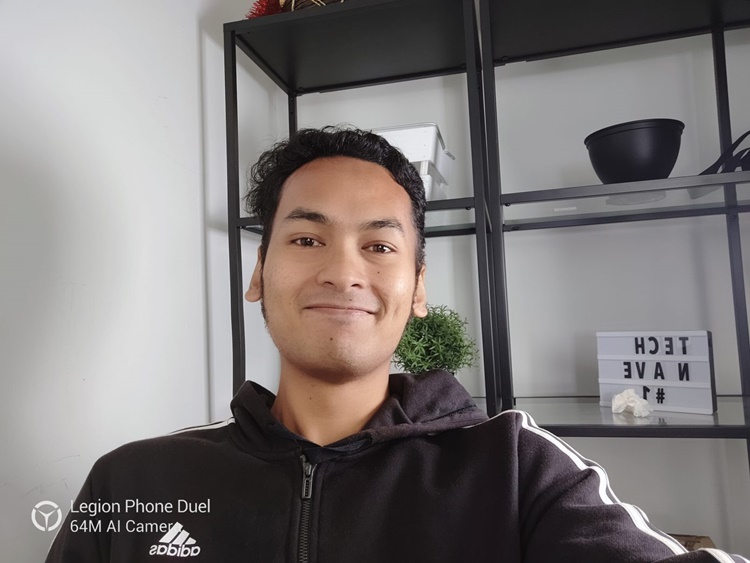 Selfie without portrait mode on
Conclusion - It's the best phone for streaming games
At RM3399, we think it's not a bad option for owning a mobile gaming phone. Besides the badass futuristic gaming design, the Legion Phone Duel does what all other gaming phones do best but with a twist - streaming your games online without any interference and that's the main selling point. So as we said before, only serious mobile gamers and streamers should get this phone.
However, if you want to compare this phone with the ASUS ROG Phone 3, then it might lose out in some areas. The latter may not have the streaming capability, but it has better phone accessories such as the AeroActive Cooler 3 fan, external controllers and others. Also, the ASUS AirTrigger button supports every mobile game so Lenovo still has a long way to catch up in that aspect.
But what do you think about the Lenovo Legion Phone Duel? Would you still get this phone? Let us know in the comments below and stay tuned for more tech reviews at TechNave.com.
Lenovo Legion Phone Duel Specs & Price >