Lenovo Yoga Slim 7 review - An excellent all-day laptop for content creators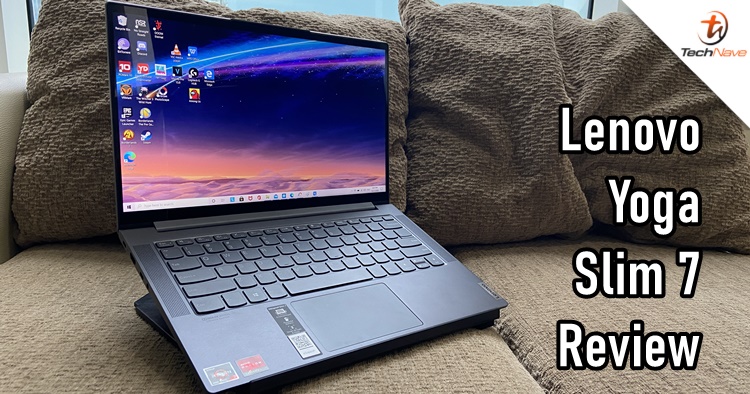 Laptops may not be as hot as smartphones in the Malaysian market, but it's still an essential part of our lives from working to gaming. Back in early September, Lenovo Malaysia unveiled the new Yoga Duet 7i and Yoga Slim 7i, but we are going to take a look at the Lenovo Yoga Slim 7 in this review. For your information, the Yoga Slim 7 is the lesser version among the brothers, but it is by no means less powerful.
With a starting price of RM3499, the Yoga Slim 7 features an AMD Ryzen 4000 Series Mobile Processors with Radeon Graphics. If you are well versed in computer components, you should already know that this processor is currently one of the best to have for gaming but that's not all it's good for. In fact, it's also ideal for content creators. If you want to know, head on below to check out our Lenovo Yoga Slim 7 review.
Right off the bat, the Yoga Slim 7 looks like any ordinary laptop (duh). I mentioned that the laptop is not for gaming, so the fact that the laptop design doesn't showcase any edgy gamer-ish design is already the first sign. However, the dual stereo speakers are strategically located on the sides as they are normally placed at the bottom. The power button is also placed on the right side along with the microSD card reader, which is great for photographers who want to import their photos in.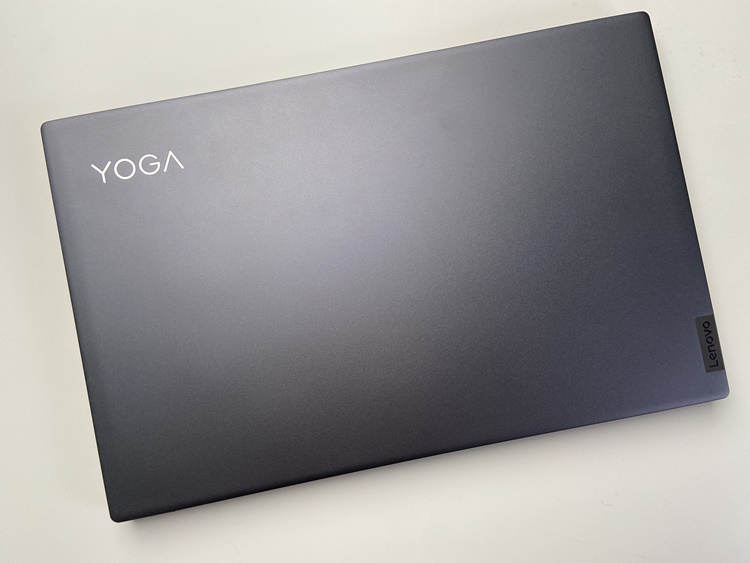 The Lenovo Yoga Slim 7, simple design in Slate Grey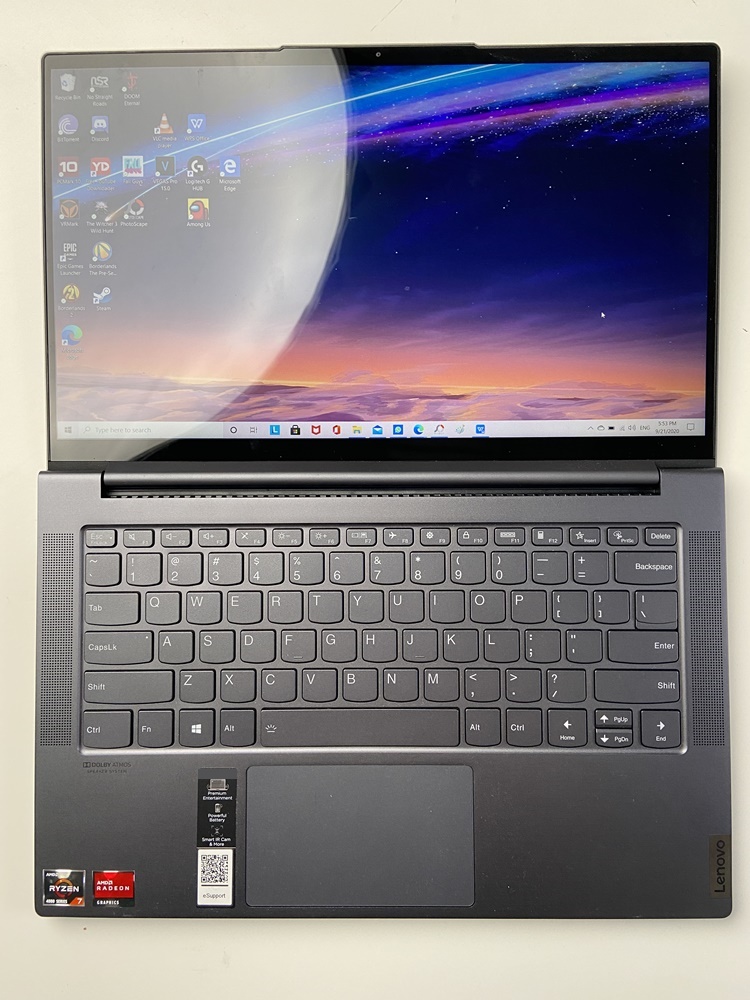 Opening up, the screen panel can lay flat just like that. I also like how the laptop can automatically adjust the brightness depending on your surrounding, so I won't get a "flashbang" in the face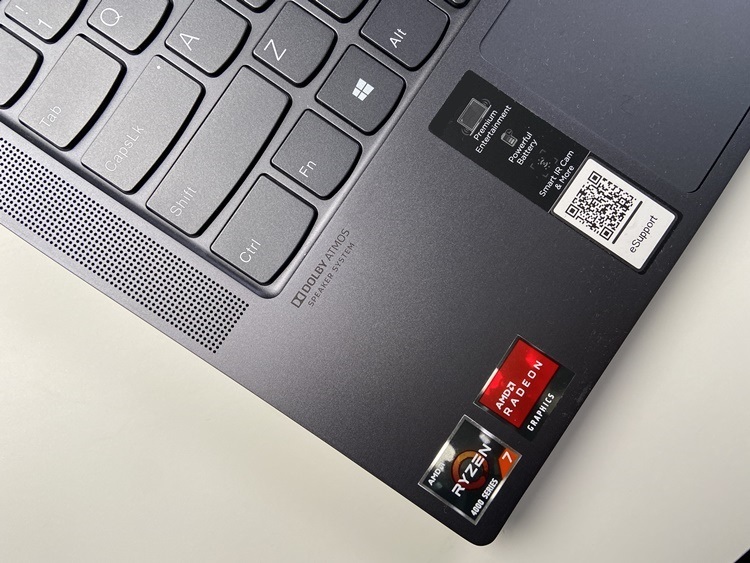 A closer look at the keyboard, Dolby Atmos speaker and the AMD Ryzen tags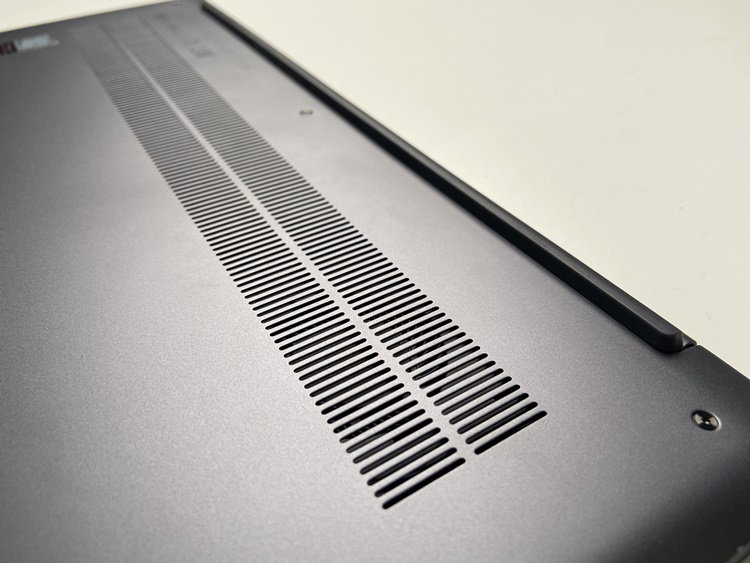 Nothing much at the back, just the vents for the air to flow out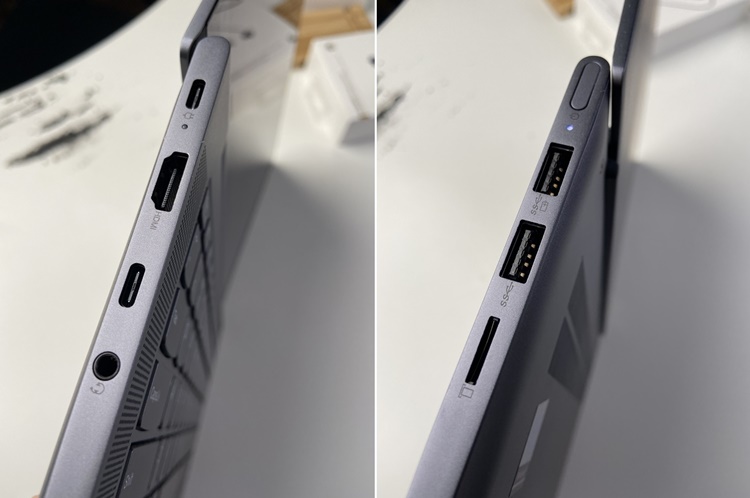 The ports on left are the USB-C power, HDMI, USC-B 3.2, and an audio jack. On the right, you can find the microSD card reader, 2 x USB A 3.1, and the power button
You can also find a webcam on the laptop, located at the top-middle of the screen panel. It doubles as a face scanner to unlock the laptop and is pretty swift (so effective that I didn't bother with using number pads or passcodes to unlock). Typing on the keyboard feels just nice but for some reason, it doesn't have a button to enable keyboard lighting, so you would have to live with that. The Yoga series is popularly known for having multiple display modes but the Yoga Slim 7 can only be laid flat 180-degrees.
When it comes to features, there isn't really much to talk about so I guess we can start with the tech specs instead. The Yoga Slim 7 has an AMD Ryzen 4500 Processor, which clocks up to 2.30 GHz with AMD Radeon Graphics. Despite having these new bad boys hardware, these aren't the components that are suitable for playing video games because it lacks a dedicated graphics card. Now, I'm not saying that this laptop can't play any games at all - you can, but I won't recommend it especially on graphics-intensive ones. Oh well, you can still play Among Us on it (hahaha).
You can boot up Doom Eternal, but it won't run smoothly on the laptop as shown in this video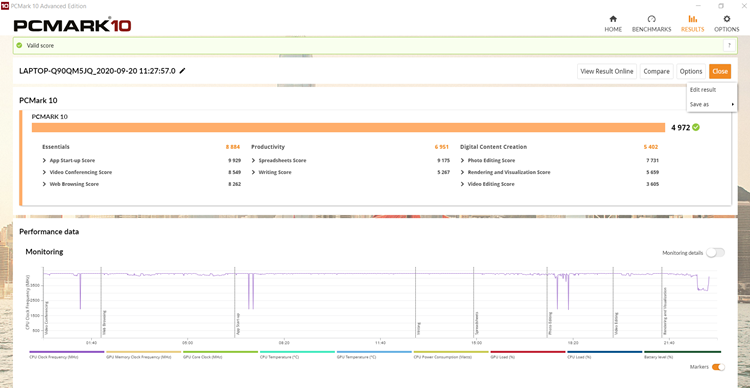 Since there's no NVIDIA support, we could only benchmark it on PCMark 10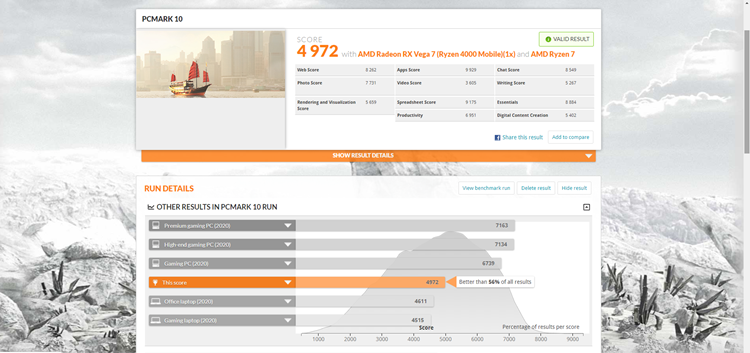 The overall score is 4972 makes it better than most non-gaming laptops, according to the chart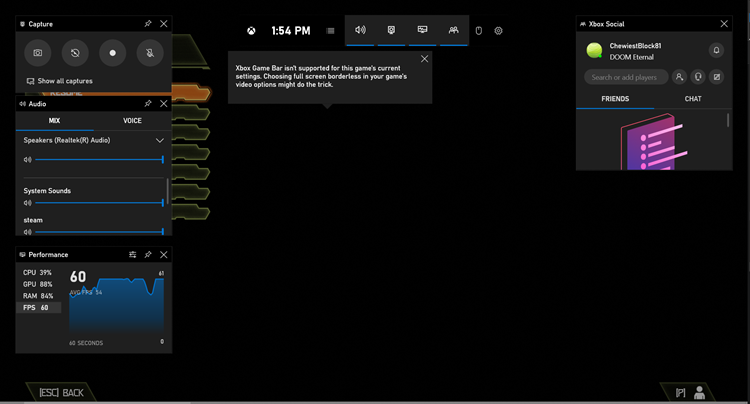 The screen panel can only run at 60Hz refresh rate max while playing Doom Eternal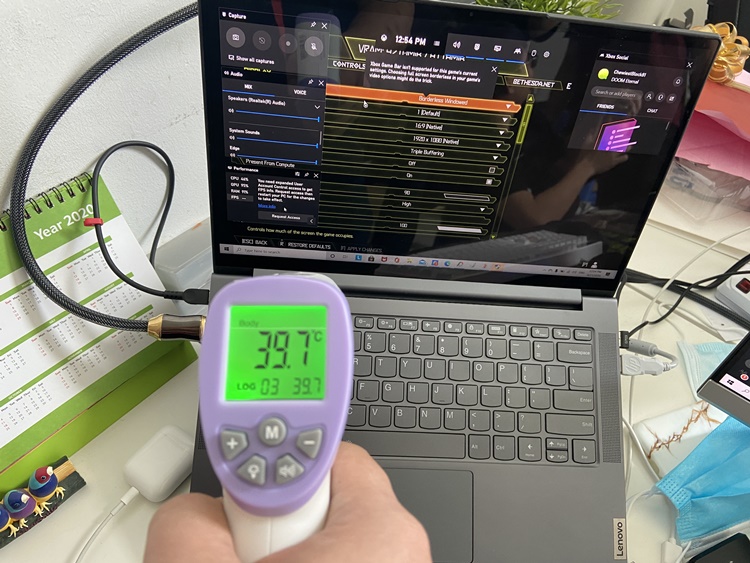 Also, it gets quite hot if you attempt to play graphics intensive video games
With this kind of hardware on board, the Yoga Slim 7 is best used for content creators. On a typical workday, I'm not just writing news but also involved in video productions which the laptop excels at. I'm able to use it to handle big video files seamlessly, edit them and do some rendering without much trouble. I even tested it without the charging adapter plugged in. On top of that, I can also let my laptop render a video in the background while I do my work at the same time all thanks to the 16GB of RAM.
In terms of battery life performance, I think this is easily the laptop's best feature. When editing and rendering a video, I was surprised that it could last me the whole afternoon (approximately 5 hours) without gasping for a battery recharge. If you thought that was impressive, the Yoga Silm 7 can last even longer on normal work tasks. I've tested this many times by writing news and review articles without charging the whole day and found that it can last me about 6-7 hours. Of course, it varies on how you use the laptop and it takes quite a while to fully charge.
Watching high-quality videos on the laptop easily pass the test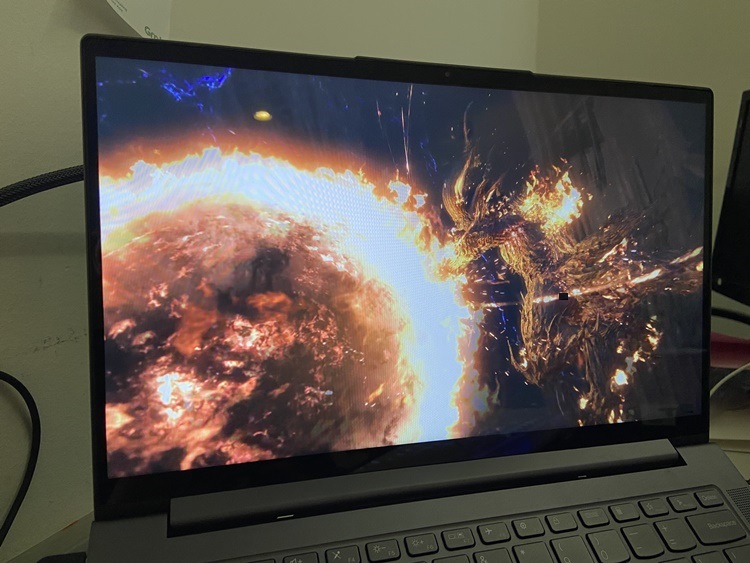 That said, it can be great for streaming your favourite TV shows or movies on Netflix too
Webcam quality (middle) is steady!

A dual monitor screenshot of me writing some news (right) and rendering a video (left) with other programs running in the background without being plugged in
In terms of connectivity, there's no lack of that on this laptop. You can even hook it up to a monitor thanks to the HDMI port. Actually, now that I think about it - it's great that Lenovo managed to fit that port inside despite the slim body design. Overall, this helps make it a great productivity device. Oh, one more thing - despite all the positive things I've said throughout this review, I think the 14-inch screen panel is too small for me and I prefer using it with a monitor by connecting it via HDMI.
With a starting price of RM3499, I think this is an excellent laptop for work and creating contents. Personally, I totally love the battery performance and dual stereo speakers. The face unlock feature and the auto-brightness adjustment are nice additions as well. If you want to play some games, it's still fine but just not Triple-A video game titles. Laptops like this are generally quite expensive and could go over the RM5K mark easily, but if compared with the Lenovo ThinkBook 14 which we reviewed earlier this year, I would prefer the Yoga Slim 7.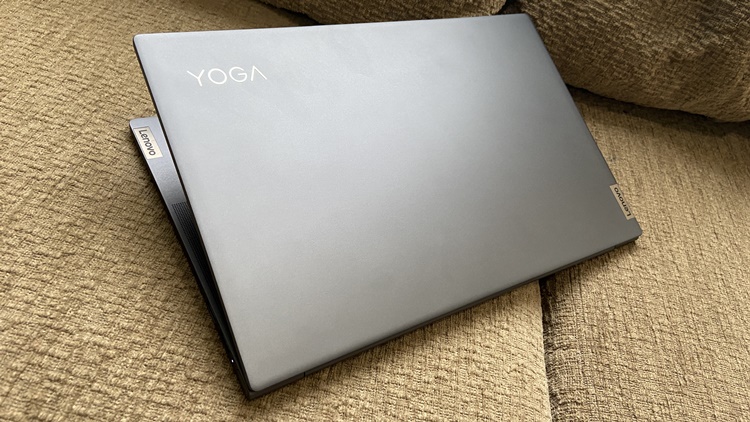 Tech specs and features
AMD Ryzen 7 4800U Processor with AMD Radeon Graphics
Up to 16GB of RAM (LPDDR4X)
512GB SSD PCIe
14 FHD IPS display (1080p, 300 nits)
Measures 320.6 x 208 x 14.9mm, weighs 1.4kg
Ports - V2 x USB 3.1 Gen 2, USB-C (USB 3.1 + DP + Power Delivery), SD card reader, HDMI, Headphone / mic combo
Features - Microsoft Home & Student 2019 pre-installed, 2 x 2W front-facing Dolby Atmos Speaker System, IR & 720p HD Camera
Supports WiFi 5 (802.11 ac 2x2), Bluetooth Version 5.0
Battery - 4 Cell Li-Polymer with 65W AC Adapter (Rapid Charge Pro), up to 19 hours
Windows 10 Pro

Pros: Amazing battery and Dolby Atmos speakers, convenient face unlock and auto-brightness adjustment, can handle most productive works like video editing
Cons: 14-inch is still small for content creators
Conclusion: One of the best productivity laptops for people who are on a budget
Lenovo Yoga Slim 7 14 Specs & Price >