MSI Prestige 14 A10RAS review - A laptop that's both stylish and functional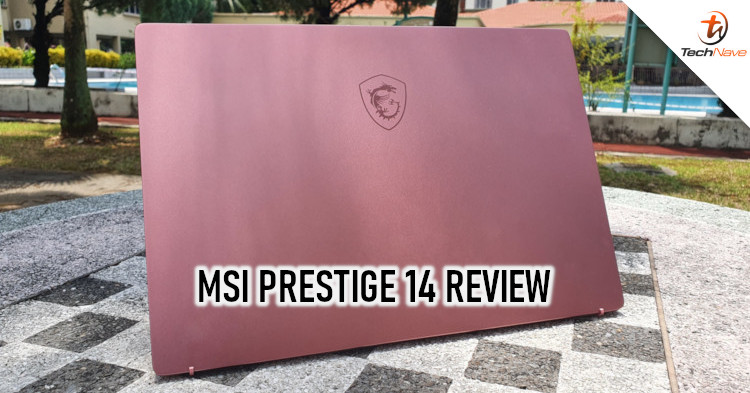 As a content creator, you would always want your content to stand out of the crowd in order to get noticed. Having said that, the same principle applies when it comes to picking a laptop because ideally, you would want the laptop to be an extension to your style and personality.
In comes the MSI Prestige 14 A10RAS laptop which, unlike most laptops out there in the market, isn't just available in generic colours such as Black, White, or Silver. Instead, it comes in a very eye-catching Rose Pink colour, with the price starting from RM5399.
With that in mind, could a laptop as stylish as the MSI Prestige 14 A10RAS keep up with the demands of a content creator? Let's have a closer look.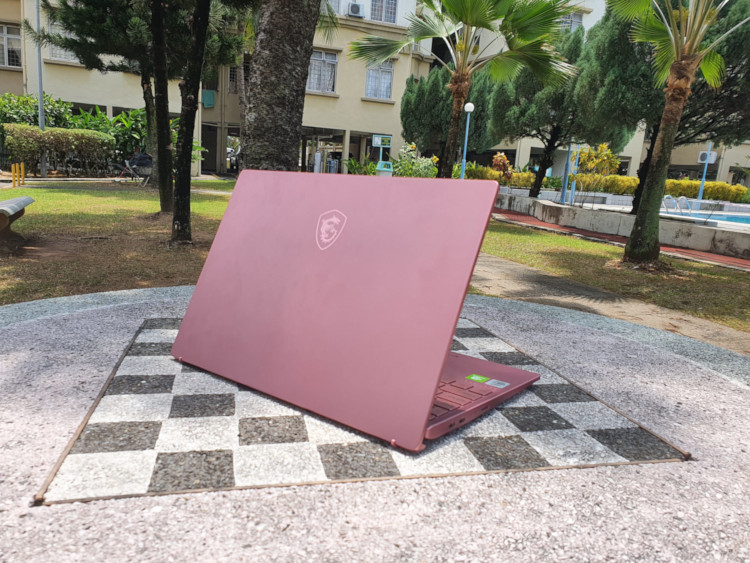 Definitely eye-catching!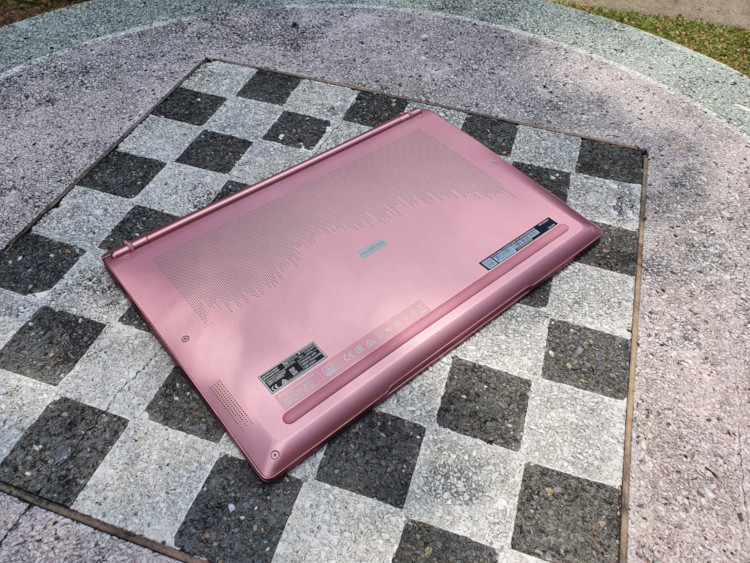 If you look closely you can see the sound waves under the laptop
At first glance, the first thing that will most definitely catch your attention is how striking the pink colour scheme is. Not only that but if you flip the laptop over, you'll see that the air vents, as well as the speaker grill, were designed to look like sound waves.
Furthermore, the chassis comes with a matte finish, which feels smooth when you glide your fingers over and doesn't attract fingerprints. However, this type of texture is notorious for attracting oil from skin, which could make the laptop look a little less attractive. Another interesting thing to point out is that the laptop is barely larger than an A4 paper, which means you can easily slot it into almost any compartment in your bag.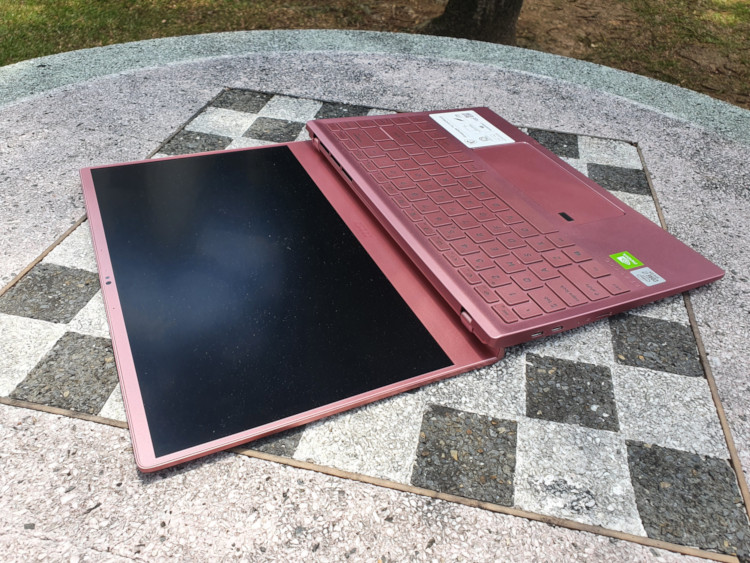 You can lay the laptop flat on any surface!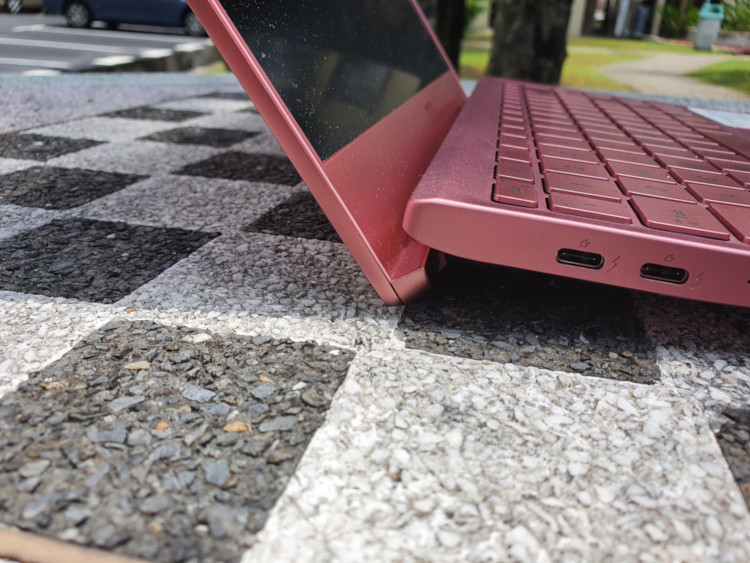 The lifting mechanism to improve airflow under the laptop
On the lid, there's nothing much going on other than the MSI logo situated towards the centre. When you lift the lid, you'll be pleased to know that the laptop can be unfolded 180 degrees and laid flat onto almost any surface. This can be useful especially when you're placing the laptop on your lap because you won't need to hunch your back as much.
In addition to that, the hinge slightly elevates the laptop to improve air circulation underneath, so that the fans can effectively keep the machine cool. Another thing that caught my attention was the huge touchpad located directly under the keyboard, which also comes with a capacitive fingerprint sensor towards the top left.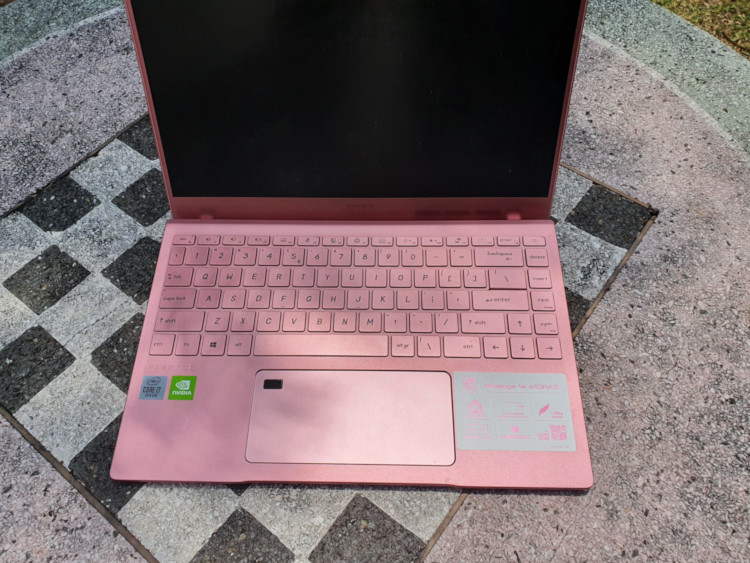 Here's a clearer look at the keyboard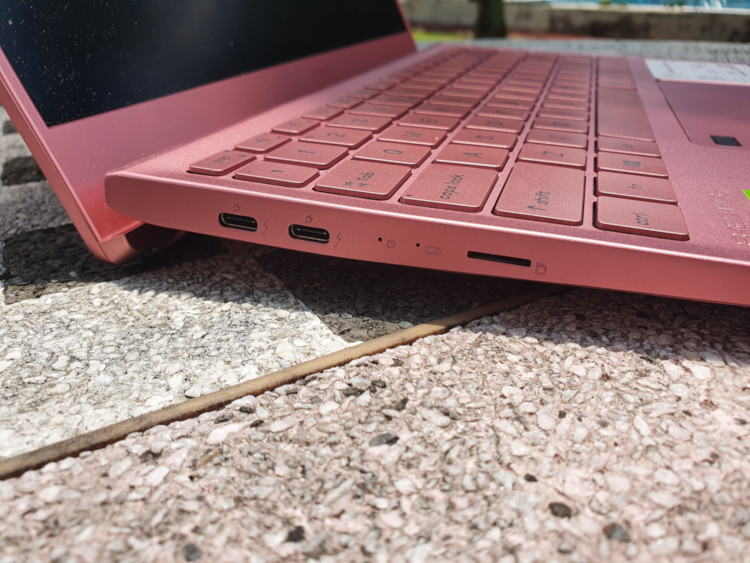 Two USB Type-C on the left and a single Micro SD card slot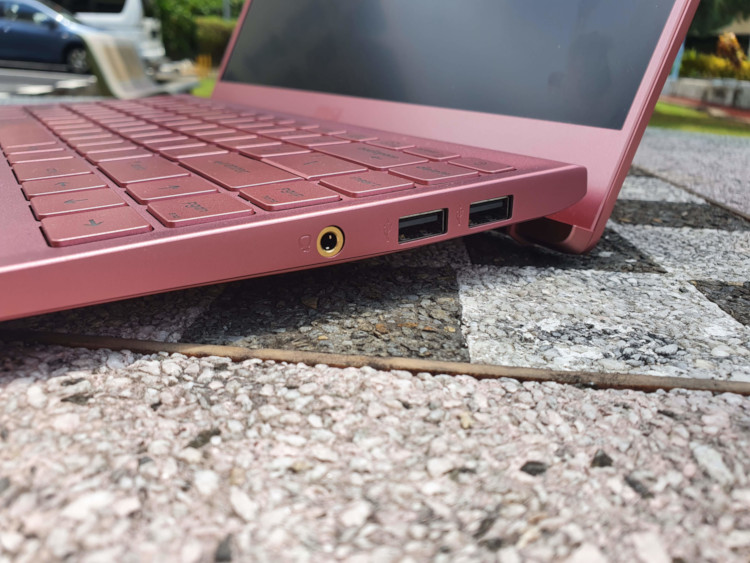 Two USB Type-A port and a combo audio jack slot to the right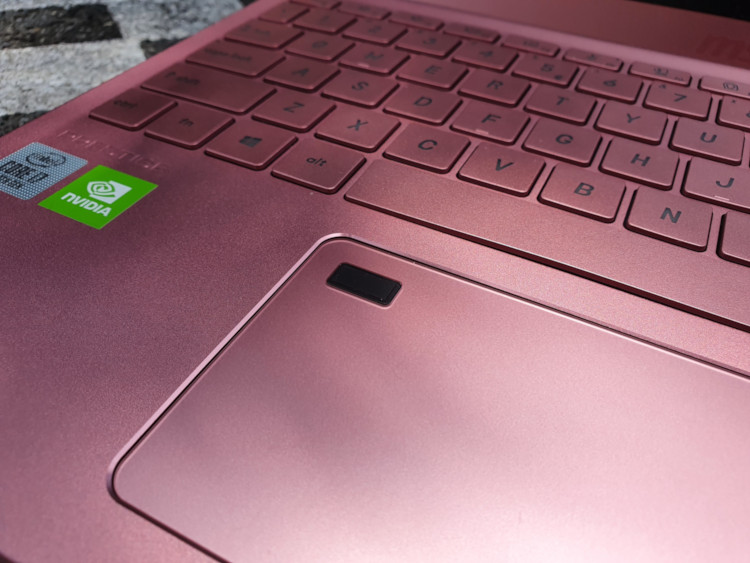 Capacitive fingerprint sensor located towards the top left of the touchpad

Moving on, there isn't much to talk about in terms of the keyboard other than it has a white LED backlight, which makes it easier to type in a dark environment. While the lack of a number pad might be concerning for those who frequently deal with numbers, it helped to reduce the overall size and weight of the laptop to keep it portable.
On top of that, the MSI Prestige 14 A10RAS comes with 2 Type-A USB 2.0 ports and a combo audio jack to the right while the left side comes with a Micro SD Card Reader and 2 Type-C with PD charging. There's more than enough ports for you to hook up an external mouse and keyboard. However, the lack of an HDMI port can be an issue because you don't get the productivity boost from having an external monitor.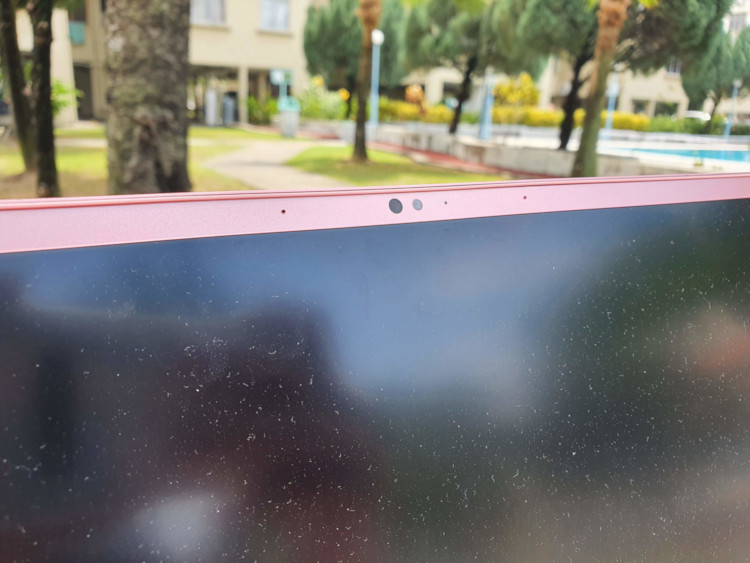 HD camera at the top of the display
Not only that, but it is not uncommon to connect your laptop to a larger monitor or projector to showcase your content to clients and not having the aforementioned port might be a drawback to some. Speaking of displays, our variant of the Prestige 14 A10RAS came with a 14-inch FHD screen, but there is a variant which has a 14-inch 4k display for a slightly higher price.
As for the weight, the device only weighs 1.29kg so it's light enough to be easily carried with one hand, which makes it great when you're making an elevator pitch to a potential client. In terms of the performance, it comes equipped with a 10th generation Intel Core i7-10510U and 16GB of RAM, making it great for multitasking especially on Google Chrome, as well as various content creation workloads such as graphic design, working on a digital audio workstation, or video editing.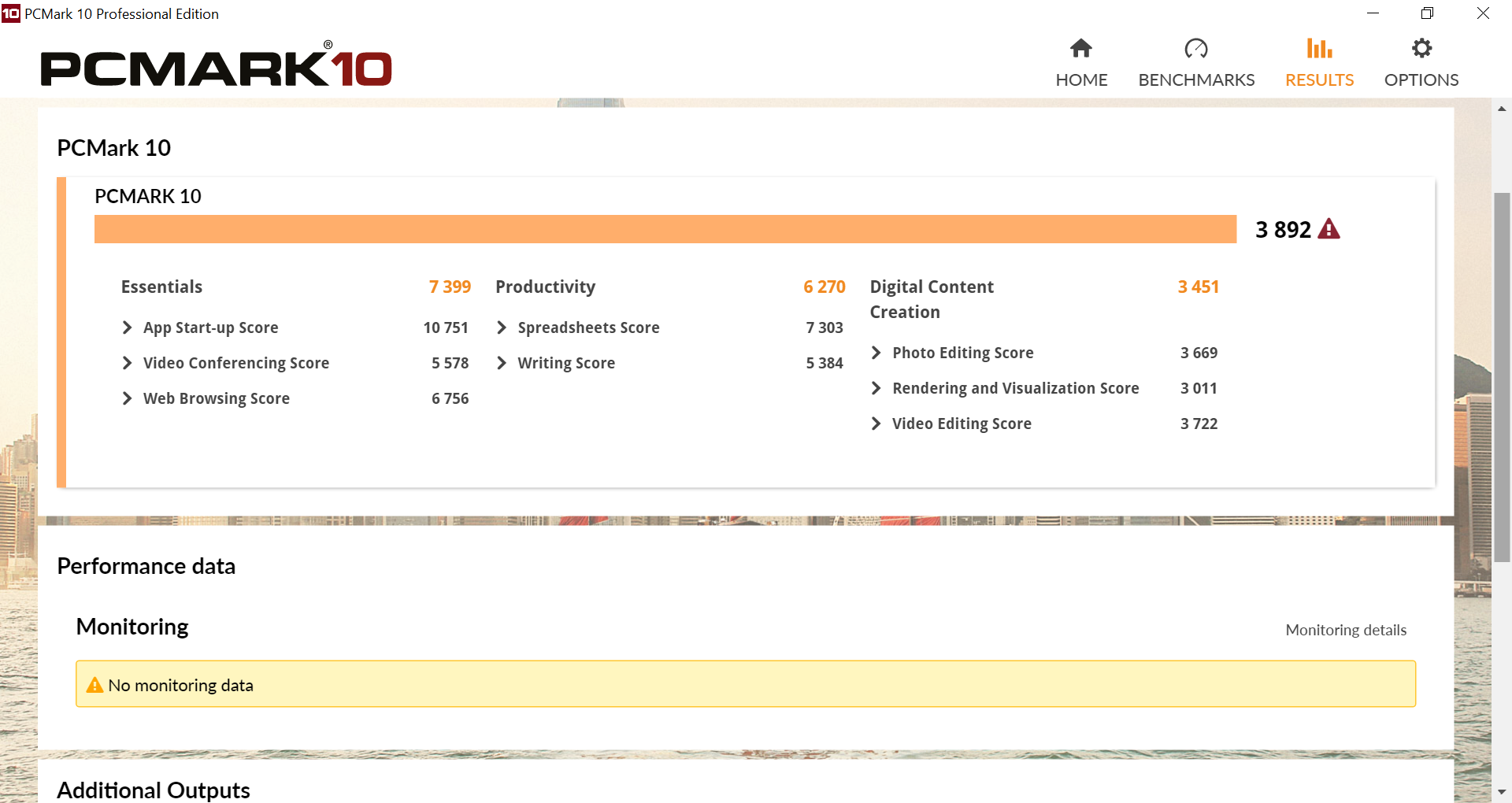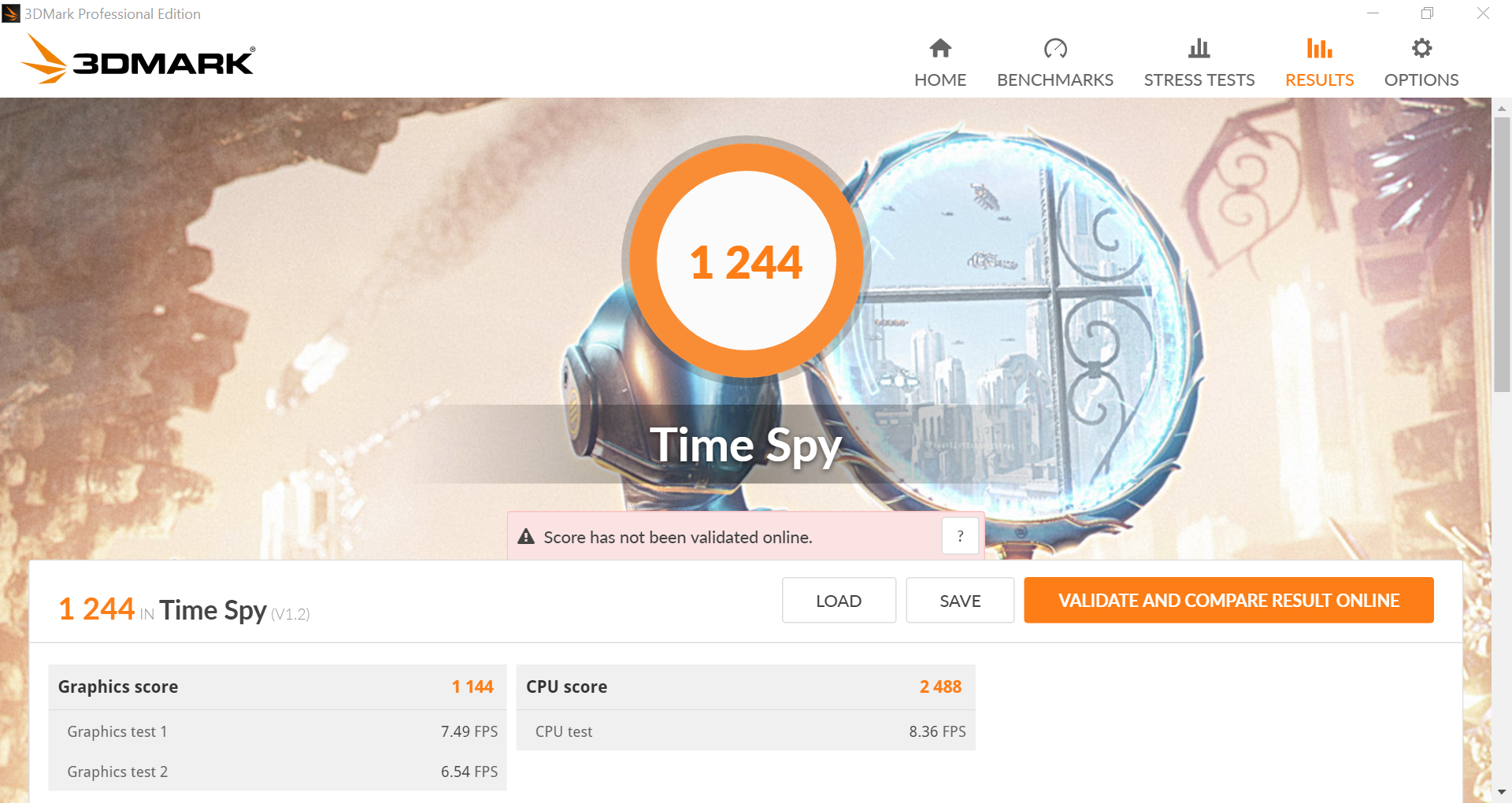 PC Mark and 3D Mark benchmarks
When we tested the laptop on PCMark 10 and 3DMark TimeSpy, it managed to get 3892 points and 1244 points respectively. Decent, but not exactly top-notch considering its price. Furthermore, when testing Valorant on the laptop, it was able to run at around 140FPS at the lowest settings at first, more than enough considering it only has a 60Hz display.
However, I did notice some form of thermal throttling because the game dropped from 140FPS to around 40FPS after a few minutes. Dota 2 exhibited the same problem as well with the game running at around 60FPS with all the graphical settings turned up at first, then dropping to around 30FPS after a while.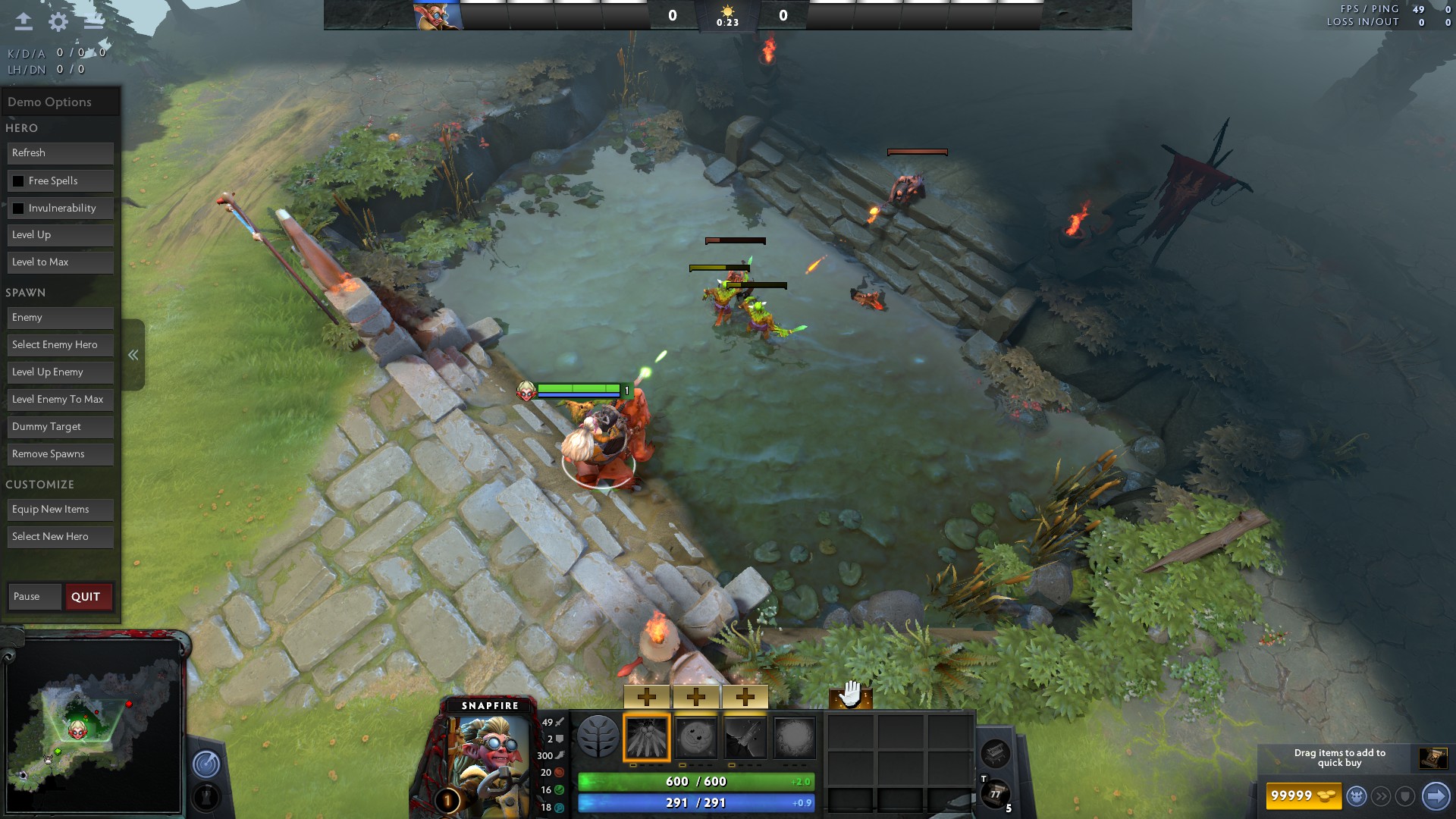 Dota 2 ran at around 40FPS after a few minutes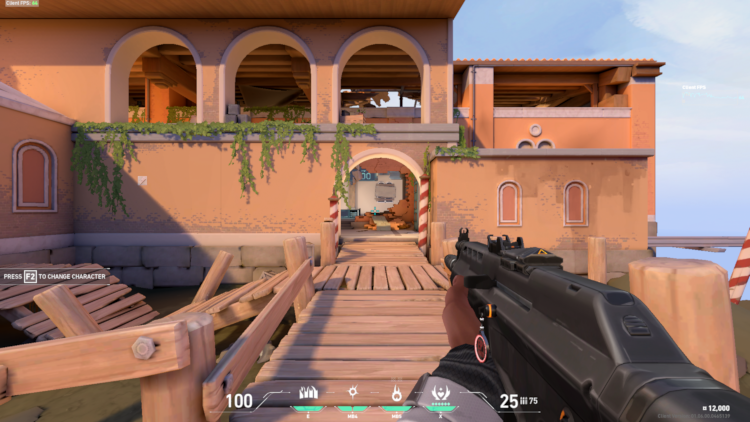 Valorant ran at 140FPS at first but it quickly dropped to around 50FPS
During the benchmarks, I also noticed that the laptop became a little uncomfortable to use as it became too warm, particularly at the wrist rest towards the left and right side of the touchpad. With that said, it might be a good idea to invest in a laptop cooler to help with the thermals or an external keyboard so that you don't have to rest your wrist on the laptop while typing.
Running content creation applications such as GIMP or Vegas Pro is where the laptop shines. This is thanks to the 10th generation Intel Core i7-10510U processor, as well as the 16GB of RAM. To elaborate, I was able to smoothly edit a 4-hour long FHD 60FPS footage without any lag while graphic editing at the same time.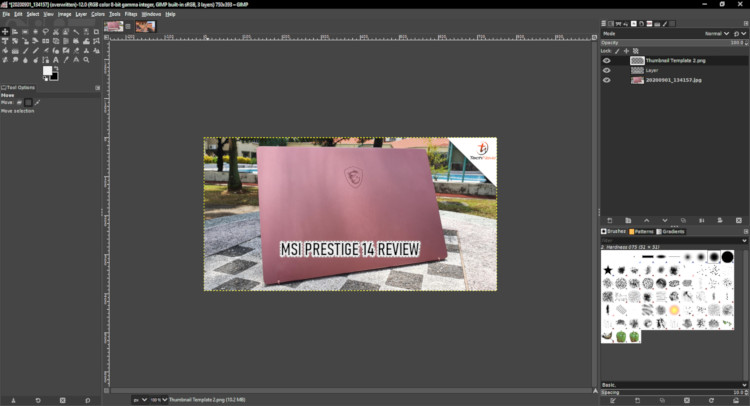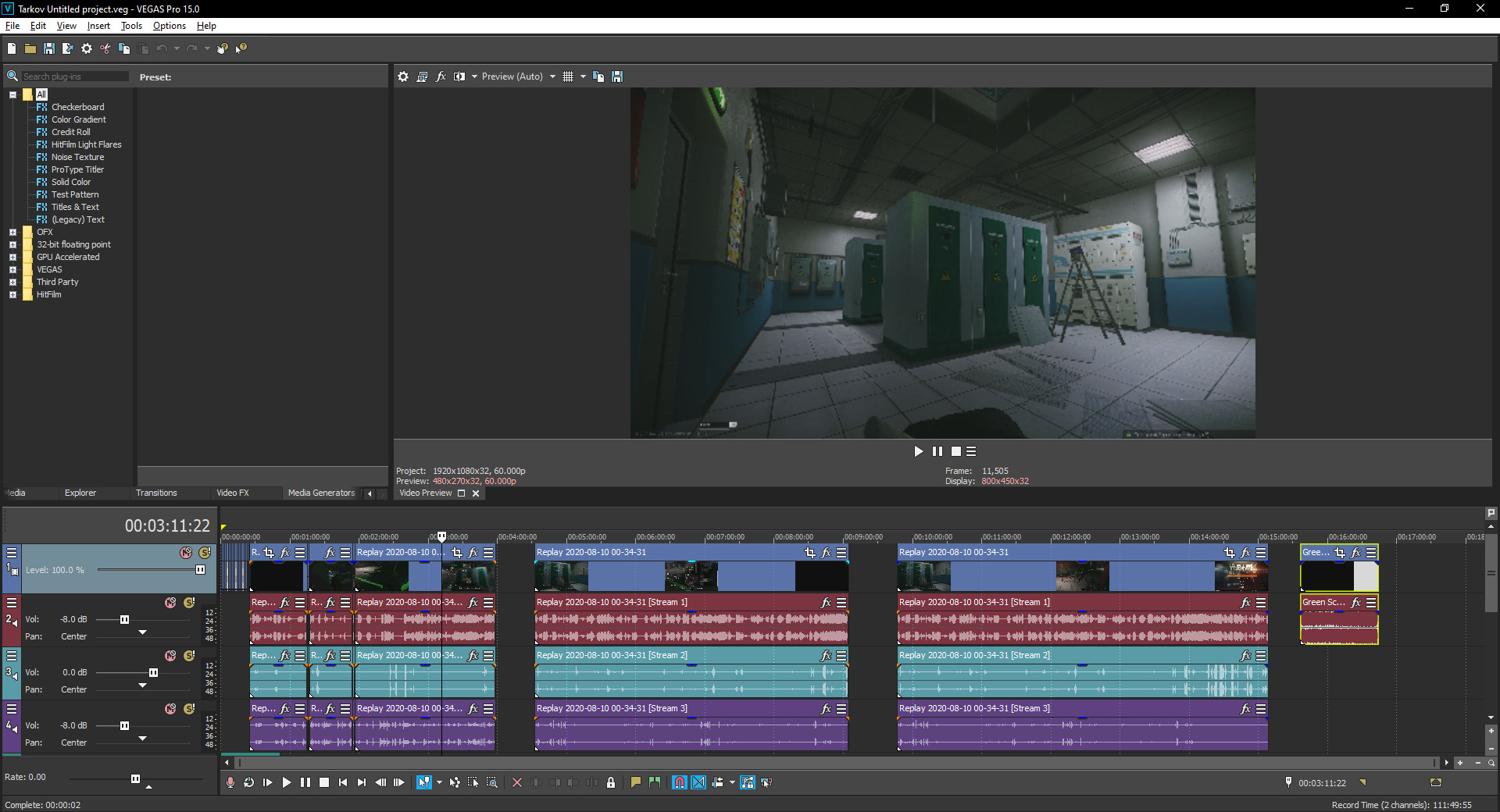 It ran GIMP and Vegas Pro without any issues

In conclusion, the MSI Prestige 14 A10RAS is a stylish, lightweight, eye-catching laptop that's able to run most content creation software out there in the market. Do keep in mind that if you're looking for a laptop to play games on the side, this laptop might not be what you're looking for as it only comes equipped with an Nvidia MX330 graphics processor.
If you're hoping for a more productivity-focused laptop that's also lightweight, you might want to consider getting the Acer Swift 7 that's priced from RM5699 and weighs only 890g. However, if you're more interested in bringing content creation to the next level as well as do some heavy gaming, the ASUS ROG Zephyrus Duo starting from RM19999 might be a better candidate since it comes equipped with a secondary touch screen right above the keyboard.
Pros and Con
Pros - Very stylish, lightweight, and portable laptop for content creators who want to stand out.
Cons - Gets warm to the point of thermal throttling, which reduces the overall performance of the laptop.
Conclusion - Great for those who are looking for a laptop that's both stylish and functional.
MSI Prestige 14 A10RAS Specs & Price >