MSI Prestige 14 Evo Review - A compact quality laptop for professionals

Last year, we reviewed the MSI Prestige 14 (A10RAS) laptop and thought it was a pretty stylish compact laptop for content creators. If you thought MSI stopped there, don't worry because they didn't. With the new 11th Gen Intel Tiger Lake CPUs, MSI has launched a new high-end laptop called the MSI Prestige 14 Evo (A11M). So what do we think of this laptop? Check out our review below!
While the MSI Prestige 14 had a stylish (and very pink!) design, the Prestige 14 Evo looks plain in comparison. Instead of the MSI dragon logo, it just has the MSI trademark etched onto the lid. It does keep the simple and elegant metal body, which has been treated with a fog-faced blast and has a diamond-cut design. It also weighs just 1.29kg and 15.9mm thick, making it a highly portable device.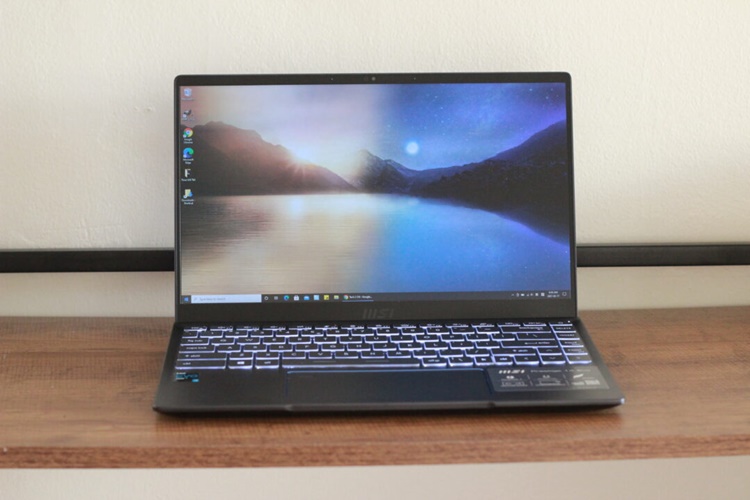 The MSI Prestige 14 Evo (A11M)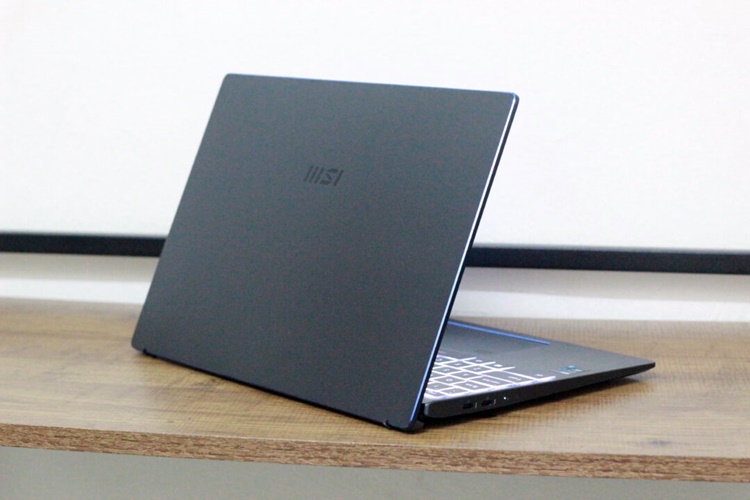 Carbon Grey version, there's also another one in Pure White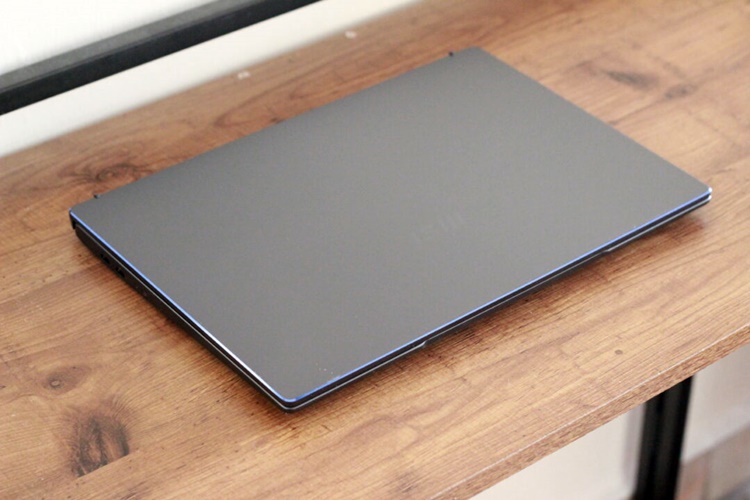 Really digging the blue tints around the frame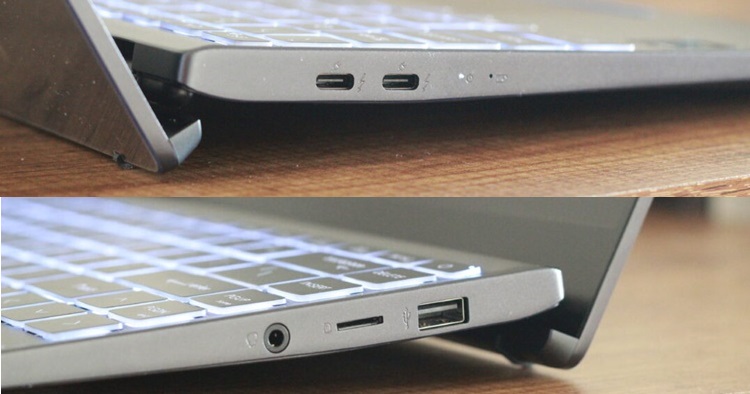 The ports available on the laptop; get some Thunderbolt cables to maximise your usage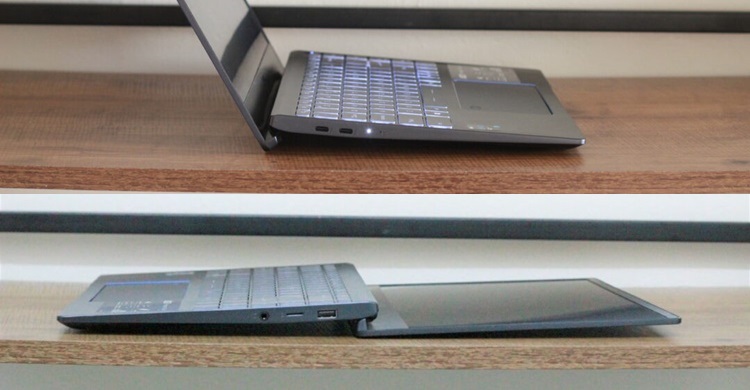 Ergonomic lift in action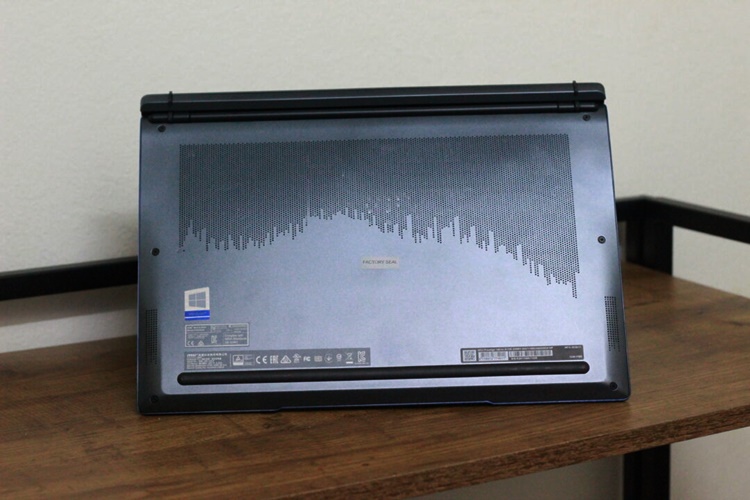 An interesting vent design
At a glance, the Prestige 14 Evo doesn't seem as impressive as the Prestige 14. However, it has an interesting "wavy signals" ventilation design at the bottom. You may think that the vents won't have enough airflow, but fret not! The laptop can be tilted upwards when you open the lid, creating enough space at the bottom for air to flow. As a result, the machine can receive the cooling it needs.
One thing to note is that the Prestige 14 Evo's keyboard feels slightly different from other laptops. It has an excellent key travelling distance of 1.5mm, so typing on it feels quite good. However, some keys like the power button are close to each other, so you might accidentally press the wrong key. After all, the delete button is just right below it. It has a very spacious trackpad too, but you probably won't press anything by accident.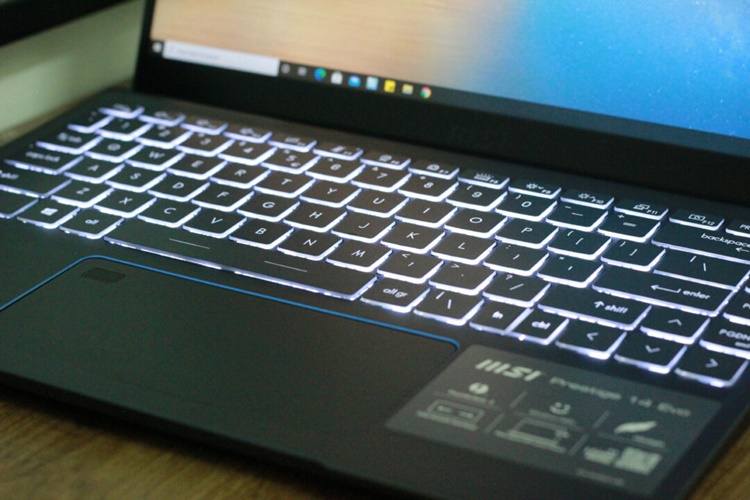 You can enable backlighting for the keyboard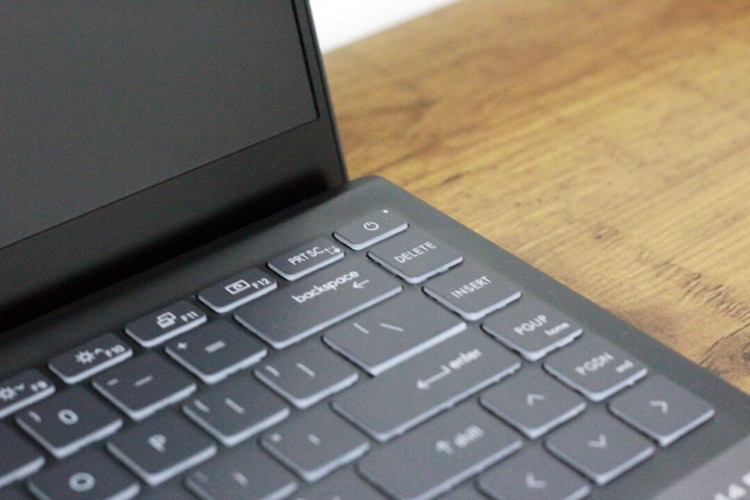 The delete button is too close to the power button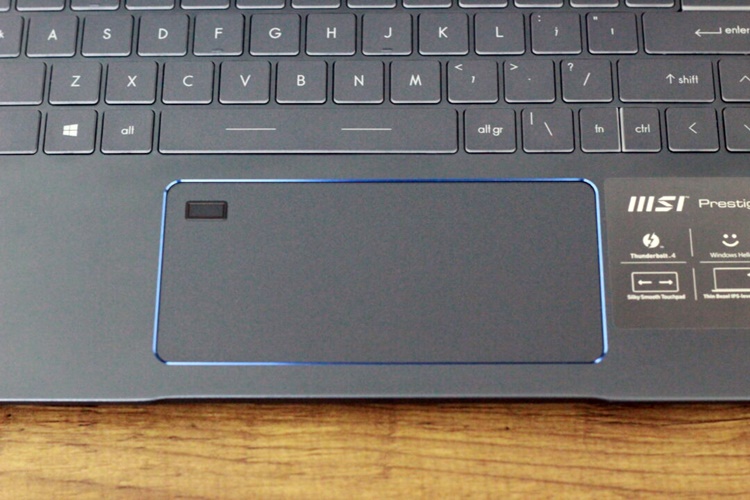 That's one huge trackpad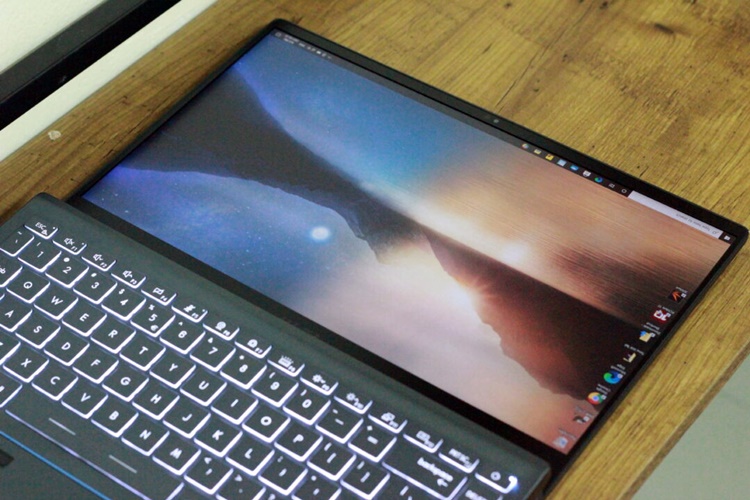 You can even rotate the screen orientation with the F12 key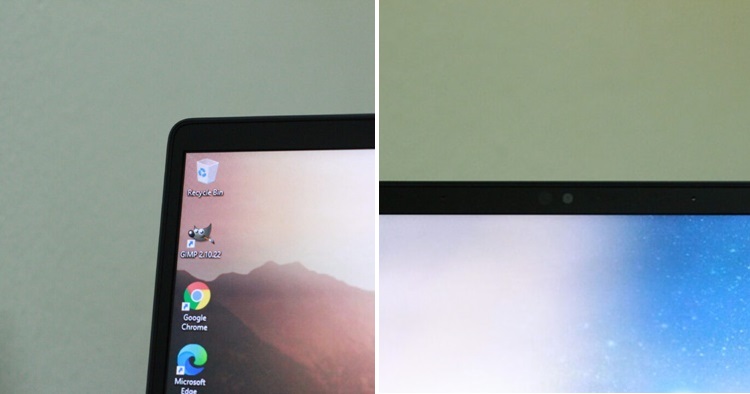 Narrow bezels measure 5mm. You can also see the infrared camera, which supports Windows Hello Face Recognition Unlock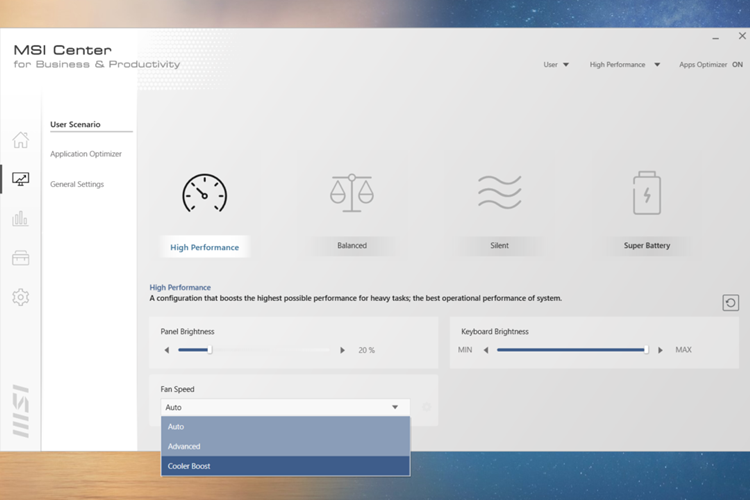 The MSI Center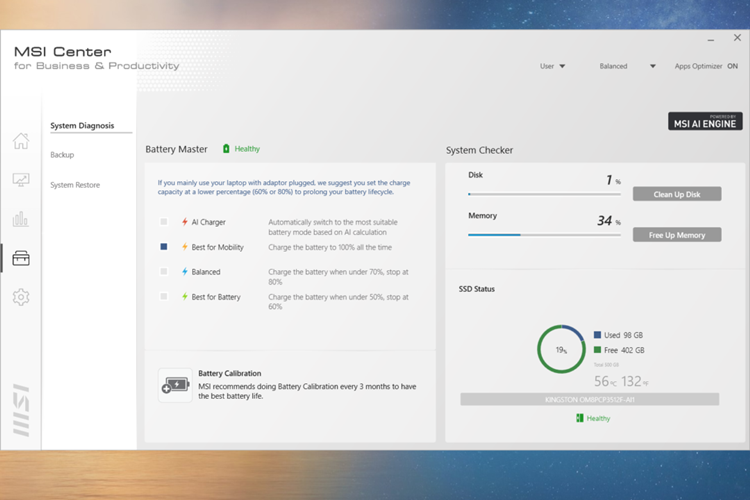 You can monitor the battery health as well
Like most brands, MSI has its own management tool for the Prestige 14 Evo called the MSI Centre. It allows users to adjust the power efficiency and performance with four operating modes - High Performance, Balanced, Silent and Super Battery. You can also select between auto, advanced, or Cooler Boost fan settings.
The MSI Prestige 14 Evo is powered by an 11th Gen Intel's Core i7-1185G7 CPU, with a base clock of 3.0GHz and a maximum clock of 4.8GHz. From our experience, its performance is significantly higher than its predecessor. This is thanks to the powerful Intel Iris Xe integrated GPU, which has 96 execution units and a clock speed of 1.3GHz. Of course, you still can't play PC games at high graphics settings, as it is meant more for work and content creation.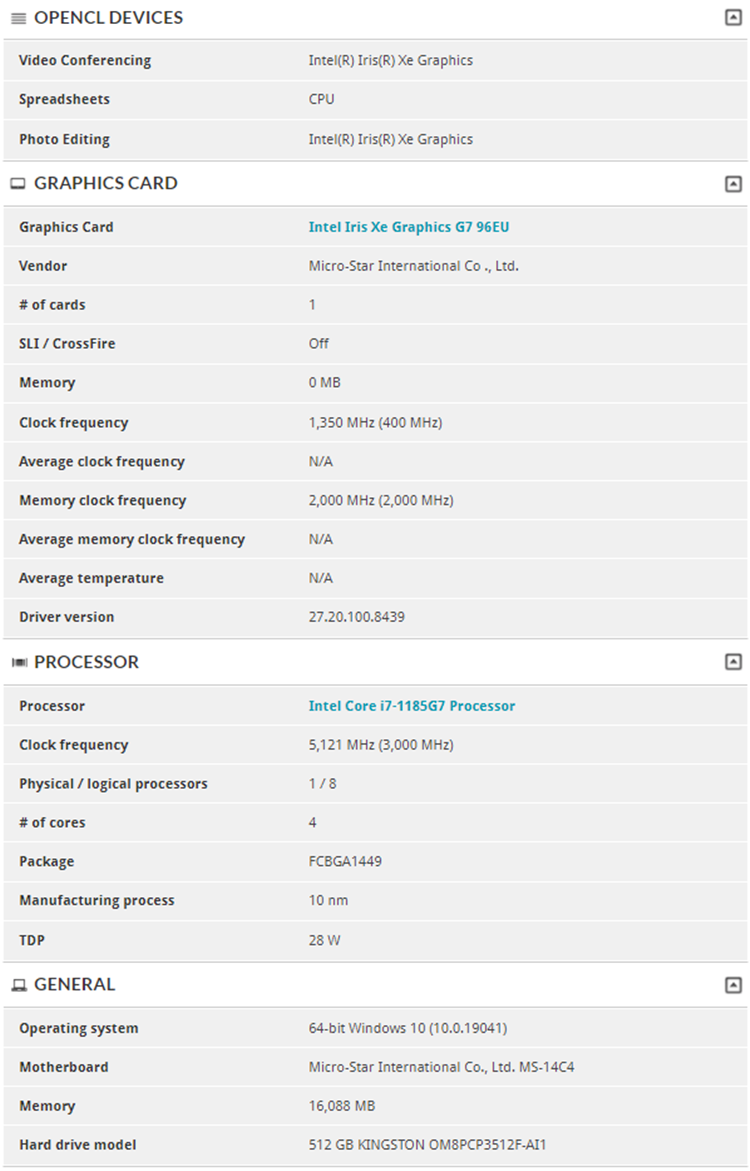 Some tech specs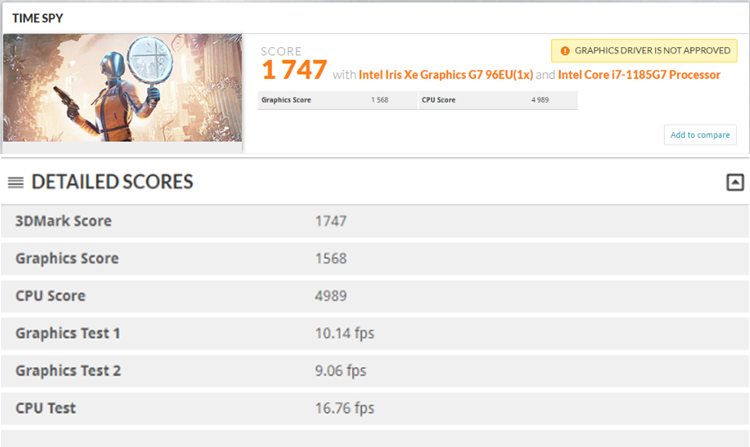 Score from 3DMark, clearly not meant for heavy gaming

On the other hand, productivity score on the PCMark is good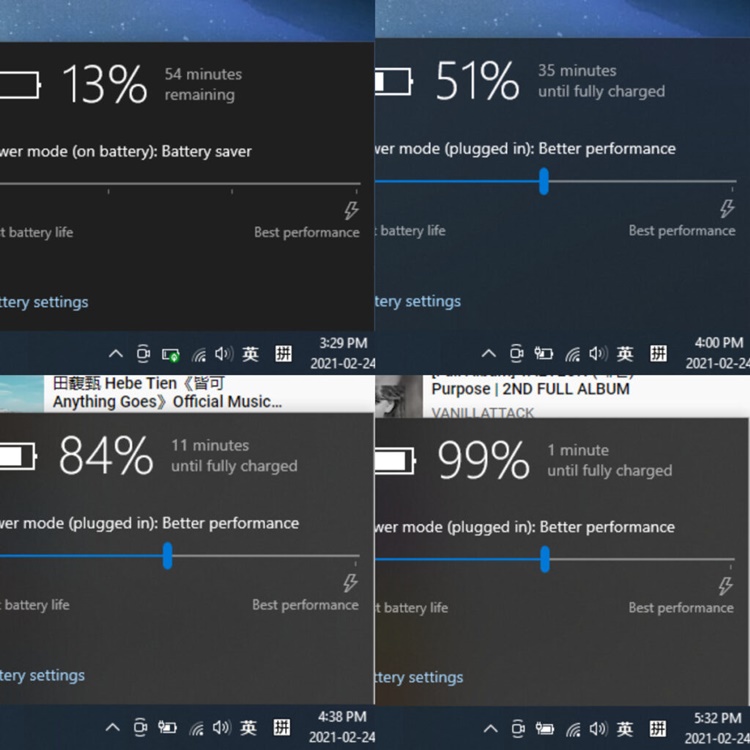 It only took less than 30 minutes to reach 51% from 13%, and less than an hour to be fully charged
On the battery side, the Prestige 14 Evo packs a 52Wh battery that can last up to 12 hours. It even supports fast-charging via a 65W Type-C charger. According to MSI, 15 minutes of charging is enough to add up to 1.5 hours of usage. It varies depending on the tasks, but it usually lasts between 7 to 9 hours for our usual news writing and light image editing.
Honestly, there's nothing much to comment on when it comes to performance. We expected the Prestige 14 Evo to deliver and deliver it did. It won't lag when you're working on daily tasks, nor freeze even if you open multiple Google Chrome tabs AND watch YouTube. With its excellent performance and durable battery, this is certainly an ideal working laptop for those who are always on-the-go.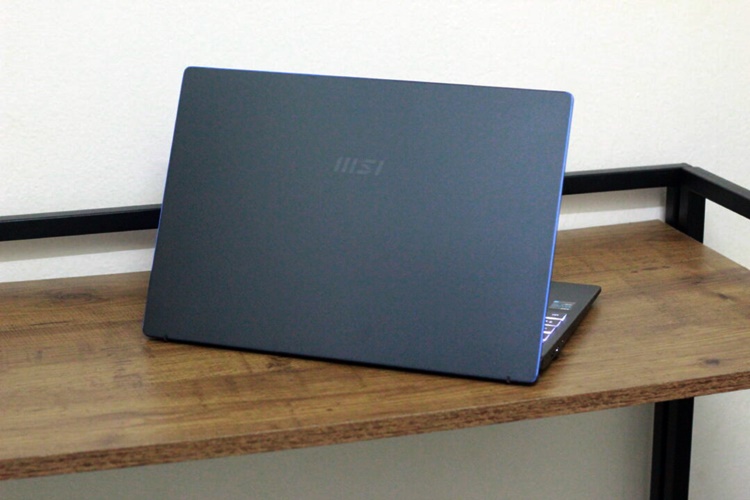 So what do you think? Let us know in the comments below!
The one bad thing about this laptop would be the price tag, which isn't one that casual consumers would spend. For RM5199, you can get yourself a good gaming laptop that allows you to play games on higher settings. But then again, not everyone is a gamer. It's also slightly more affordable than the Prestige 14's RM5399 price tag, so the choice is yours.
MSI Prestige 14 Evo specification configuration
11th Gen Intel Core Tiger Lake i7-1185G7 processor

Intel Iris Xe graphics

16GB DDR4 RAM (3200MHz)

512GB NVMe PCIe Gen3x4 SSD

14-inch FHD IPS-level screen panel HD (1920×1080 resolution), close to 100% RGB

Measures 319 x 219 x 15.9 mm, weighs 1.29kg

Ports - Type-A USB2.0, Micro SD card slot, 2x Type-C (USB4 / DP / Thunderbolt4) with PD charging, 3.5mm headphone hole

Supports Windows Hello Face/Fingerprint Recognition Unlock

Connectivity - 802.11 ax WiFi 6 + Bluetooth 5.1

Charge 52 Whr / 65W Type-C charger
Pros: High portability, fast-charging, and extensive battery life for working throughout a day in an office
Cons: Prone to fingerprint stains, the delete and power button are too close to each other, and a bit too pricey
Conclusion: The MSI Prestige 14 Evo is best suited for users who work remotely and are on-the-go most of the time
MSI Prestige 14 Evo Specs & Price >