In 2020, MediaTek had surpassed Qualcomm to become the number one chip vendor in global markets. However, Qualcomm still had its number one spot secured in the US for several quarters after that. Now, it looks like MediaTek is powerful enough to turn the table by snatching the crown from the US-based company.
During the announcement of the new Dimensity 8000 series chips, the Taiwanese semiconductor company revealed that it was the number one chipmaker for Android devices in the US in Q4 2021, citing IDC statistics. Its chips had accounted for 51% of the market, while Qualcomm stayed at 47%.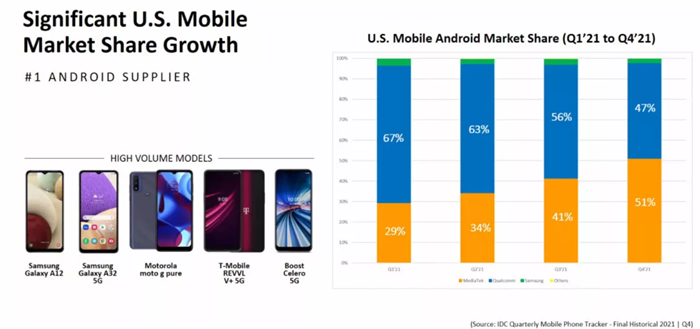 Besides that, MediaTek had pointed out specifically which phones helped the company for such achievement. These include Samsung Galaxy A12 4G, Galaxy A32, Moto G Pure, T-Mobile Revvl V Plus, and Boost Celero. It's worth mentioning that the company still doesn't have mmWave 5G connectivity-supported chips yet, so it's impressive that it reached the top even without the technology.
What are your opinions towards this news? Drop a comment to let us know, and stay tuned to TechNave.com for the latest tech report.