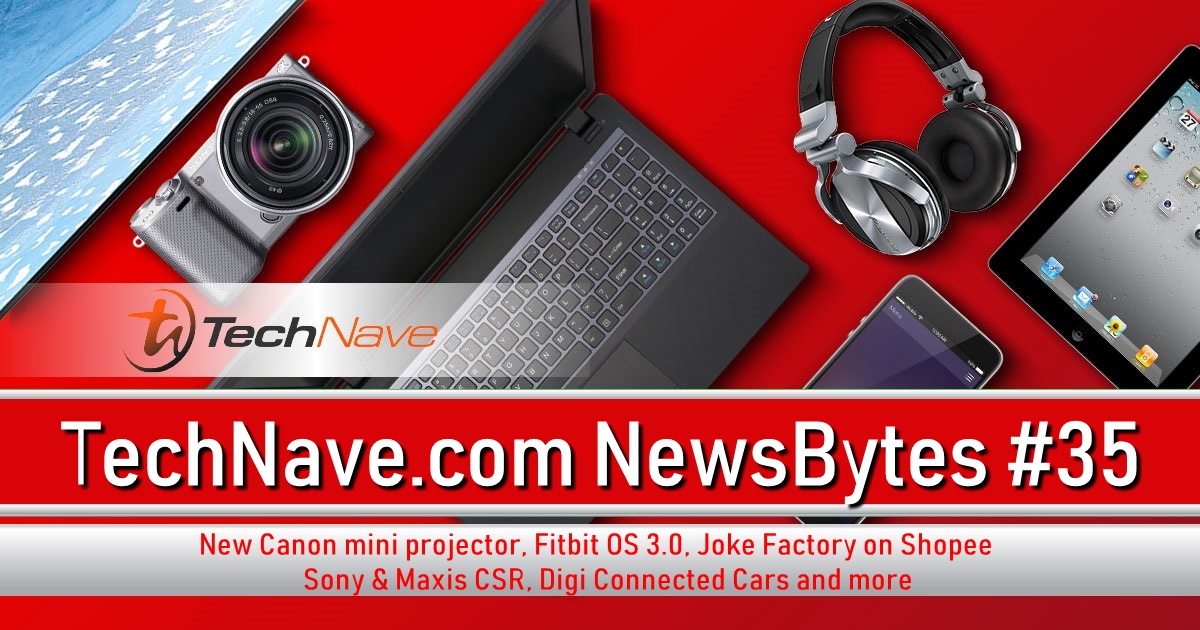 What's up, TechNavers? Are you all ready for Christmas? I am SO READY but before we go off to our holidays, there is a couple of news this week. Huawei Malaysia has announced a new Mate 20 Pro 8GB + 256GB model for RM3999, as well as a new Nova 4 with an O-cutout camera on the display in China. Meanwhile, we also got to have a first good look on the HONOR 10 Lite and it's scheduled to arrive in Malaysia on 8 January 2019. Also, Lenovo just went wild by releasing a 12GB RAM smartphone with a Snapdragon 855 chipset called Z5 Pro which doesn't matter because Lenovo smartphone segment is dead in Malaysia.
Oh but you know what was the hot news? The so-called CIMB hacking that happened over the weekend. Now I'm not pointing any fingers, but Malaysians are just quick to spread the news without checking the facts. The captcha function at login along with longer passwords for better security is a nice touch, but it was a blooper at the execution without informing its customers beforehand. Also about the Paypal issue, it seems to be another type of issue that's not related to the "hacking". Well, perhaps it's still best to set a new password just to be safe.
Canon got a new RAYO S1 mini projector for RM1699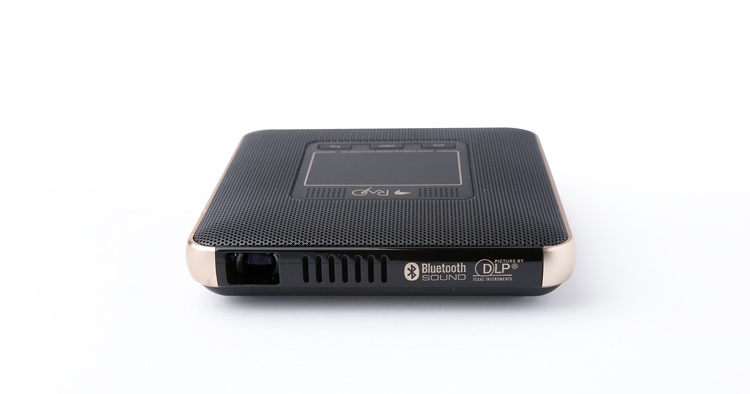 So to start off with this week's NewsBytes, Canon Malaysia announced a RAYO S1 mini projector in Malaysia. Oddly enough, this was actually released back in June 2018 but anyway, the RAYO S1 is available at a recommended retail price of RM1599 at the Canon Official Store on Lazada, or any Canon Image Square and major IT retailers.
The device is targeted at both the business and consumer segments. It's compact, it's lightweight, this projector redefines versatility in offering a host of portable features. Weighing only 235 grams, it features wireless connection with a wide variety of smart devices and can stay store 4GB of data. It also sports a 3800mAh battery with 120-minute play time, an RGB LED light source rated at 100 lumens of brightness and image quality at a 16:9 aspect ratio.
The RAYO S1 is available at a recommended retail price of RM 1,599.00 at the Canon Official Store on Lazada, or any Canon Image Square and major IT retailers. More details are available at the official webpage here.
Fitbit OS 3.0 is now available
Then in the world of fitness, Fitbit has announced new Fitbit OS 3.0 features and user experience for Fitbit Ionic, Fitbit Ionic: Adidas edition and Fitbit Versa smartwatches, offering even more personal data at-a-glance, including sleep and expanded exercise view, plus adds quick logging for weight and water intake, so it's easier than ever to take action based on data. It includes:
achu health

: This clock face transfers your Fitbit data to achu's illness prediction technology to help you evaluate potential illness, providing alerts when your body show signs of sickness before it happens

Couch to 5K

: Pulls your Fitbit data including distance and calories burned to provide you with insights and training programs for races ranging from 5K to a marathon

Genius Wrist

: Features four apps (Gym Genius, Gym Time Pro, Workout Builder and Workout Genius) which provide structured on-device workouts, productivity and visualization tools, offering different ways for you to view your Fitbit data and workout anywhere, anytime

MySwimPro

: Offers custom guided swim workouts, training plans and video coaching for all levels, using real-time heart rate from your Fitbit device to help you improve your swim performance. Post-workout analytics pull personal workout data to track progress and measure improvement

Charity Miles

: Syncs with your Fitbit activity data to raise money for 40 of the world's top charities for every mile logged

FitBark

: Helps you and your dog get healthy together by showing your daily Fitbit stats such as activity, distance and calories burned alongside those of your canine companion

MINDBODY

: Keep your fitness and wellness top of mind with the ability to check the schedule at your favourite studios and view your upcoming MINDBODY classes from your wrist

TRX

: Guided workouts coach you through quick and effective TRX Suspension Training workouts that track biometrics using your Fitbit data, helping you get stronger and reach your fitness goals

Alpine Snow

: Take your Fitbit device on the slopes with the ability to track distance travelled, number of runs, speed, altitude, weather conditions, calories burned and heart rate in real-time, with the session available to view in the Fitbit App along with your GPS route

Skateboard

: Track your speed, heart rate, calories burned, and distance travelled while you skateboard, based on your Fitbit data

Female Health Tracking

: Will introduce menstrual cycle trends in the Fitbit app, allowing you to see your menstrual cycle data, logged symptoms and trends all in one place no matter what Fitbit device you use
For more information, you can visit the website here.
Samsung x Épique+ Fitness workout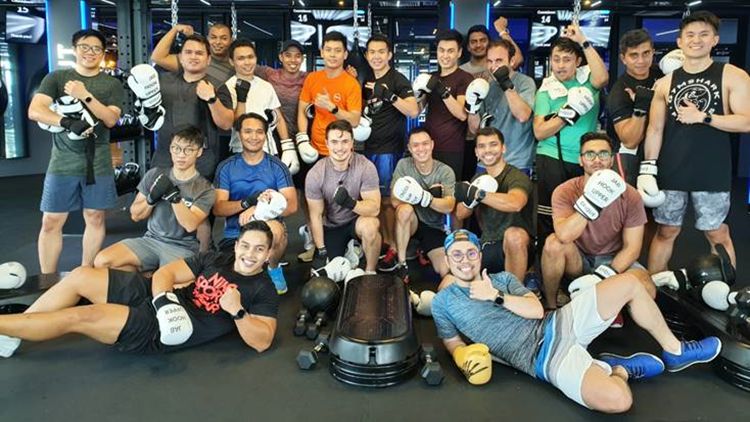 In the topic of fitness, Samsung Malaysia is still promoting the Samsung Galaxy Watch and just recently did an exercise programme together with Épique+ Fitness. Presented by Lululemon Malaysia, the programme consisted of 3 classes customized for the boys to get in shape - FIGHT, HIIT, and BRO-GA (BRO YOGA) which involved using the Galaxy Watch to monitor heartbeat, calories burned, and steps taken.
To recap, the wearable sports a 472mAh (46mm)/270mAh (42mm) battery, a new stress management tracker, advanced sleep tracker, 21 new indoor exercises, tracking a total of 39 workouts that allow users to customize and change up their routines. Also, it's available in 3 colour options – rose gold and black in 42mm and silver in 46mm.
The Joke Factory by Harith Iskander is on Shopee
Do you love stand-up comedies? We know we do and it has been brought to our attention that The Joke Factory by Harith Iskander is now available on Shopee as an official store on the platform. At this moment, they can choose one gift card out of three choices starting from RM100 for any daily shows with food and drinks. The store will soon sell merchandise as well as food packages.
The show tickets will be available starting from 20 December 2018 onwards for upcoming shows in 2019 as the shows this year have already ended. To grab special deals in conjunction with the launch, Shopee users will stand to enjoy a 30% off, capped at RM20, on show tickets from 20 December to 27 December 2018. Just enter the promo code HARITH20 before making the payment; limited to one code per user. You can check out the official store right here.
Sony Malaysia and Malaysian Celebrity Jack Lim bring festive cheers to the elderly homes and orphanages
In the spirit of giving and spreading the joy of New Year to the less privileged, Sony Malaysia initiated its corporate social responsibility (CSR) initiatives and donation drive through the collaboration with Malaysian celebrity Jack Lim, Lions Club of Kuala Lumpur Elite and Astro Yayasan Kasih. Together, they have reached out to two different communities, a total of 9 homes; bringing festive cheers to the underprivileged children and the elderly. The most recent visit was one of the 9 homes at Tong Sim Senior Citizens Centre, a non-profit home set up for the 65 elders who were abandoned in hospitals by their family members.
"Embarking on this charitable deeds with Sony Malaysia is part of our on-going effort to further advance our CSR initiatives. Also, with the support of the Astro NJOI from Astro Yayasan Kasih and the arrangement by Lions Clubs KL Elite, the underprivileged kids and elderly are able to enjoy the brand new Sony Bravia TV during leisure time," Jack Lim, Bravia OLED ambassador added.
Maxis conducts digital workshops and brings festive cheer to Kampung Quop
Continuing on spreading the Christmas joy, Maxis was working with a Bidayuh community at Kampung Quop in Samarahan, Sarawak as part of its festive charity initiative. A total of 30 volunteers from Maxis' regional office and Kuala Lumpur were on the ground to conduct digital literacy workshops at the Malaysian Communication and Multimedia Commission (MCMC) owned Pusat Internet (PI) at Kg Quop, one of 52 PI run by Maxis in Sarawak.
VIPs (centre) and the group of entrepreneurs that attended the digital marketing workshop, posing with their goodie bags
During their one-day stay, the volunteers participated in a digital marketing workshop to coach 30 entrepreneurs to optimise their business using social media, content creation and photography. This includes writing attractive captions and shooting Insta-worthy photos and videos to market their products on Facebook, Instagram, YouTube and WordPress. At the same time, 60 eKelas students from Kg. Quop and Kg. Taiee took part in a digital literacy workshop, which teaches students how to distinguish between fake and real news, be aware of online scams, respond to cyberbullying, create secure passwords and more.
That's sweet of Maxis, hope the participates remember well from the lessons.
Safety first on the road with Digi's Connected Cars solution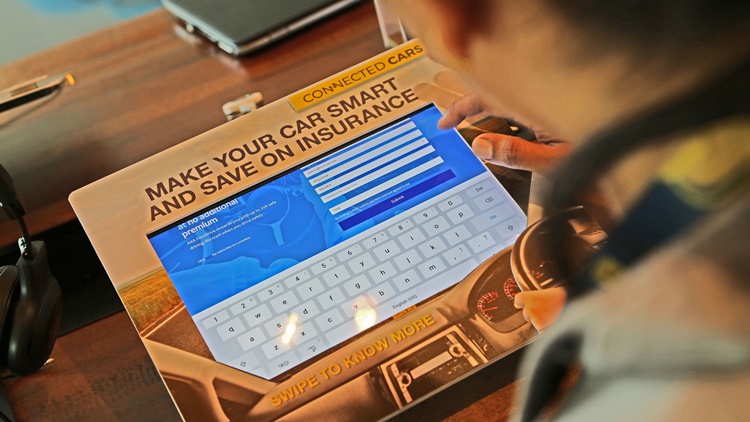 Then onto Digi, the yellow telco just introduced a new Digi Connected Cars with AXA FlexiDrive. This program is designed to help and encourage Malaysians to drive safe on the road, as well as rewarding them for good driving behaviour (hahaha, what??). So yes, this is actually the first time that a company is doing this via AXA FlexiDrive mobile app by offering a safe driving discount (SDD) up to 20% and monitoring their driving behaviour as well as 24/7 vehicle security.
Private vehicle owners can find out more and register their interest for the Digi Connected Cars with AXA FlexiDrive product at any Digi Store nationwide starting today.
UKM Boosts Online Payment Collection by 60% Yearly through MOLPay
In other news, cashless payment is progressing quite well and with that, UKM has reported a steady boost in online payment collection by 60% each year since 2014 when MOLPay and 7-Eleven Malaysia announced MOLPay Cash. According to Mokhsin Tumin, Finance Manager of UKM, he said,
"Thanks to the partnership between UKM and MOLPay, our payment system is now updated in real-time which helps to ease payment updates upon receiving notice of payment. Students are also more assured that digital payment updates are immediate, so they won't have to worry about any potential disruptions or delays to their education."
Yeah, cool story bro. For more information about MOLPay, please visit www.molpay.com.
Stay tuned for more NewsBytes at TechNave.com, Merry Christmas and a Happy New Year!