Nintendo Switch Online will be getting access to N64 and Sega Genesis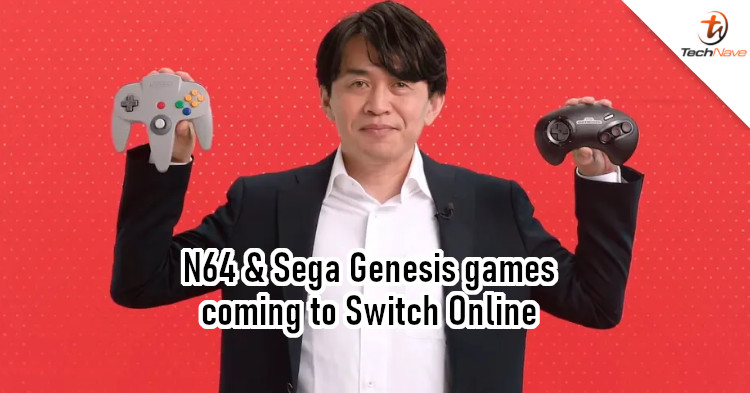 The pandemic has resulted in many staying indoors more. This also means that products like Nintendo Switch have become super popular. And one of the best things about this console is the free games you get as a Switch Online member. Well, that library of retro games will be expanded.
During the Nintendo Direct event last night, Nintendo confirmed that there will be a new membership tier coming to the Switch Online service. Starting late October 2021, Switch Online members will get to play Nintendo 64 (N64) and Sega Genesis with the new Expansion Pack. The exact details and pricing haven't been confirmed, but some of the games that will be available have been confirmed. You can check the list for that down below.
Also, remember the rumour about a new Switch controller? It's not an improved Joy-Con like some may hope, but it's a replica retro controller like we predicted. Specifically, Nintendo also revealed wireless controllers that are authentic replicas of the N64 and Sega Genesis controllers. Interestingly, Nintendo's announcement suggests that it will only be available to Switch Online members for USD50 (~RM209) each.
From the announcement, we can assume that the Expansion pack will require an add-on fee on top of the existing monthly subscription to Switch Online. Would you be willing to pay extra to access these retro games? Let us know in the comments, and stay tuned to TechNave for more news like this.
Games that will be available via Expansion Pack
| | |
| --- | --- |
| N64 games | Sega Genesis games |
| Super Mario 64 | Sonic the Hedgehog 2 |
| The Legend of Zelda: Ocarina of Time | Streets of Rage 2 |
| Mario Kart 64 | Ecco the Dolphin |
| Star Fox 64 | Castlevania: Bloodlines |
| Sin and Punishment | Contra: Hard Corps |
| Dr Mario 64 | Dr Robotnik's Mean Bean Machine |
| Mario Tennis 64 | Golden Axe |
| WinBack | Gunstar Heroes |
| Yoshi's Story | M.U.S.H.A. |
| Banjo-Kazooie | Phantasy Star IV |
| Pokémon Snap | Ristar |
| The Legend of Zelda: Majora's Mask | Shining Force |
| Kirby 64: The Crystal Shards | Shinobi III: Return of the Ninja Master |
| Mario Golf | Strider |
| Paper Mario | |
| F-Zero X | |