No fuss Celcom Home Wireless broadband goes official from RM74.20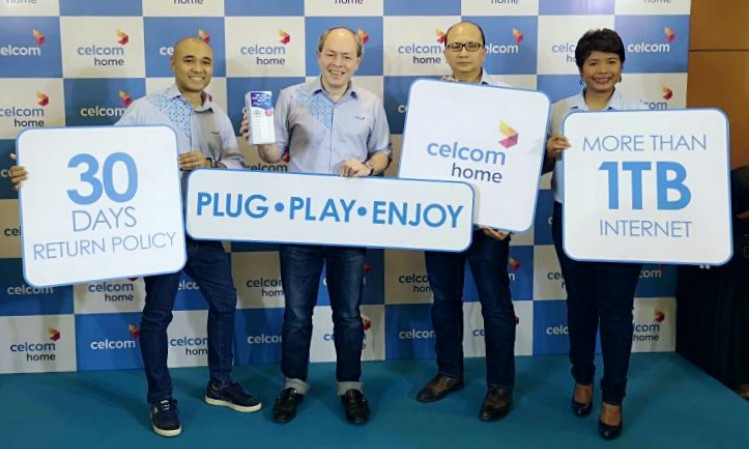 Celcom officially launched their new Celcom Home Wireless utilizing Celcom's mobile 4G Network with up to 150GB of Internet and 1 Terabyte of Walla. Speeds are expected to average around 30Mbps while the actual modem (a Huawei B618 Modem with an RRP of RM1500) does not require any wall hacking or fibre availability. All you need is to be within the coverage area and have a nearby power socket.
Celcom Walla includes Video Walla and Music Walla so you can stream YouTube, iFlix, NetFlix and other movies or music from Joox and others. Plans include Home Wireless Gold at RM74.20 per month for 25GB of data and 40GB of Walla while Home Wireless Gold Plus goes for RM106 per month for 50GB of data and 100GB of Walla. For just a bit more at RM159, you can get the Home Wireless Platinum which offers 150GB of data and 1TB of Walla. All plans are for 24 month contracts and you can share for up to 64 devices at a time.
If you're looking to check out the plans and device first hand, Celcom Home Wireless will be available at the Homedec Exhibition at KLCC Convention Centre from today till 29 April 2018. For those who do, you could get the chance to win a 1 year free subscription to either Celcom Home Wireless Gold or Home Wireless Platinum. Existing Celcom FIRST Gold Plus, Gold Supreme, Platinum and Platinum Plus users can also enjoy and RM15 rebate if they sign up during the Homedec exhibition period. Check out the Celcom site for more details.