Nokia N950 Review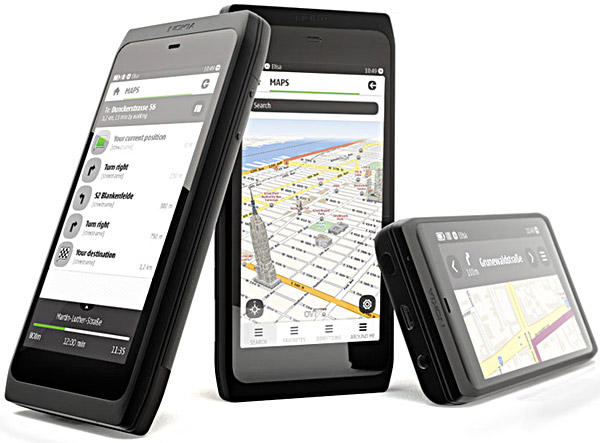 This is a developers-only device, not available commercially.
The Nokia N950 is announced simultaneously with the Nokia N9. Like the N950 runs on the N9 MeeGo operating system, but unlike the N9, the N950 is not intended for the consumer. The N950 is intended only as a model for developer MeeGo developers. If your device when in one way or another to get home, you have to rely on beta software defects and with no guarantees.
Nokia N950 - Design:
The Nokia N950 is the latest Nokia handset working on MeeGo platform and flaunting a touch bar shape. The handset is a successor of Nokia N900 and has been announced by Nokia when a Windows phone was expected to be launched by them. It is being popularized that this handset is going to have an elegant hardware, 1GHz processor, great user-interface and tempting design. With a 4 inches wide colour full capacitive touch-screen display, one may imagine how cool this handset will look. The exact figure of its weight, dimensions and screen resolution are not out and we eagerly wait for those things to have a deeper knowledge of this handsome handset. Interestingly, the phone can be fetched in Silver and Black colours.
Nokia N950 - Music:
MeeGo-based Nokia N950 does not have a FM radio to boast but its multi-format music player is good enough to let its users enjoy good quality music. There are in-built speakerphones in the phone that offers microphones with the retail package. Nokia N950 also supports vibration alerts, polyphonic and MP3 ringtones.
Nokia N950 - Camera:
The camera of Nokia N950 is an extra-ordinary one and is rated at 8 Mega Pixel count. This auto-focus camera clicks pictures in 3264X2448 pixels resolution. The camera also has flash and digital zoom that enables users to click good pictures from far away with great clarity even in dim light conditions. Its camera can also make videos with ease and play them in multiple formats. There is no mention of presence of a secondary camera in Nokia N950.
Nokia N950 - Memory:
It is not known whether the memory of the Nokia N950 can be expanded or not, though, chances are that it can be expanded with use of a microSD card via its microSD card slot. However, it is known that its internal-user end memory is around 16/32 GB which is quite ample to accommodate huge amount of data for the sake of users. Also, practically unlimited phonebook entries and call records can be maintained in the Nokia N950 in a proper fashion.
Nokia N950 - Battery LifeTime:
The exact battery rating and offered talk time and standby time of this battery is kept unrevealed. Hence, with Nokia N950, users may expect a good battery backup but how much can't be said with certainty.
Nokia N950 - Audio:
There are loudspeakers in Nokia N950 but 3.5 mm audio jack is missing. We expect a great sound and audio quality on this MeeGo phone.
Nokia N950 - Connectivity:
For wireless data communication, there is Bluetooth in configuration of v3.0 with A2DP and there is a miniUSB cable also in Nokia N950. Users may miss infra-red but the phone does sport WLAN Wi-Fi connectivity.
Nokia N950 - Messaging:
The Nokia N950 is supportive for messaging feature like SMS, MMS and e-mails. Instant messaging and Push e-mail are the new and innovative features also enabled on the handset which supports great amount of social networking so accomplished with integration of Facebook and Twitter.
Nokia N950 - Browsing:
WAP2.0/xHTML, HTML browsers exist on Nokia N950 for fast browsing. 4G connection helps one to download data at mind boggling speeds. GPRS/EDGE connection also supports downloading is also enabled on this reliable and economical handset.
Nokia N950 - Network:
The Nokia N950 supports two forms of network. First and foremost is the quad-band 2G GSM network at 850/ 900 / 1800 / 1900 MHz frequency. Second is the 4G network, whose exact bandwidth is unknown but gives great connectivity speed on activation.
Nokia N950 - Games:
The Nokia N950 is a JAVA supported handset, well equipped with JAVA games. Apart from the games on-board of Nokia N950, there are other games which may be downloaded at fast speed (thanks to its 4G connectivity) for the entertainment purpose and keep oneself occupied even in leisurely moments.
Nokia N950 - Navigation:
With help of loaded Ovi-maps on Nokia N950, its internal A-GPS receiver can guide and navigate the users of this phone amidst the remotest places.
Nokia N950 - Performance:
With an extremely user-friendly and responsive UI and powerful 1GHz processor, the Nokia N950 is bound to perform well on its MeeGo platform. Moreover, the phone boasts of a remarkable multimedia performance due to its integrated 8MP camera which is totally out of the world. 4G connectivity also supported by HTML browser and GPRS/EDGE helps one to download at good speed and browse even faster.
Conclusion:
Nokia N950's innovative design, advanced hardware technology, user-friendly user-interface and attractive large display is quite commendable. It works on MeeGo platform and is powered by a 1GHZ processor for great speed.Besides, it also has an integrated A-GPS, large internal storage, high quality 8 Mega Pixel camera, and Wi-Fi connectivity. This 4G enabled handset will surely make a good debut, most probably in 2011.
Nokia N950 Specs & Price >