OPPO F7 review: More than just a selfie expert smartphone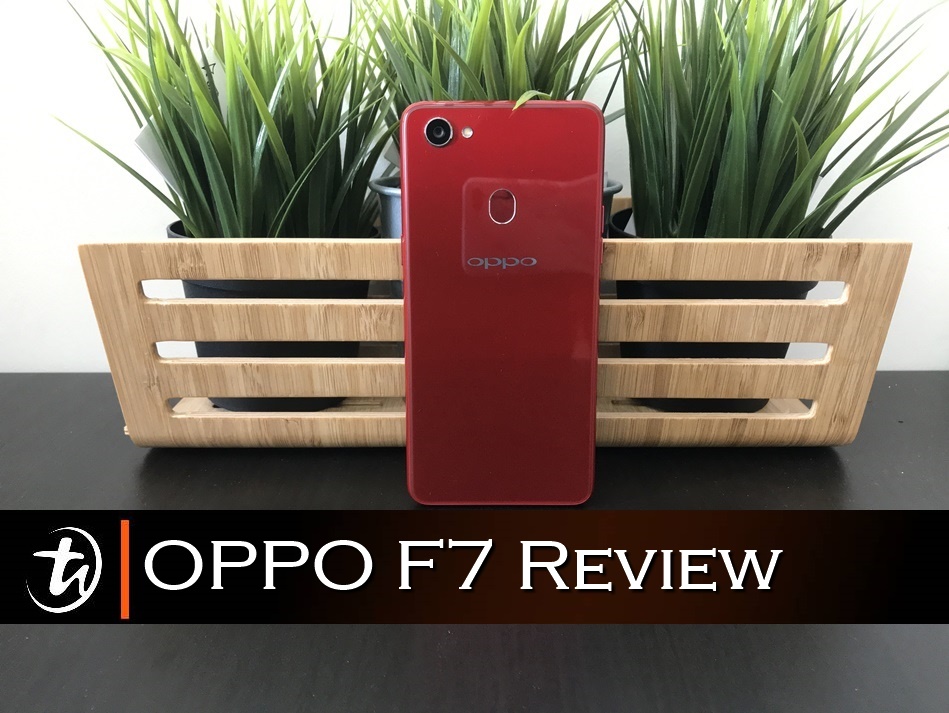 Will the selfie smartphone trend ever end? Unlikely, but that doesn't mean we should hate on it even though it caters to the casual users. OPPO Malaysia is back once again with another selfie device called the OPPO F7. We can make fun of them for not knowing how to count, but the F7 proved to be a big step from the F5. What do we mean? Read below to find out!
Design - Some questionable design decisions, but it's okay
So the first thing you will notice is obviously the glossy glass design on both front and back leaving the side metal alone. While it looks elegant to catch attention from your friends and family (especially the Solar Red and Sunshine Red model), I can't help but notice how awkwardly the front display protrudes itself entirely from all sides. Most devices are usually flat or in some cases, curved to the side but it's like OPPO just decided to slap it on and call it a day.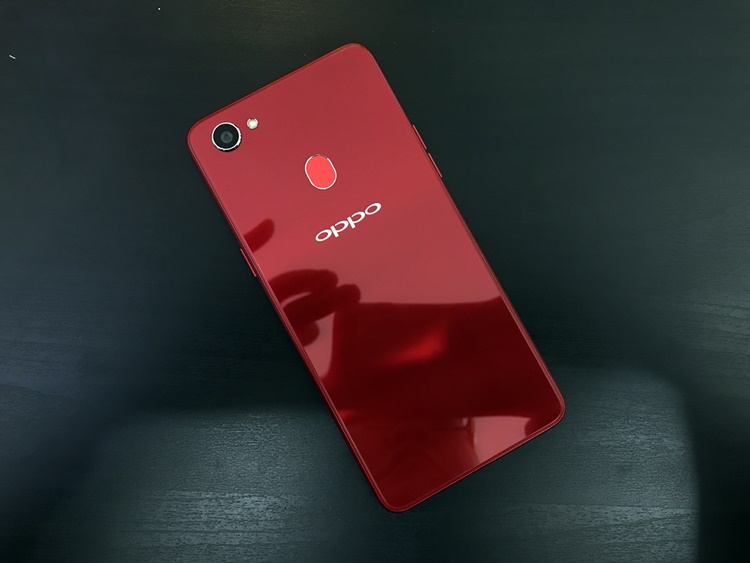 The Solar Red variant is darker than the Sunshine Red variant
To be fair, the awkward front display actually helps a lot for the protective casing to fit right in so that it won't come off so easily (so it is fitting in the case). Actually, as long as you have a protective casing, you will pretty much forget about the protruding front display afterwards and move on.
Then there's the notch on top of the display, we know how many of you are annoyed with it and I am too. There's an option for you to hide the notch on certain apps in the settings, but doesn't that kind of defeat the purpose of having one in the first place? For example, the screen-to-body ratio is 19:9 and that's a lot of space, but if I was watching a YouTube video horizontally with the notch hidden, it becomes 18:9. I'm just saying.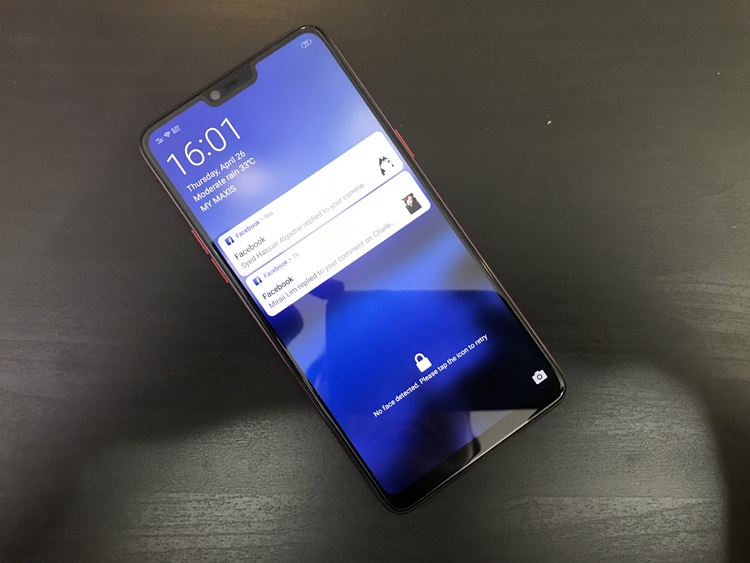 The front look, using 2.5D glass and the resolution is in FHD+ 1080p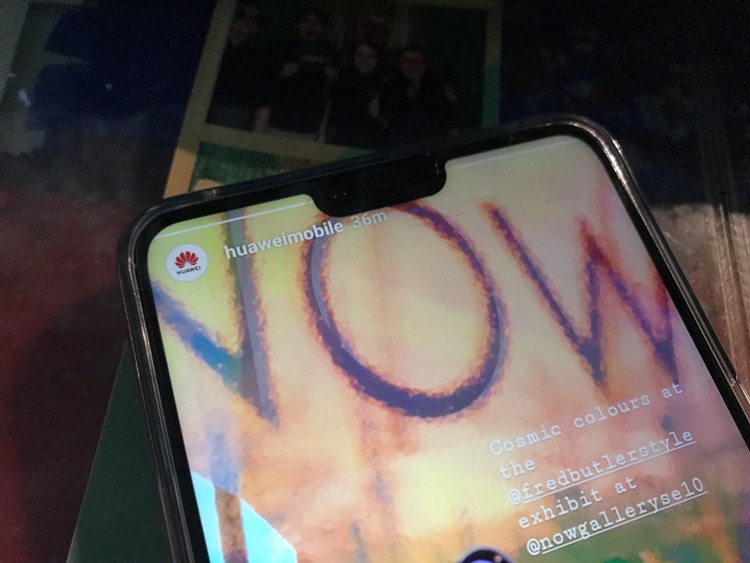 One of the notch problems if you don't hide your notch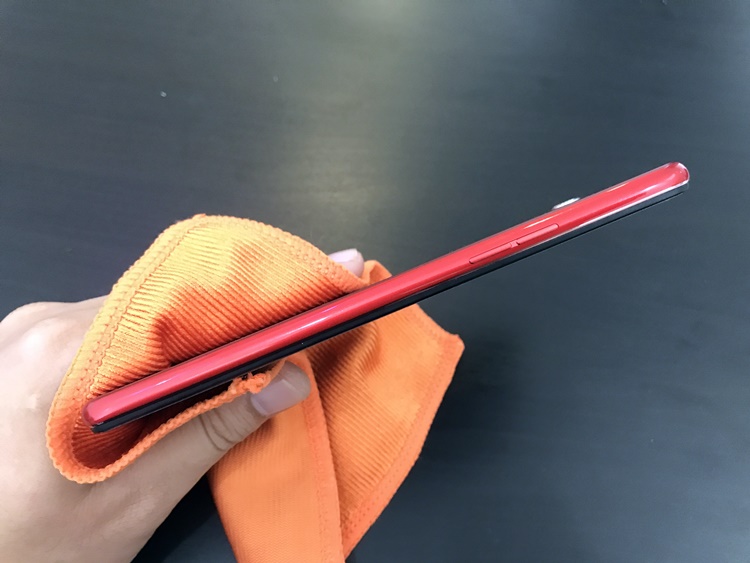 Side view, if you know your tech gadget stuff, the volume and power buttons are the same as the iPhone models lol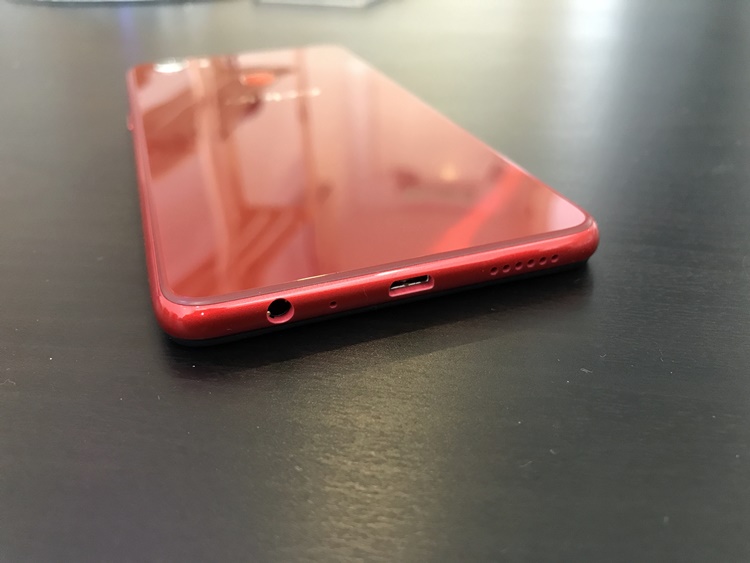 Headphone jack, microUSB port 2 and speaker grill at the bottom, the speaker grill is oddly placed at that side because if I turn the phone horizontally to the left by default, my palm is blocking the sound from coming out whenever I'm gaming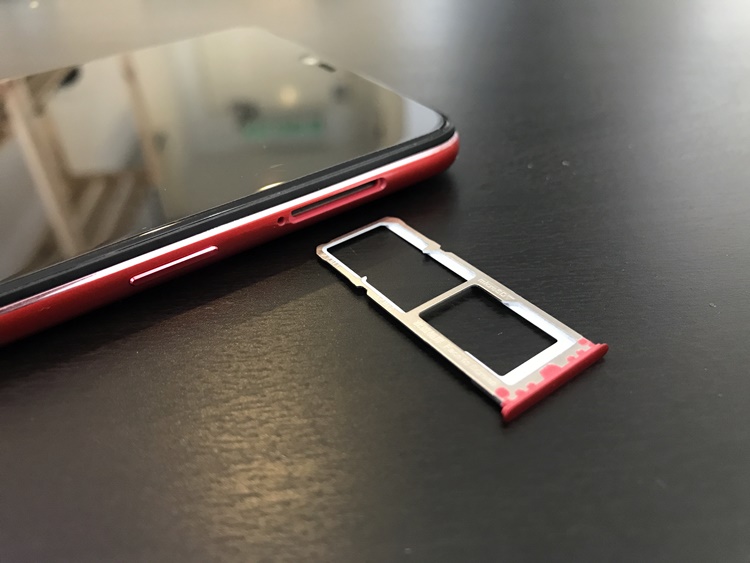 Triple SIM slot, yay! And the black front display you see there is the one I'm talking about which doesn't look that nice to me
Tech-Specs and features - Other than selfie functions, there are some useful ones too
Here are the specifications for the OPPO F7: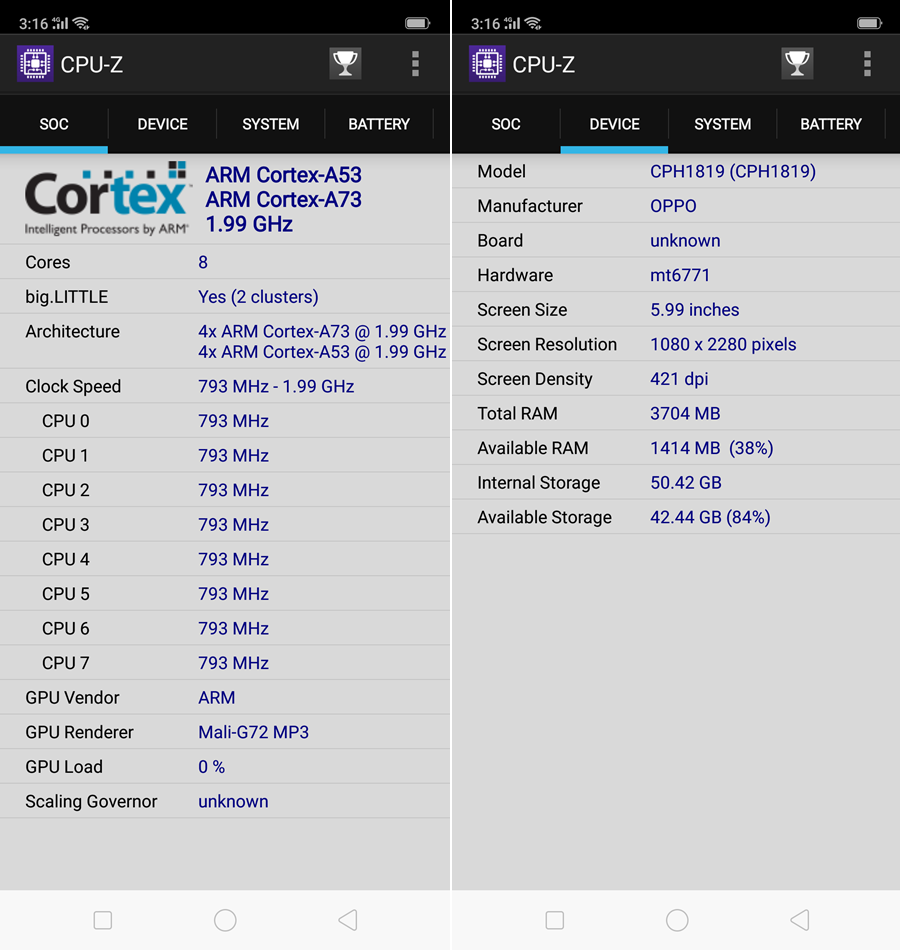 MediaTek Helio P60 processor
4GB and 6GB of RAM
64GB and 128GB internal storage (expandable up to 128GB)
6.23-inch FHD+ display (19:9 aspect ratio, 2280 x 1080 pixels)
16MP (f/1.8) primary camera, 25MP (f/2.0) Sony IMX 576 front camera
Features facial unlock, rear fingerprint sensor, triple SIM card slot (dual nano-SIM & one microSD slot), AR Sticker
Supports dual SIM 4G LTE, Bluetooth
Color OS 5.0 based on Android 8.1 Oreo
3400 mAh battery
As the review title suggests, the F7 is more than just a selfie device. Sure, it has the world's first 25MP front camera using a Sony IMX 576 sensor, but another thing to highlight is the fact that it's using a brand new mid-range Helio P60 processor from MediaTek. Compared to its predecessor, the MT6763T Helio P23, this new chipset performs a lot better and it's a welcome addition, which we will talk more about later. Also, it comes with a 6GB + 128GB memory model too.
In the features corner, the F7 does have some nice stuff on it. For those who use two SIM cards and a microSD card, the F7 is one of those rare devices that offers triple SIM card slots so you won't be forced to choose between a nano SIM and microSD slot. Then you have the AR Stickers for the camera, as well as a new Super Vivid Mode that turns up the colour contrast better.
One of my favourite features is the face unlock. In fact, I daresay the face unlock is better than Apple's Face ID and I rarely use the fingerprint sensor. There's one option in the setting that allows you to just slightly lift the phone up without having to turn on the button and voila, it unlocks itself via face unlock super fast. Now this is what I call face unlock!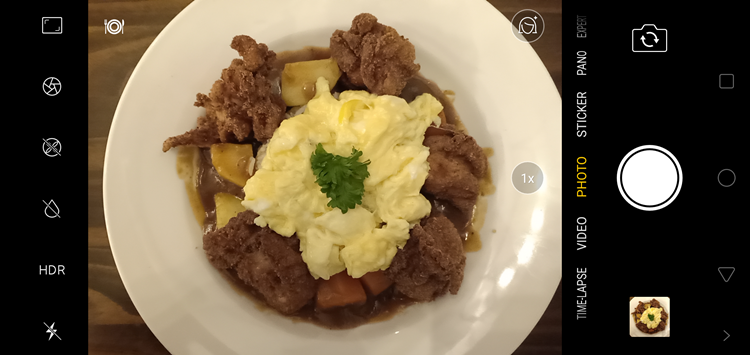 The iPhone clone camera user interface, btw if you notice at the top left, you can see that the phone can pick out scene detection so that's nice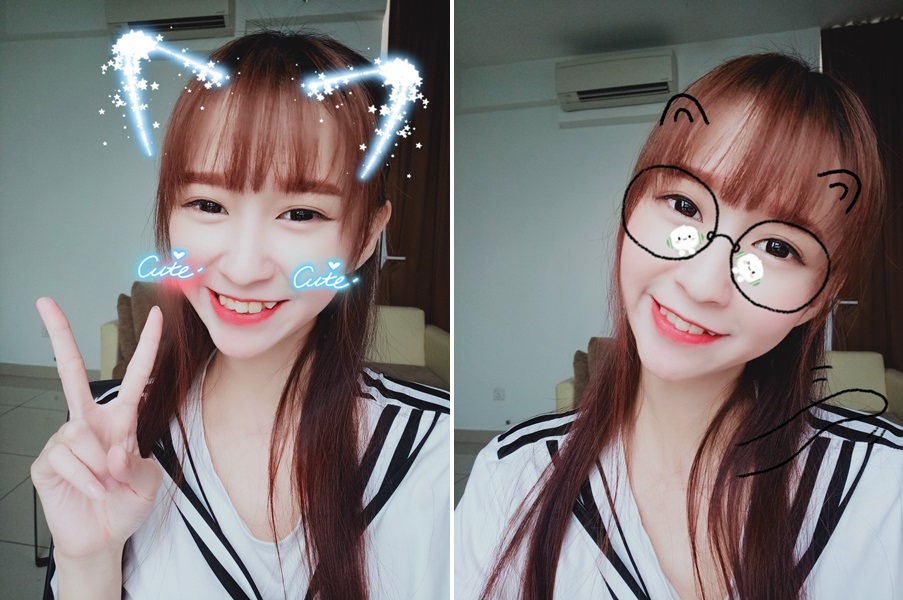 AR Stickers, kawai-desu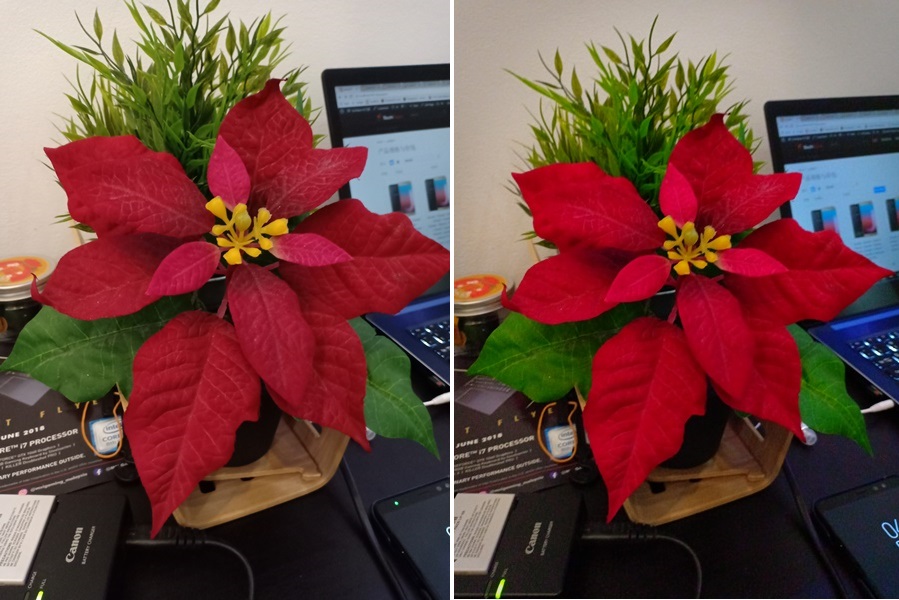 Before and after using Super Vivid mode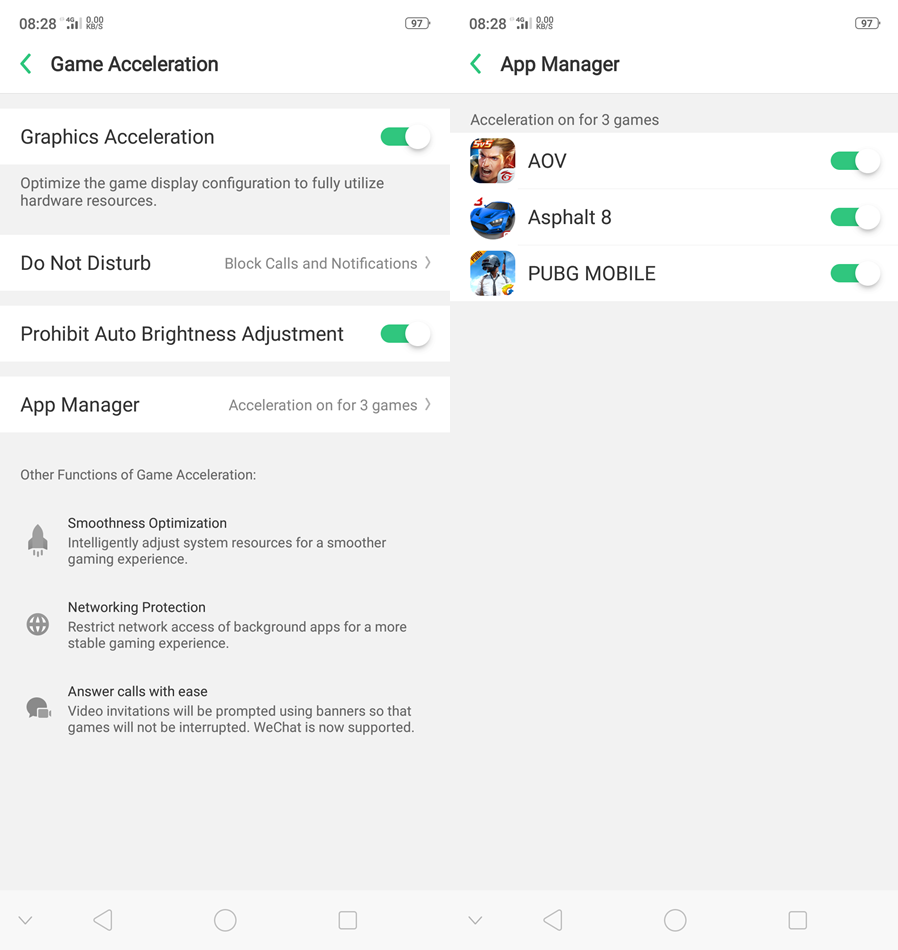 Game Acceleration is OPPO's version for gaming and will help to block out any incoming calls and messages. It also helps to optimize the games for the best performance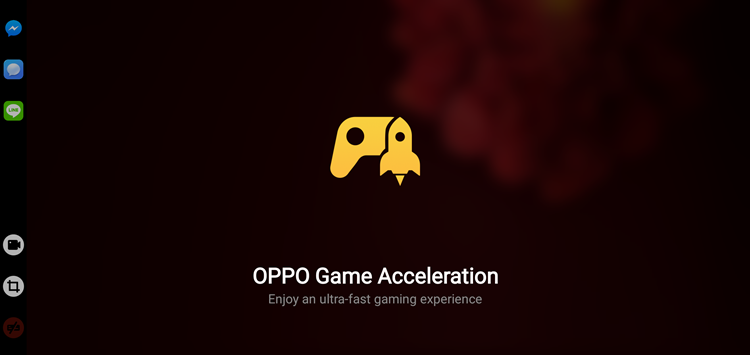 On the far left, you can actually pull out some features while gaming. From the top to bottom, it has social apps, video recording, quick screenshot and a block banner notification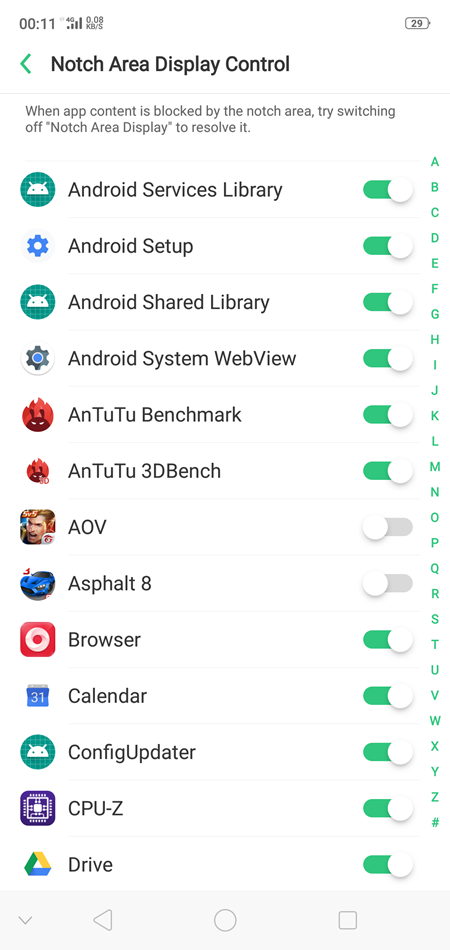 Here's where you can control the notch visibility in the settings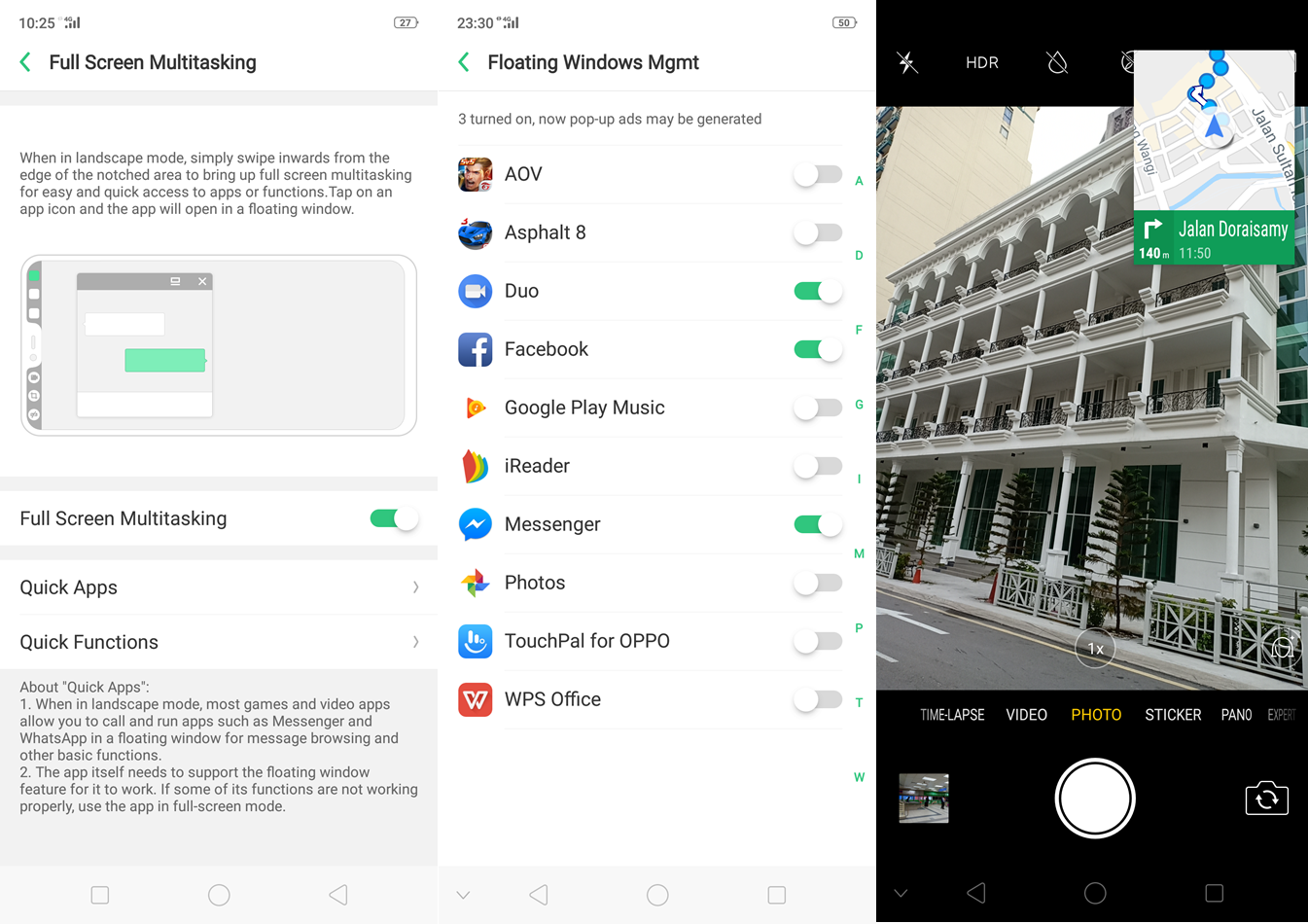 Full-screen multitasking and floating windows feature (aka Picture-in-Picture mode)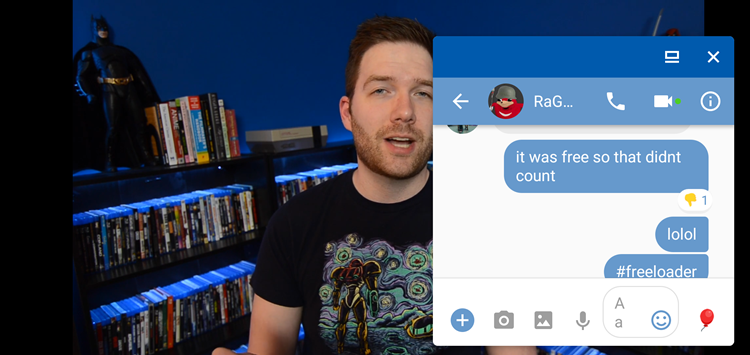 Here's how the full-screen multitasking mode looks like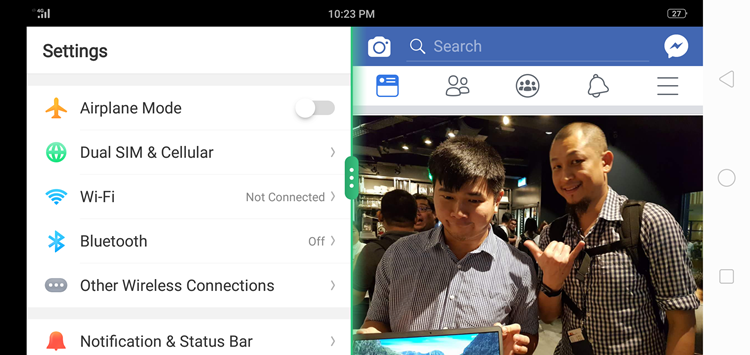 Split screen mode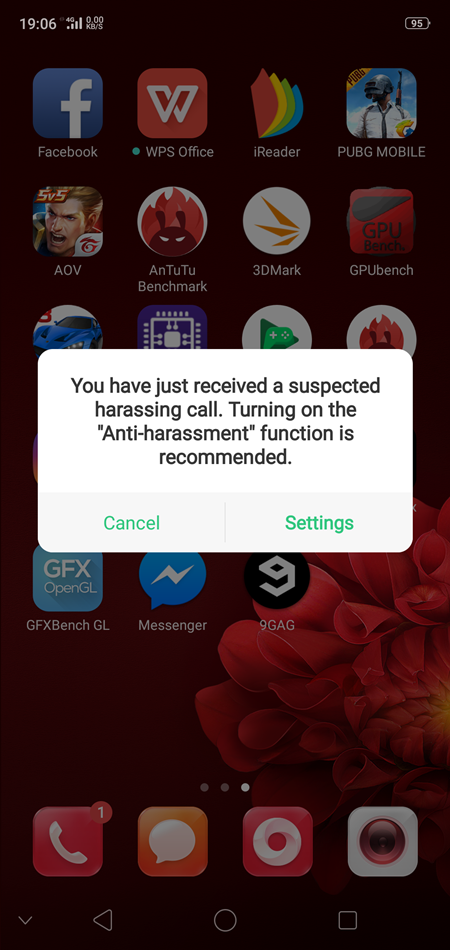 Apparently, there's an anti-harassment function too haha
Performance - Battery, camera and gaming gets a pass
Alright, so now onto the performance section. Just how good is the Helio P60 chipset? To sum it up from our previously written news about its debut, it is a 12nm chipset and cuts down up to 15% power consumption when compared with a 14nm octa-core chipset. It clocks in at 2.0GHz with 4x Cortex A53 cores and another 4x Cortex-A73 cores, then for the GPU, it has the ability to boost up 70% in gaming performance.
Obviously, I had to test this out with Arena of Valor, Asphalt 8: Airborne and PUBG Mobile and suffice to say, I'm quite satisfied with the result the F7 can take the punch without any heat issue. Although PUGB Mobile is only playable on medium setting, you can play high setting on the AoV and Asphalt without any lag. To add on to that, the chipset's low power consumption allows the F7 to be played for long hours.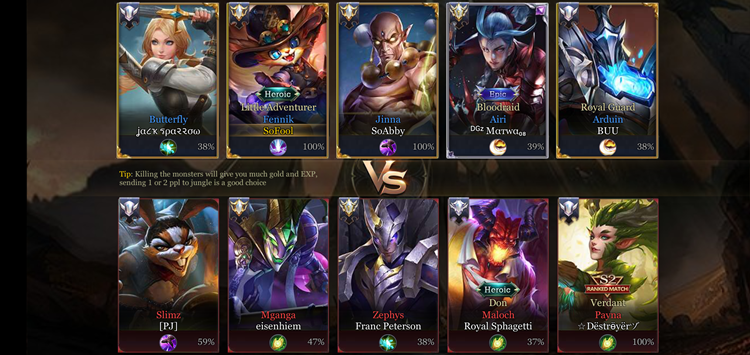 Most of the time, I would finish downloading the map before other players do
AnTuTu score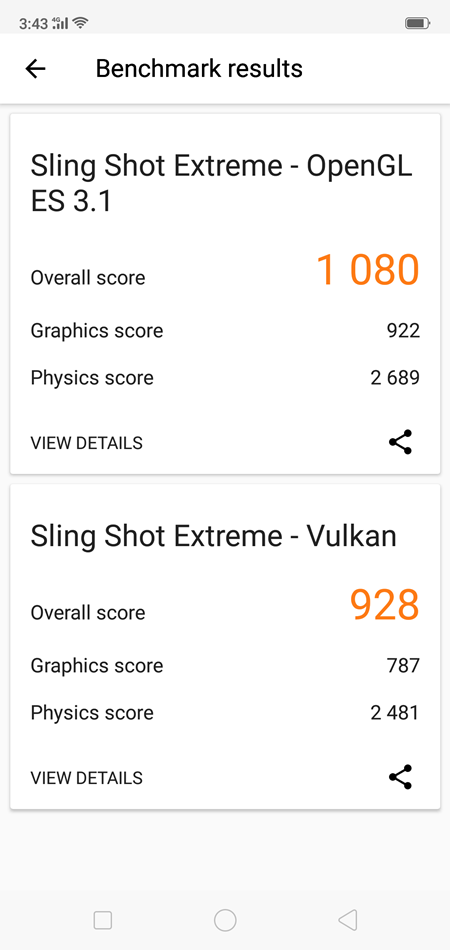 3DMark score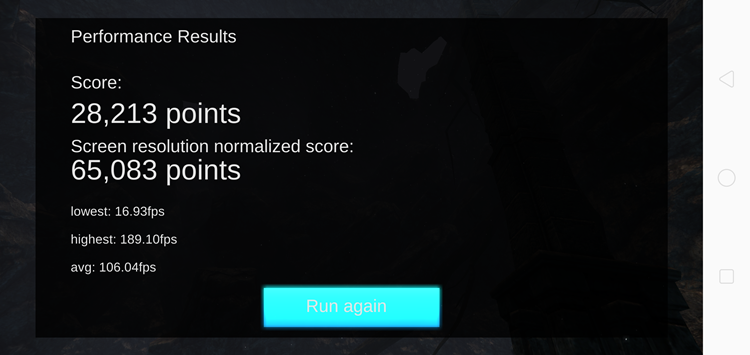 GPUBench score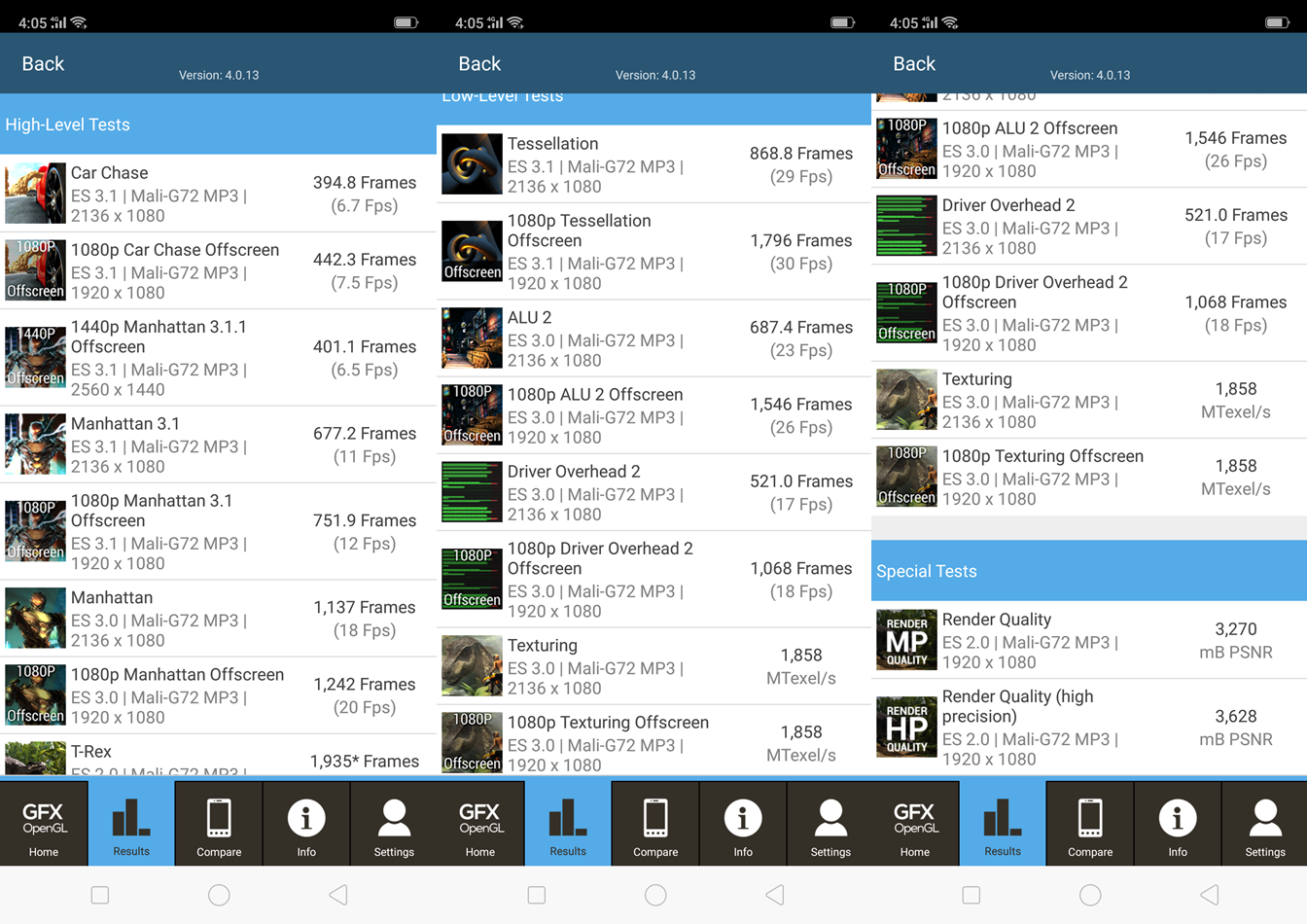 GFXBench score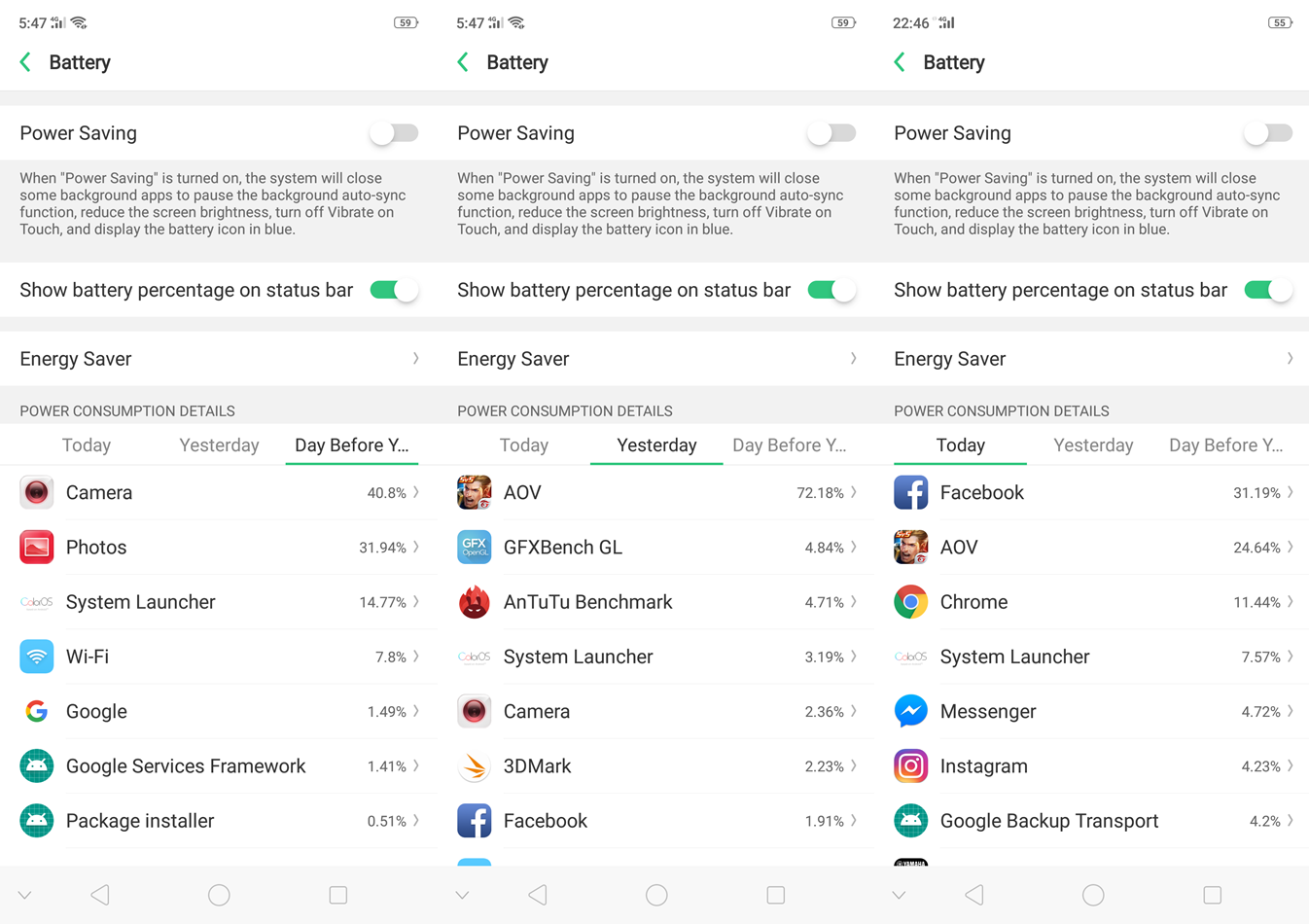 The battery monitor settings, you can check out the usage of apps from the Day Before Yesterday, Yesterday and Today, for 'Today', I only used up half of the battery's life from just surfing Facebook and some AoV rounds for the whole day
So yes, that also means the battery is awesome. As usual, OPPO doesn't put battery charts for monitoring but the F7 can survive a day's usage easily. If you're gaming the whole afternoon, no problem. Photo shooting spree? No sweat. Even though it's using a micro USB port, recharging takes less than two hours and that's great. Moreover, the connection on the phone does a fine job so if you're using Google Maps and Waze, it shouldn't be much of a problem, maybe except when you go to an underground tunnel then it will get lost for awhile until you come back up to the surface.
You must also be thinking that with the 25MP front camera on board, it should take great pictures. And you're right, it does take pretty good photos. If you managed to master the bokeh mode and super vivid mode together, the F7 can turn you into a Disney Princess. The rear camera isn't so bad as well but most of the time it doesn't do that well in an indoor environment. You can check out the photo samples below and be the judge.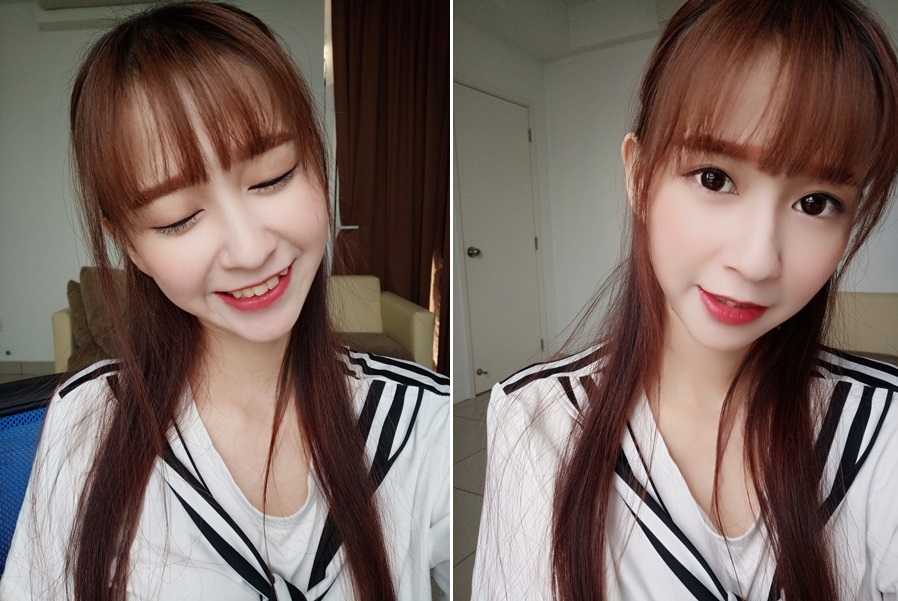 Selfie first, here's one without bokeh mode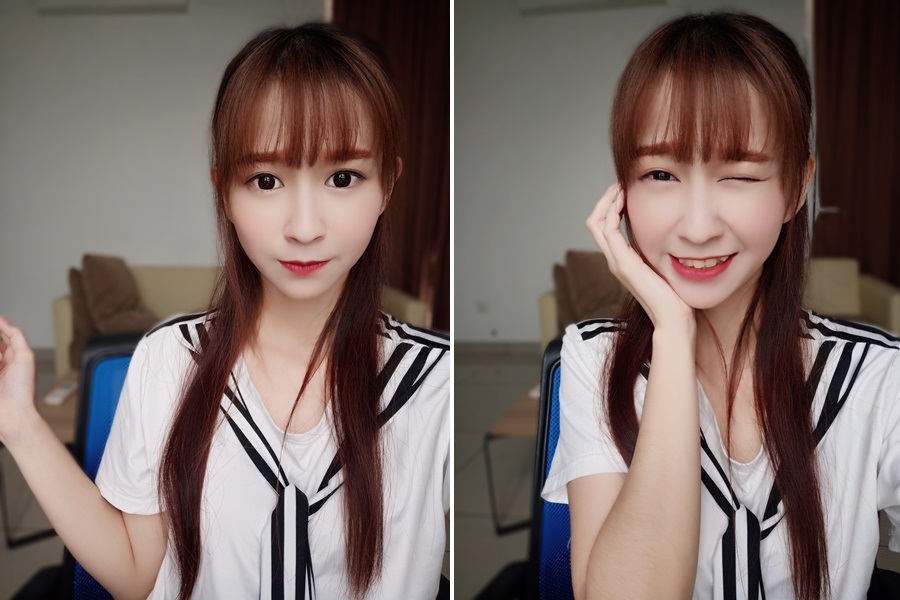 Selfie with bokeh effect and AI Beauty 2.0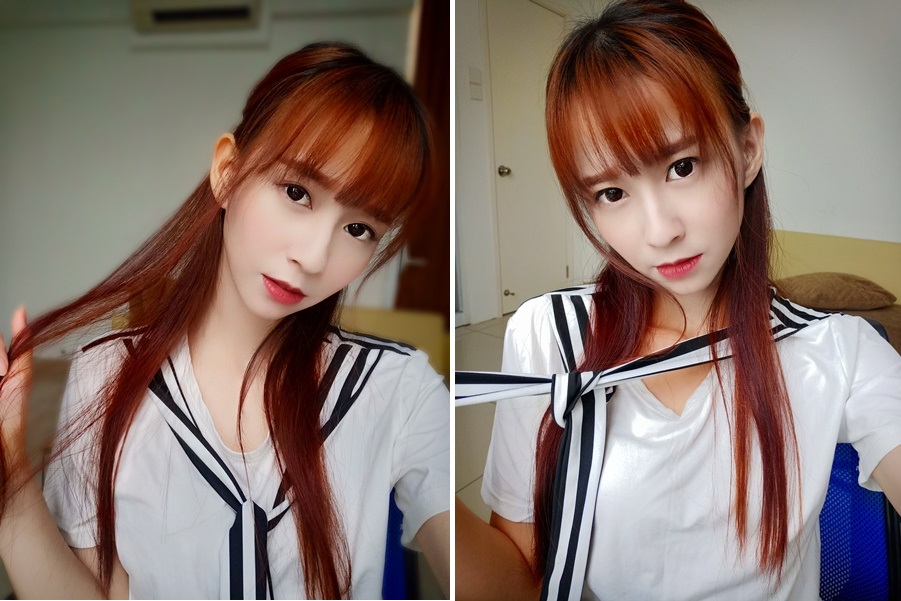 Selfie with AI Beauty 2.0 and Super Vivid mode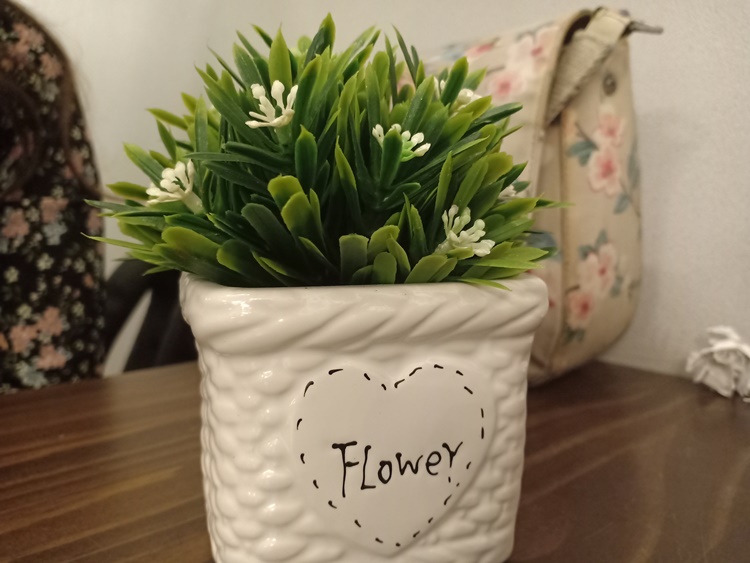 A close-up of a flower pot, auto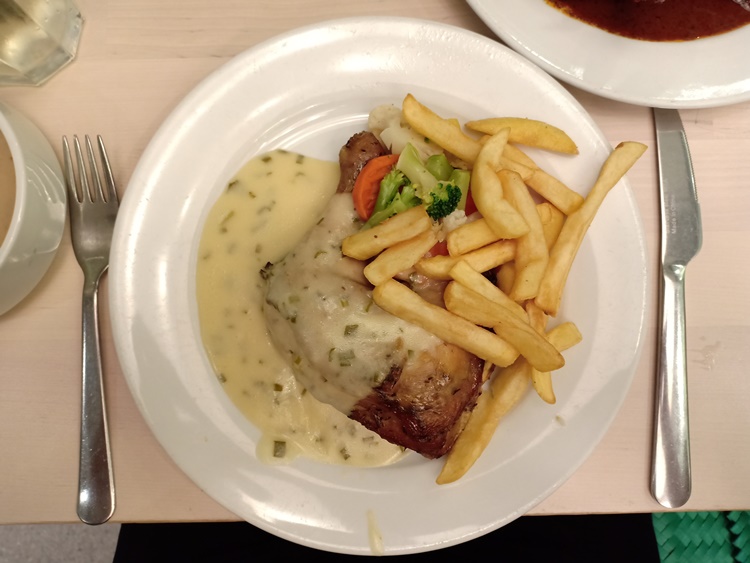 Food scene detection! Auto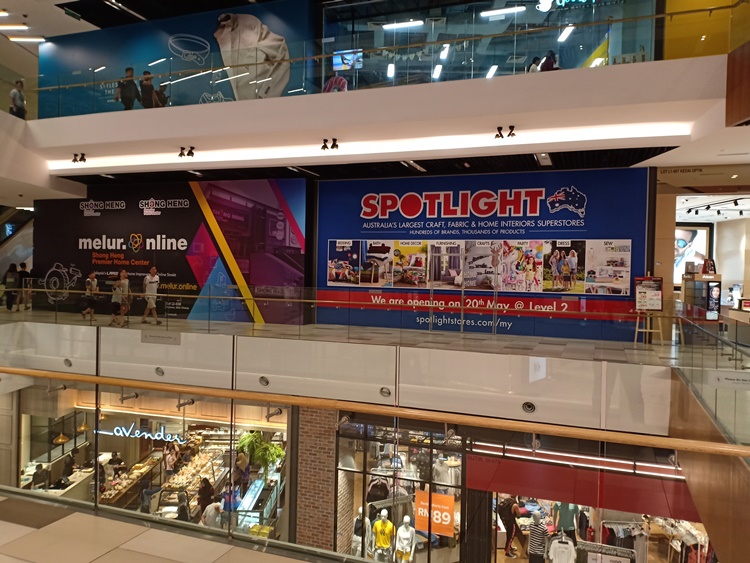 Indoor shot, it's suppose to be brighter than this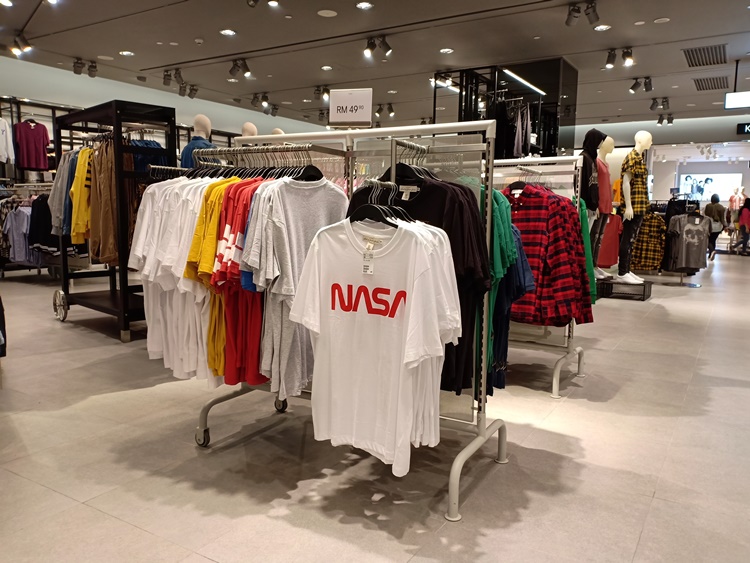 Colour contrast for the rear camera is generally well received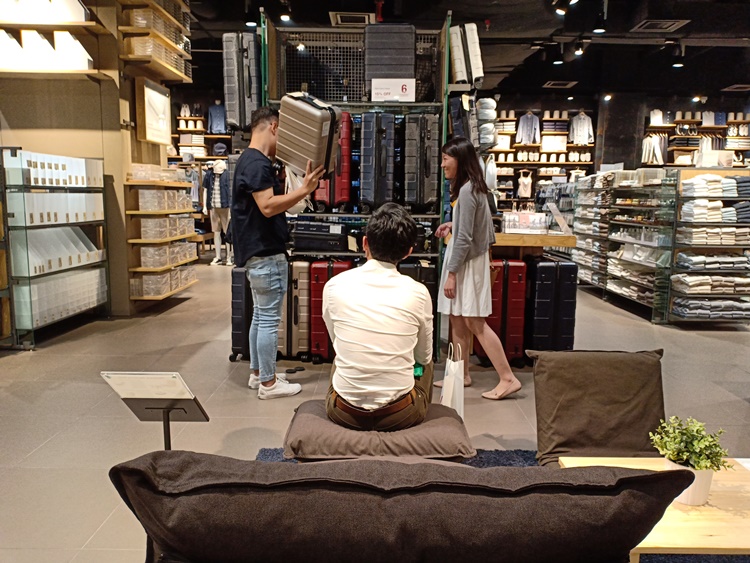 But sometimes, noise is evident if you look closely

Panorama mode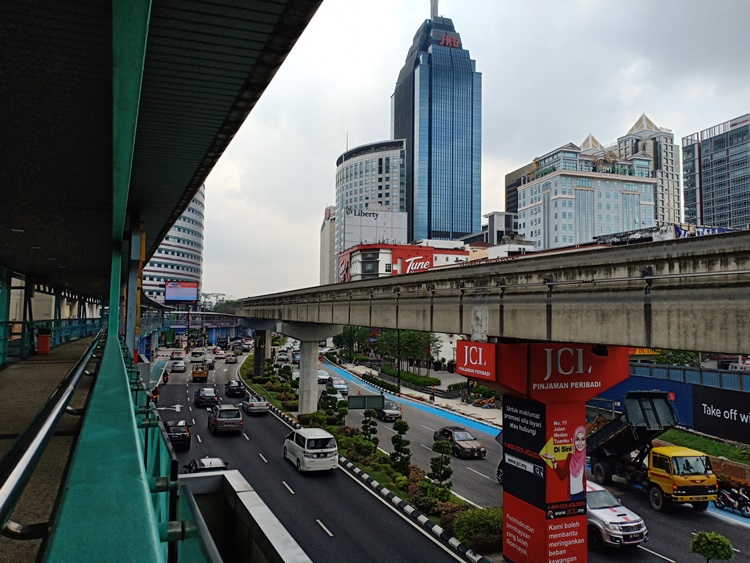 Will you take a look at that photo quality!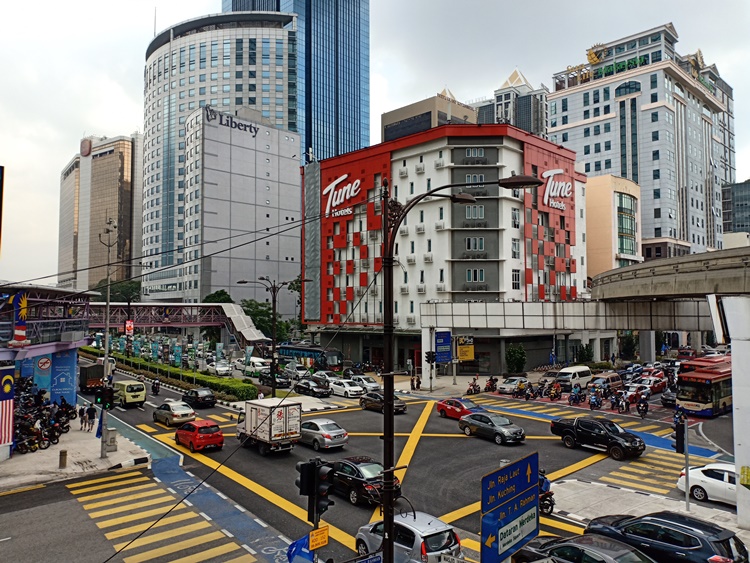 It seems that the camera is able to pick up moving objects quite well like those cars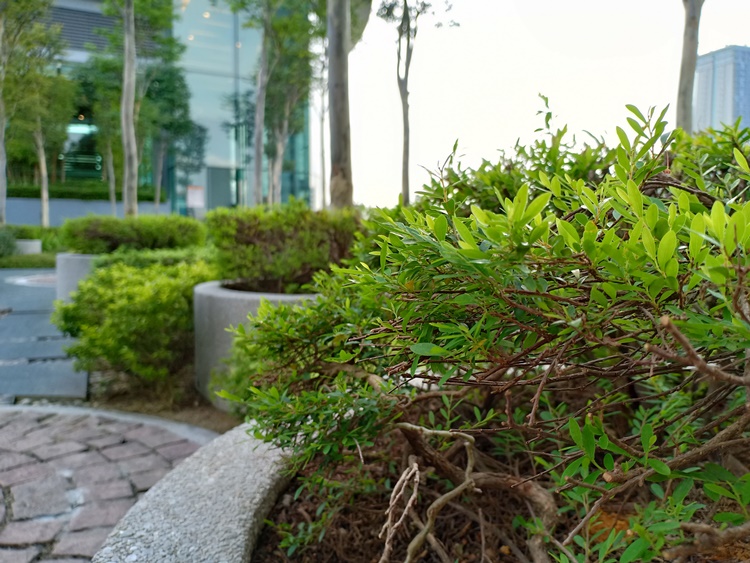 Another close-up at the outdoors with bokeh mode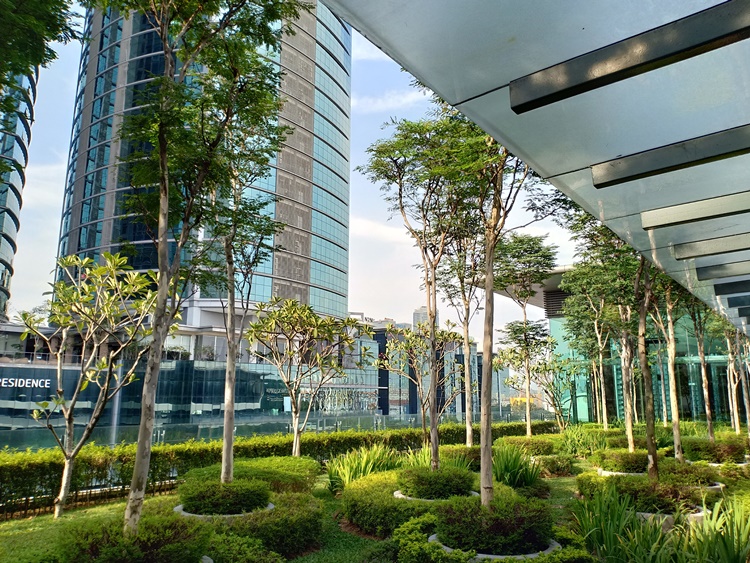 Very nice shades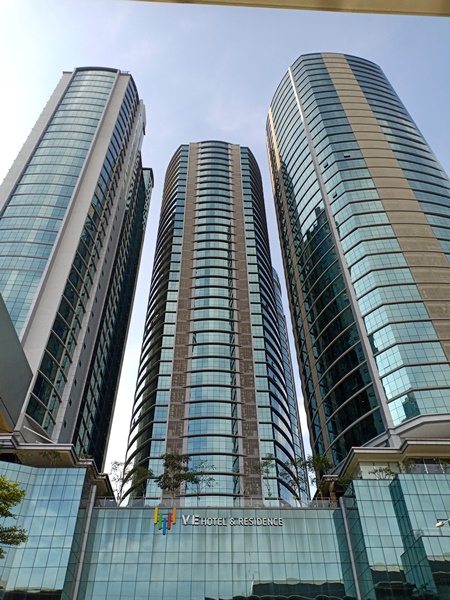 The 16MP rear camera is usually best used for outdoor photography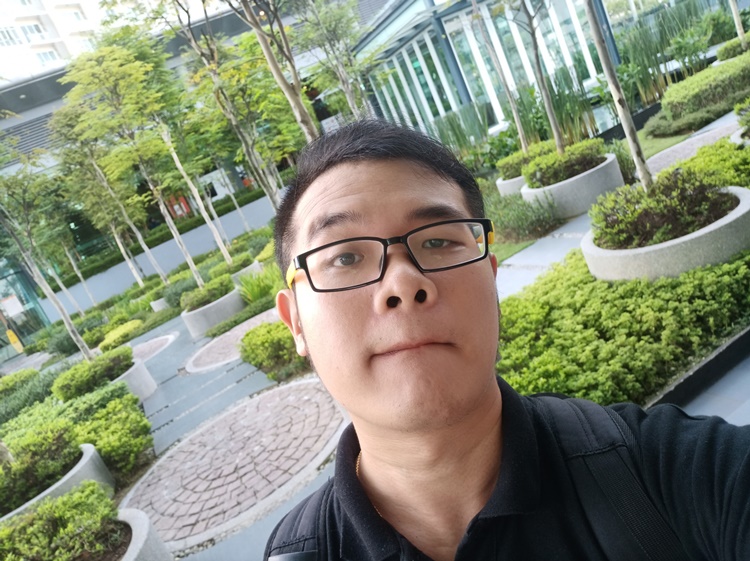 Another round of selfie, here's one without AI Beauty 2.0 involved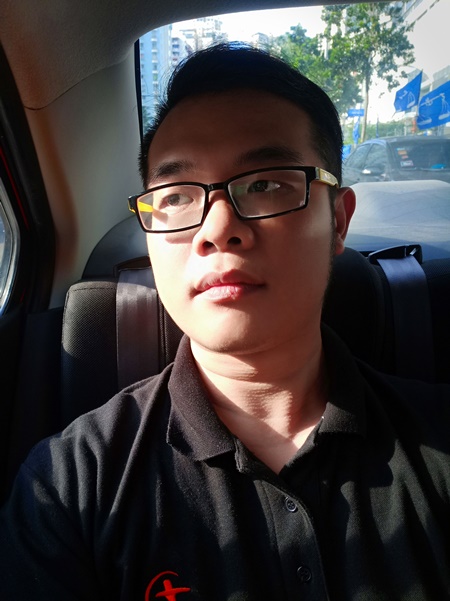 Trying to look 'emo' with AI Beauty 2.0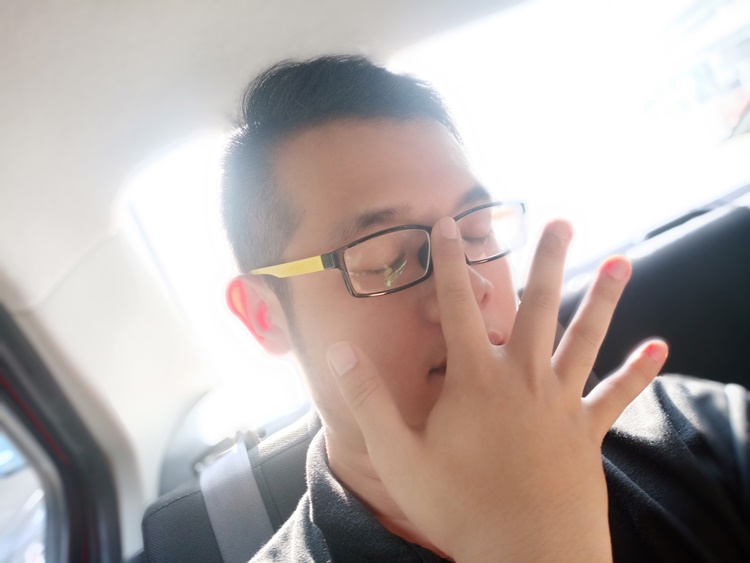 Not even the strong backlight can take away my spotlight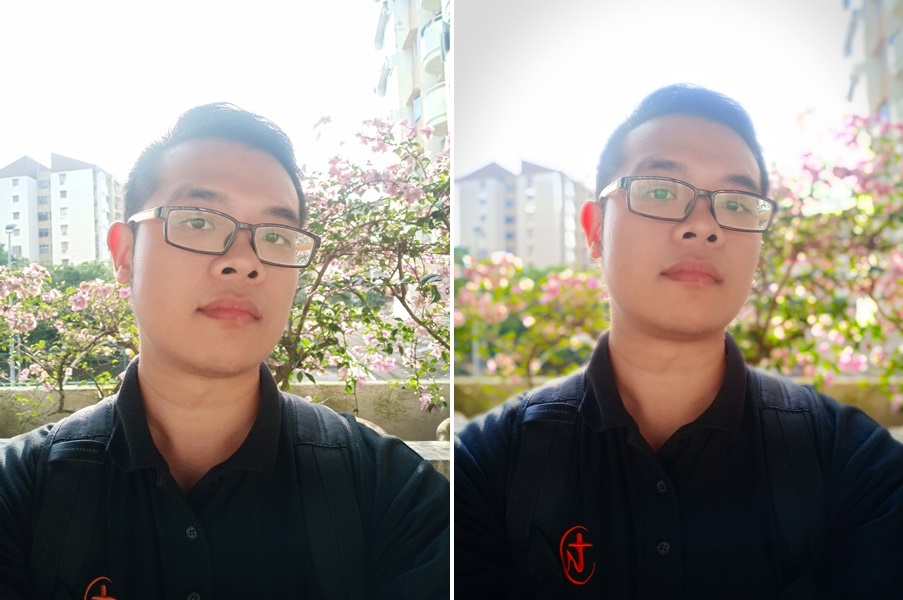 Before and after using bokeh effect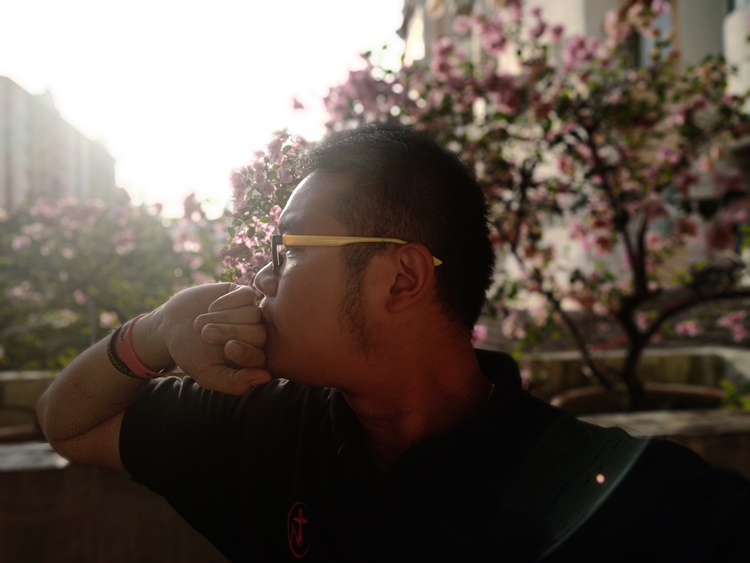 #nofilter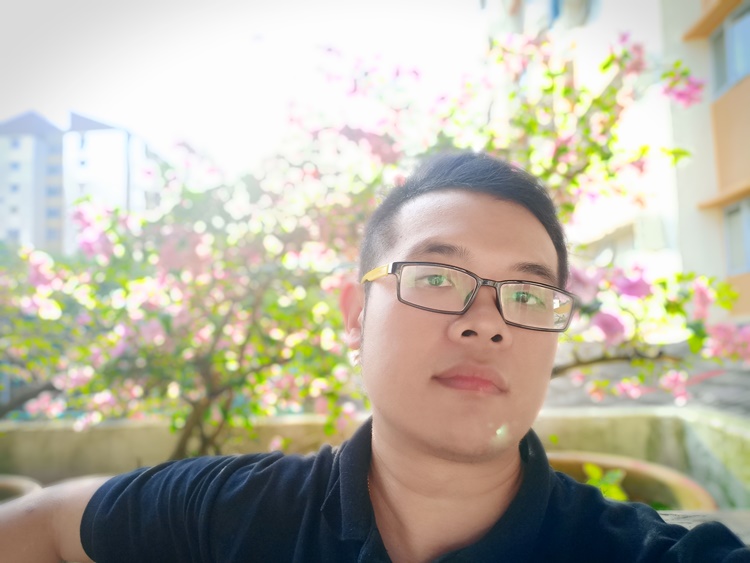 Using all three AI Beauty 2.0, Super Vivid and bokeh effect mode. Am I a Disney princess now?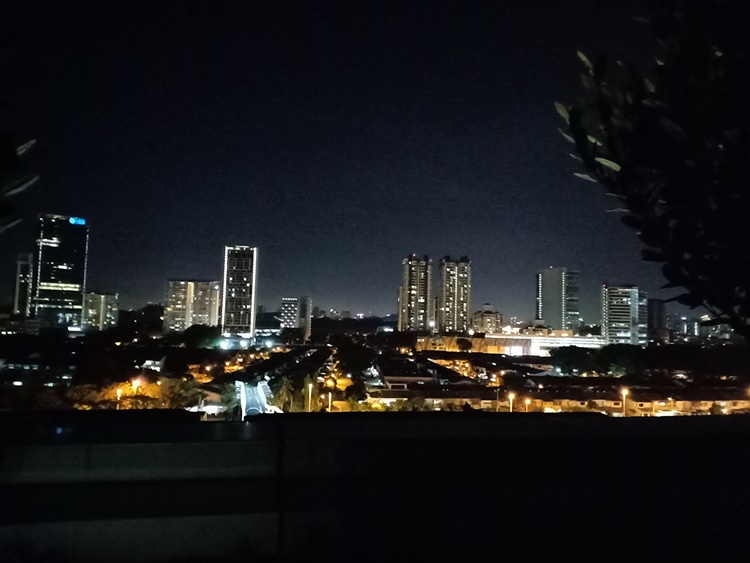 Night shots are bad though, so don't even think about it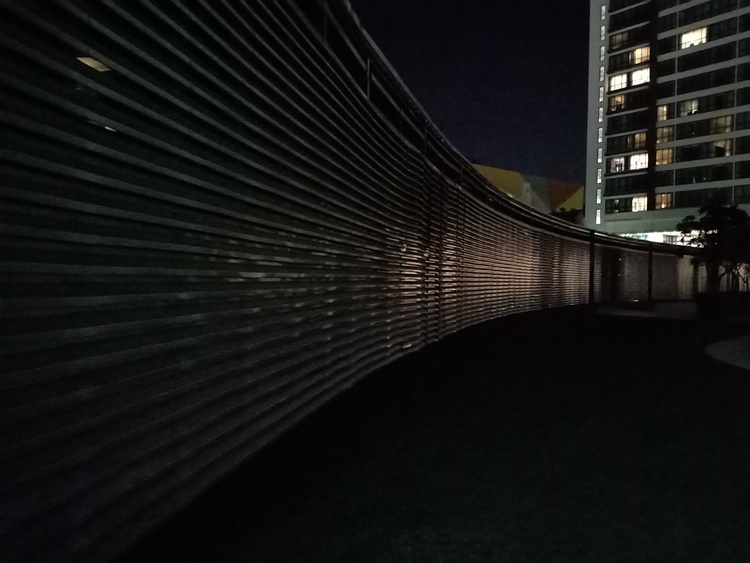 Low-light shot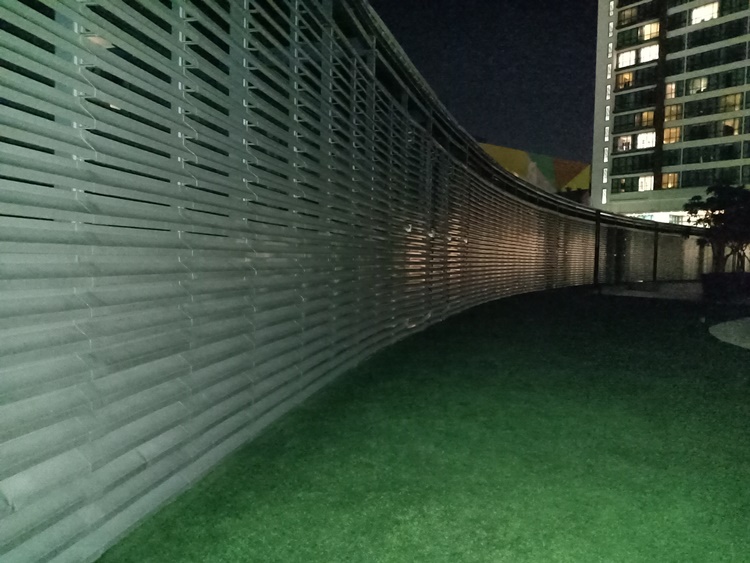 Flash mode on
Conclusion – OPPO has stepped up the selfie game
Now, I'm not a selfie person, but I will say that the OPPO F7 is a pretty good phone overall despite the front notch design. This is mainly because I'm impressed with the new Helio P60 processor, its great battery performance, face unlock and even the camera quality. For just RM1399 (4GB + 64GB model), it's a good price and if you want a bigger memory, there's the 6GB + 128GB model for RM1699.
A direct competitor for the F7 would have to be the vivo V9 for a good reason. Both devices have the exact same price with similar tech-specs, the only advantage that the V9 has over the F7 is having a dual rear camera, but it lacks the 6GB + 128GB variant which will probably be released in the near future. On top of that, the image quality from both phones are equally matched. However, the F7 performs better in terms of gaming, but not like the selfie users are going to care about that.
So which phone do you prefer? Let us know in the comments below and stay tuned for more future reviews at TechNave.com.
Oppo F7 Specs & Price >