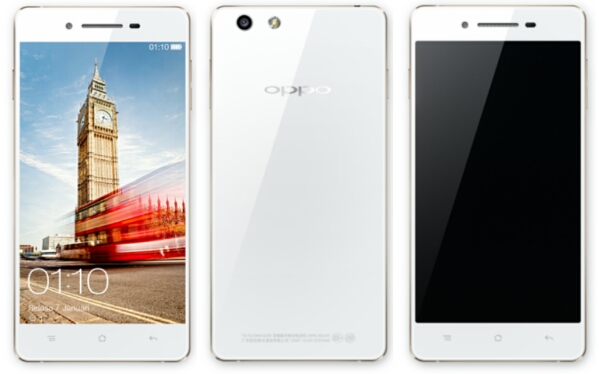 Premium looks don't always mean premium performance, especially when the price of the mobile device isn't at a premium. Unfortunately, there aren't that many premium looking Android smartphones out there that both perform well and cost affordable but OPPO hope to change that perception with the OPPO R1, their second smartphone for the Malaysian midrange market. Does it fulfill all of the above? Read our full review about the OPPO R1 to find out.
Design - Premium looks, slim profile, flat front and back
At first glance it is easy to mistake the OPPO R1 as an Apple iPhone as it features a rose gold coloured metal band along the middle of the sides combined with a white plastic casing. The back panel is covered by a transparent layer that feels like glass but since it isn't as heavy as tempered glass would make it, we assume that it is plastic. In short, the smartphone looks very premium but I found that due to the gold coloured strip of metal running down the middle of the sides, the grip feels rather sharp.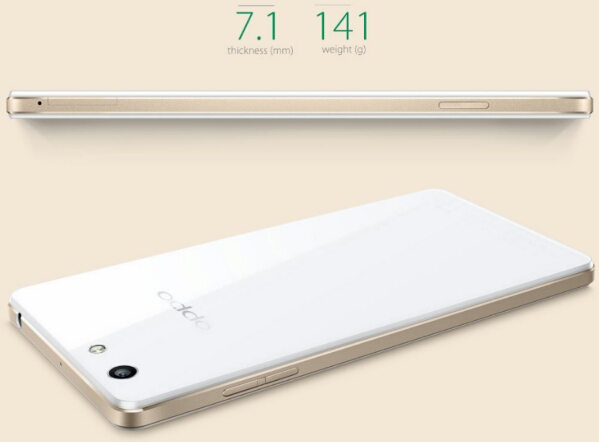 The OPPO R1 features a rose gold coloured metal strip along the side for a more premium look
One of our other reviewers mentioned that this may be uncomfortable but it also ensures that you won't drop it very easily. OPPO have thoughtfully included a clear plastic casing with rounded corners that not only makes the OPPO R1 more comfortable to hold but also makes it look more like the latest Apple iPhone 5S. At 7.1mm thin and 140g we found the OPPO R1 quite slim and light with a nice yet solid feel to it. The 5-inch display is quite clear with a 720 x 1280 pixel resolution resulting in fairly crisp text and bright colors. A Corning Gorilla Glass 3 cover over this display gives it a bit more durability from unintended slips and drops. Integrated camera lens also means that there are no protruding camera lens, making it nice and flat.
Tech specs and features - Above average midrange cameraphone
The OPPO R1 is powered by a 1.3GHz quad-core Mediatek MT6582 processor, Mali 400MP2 graphics, 1GB of RAM and 16GB internal storage. Other tech specs include an 8MP rear camera with LED flash, 5MP front camera and 2410 mAh battery. Other notable tech specs and features includes support for 3G HSPA+ connectivity, Bluetooth 4.0 with A2DP, A-GPS and WiFi802.11 b/g/n. It should be noted though that the OPPO R1 does not offer any support for external memory such as microSD, but 16GB is a good amount of storage to start with. The smartphone also supports Dual-SIM making it good for overseas usage.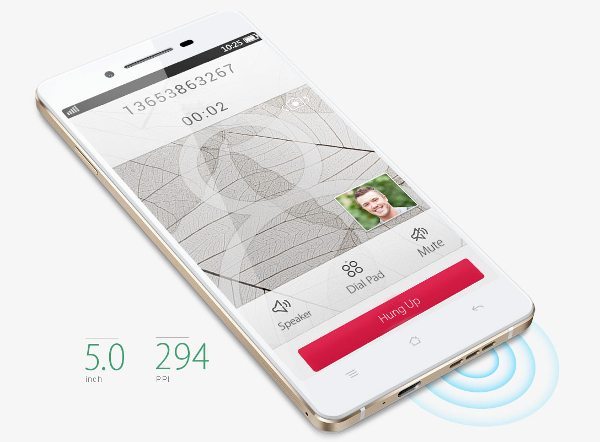 The OPPO R1's 5-inch screen is crisp and clear
While the 5MP front camera with F2.0 aperture makes the OPPO R1 very good for low-light selfie shots, what is really interesting is that the 8MP rear camera uses a BSI CMOS sensor and an imx179 co-processor for better light reproduction under low-light conditions. The 5MP front camera also packs in a wide-angle lens and Blue Glass Filter, while OPPO's Pure Image engine enhances white balance, focus and exposure automatically for better overall image quality. Like some other cameras you can take photos using your voice and there are several built-in filters to help beautify both your pictures as well as your audio recording.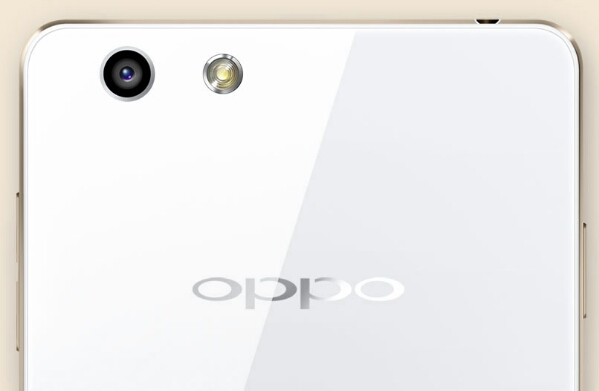 The 8MP rear camera works in tandem with an imx179 co-processor for better images

Like other OPPO smartphones, the OPPO R1 runs on ColorOS which is based off of Android 4.2. The ColorOS is mostly gesture based so you can draw a circle on your sleeping OPPO R1 screen to quickly bring up the camera or wake it up with a double tap. You can also set customized gestures using the draw gesture feature but we found that the Swype-like keyboard took some getting used to.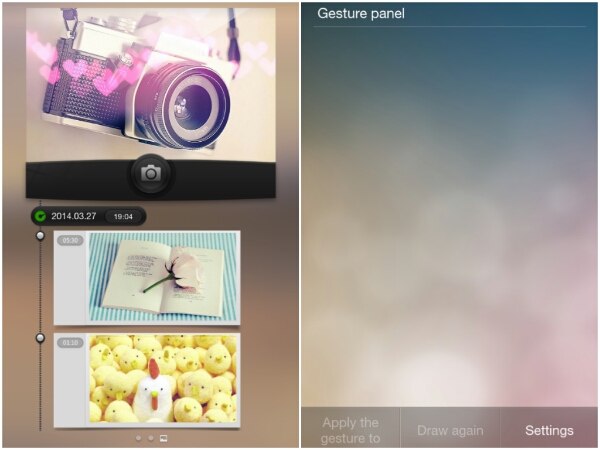 The OPPO ColorOS is mostly gesture based and even allows you to set up your own customized gestures
Performance - Better than most midrange cameraphones
Testing out the OPPO R1 as a smartphone, we found it to have very good reception, with fairly clear audio and good connectivity. WiFi was very strong while 3G was above average. Running our usual benchmarks we found the OPPO R1 capable of 17528 on AnTuTu, placing it just behind the Samsung Galaxy S3. We ran firstperson shooters on the smartphone with ease and audio quality was good if not all that loud. It should be able to play most games and run most apps with ease but the main focus of the OPPO R1 remains the camera. Battery life is good with about 5 to 6 hours worth of continuous usage and about 1 day and a half on minimal usage.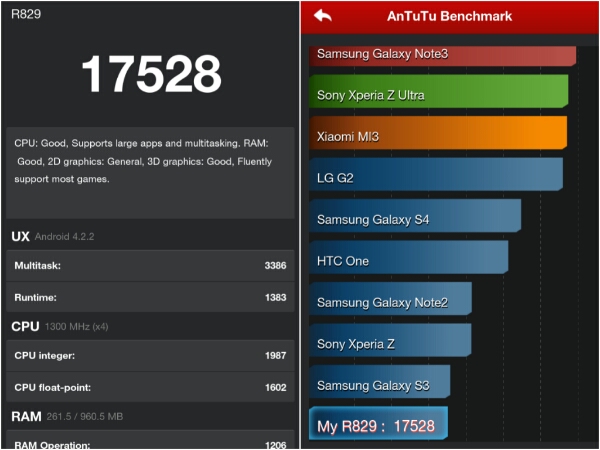 The OPPO R1 scored quite well on AnTuTu
The integrated co-processor and BSI CMOS camera sensor work really well together, resulting in crisp images even in low-light conditions. In some cases, we found that the camera was even faster than it's higher-end sibling, the OPPO N1 as we had almost no problems with exposure or automatic focusing. Both the front and rear camera's offered very satisfying performance, and while the 5MP front camera didn't offer the same dual-LED flash as the OPPO N1 it does manage to take some pretty good selfies as well.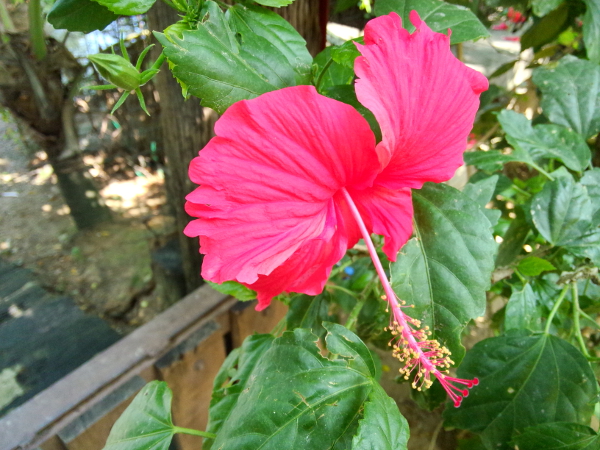 Automatic, 8MP Close-up shot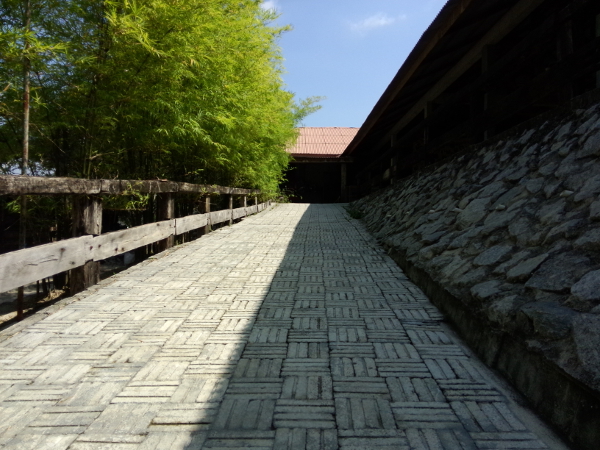 Automatic, 8MP, between light and darkness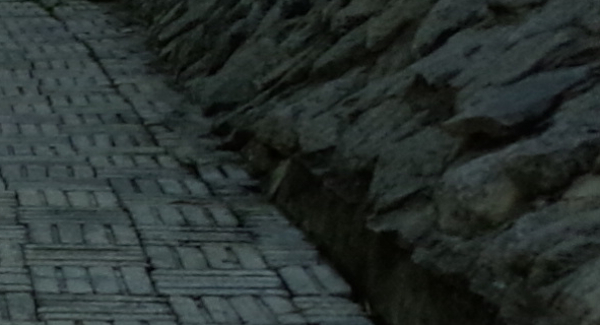 100% crop

Price - Looks good, works well but isn't future-proofed
At RM1298, the OPPO R1 has contenders in the form of the Samsung Galaxy Note 3 Neo LTE, Samsung Galaxy S4 Zoom, HTC Butterfly and Nokia Lumia 820. While it's looks and performance do it well, like the other first wave of OPPO smartphones here in Malaysia, the lack of 4G LTE support is a big limitation as Malaysian networks are heading for faster 4G LTE speeds. That being said, you won't find many smartphones with the same premium good looks and excellent performance at this price than the OPPO R1. For most users, 3G HSPA+ support is more than fast enough for mobile connectivity but it could be a deciding factor for those looking for a smartphone that can support their 4G LTE network of choice.
Conclusion - Great looks and performance in a single package!
The OPPO R1 seriously impressed us with it's great design, premium looks, solid build and excellent performance. It won't beat many smartphones in terms of performance or price alone but there aren't many smartphones like the OPPO R1 which looks very premium, performs better than average yet costs about as much as an average midrange smartphone. The most prominent features of the OPPO R1 remain it's cameras though and should satisfy those looking for a good cameraphone. It's most blaring weakness remains the fact that it does not support much future tech like 4G LTE, but it still offers better than average connectivity. For those 4G LTE users who still want the OPPO R1's good looks and performance, we suggest you wait for the OPPO R1S which does offer 4G LTE support, on top of refreshed tech specs and features as well.
The OPPO R1 introduction video
*TechNave.com would like to thank OPPO Malaysia for the OPPO R1 review unit. It allowed us to do a more in-depth review and highlight more features.