OPPO Reno 4 Pro review: A stylish smartphone with enhanced photography features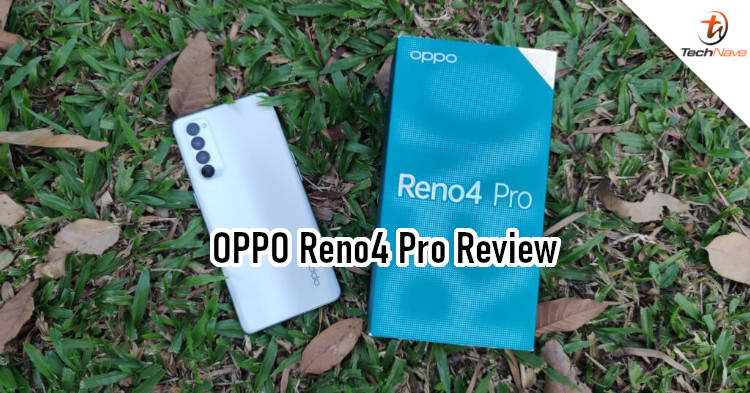 The OPPO Reno has long been a favourite for fans. In particular, the Reno3 series delivered more than what many expected. It has excellent photography capabilities and image stabilisation for videos, allowing users to quickly whip out the phone to shoot videos whenever they want.
A few weeks ago, OPPO launched the new Reno 4 series and it came with new improvements. So, what does the new OPPO Reno4 Pro bring to the table? Let's find out!
Design: Bold design, more comfortable grip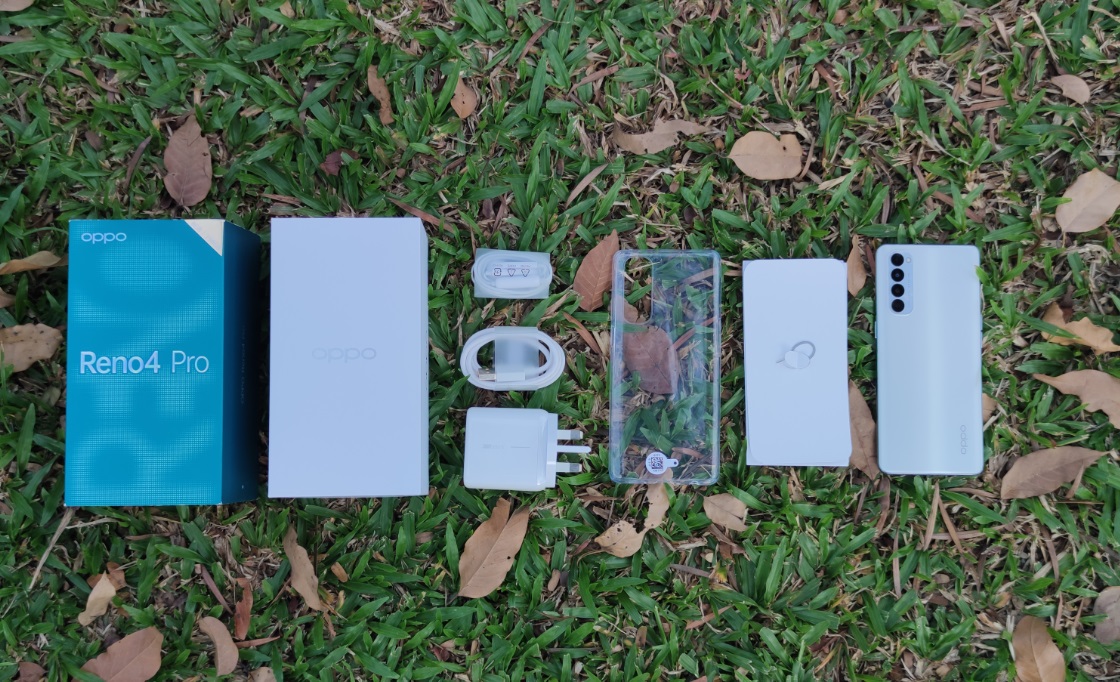 What's inside the box
When our writer first saw OPPO Reno4 Pro, our writer was quite attracted by its back cover design. That and the Reno Glow design makes it look like a phone with a glass back, which really makes the overall design stand out. The phone is available in two colours and the one we got for review was the Silky White colour.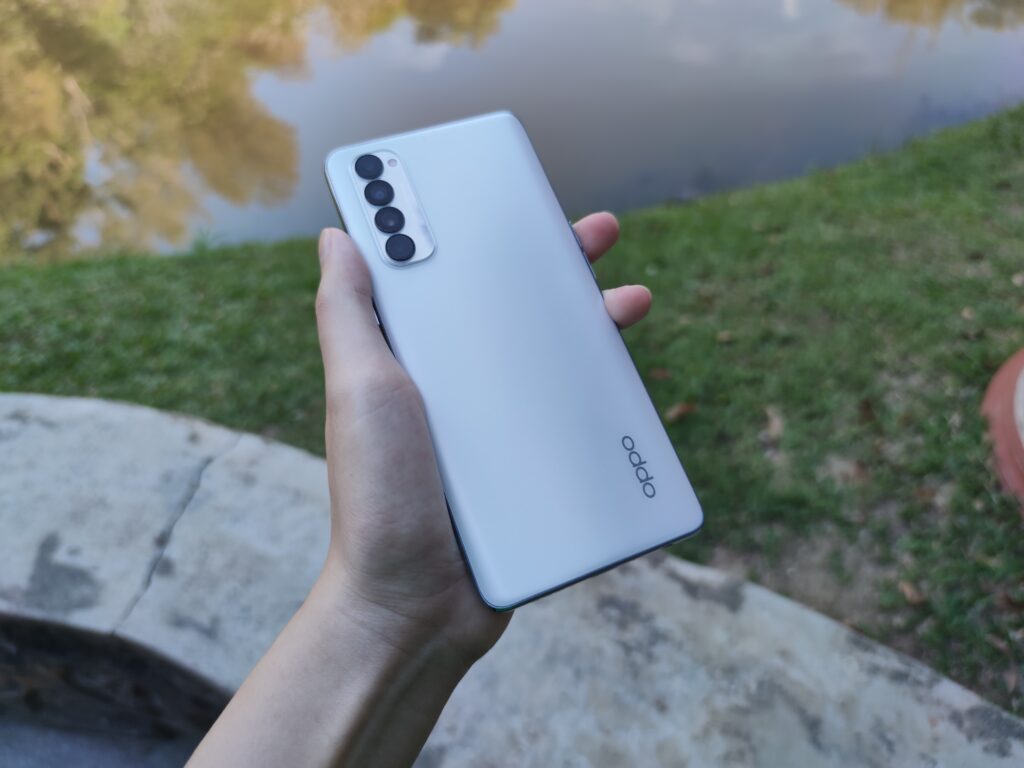 Back of the phone, you can see the quad-camera on the top-left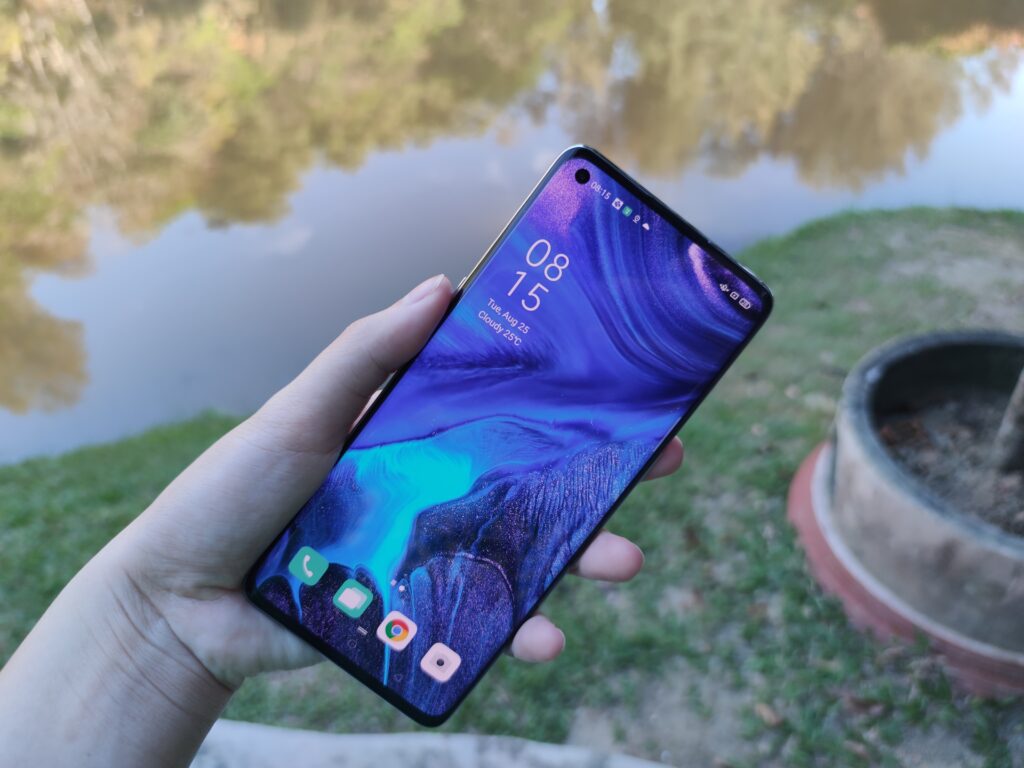 Front with the punch-hole camera
The Reno4 Pro has the rear cameras laid out vertically on the upper left of the phone. Unlike its predecessor, Reno4 Pro has each camera lens protruding from the back. This design may make it more prone to scratches, but does help it stand out more. Of course, whether you like it or not is up to your preference.
On the front, the Reno4 Pro keeps the punch-hole camera from the Reno3 Pro. The display doesn't have the side curves anymore, but the camera now seems smaller and more subtle, which adds to the aesthetics. You can also see that the phone looks thinner and lighter than before.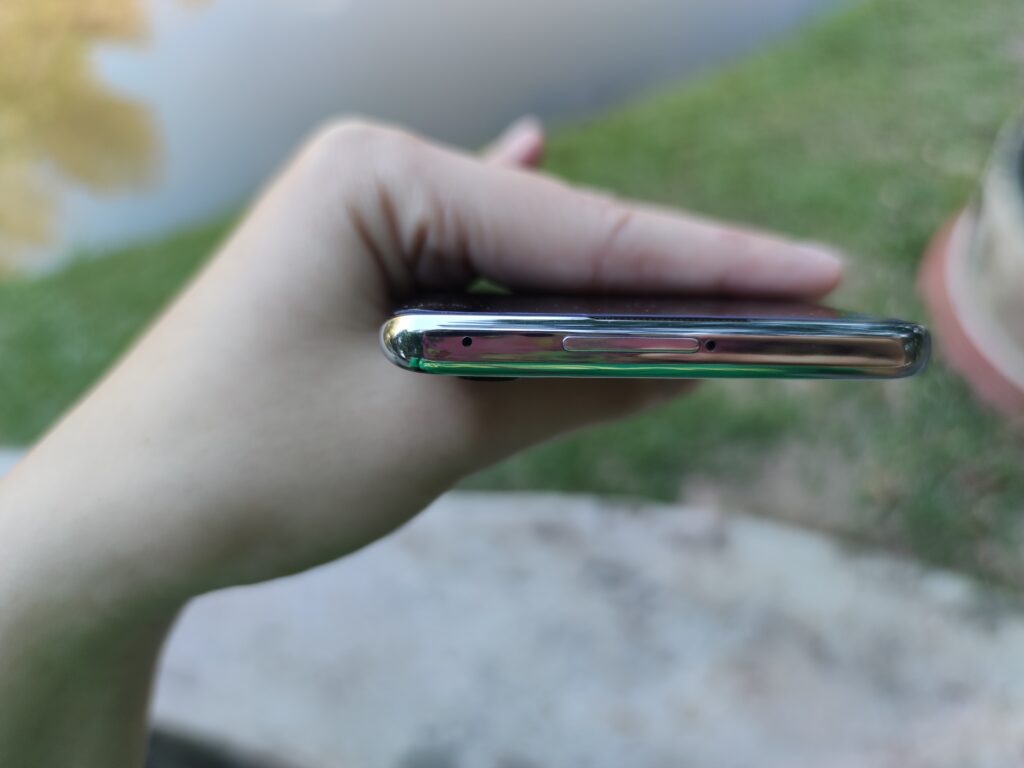 SIM tray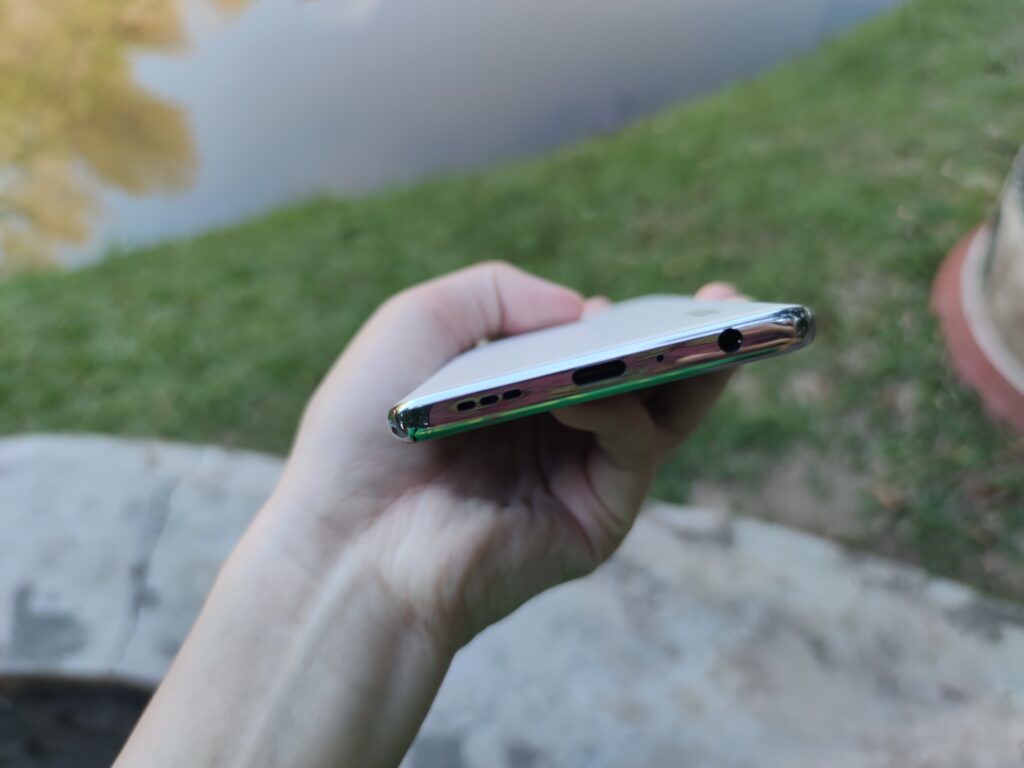 Speaker, USB-C connector, and 3.5mm audio jack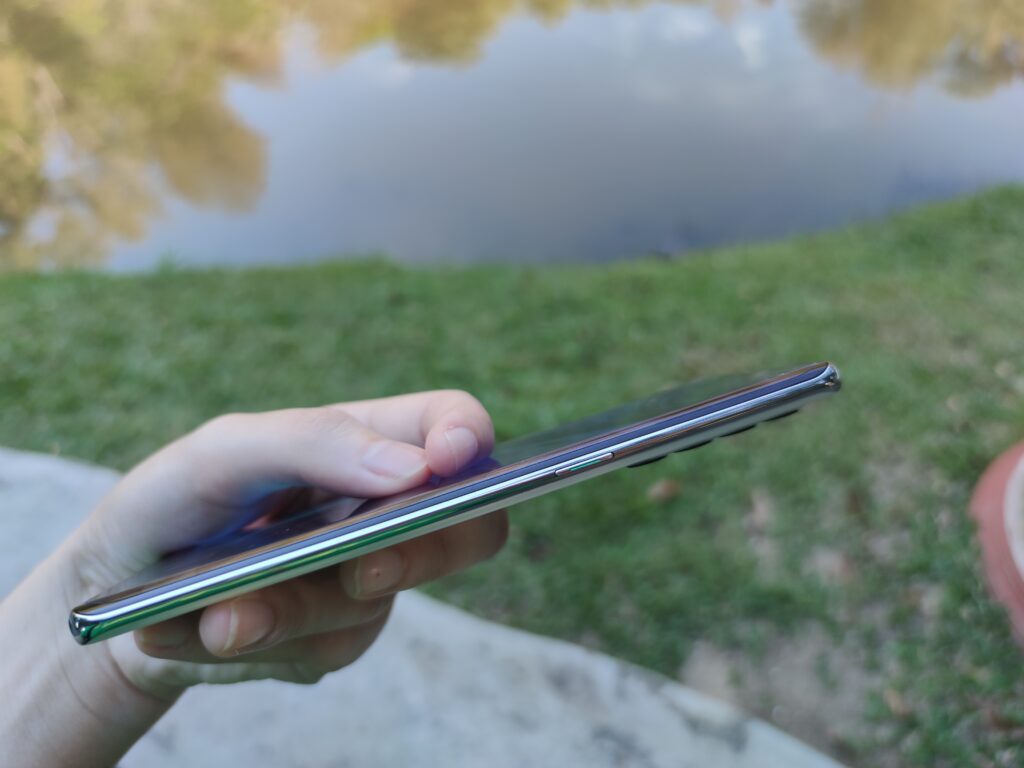 The power button is on the right side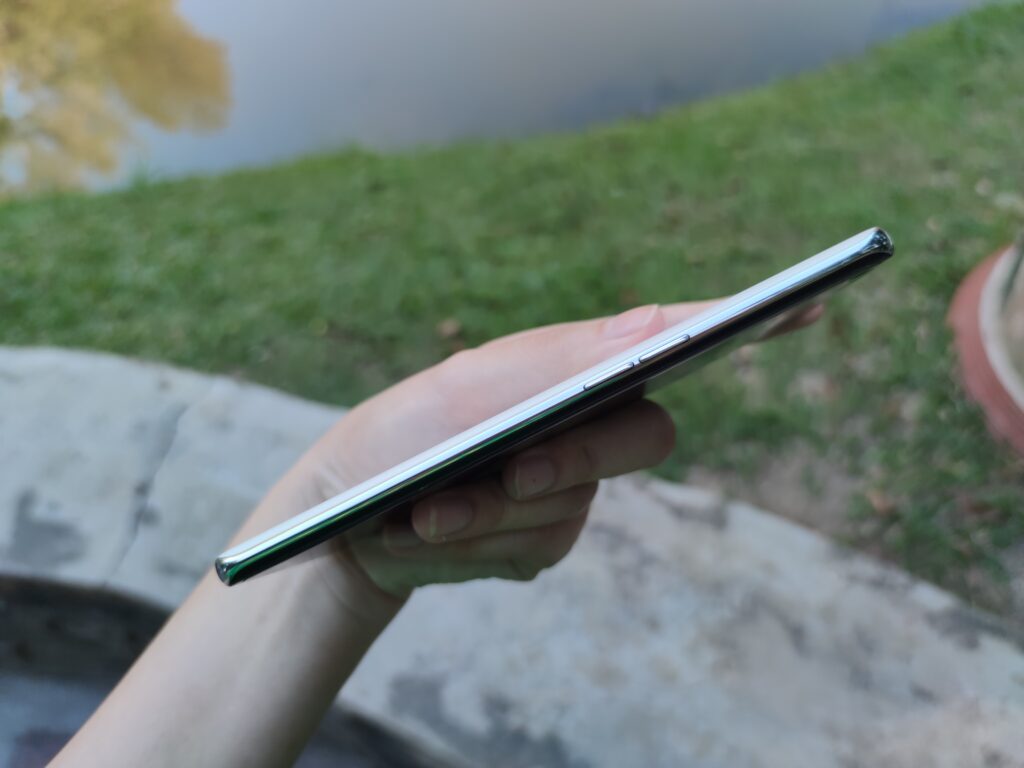 Volume buttons on the left
When it comes to the feel of the device, the Reno4 Pro isn't too heavy at all. Sometimes, we even forget that it is in our pocket, which is surprising. After all, it comes with a 4000mAh battery and plenty of cameras, so making it this light is quite an accomplishment.
We also want to point out how the phone has a matte texture, so it is very friendly to people with sweaty hands. Not only is the grip good but you won't have to worry about fingerprint smudges.
Tech specs and features - Excelling in more than mobile photography
Display: 6.55-inch AMOLED display, 90Hz refresh rate, 180Hz touch sampling rate
Chipset: Snapdragon 720G processor
Memory: 8GB RAM+256GB ROM
Cameras: Rear - 48MP (main) + 8MP (ultra-wide) + 2MP (macro) + 2MP (black and white); Front - 32MP
Battery: 4000mAh, support 65W SuperVOOC 2.0
Support under-screen fingerprint technology
The Reno4 Pro comes in one configuration only, which has a Snapdragon 720G chipset, 8GB of RAM, and 256GB of internal storage. It does have a microSD expansion slot, so you can add one in if you need more storage.
As mentioned, the Reno4 Pro comes with a few new tricks up its sleeve. One of it would be the 90Hz screen refresh rate. You can also set the refresh rate to 60Hz or have the phone automatically adjust itself. But from our experience, leaving it at 90Hz is fine as the power consumption rate is quite similar.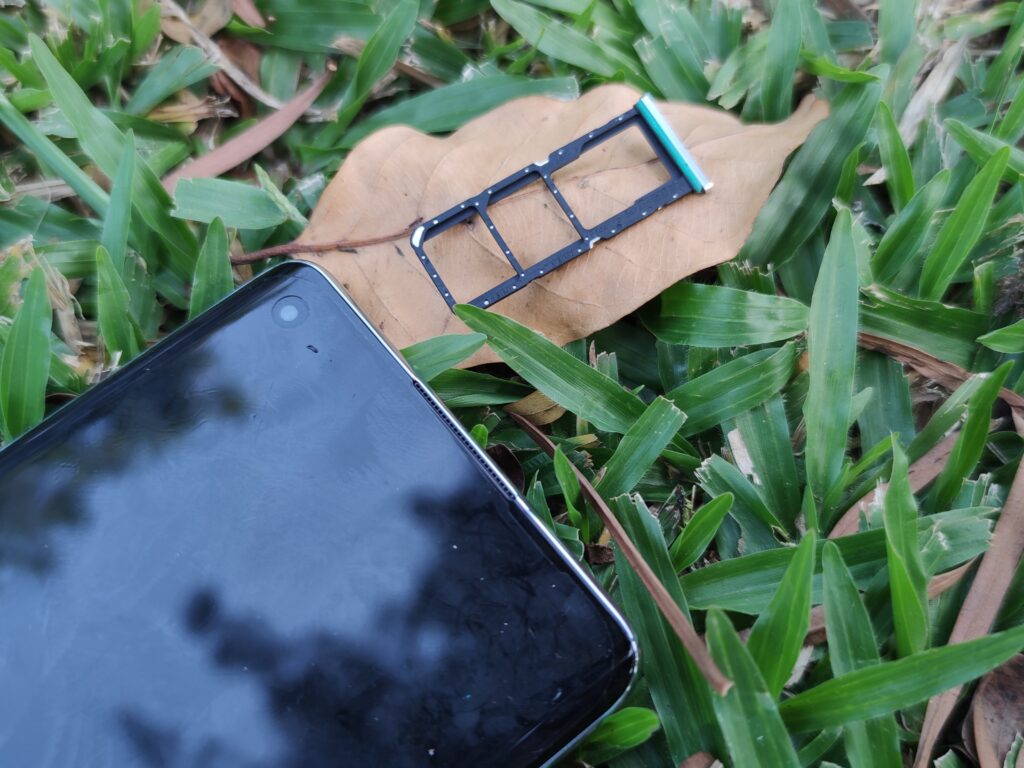 You can insert two SIM cards and a microSD card in one go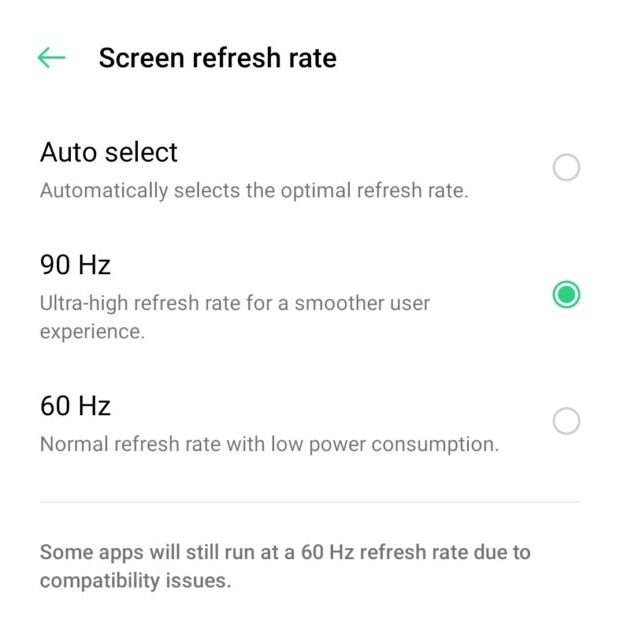 You can let the system auto-select the refresh rate or do it manually
The Reno4 Pro has four cameras at the back, consisting of a 48MP main lens, 8MP ultra-wide lens, 2MP macro lens, and a 2MP lens for black and white portrait shots. In terms of features, OPPO has improved and expanded its Ultra Steady feature. There's now a Pro mode for the rear cameras and the front camera can also use Ultra Steady mode.
Besides that, there are also new functions added to the AI portrait mode. For example, you can do things like converting the background to monochrome, without having to post-edit. Even people who are not particularly fond of taking pictures may enjoy playing around with the many modes.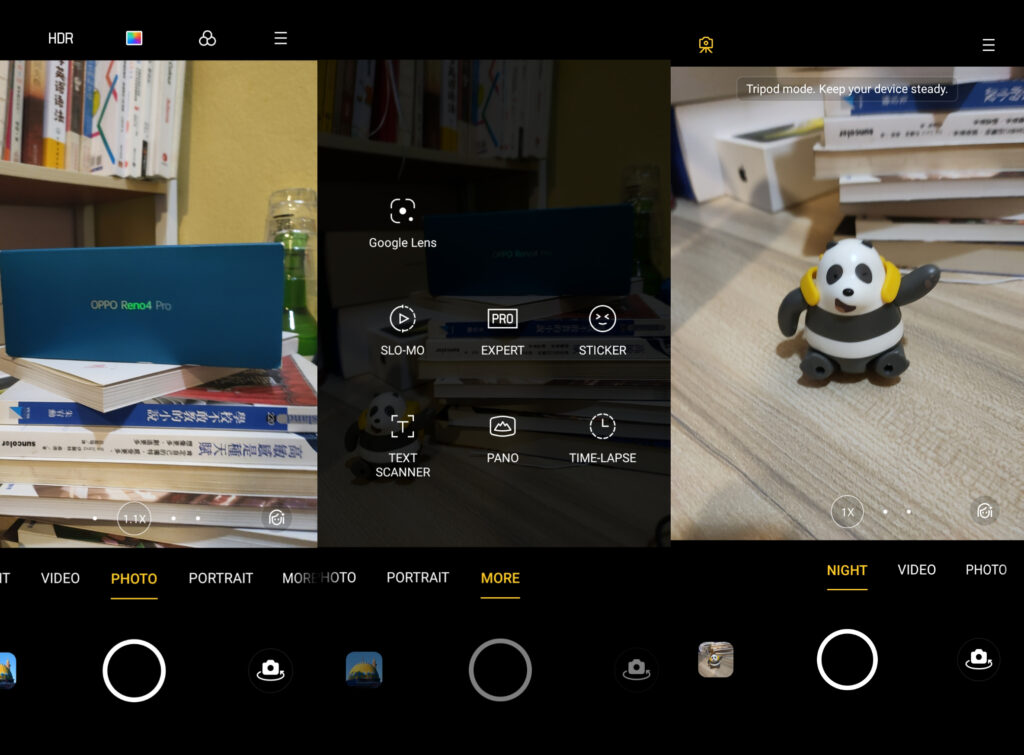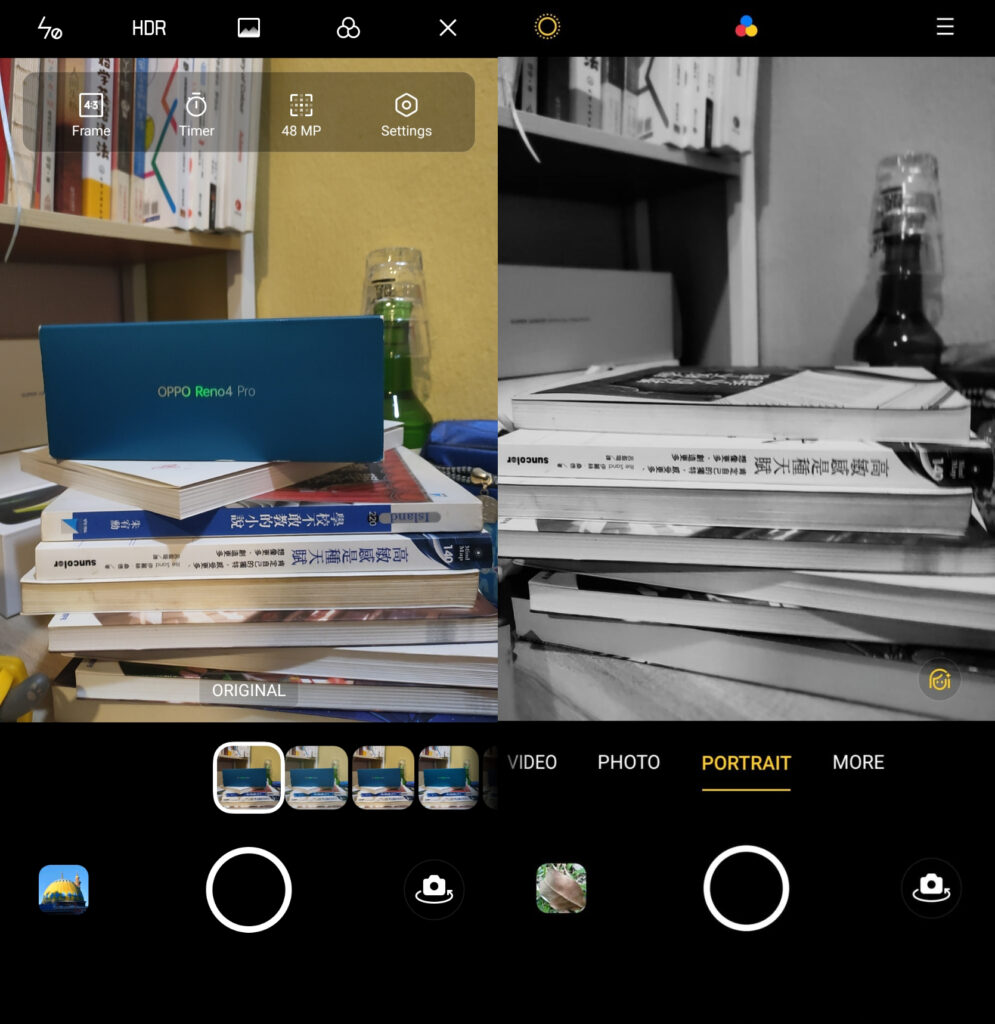 Some camera modes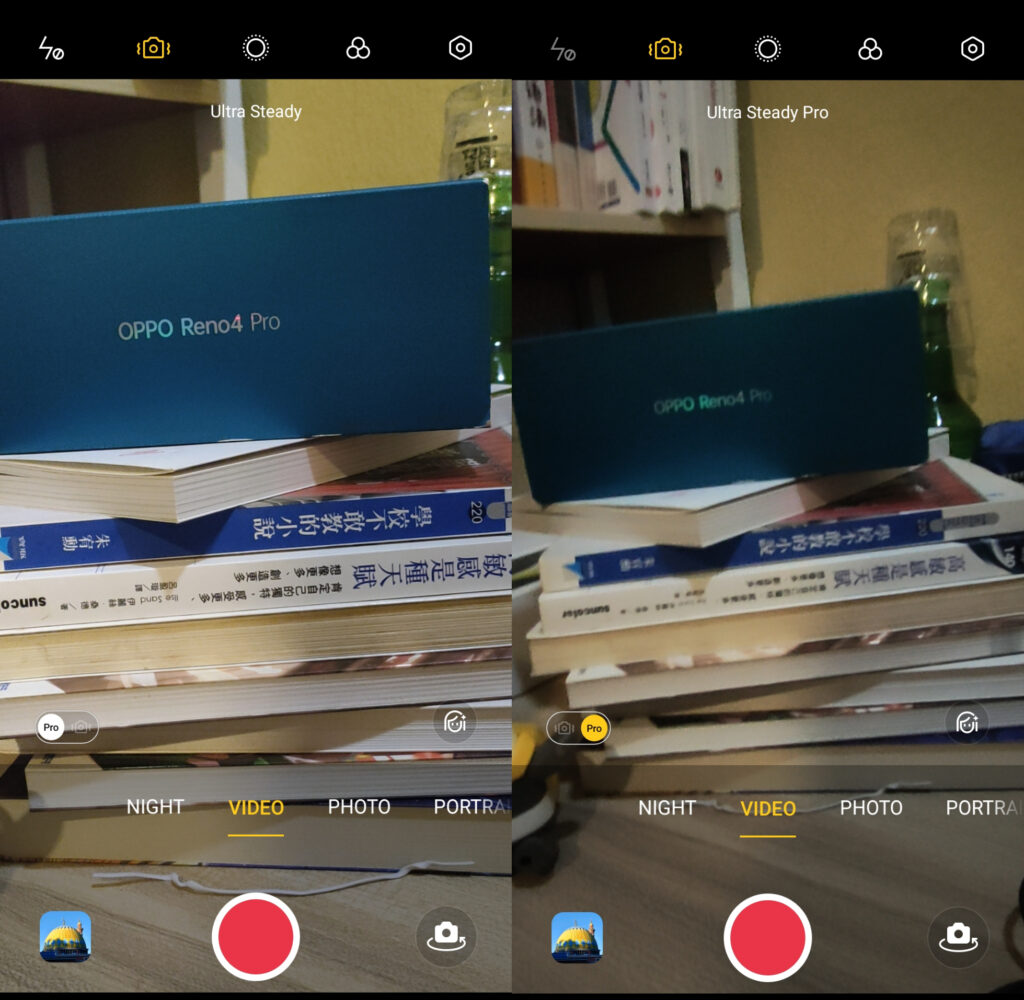 Ultra Steady mode (left), Ultra Steady Pro mode (right) - When Pro mode is on, it switches to the ultra-wide camera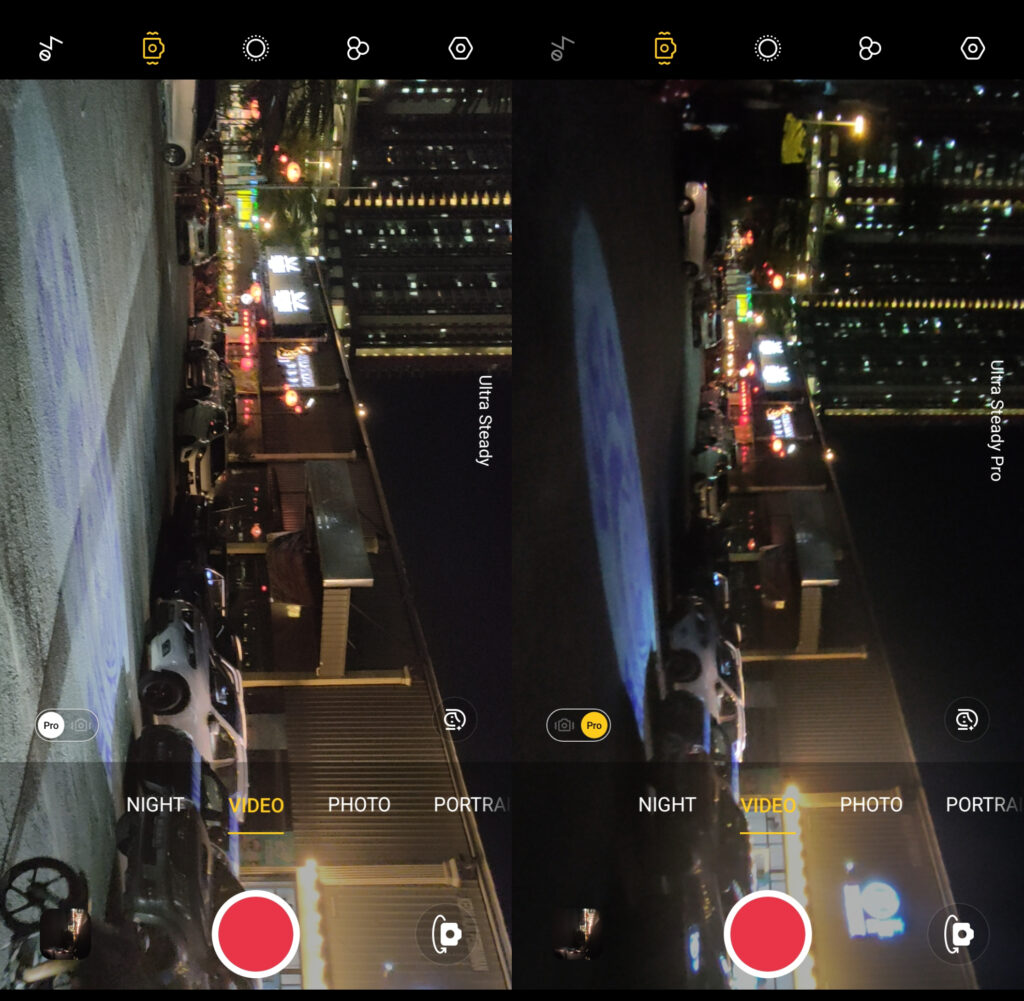 In low-light situations, Pro mode doesn't perform as well
From our experience, the images taken with Ultra Steady Pro mode have lower quality, especially in low-light environments. Pictures often lacked brightness and the noise level was quite high. With that in mind, it's probably best to use the standard Ultra Steady mode when recording in low-light areas.
If you record while you are walking, Ultra Steady mode is good enough to keep your videos stable. But if you run while recording, the video starts getting a bit more unsteady. In that case, you'll probably Ultra Steady Pro mode instead.
Ultra Steady Mode
Ultra Steady Mode Pro
Ultra Steady Mode Pro (low-light)
Ultra Steady mode with the front camera
As we've mentioned, the front camera also supports the Ultra Steady mode now. It's a little shaky compared to videos taken with the rear cameras, but overall it's not bad.
Another feature that the Reno4 Pro has is an under-screen fingerprint sensor. It's not that fast but works even if your finger is wet. There's also face unlock, which is faster and even works in low-light environments.
Other interesting features include the smart assistant, game assistant and game space. Among them, the game assistant is nice to have as you can reply to WhatsApp messages while gaming.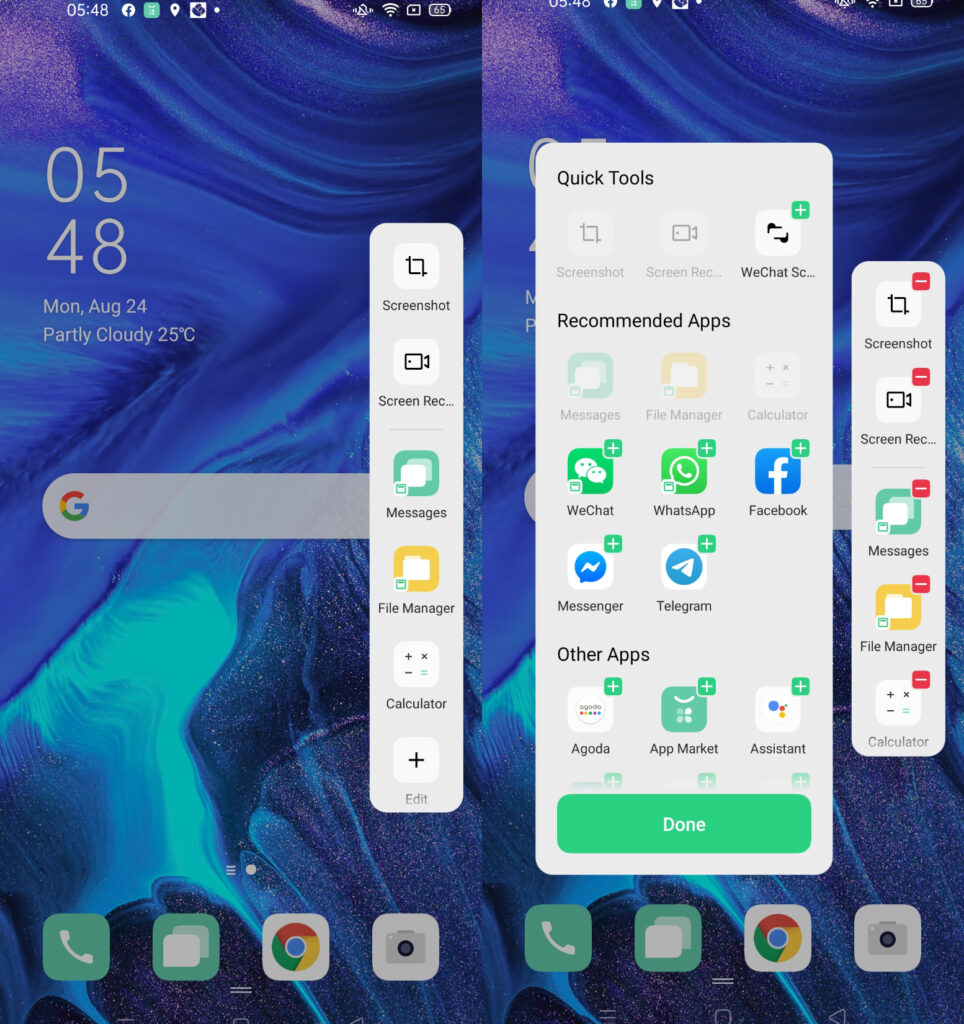 Swipe to the left for the smart assistant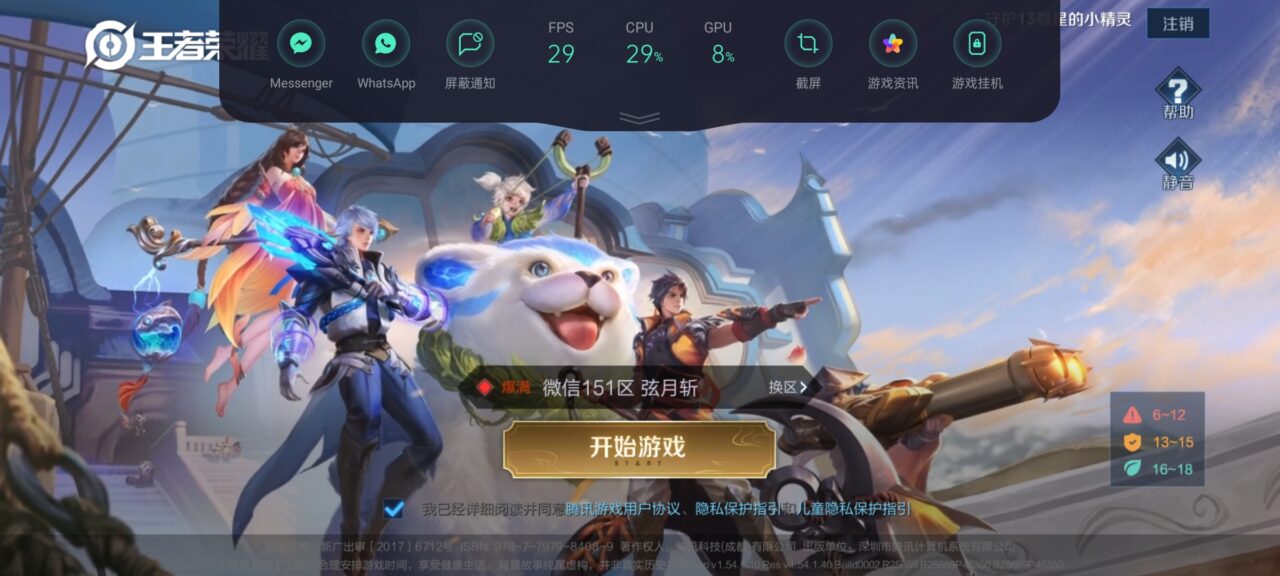 Swipe down on the top left to open the game assistant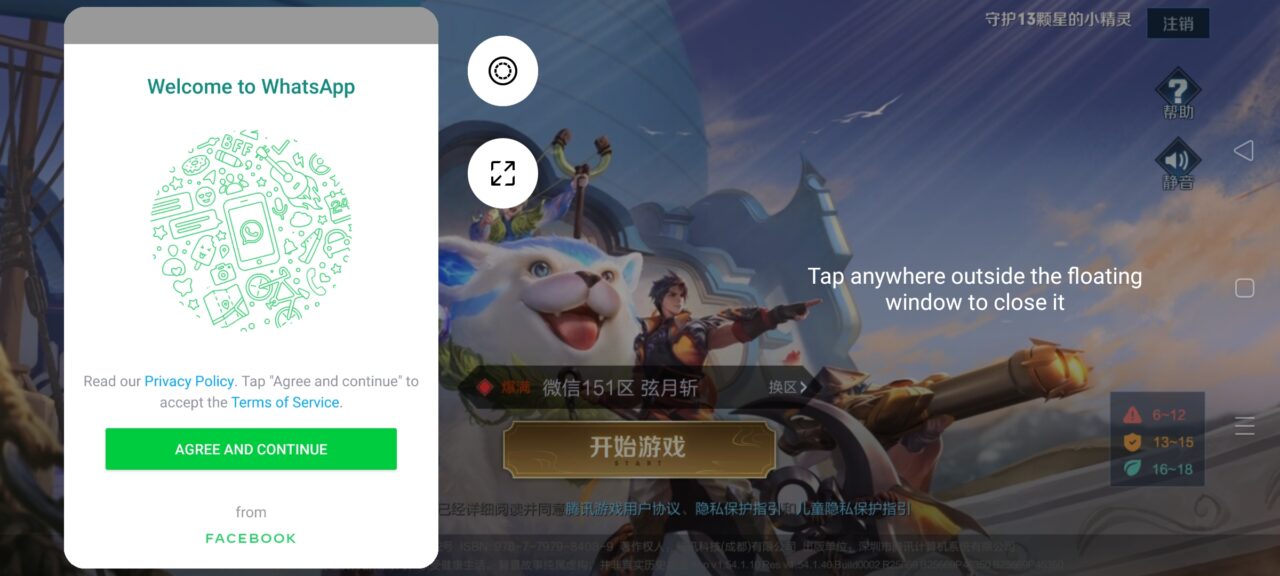 You can have another app like WhatsApp as a floating window
Performance - Nothing impressive, but gets the job done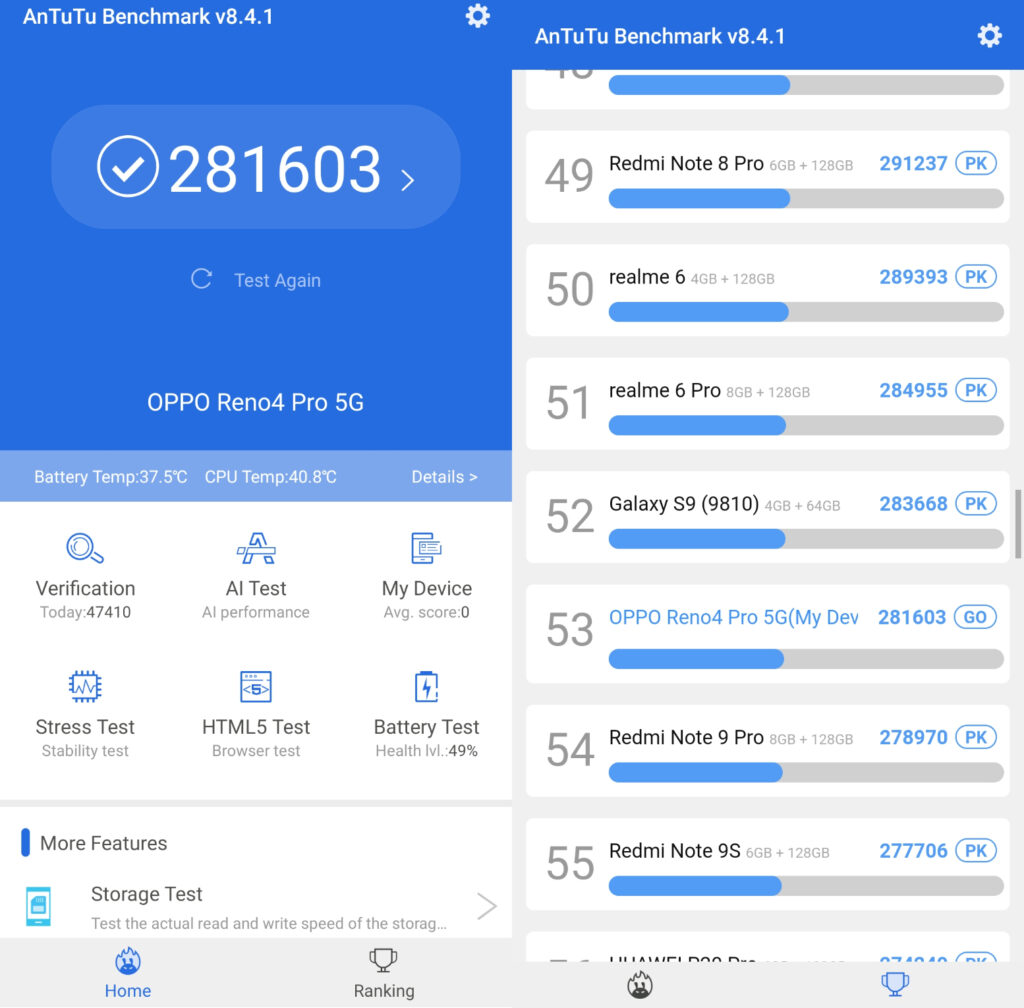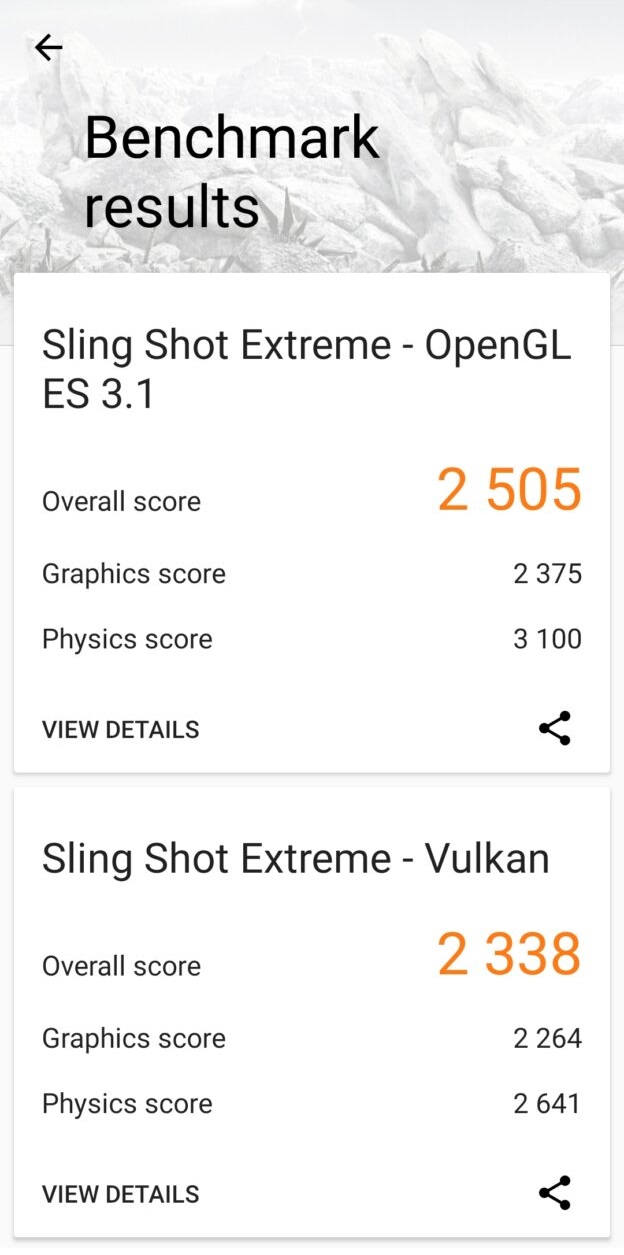 Equipped with a Snapdragon 720G chipset, the Reno 4 Pro managed 281603 points in Antutu and 2505 points in 3DMark OpenGL ES 3.1 mode. For a mid-range device, the performance is quite good.
One of our writers played Honor of Kings and KartRider Rush on the phone and didn't encounter any major problems. The image quality and game experience performance were great and there was no lag, which is more than enough for the average mobile gamer. On the other hand, some games like PUBG Mobile require more GPU power, so we did experience some lag and stutters with those.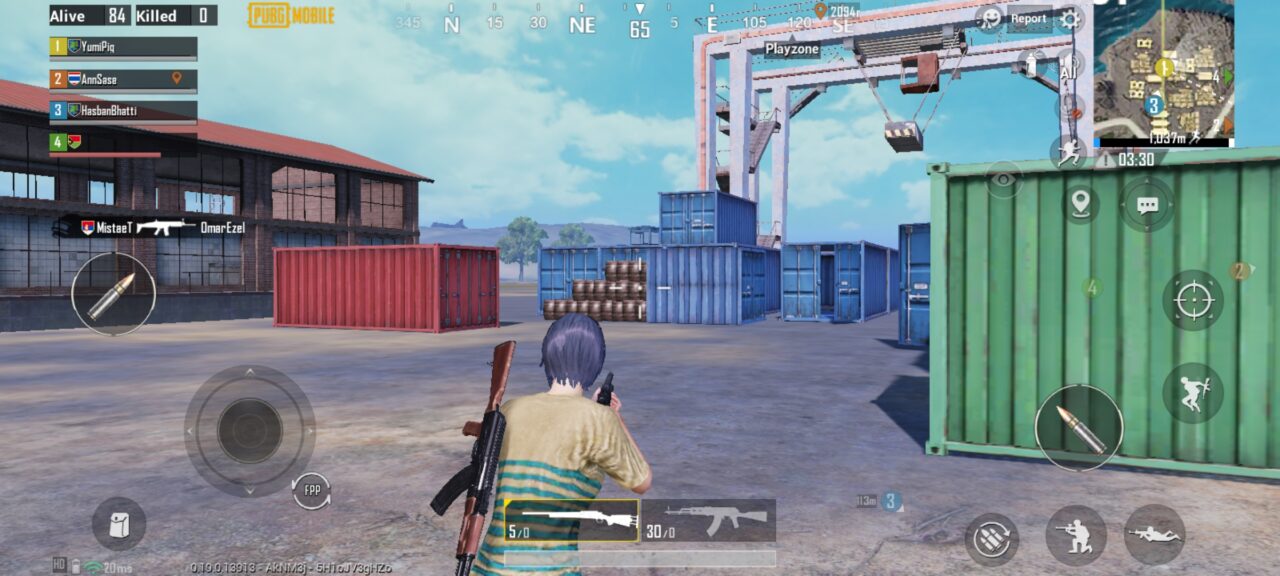 PUBG Mobile will run, but the frame rates are kinda bad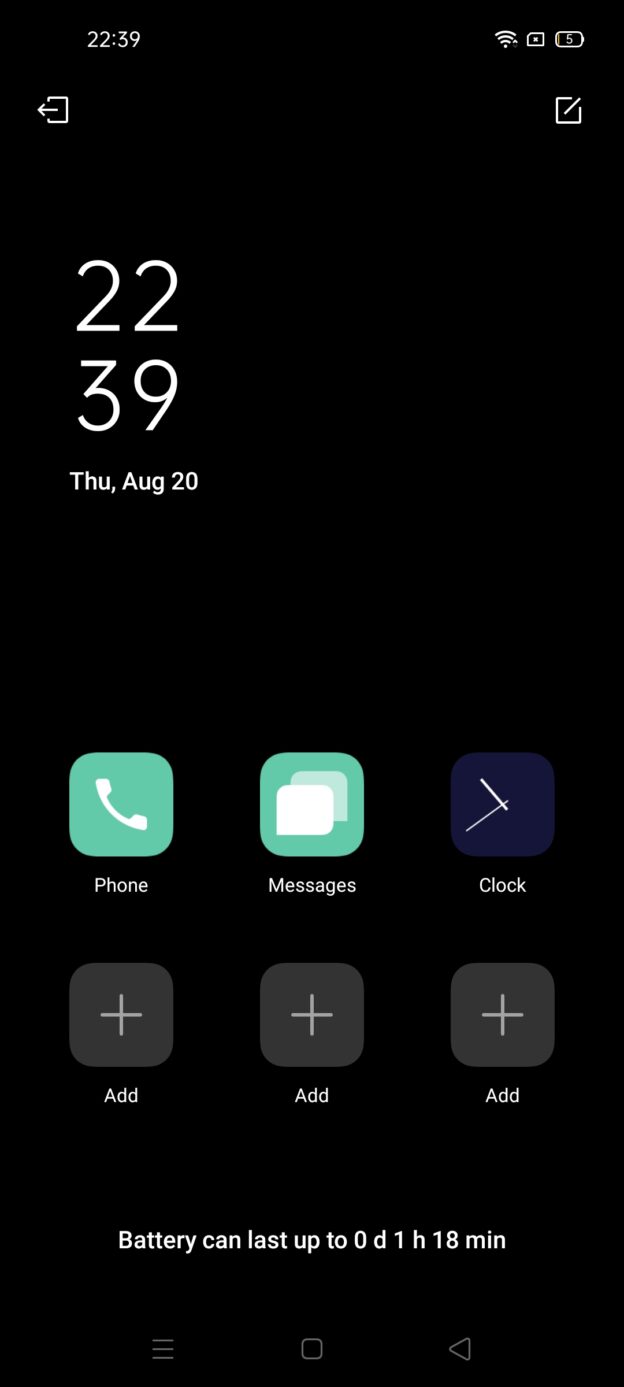 The phone can last for quite a bit even with just 5% of battery left
In terms of battery life, the phone has a 4000mAh battery and supports 65W fast charging. During our tests, we found that the phone can charge up to 61% in 15 minutes and fully charges in about 38 minute, which lines up with OPPO's claim.
If you don't tax the battery much, you'll only need to charge the phone once every 2 days. We have also tried watching Youtube videos on the phone with 4-5% of battery left and it only died after 30 minutes. Even if you're a heavy gamer and take a lot of photos, the phone can last an entire day.
Moving on, let's talk about photography on this phone. Overall, the Reno4 Pro's cameras perform quite well. However, the colours can be too vibrant and the colour accuracy could use some improvement. Also, photos taken tend to look brighter than the actual environment, though not to the level where it's overexposed. This is because the software will adjust the brightness to prevent overexposure. At the same time, it will enhance the contrast to maintain the details in the photo.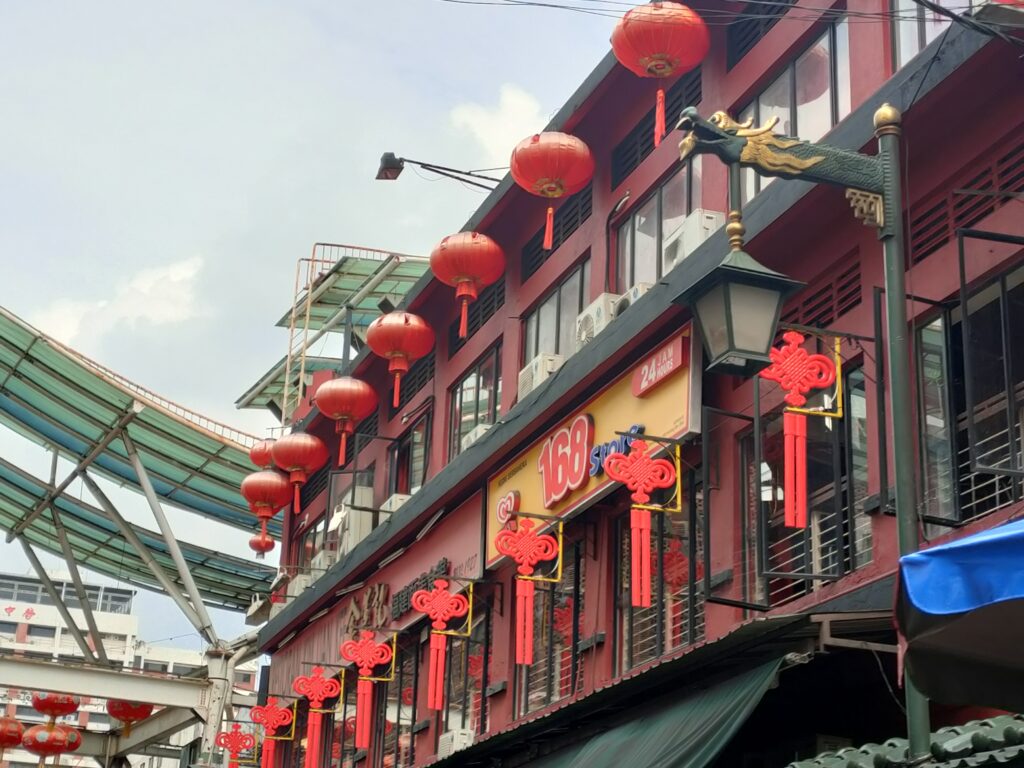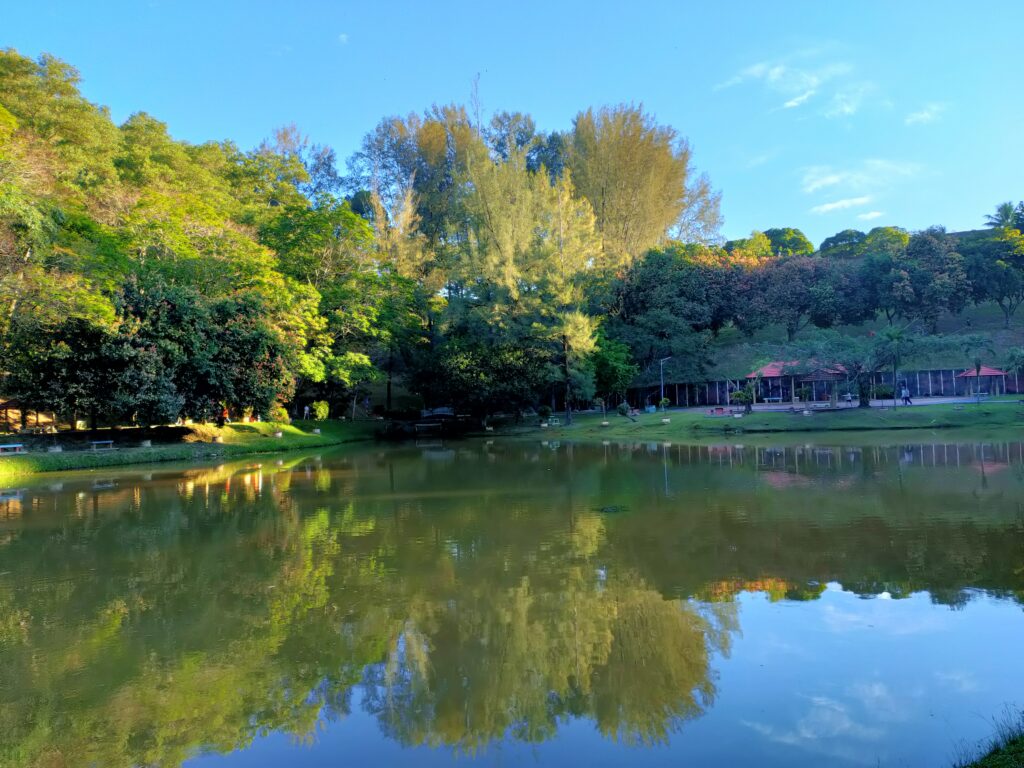 Normal mode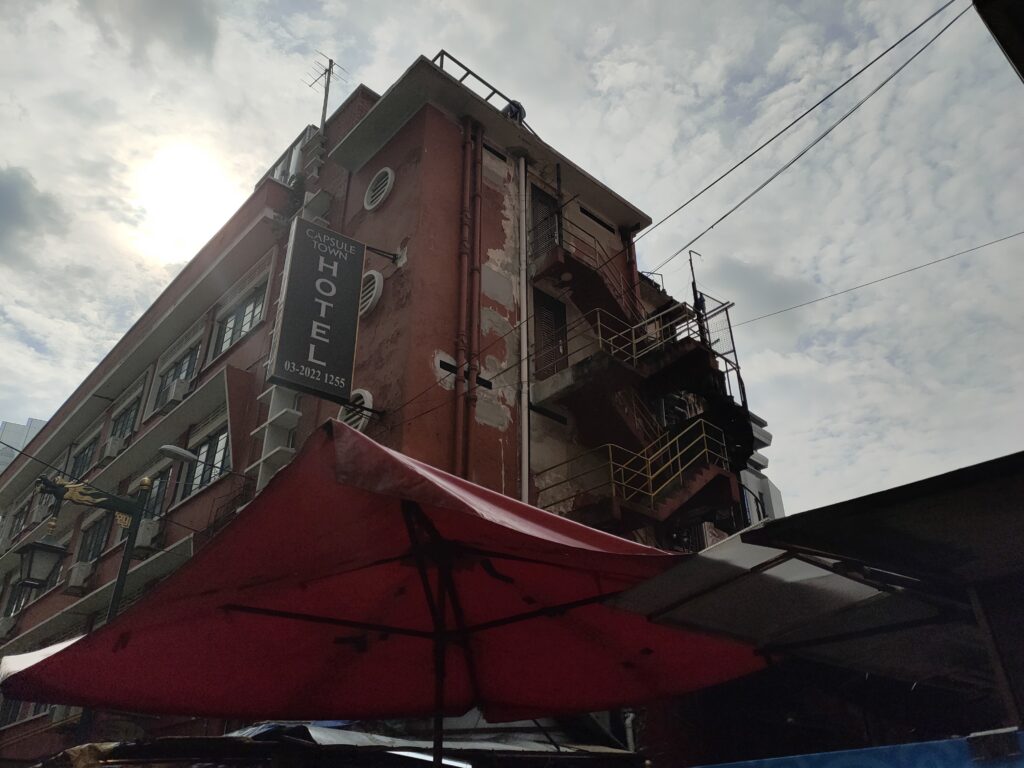 The phone will attempt to adjust bright areas in the photo to avoid overexposure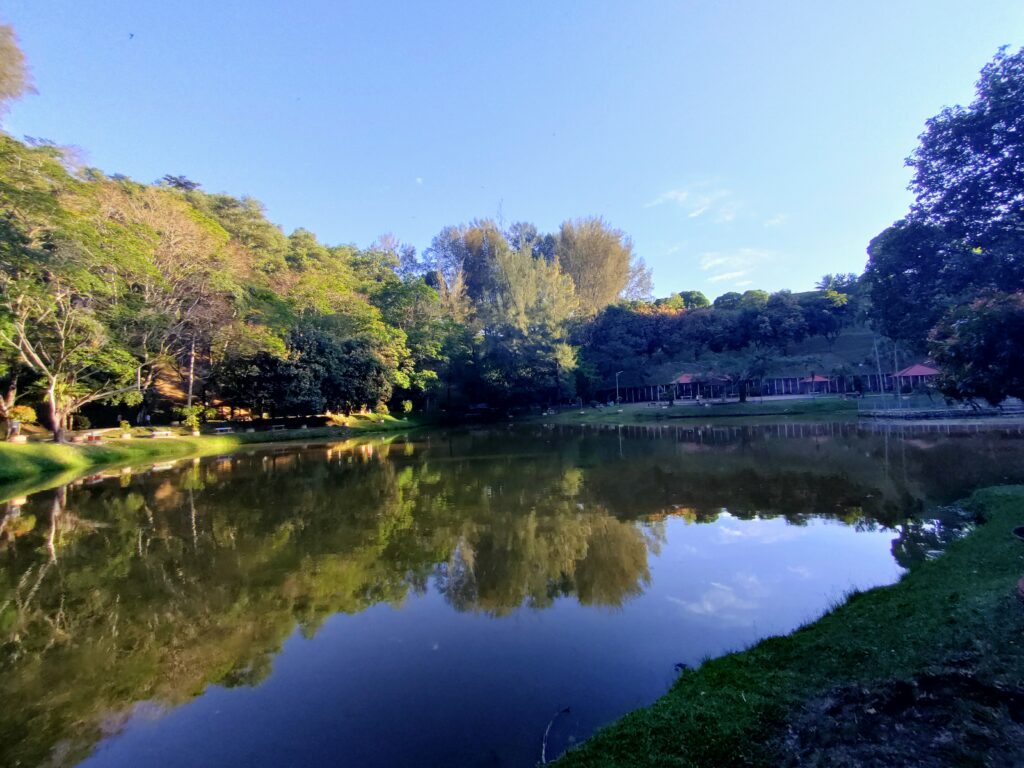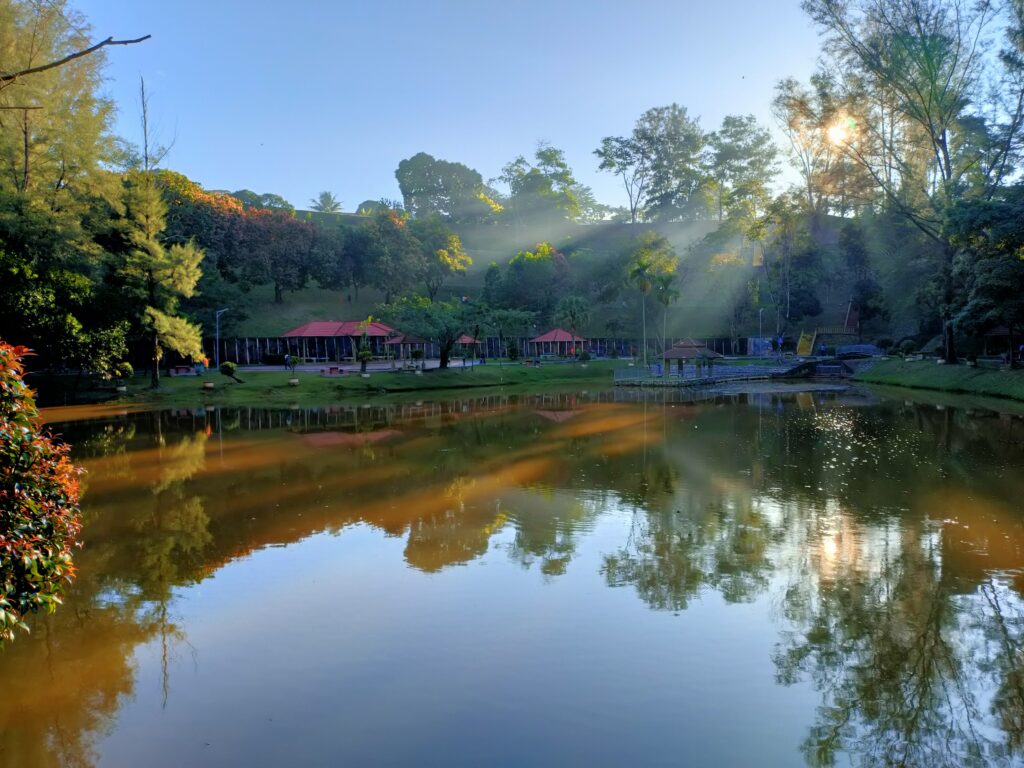 Ultra-wide mode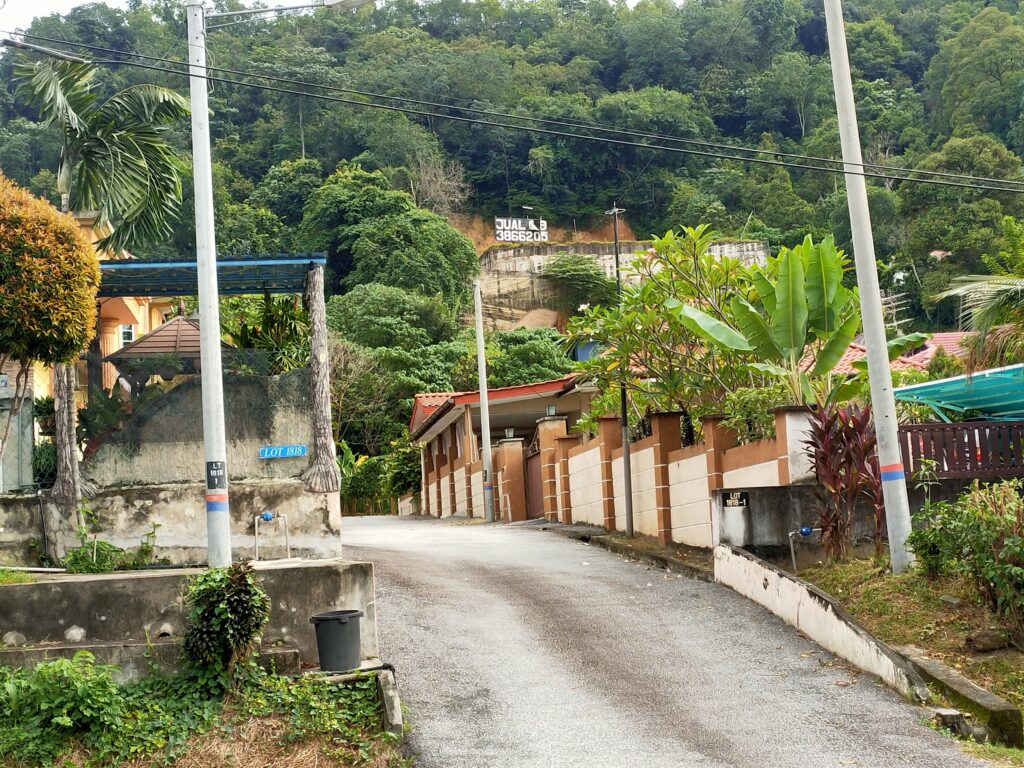 2x zoom
3x zoom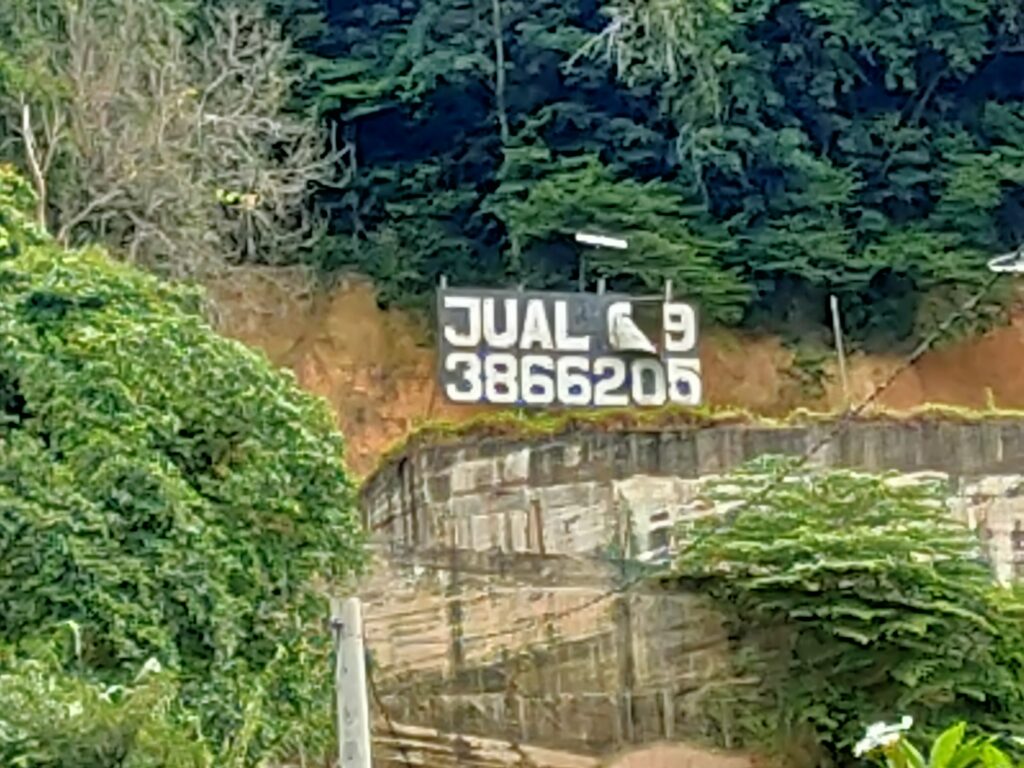 5x zoom
Users can also choose to adjust the resolution to 48MP mode. Compared to normal mode, the colours turn out quite similar. If you're taking a random photo, you can stick with normal mode to save storage space. Additionally, the phone comes with a zoom of up to 10x. It's not the highest zoom we've seen, but it's enough for most situations.
When taking photos at night, the Reno4 Pro performed well in scenes with lights, and all the details were preserved. With the super night scene mode on, the brightness in photos is better. However, you'll get a lot more noise. If you want to use the night mode, it's best to enable it only when the environment has very low-light.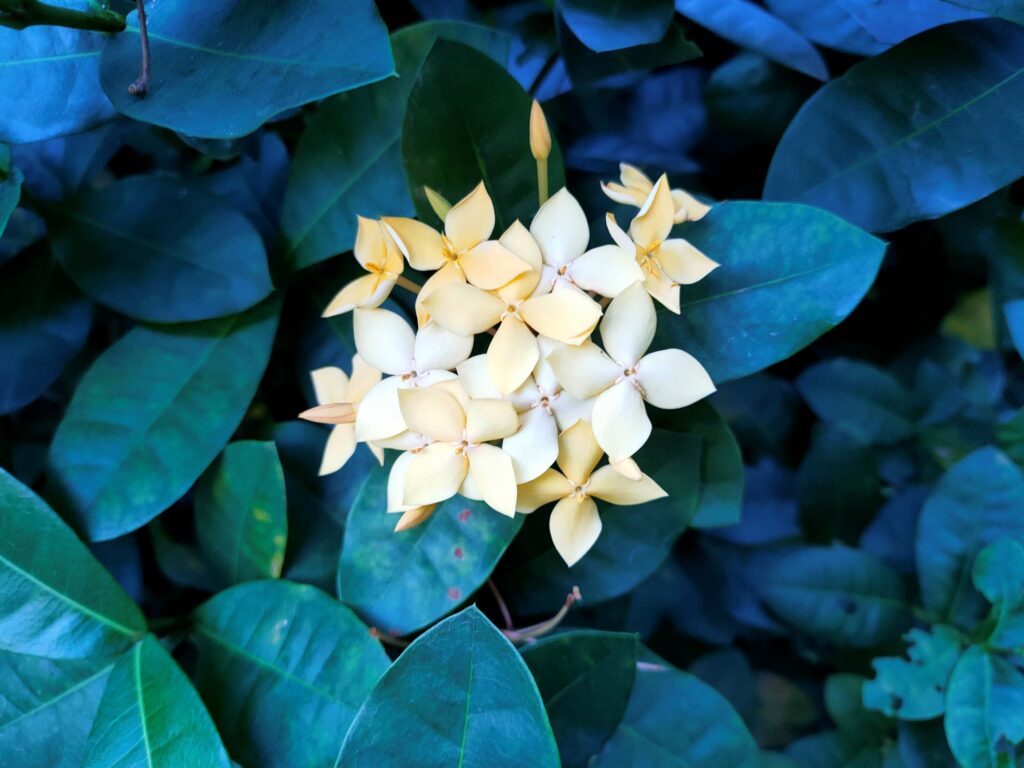 48MP camera mode shooting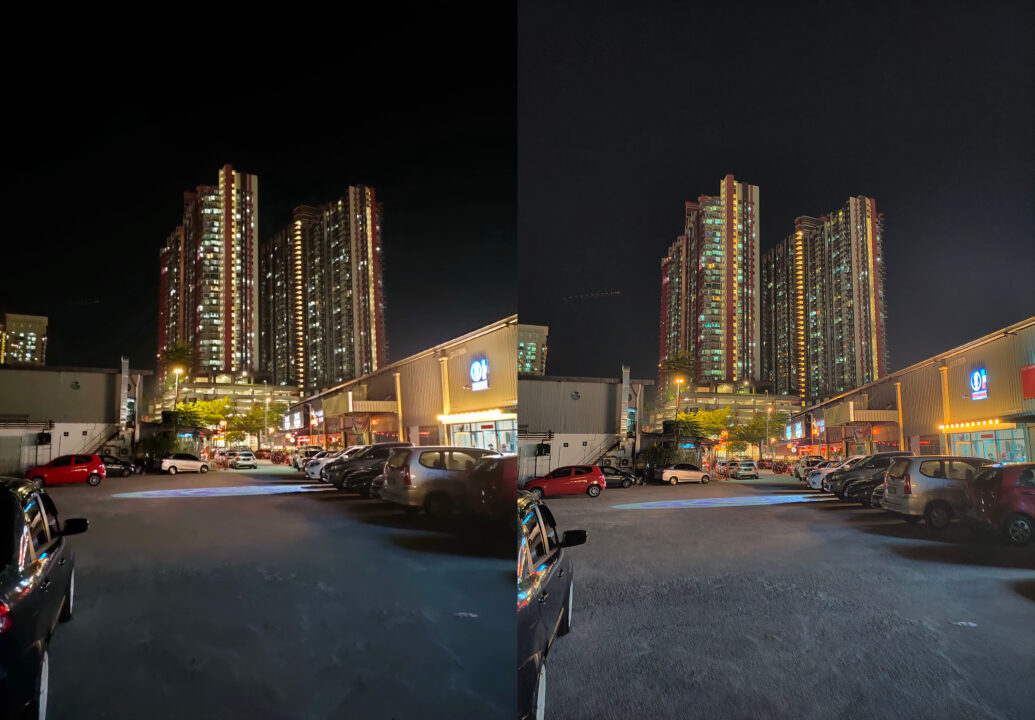 Normal mode (left), Super night scene mode (right)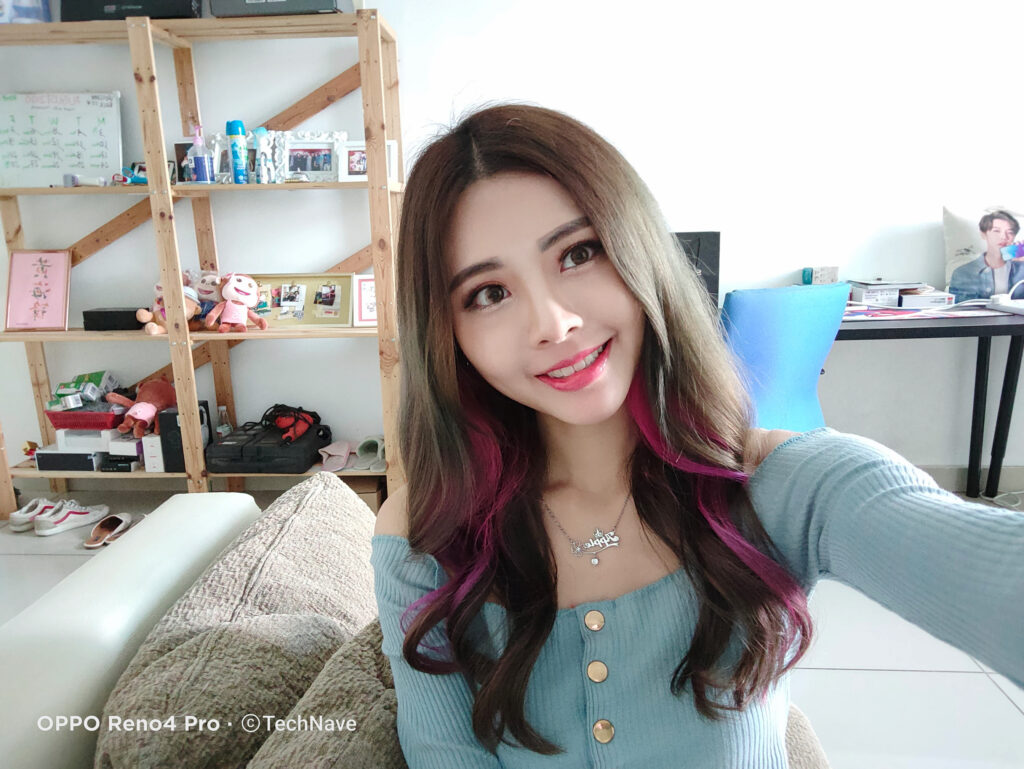 Front camera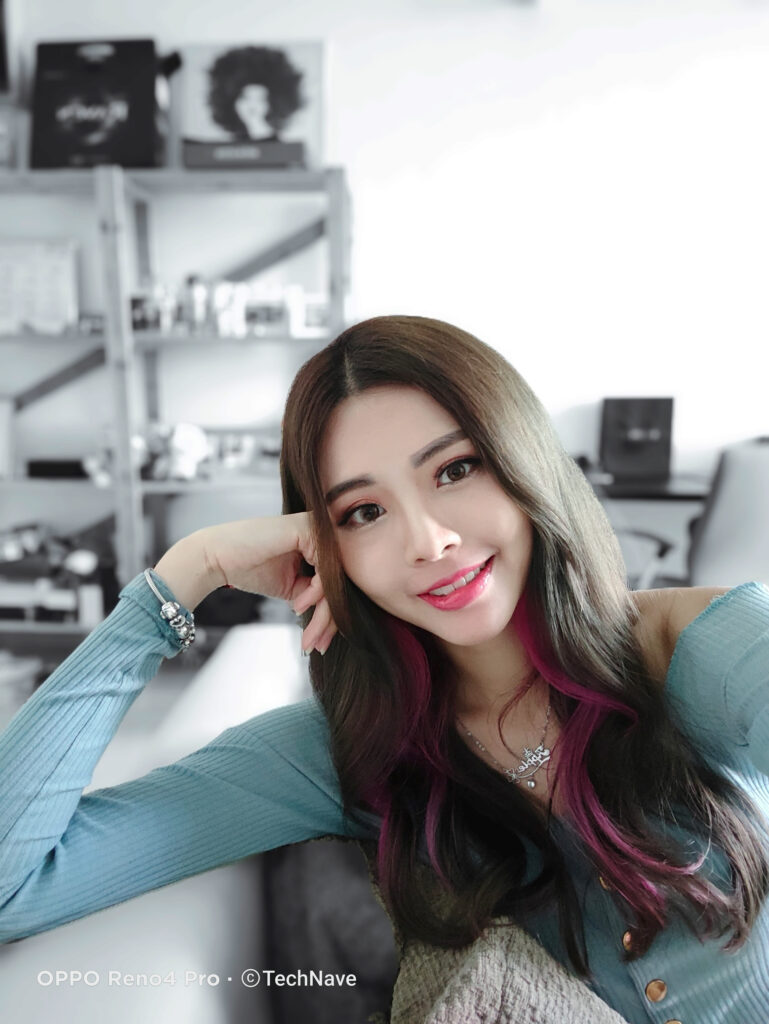 Front camera (Portrait mode)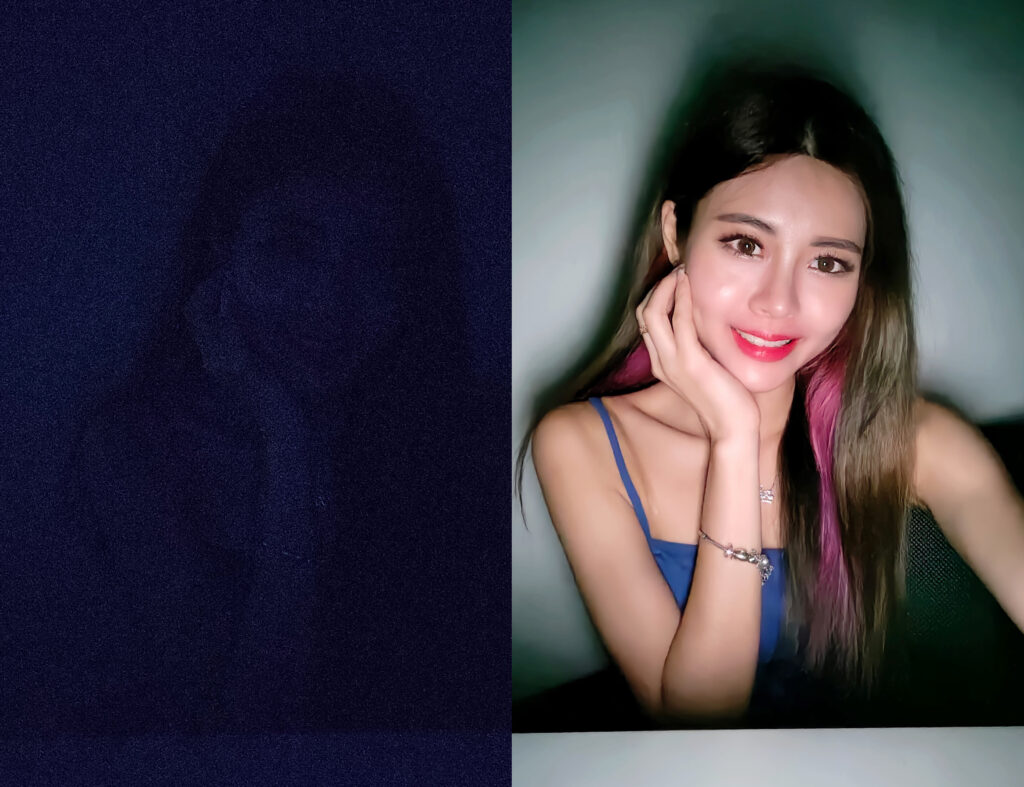 Front camera (Super night scene mode): Off (left), On (right)
Conclusion - Better photos and a winning design
Overall, the OPPO Reno4 Pro has greatly improved in mobile photography and video recording. The added features really help expand what you can do with the phone's cameras. It also has a much faster 65W SuperVOOC 2.0 fast-charging, as well as a very slim and light body with a design that will appeal to young people.
In terms of performance, it's more than enough for some mainstream games but may struggle for more GPU demanding games. At RM2399, the Reno 4 Pro isn't the most affordable if you look at its specs. But it's great if you are into mobile photography and want a phone with good battery life and 65W fast-charging.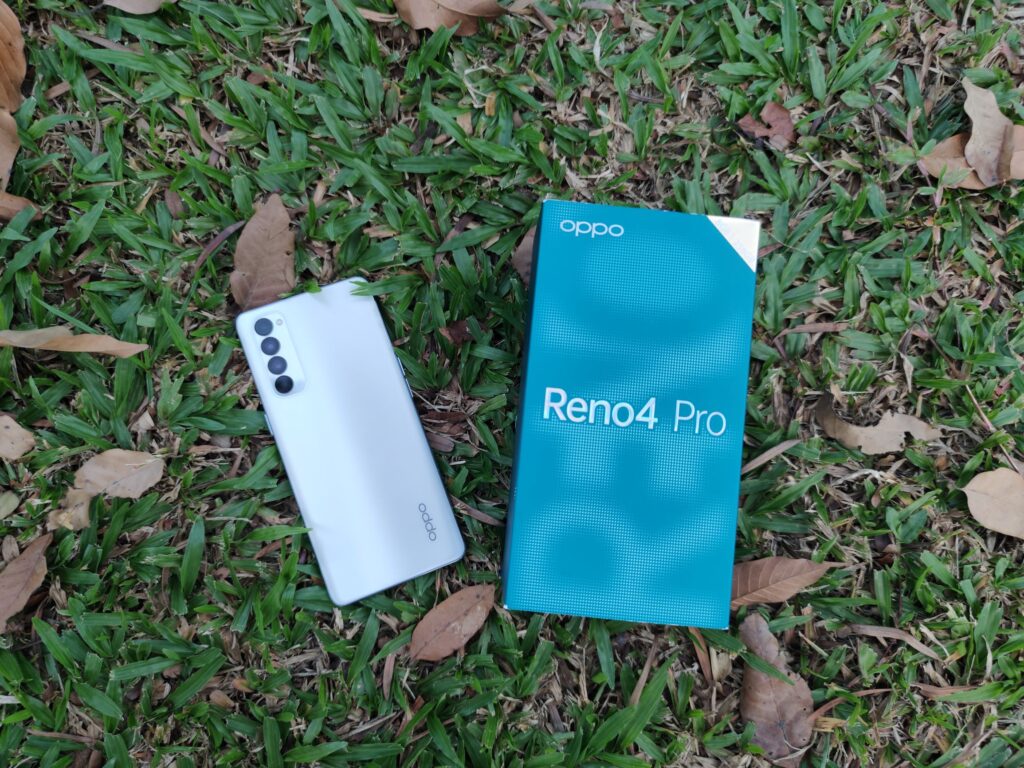 Other options in the same price range would be the vivo X50, realme X3 Super Zoom, and nubia Red Magic 5G. If you love playing games on your phone, then the Red Magic 5G is the better option. For those who want to game and take pictures, there's the realme X3 Super Zoom. Lastly, for those who want a phone with more modest specs but even better cameras, you can go for the vivo X50 instead.
That ends our review of the OPPO Reno4 Pro! For more product reviews like this, stay tuned to Technave.com.
Oppo Reno 4 Pro Specs & Price >