Online guide to Huawei Malaysia's Mega Online Sale Day on 11 November 2018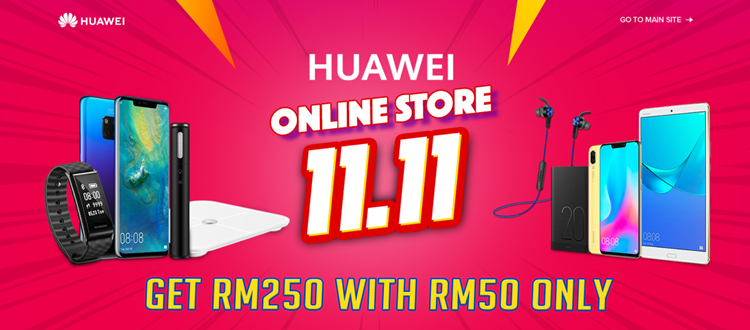 So we have been posting quite a few posts about the Mega Online Sale Day by Huawei Malaysia for a couple of days now. With just a day away from 11 November 2018, we figured that we will just do a compilation of all the promos that they are having. Without further ado, below is our guide to Huawei Malaysia's Mega Online Sale Day!
Grow Your Shopping Money
So first up, Grow Your Shopping Money helps you to grow your shopping funds more and more in the Shop.Huawei. Currently, there are three types of rebate vouchers and depending on which one you buy, you will have some extra funds returned. Currently, we think the RM50 voucher purchase is the best one as the value of the rebate is RM200. Do note that you have to purchase this before 11.11. Below is the table chart for your reference:
| Voucher purchase | Amount Value of Voucher | Value of Rebate |
| --- | --- | --- |
| RM50 | RM250 | RM200 |
| RM40 | RM160 | RM120 |
| RM30 | RM90 | RM60 |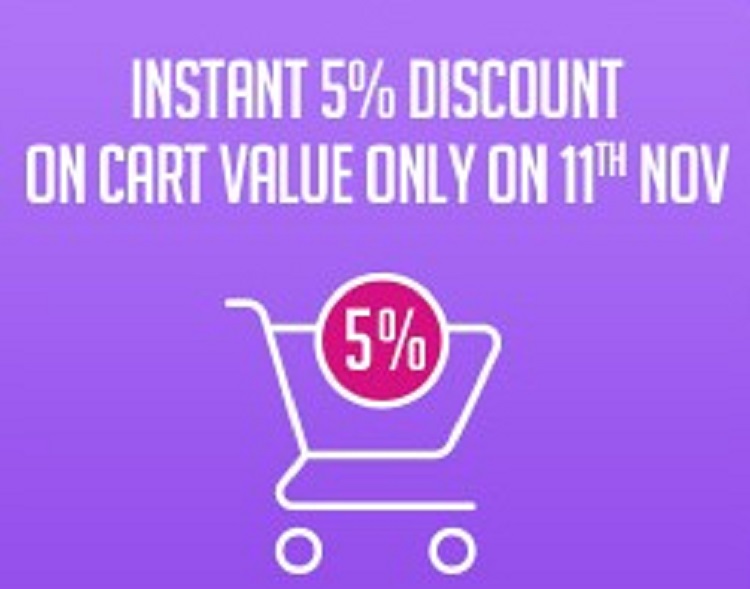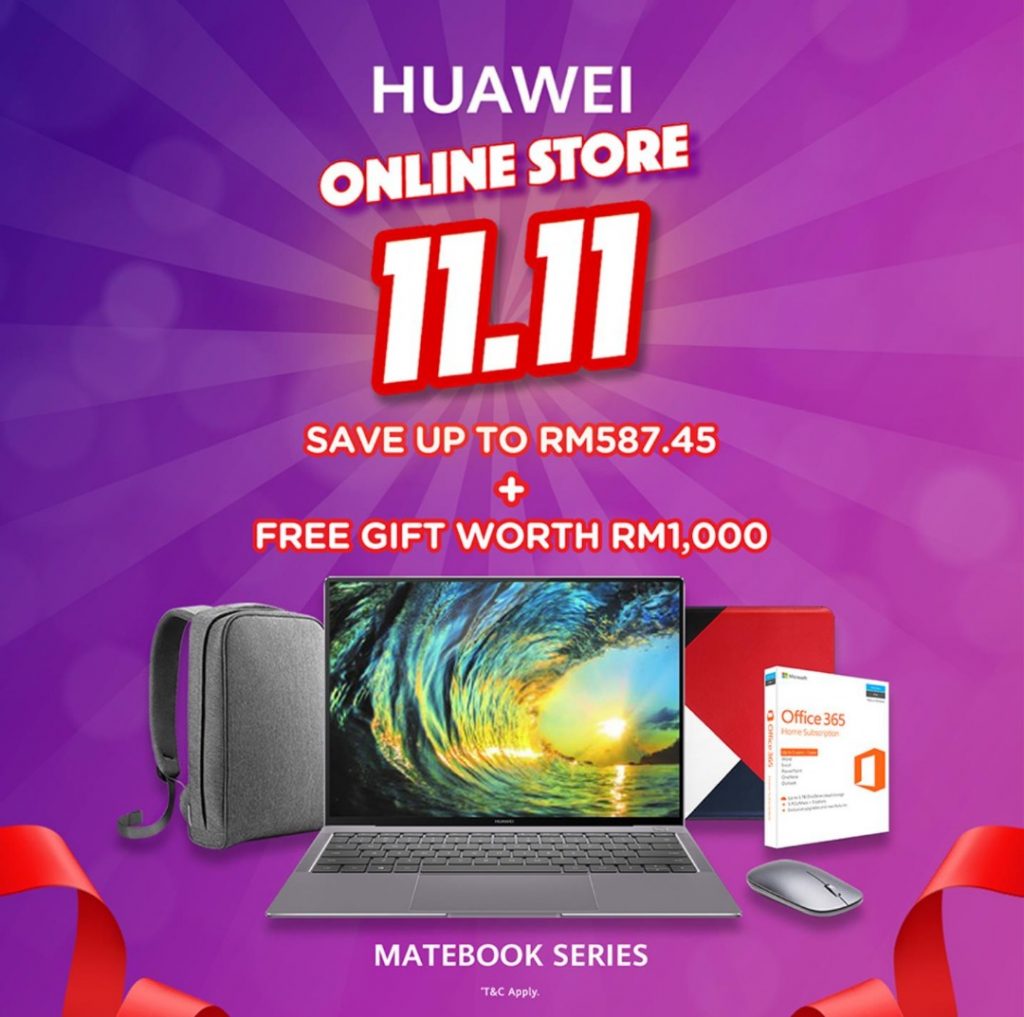 Speaking of rebates, customers who purchase any item between 12AM and 11.59PM on the day will also receive an additional 5% rebate. This is eligible for the coupon but does not apply to new Huawei Mate 20 series, Y9 2018 and flash sales offers. Luckily, the new MateBook series is part of this voucher promo and you can save up to RM587 and get up to RM1000 worth of gifts!
Huawei Nova 3 and Nova 3i price slashed, Mate 20 X making its debut and Y9 2018 for RM649
We have also mentioned this earlier, but the Huawei Nova 3 series got a price cut. Initially, the recommended retail price for the Nova 3 (6GB + 128GB) was RM1919 but it's selling for RM1699 now, this goes the same for the Nova 3i (4GB + 128GB) which was RM1299 and it's now RM1099. That's quite a good buy if you're a selfie lover looking for a selfie smartphone, and if you purchase it on 11.11, you will also bring home a coloured water bottle, a RM10 Watsons couple and an AM116 headphone!

In addition to that, the Mate 20 X will also arrive in Malaysia on 11 November 2018. Coming in Midnight Blue and Phantom Silver, the 6GB + 128GB gaming device will be priced at RM3199 and those who purchase it will also bring home a free M-Pen and a phone case. Customers can also get a free wireless keyboard worth RM199 from the VIP App (while stocks last).
Or if you're looking for a budget friendly device, the Y9 2018 will also be on sale for just RM649. That's excluding the 5% and voucher rebate promo!
6700mAh power bank for RM11
Flash sales is also a common occurrence during promotion sales, so with this, Huawei Malaysia is putting up a 6700mAh power bank for just RM11 during a certain period. On 11 November 2018, the Flash will start at 9AM first, followed by 12PM, 3PM and 6PM, each window will only have 25 units so better be fast!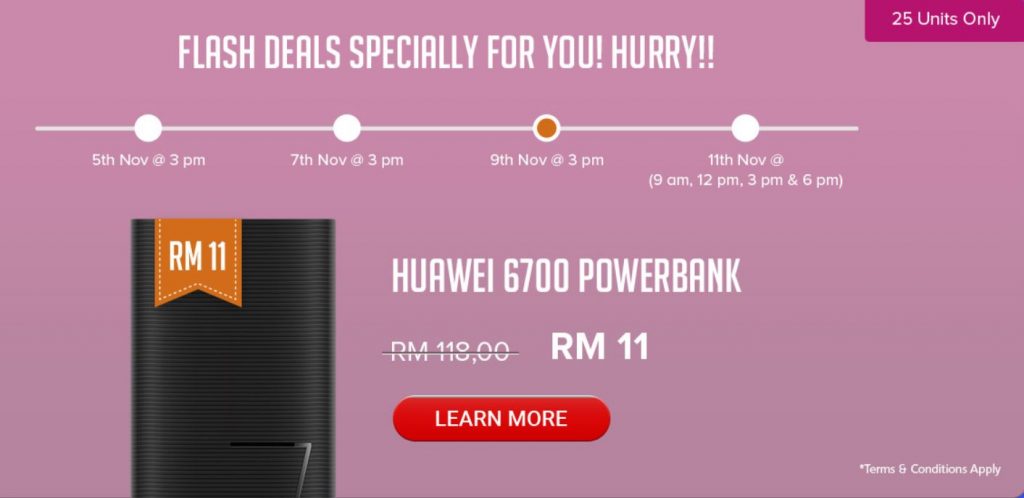 Top 11 Spenders get a two-way ticket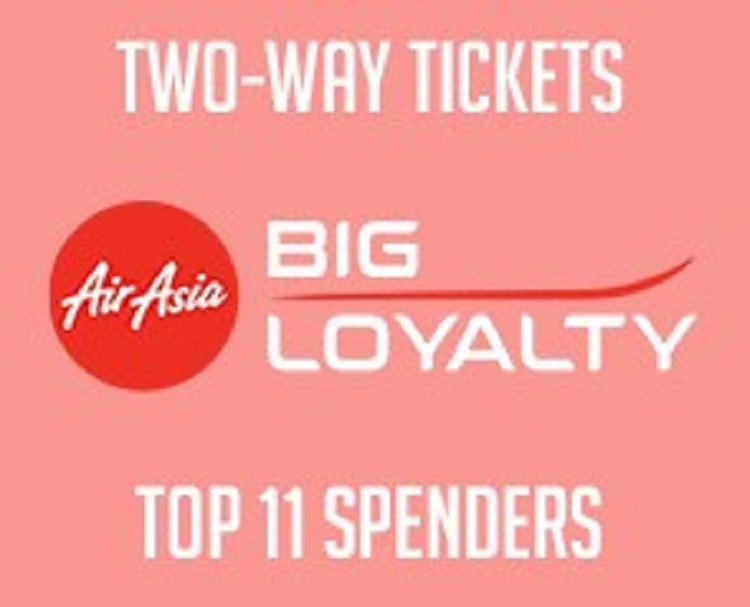 Last but not least, Huawei Malaysia is also collaborating with Air Asia for the Big Loyalty programme. So on the same day, whoever spends the most amount will be rewarded with a two-way ticket! It's not mentioned if the ticket can be used anywhere, but if you do get chosen, Huawei Malaysia will notify you via email or SMS by 14 November 2018.

So that's all about the Mega Online Sale Day, you can actually visit the Shop.Huawei online store right now to read the terms and conditions to get yourself prep for a product. You can also simply scan the QR code above to download the Huawei AppGallery and happy shopping! Stay tuned for more Huawei news at TechNave.com.