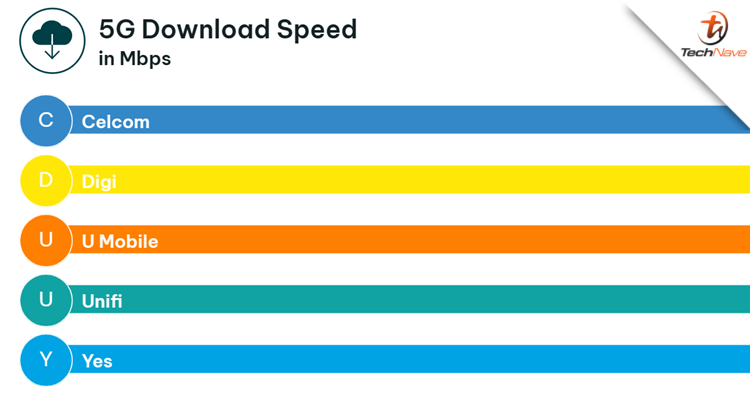 It's been a while since we had a report on our local telcos' mobile network performance. But Opensignal is back again with another one. The data collection started from June until the end of August 2023 and this is what Opensignal says in the latest Mobile Network Experience Report in Malaysia.
As seen in the chart below, all the telcos are doing well in each respective area (except Maxis for entering 5G late). However, Opensignal reports U Mobile and Unifi users benefit the most. Compared with the last report, U Mobile improved the most in Download Speed Experience and Upload Speed Experience with a score of 39.4Mbps and 9.9Mbps respectively. Additionally, U Mobile is leading in 5G Availability with 31.9%. This means U Mobile users spend a third of their time on 5G.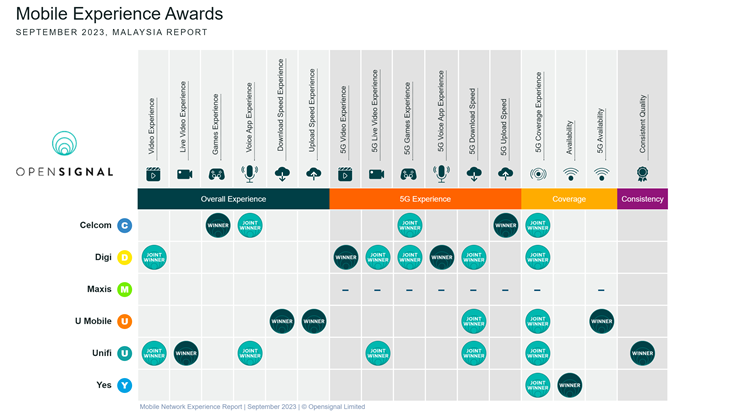 On the other hand, Unifi has the most Consistent Quality with a score of 67.2%, slightly beating out Digi by 4.8% points. Unifi users also have a good Live Video Experience with 54.7 points on a 100-point scale, which places the company in the Very Good (53-58) category and the only Malaysian operator to do so this time around. Unifi and Digi are also tied in the Video Experience award.
Opensignal also notes that Celcom retained its overall Games Experience with 71.7 points. The company joins Digi in sharing the 5G Games Experience award with their statistically tied scores of 89.3-89.7 points. Overall, all five operators rate as Excellent (85 or above) for 5G Games Experience.
The 5G mobile experience in Malaysia is growing at a slow and steady pace. In Opensignal's last report on Malaysia's 5G experience, it will take more time to observe the experience and usage. In other news, Fahmi also told the media that a new DNB CEO will be announced soon when the share subscription agreement signing is finalised.