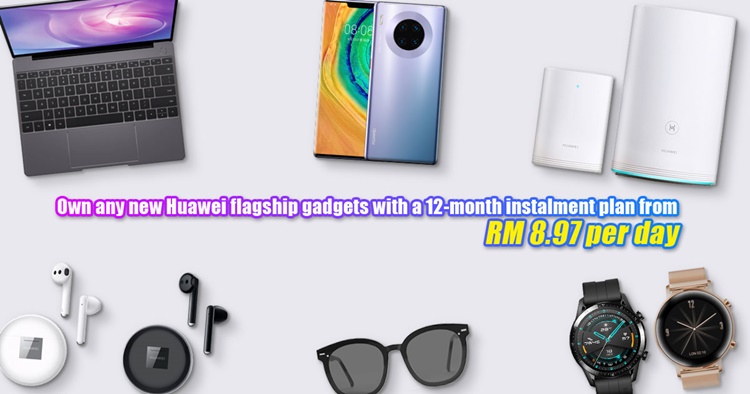 As some of you may have already heard, Huawei Malaysia have recently announced their Huawei Smart Life Package which includes the Huawei Mate 30 Pro, Matebook 13 series, Watch GT 2, Freebuds 3, Huawei X Gentle Monster eyewear and the WiFi Q2 Pro. That's a lot of products and if you're thinking of buying one but worried on going over your budget, no worries - they are introducing a monthly instalment fee with their Huawei Together 2020 campaign.
You can own all the products together for RM32.53 per day but as part of the Huawei Smart Life Package, you can also customize it with different devices and own some of them from just RM8.97 a day. If you want to know more about the products, read on more below!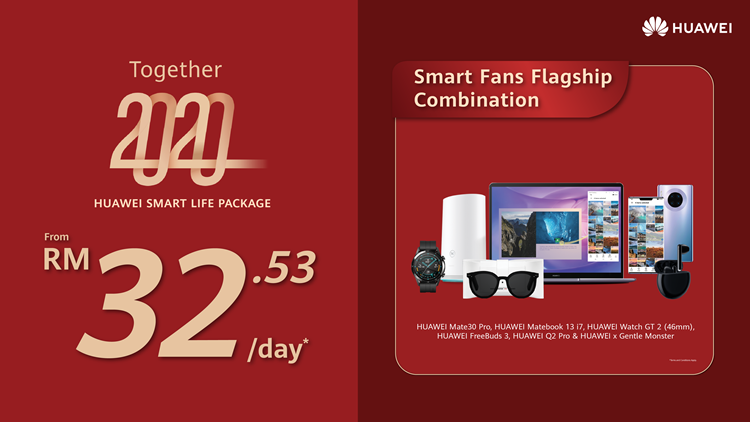 Mate 30 Pro
Starting with the Mate 30 Pro, the flagship is the world's first smartphone with a dedicated 40MP Cine Camera, alongside a 40MP SuperSensing camera, 8MP telephoto lens and a depth sensor. Obviously, this will allow you to take the best photo results possible in most situations from a selfie to ultra-wide moments, as well as in low-light environments.
Besides that, there is also an innovative side touch interaction feature on the 88° curved edge Horizon display. This allows you to adjust the volume without any physical buttons, take a selfie and even act as extra buttons for whichever mobile game you want to play. That's not the only smart feature it has, but also an AI Gesture Control that allows you to do commands like unlocking, slide-changing, and screenshots without touching the display, an AI Private View mode that can hide your messages privately, as well as AI Auto Rotate that can analyse the orientation of your eyes to lock the rotation of the screen.
We also cannot forget about the 27W Wireless Charging technology which is the world's first, making your phone be ready on-the-go whenever and wherever. If you prefer charging with the cable, the Mate 30 Pro uses a 40W fast charging technology. This will surely keep the 4500mAh battery alive throughout the day.
MateBook 13 series
Next, the Matebook 13 series has the ability to sync and project your work easily from your Huawei smartphone with just a single tap. Called the One Touch feature, it lets you quickly send up to 500 photos a minute to your laptop just by simply tapping onto a pre-determined spot beside the trackpad.
There is also a Multi-Device Collaboration feature which can help to increase your productivity via mirroring. With this, you can focus on the big screen and browse the mobile app there from work to leisure, so you can also easily connect the phone and project any mobile game on the laptop screen as well and that is pretty cool.
Watch GT 2
For the Huawei wearable, the Watch GT 2 won't let you miss out any alerts or important messages, monitoring your health and keep track of your heart rate easily after pairing it with the Mate 30 Pro. If you're serious on managing your healthy lifestyle, you can even view a full report on your smartphone.
It doesn't matter if you're walking, running or hiking if you have an incoming call, as long as it's connected to the phone - you will be able to talk (or play songs) on the wearable via Bluetooth. That way, you don't have to worry about missing out on an emergency call from your office, friends and family!
Freebuds 3
Another smart life product is the Freebuds 3. This pair of wireless earphones have a unique intelligent noise reduction feature to let you get immersed in the songs and have a better calling experience. Moreover, you can enjoy the sound quality for long hours thanks to the simple and comfortable design.
It's worth noting that the Freebuds 3 features a new generation of Bluetooth channel selection algorithm connectivity that can identify bands that are subject to WiFi interference, as well as having the Kirin A1 chipset which can adjust the level of environmental noise by balancing the sound on both ears in real-time. This works for recognizing speech with Smart Assistant in a noisy environment.
Gentle Monster x Huawei Eyewear
If you want something with a sense of fashion, the Huawei X Gentle Monster Eyewear are new smart glasses featuring dual speakers on both of the inner sides. This allows you to listen to your favourite songs and even receive incoming calls without people noticing, just answer the call or play/pause the song with a tap.
Huawei also didn't forget those who are already wearing glasses. You can also customize it with three different optical glasses as well as with two kinds of models - Jackbye and Eastmoon - to fit your style.
WiFi Q2 Pro
Last but not least, Huawei have launched a new WiFi Q2 Pro router featuring a Lingxiao 5630 chipset that guarantees a high speed and stable connection, as well as adopting a new IPv6-Internet Protocol Version 6 that makes it difficult to crack the encryption between the user and servers. Another good thing about this is that it doesn't require any network cable between the mothership and the Q2 Pro Sub Router.
With these products, Huawei can make the most out of your Smart Life experience and compliment your everyday lifestyle. Depending on your preference, there are other Huawei Smart Life package deals which can be purchased separately and each has a different instalment plan + 0% interest made easy for Malaysians to own any Huawei products.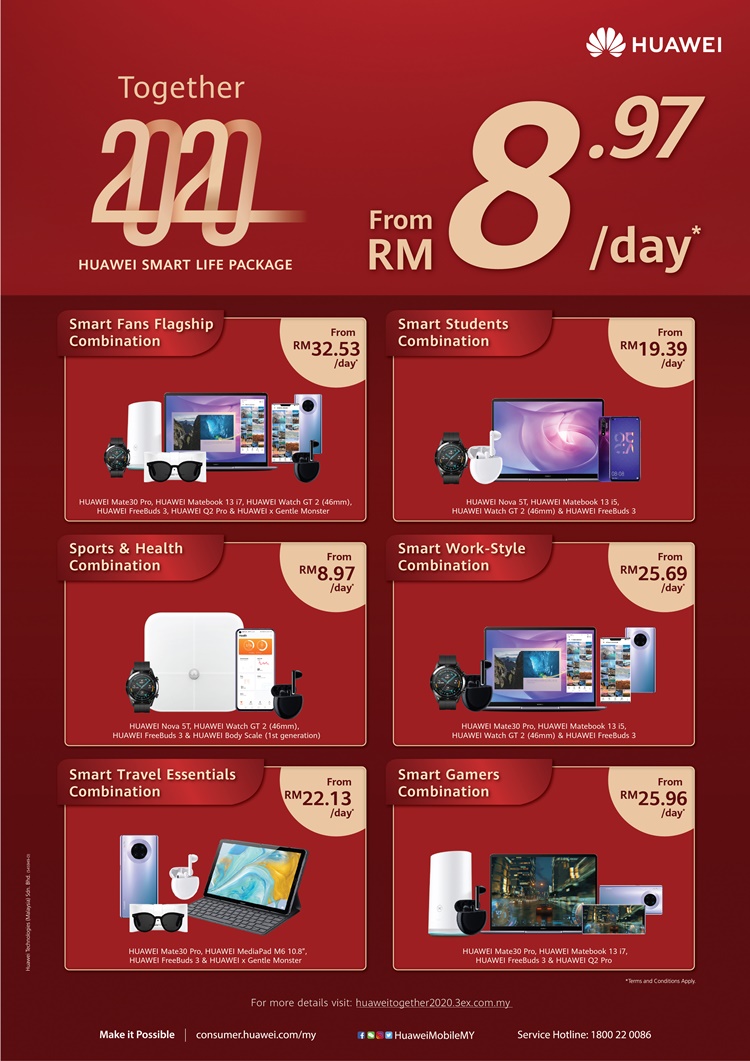 To know more about Huawei's seamless ecosystem connectivity, you can visit the page here to check them out. Stay tuned for more Huawei promotions at TechNave.com.