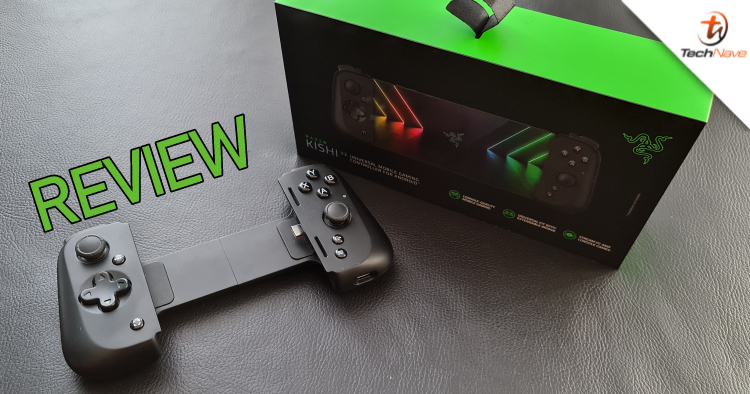 Back when we reviewed the first Razer Kishi game controller, it was a unique plug-and-play device that could only be used by certain devices and only play certain games (most of which were rather old). Fast forward to 2022 and we now have the Razer Kishi V2 game controller.
Does the Razer Kishi V2 manage to solve most of the flaws of the original Razer Kishi? Is it a USB Type C game controller you should pick up? Find out in our full review of the Razer Kishi V2 below.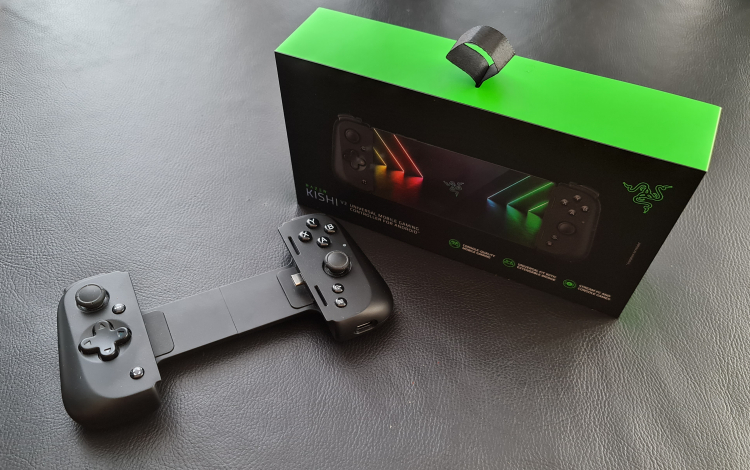 The new Razer Kishi V2 goes for a telescoping back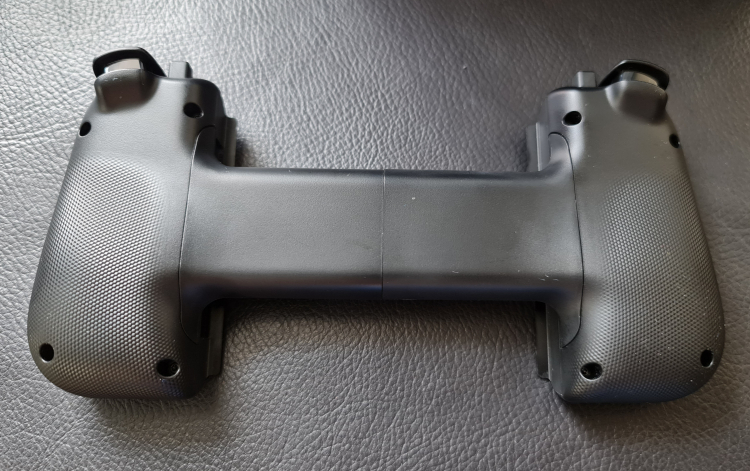 The bottom is patterned for a better grip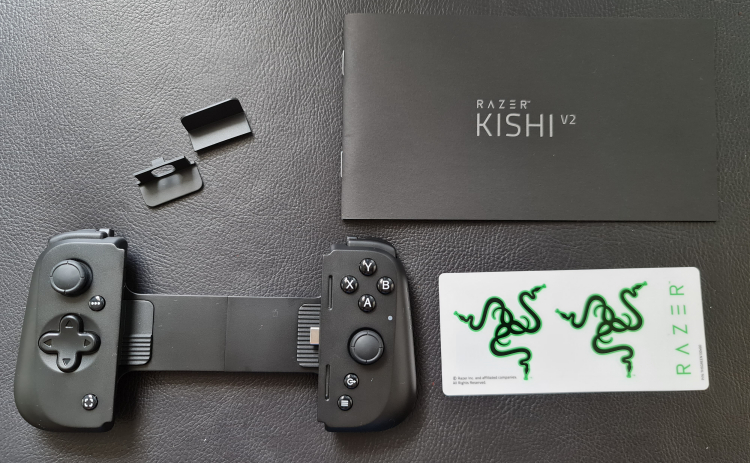 Here's what you'll get inside the box
At first glance, the Kishi V2 looks completely different from the original Kishi. Instead of the collapsible elastic straps, which allowed the Kishi to fold up and become more portable, the Kishi V2 goes for a fixed telescoping back design. According to Razer, this can fit up to 11.5mm tall devices. But again, it plugs into a USB Type C port (scroll down to the tech specs to check out the list of supported devices).
Thankfully, this time around, the grips have been much improved. Instead of the closed silicon sheaths from before, the main grip area is flat and open with thin interchangeable silicone grips for thicker devices. While you may have to use thinner silicone grips, it does mean that the Kishi V2 can handle phones with bigger rear camera humps like the Samsung Galaxy Note 20 Ultra (which means the Samsung Galaxy S22 Ultra also fits just fine) or even the really thick phones like the 9.6mm thick Asus Zenfone 8 Flip.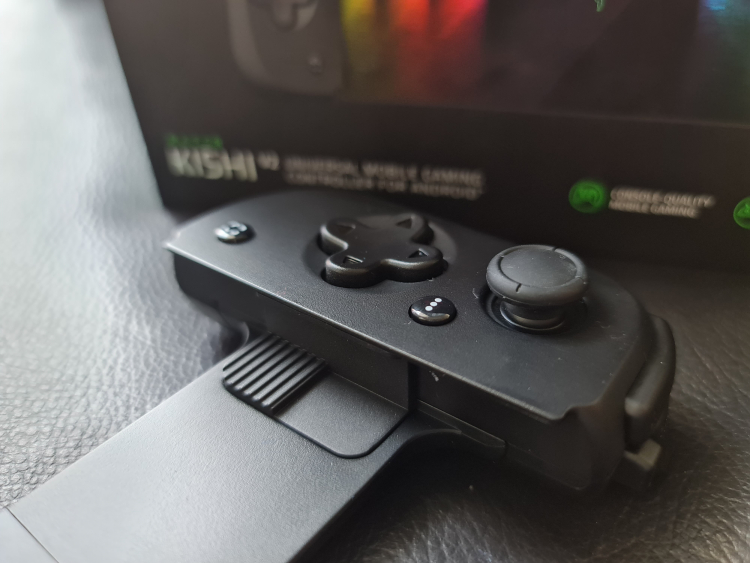 The new interchangeable grips are open, making the Kishi V2 suitable for almost any smartphone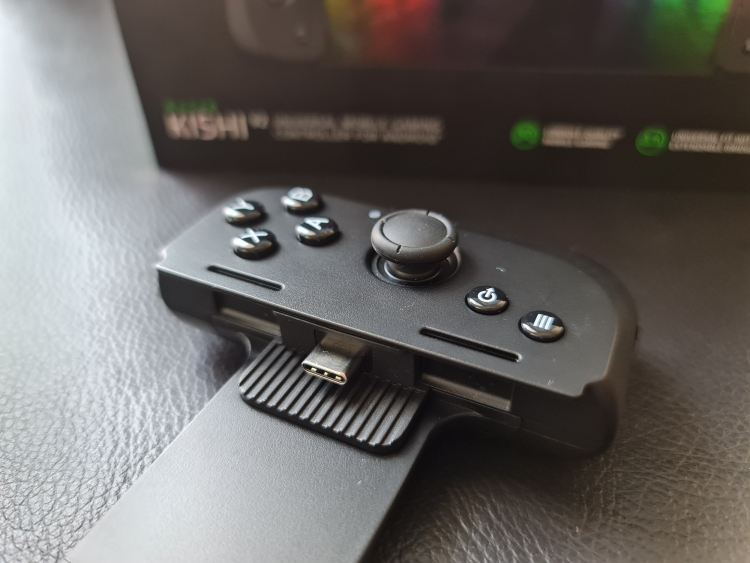 If the silicone grip is too big, you can swap it out for the flatter ones
While we do miss the transforming, more portable elastic back, the fixed telescoping back of the Kishi V2 does mean that the phone doesn't accidentally get catapulted out when removing the controller from the phone (yes, that did happen with the Kishi with one of our bigger phones). We've seen that the Kishi V2 can handle foldable devices like the Samsung Galaxy Z Fold3 5G. Unfortunately, it cannot handle tablets like the Samsung Galaxy Tab A7 Lite. Smaller 7-inch tablets could probably fit, but there are no devices of that size that would be able to handle gaming anyway.
This time around, the Kishi V2 requires you to download and install the Razer Nexus app (so you'll have to get rid of the old Kishi app). Thankfully, the Kishi V2 can now support a whole bunch of newer games, including the more recent Diablo Immortal, Roblox, Terraria, Dead Cells and Asphalt 9: Legends. Unfortunately, it still cannot handle any of our normal test games like Genshin Impact, Call of Duty Mobile or PUBG Mobile. The previous Razer Kishi also had firmware update issues, so this is something that we hope will not crop up in the new Razer Kishi V2.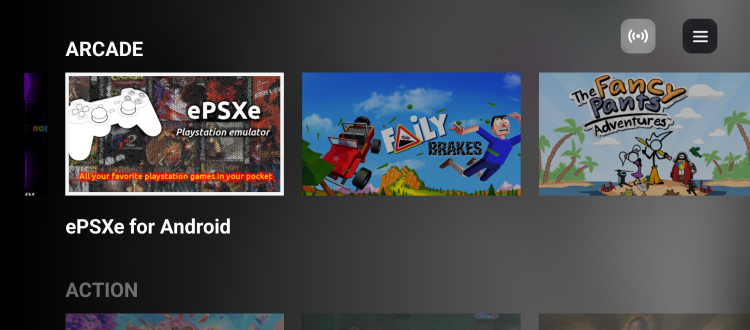 The new Razer Nexus app supports a lot more games, including emulators like ePSXe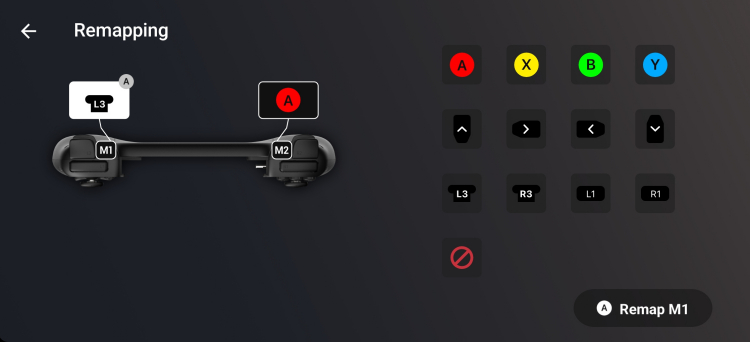 You can customise or remap the M1 and M2 trigger keys
Trying out the Kishi V2, we found the buttons to be nice and clicky, with an informative button overlay showing which button matches which control (definitely useful if you just started playing). We had no issue with the slightly smaller and mushier Nintendo Switch-like joysticks, while the D-pad does seem a bit more springy than before due to the mechanical switches. It meant I could pull off the usual down-forward fireball moves better in fighting games like Garou: Mark of the Wolves, but some gamers may need time to get used to it.
One other fairly major improvement for the Kishi V2 is the programmable M1/M2 trigger keys near the top. However, in my opinion, this could be improved a bit more as they can only be assigned single keys. If it could handle multiple key combinations like X+Y, you could easily pull off certain ultimate moves with a single trigger button press.
There is also a USB pass-through charger, so you can charge your phone without removing the Kishi V2. But you can't use the really fast chargers. Because of this, you can play while charging, but this isn't something we'd recommend even without the Kishi V2 USB pass-through charger. Audio is loud through normal speakers, but we'd have liked it more if the USB port could also handle dongles or other audio equipment.
Overall, the Razer Kishi V2 is a much-improved plug-and-play USB game controller over its predecessor. While it has fixed some major flaws, it remains a fairly niche game controller that can only be used for certain games. Kudos to Razer for the new open grip design, as you can now use it with almost all Android smartphones. Hopefully, Razer will work on adding more of the latest games instead of waiting for the next Kishi iteration.
Priced at 99.99 USD (~RM445), it is a bit pricier than some of the other plug-and-play USB Type C game controllers out there, but it is one of the few devices to be officially available in Malaysia. Thanks to its ePSXe support, we see this controller as particularly useful for those who like to emulate games on their smartphones. But we would have liked the Razer Kishi V2 more if it could actually handle our usual test games and any other future games. It's also good that it supports Google Stadia, but since that's not available in Malaysia, that isn't relevant. All in all, it's still a very good game controller for your smartphone, so if you're a Razer mobile gamer, you should consider the Kishi V2.
Tech specs and features
These are the tech specs and features of the Razer Kishi V2:
Connectivity: USB Type C

Features: Pass-through charging, clickable thumbstick, 2x multi-function buttons

Measurements: 92.2mm x 180.7mm x 33.9mm | 123g

System requirements: Android 9.0 or higher

Supported Phones: Samsung Galaxy S8 / S8+ / S9 / S9+ / S10 / S10+ / S20 Series / S21 Series / S22 Series

Samsung Galaxy Note 8 / Note 9 / Note 10 / Note 10+ / Note 20 Series

Razer Phone and Razer Phone 2

Google Pixel 2 / 3 / 4 / 5 / 6, and many other Android devices

Max supported smartphone dimensions: 11.5 mm (thickness, including camera) x 170 mm (length)
Pros and Cons
Pros: Plug-and-play, interchangeable grips support almost all phones, customisable M1/M2 buttons
Cons: Still doesn't support all games, Not for tablets, Pricey, Not portable
Summary: A much-improved USB Type C plug-and-play game controller, but it's still mostly for certain gamers.