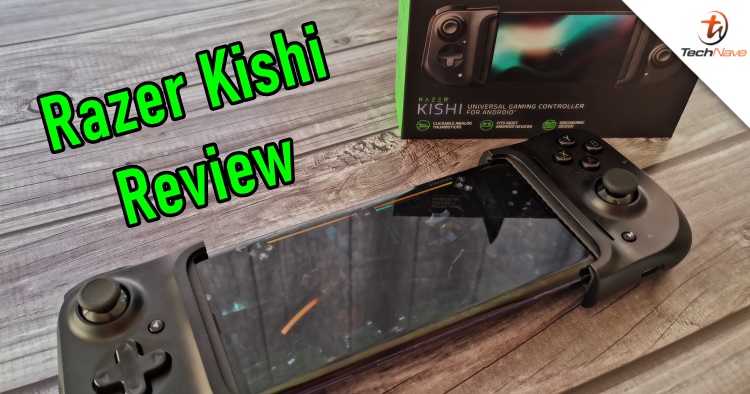 Gaming controllers for smartphones are rather iffy devices that tend to lag and don't always work for all types of smartphones or even most types of games. When they do work, they bring an almost console-like feel to mobile gaming that most touchscreens can't hope to achieve. When the Razer Kishi Universal Mobile Game Controller came out we were quite excited for this compact accessory that "fits most smartphone devices", requires no batteries and was made by Razer, who are a well-known brand in gaming mice, devices and other peripherals.
How does the Razer Kishi stand up to the rest of the Gaming Controller competition? Read on and find out in our review of the Razer Kishi below.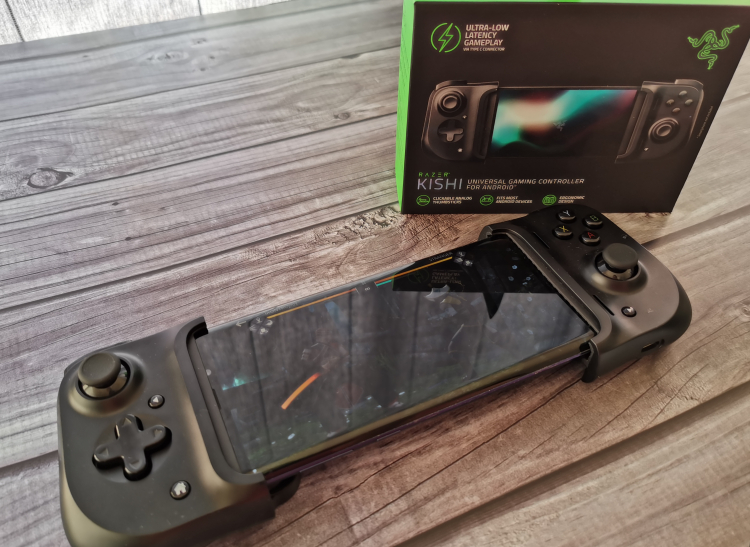 The Razer Kishi snaps onto most Android smartphones of a certain size and shape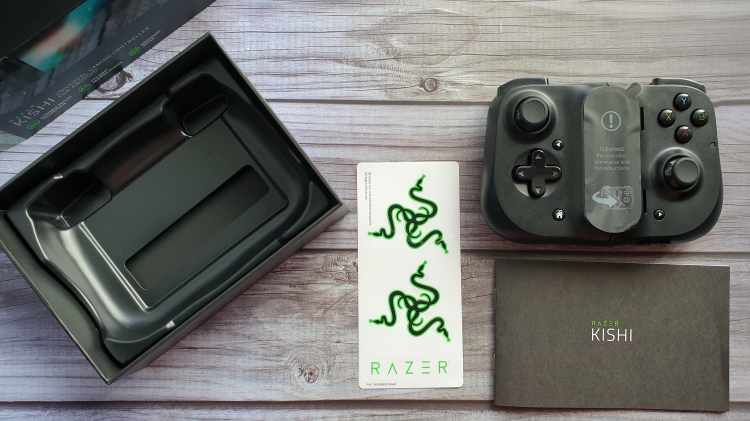 What's in the box for the Razer Kishi?
At first glance, the Razer Kishi looks and feels awesome. The grip feels great, all the buttons, dpad and clickable analog thumbsticks are well within reach and the trigger buttons feel responsive. In its still compact form, it fits most bags and does not feel flimsy at all. There's no batteries or charging required but there is a USB Type-C port on the bottom of the right grip, so you can charge your smartphone while you game (pass-through charging).
When you pull out the back lock it unfolds into two side controllers attached by wide elastic bands that stretch out for most smartphones (up to about those with 6.4-inch displays or so). This design is pretty good since it leaves the back open for all the heat to escape. Your smartphone goes into the silicone grips for a tight but not scratchy fit which was great for the Samsung Galaxy Note 9 and Huawei P30 Pro we tried it on, but anything above this size or thickness may have some issues (sorry, tablet or 7-inch display smartphone owners).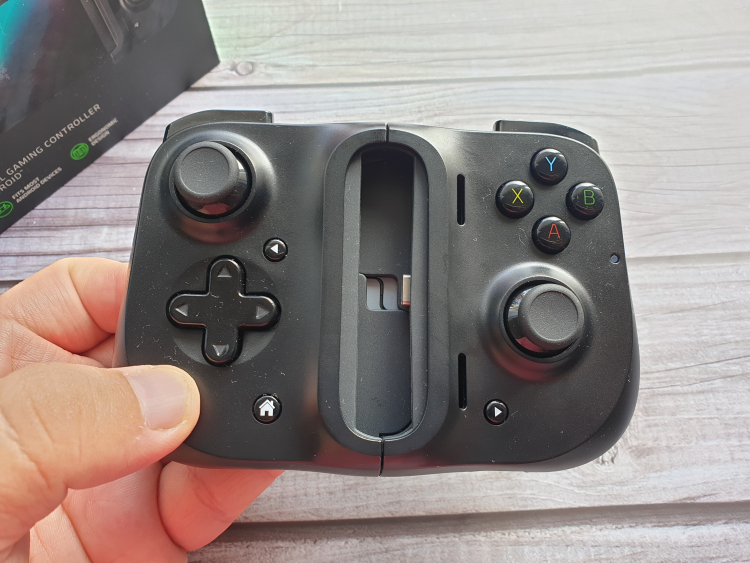 Unfolded it is quite compact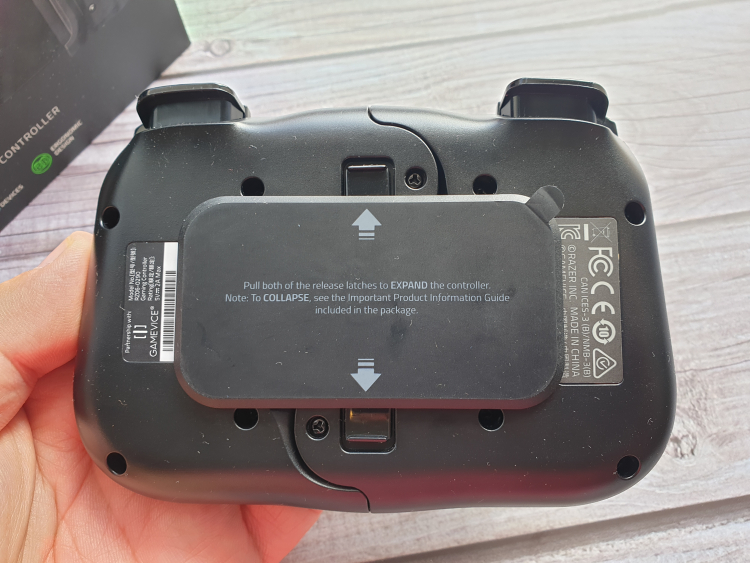 The lock on the back keeps it together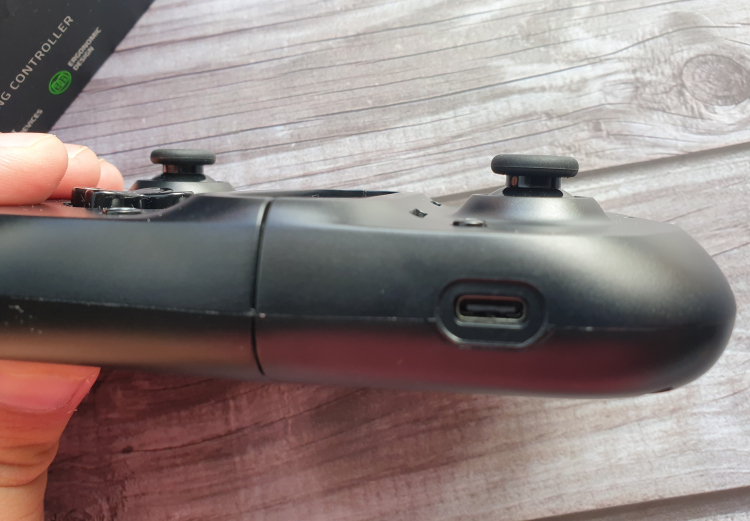 The USB Type C port is for charging while gaming
The shoulder buttons are responsive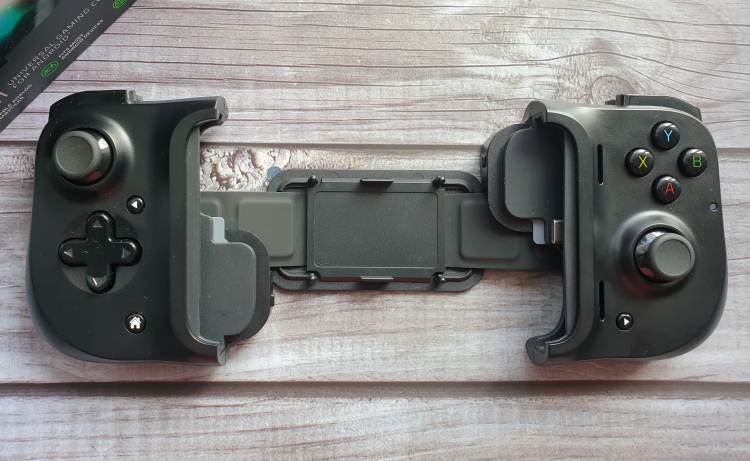 Once you remove the rear lock, you can unfold it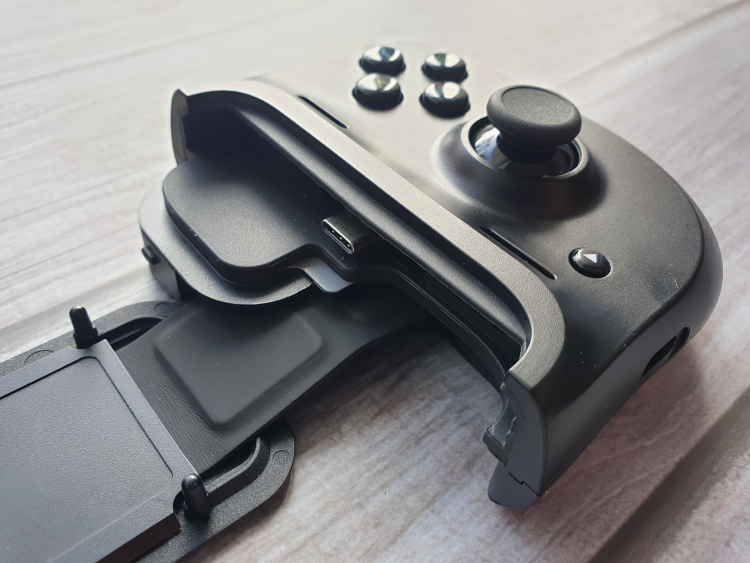 It connects via a USB Type C port
One other limitation is the fact that it also connects only by USB Type-C, so if you have a microUSB fitted phone, you won't be able to use the Razer Kishi either. However, getting your phone to fit in can be a bit irritating (dropped it a couple of times) but once it's on, the Kishi and your smartphone feels almost like a natural Nintendo Switch. Despite the fact that the speakers get covered up, audio was just fine thanks to 2 vents on the right controller (seriously, the design is really well thought-out!).
However, here comes the Kishi's fatal flaw for now, while it does work like a plug-and-play controller right after you connect it, the Razer Kishi app you can launch games with only supports rather limited amounts of rather old mobile games. There may be a few current gems here and there like say Shadow Fight 3 but our usual games like Call of Duty Mobile and PUBG Mobile aren't supported and didn't work even when we tried manually adding them. It would also be nice if the Kishi app had a search function instead of just scrolling endlessly.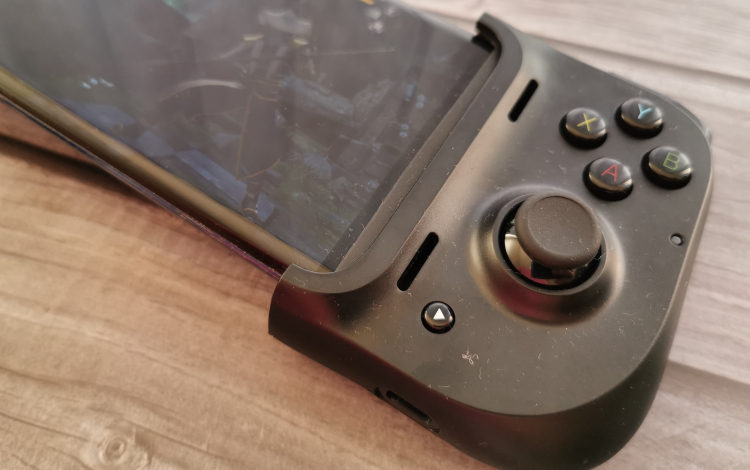 Audio is loud and clear thanks to these 2 vents even though the phone's speakers get covered up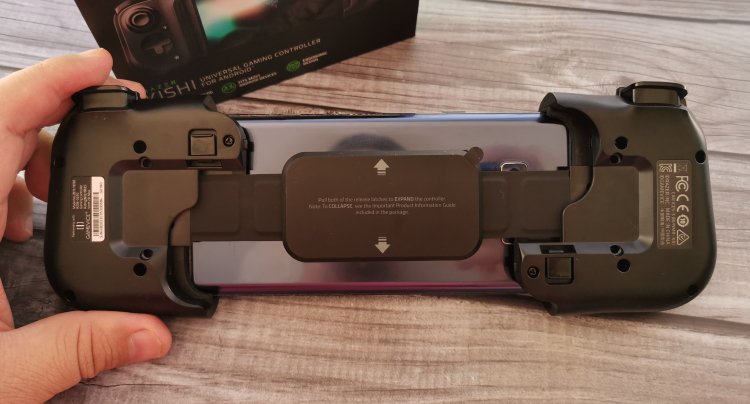 The back lets all the heat dissipate
So, fine, trying to work with what was available we loaded up Garou: Mark of the Wolves (which looks really dated but is fast and snappy as a Fatal Fury fighting game spin-off) the Kishi is quite nice and responsive. However, I couldn't pull off special moves (the usual down > forward + attack fireball move) on the left analog thumbstick, instead those only worked with the dpad. Thankfully, we didn't need to muddle around in the game's settings to use the Kishi.
Trying out the more current Shadow Fight 3, the Kishi only works during fights (so you'll still have to use the screen for menus). Thankfully the left thumbstick works with the attack buttons with no delay or lag at all. The Kishi launcher can get a bit unstable at times, resulting in the game just going back to the homescreen. However, if you play it directly after this, it usually loads up with no other problems.
Hands-on with the Razer Kishi and Shadow Fight 3
Overall, the Razer Kishi is an extremely interesting bit of gaming tech. The design and build quality are awesome and it is great to have a gaming controller you can just plug and play with no lag or charging required whatsoever. Unfortunately, the lack of support for many of the more current games cripples it somewhat (also, it only works with USB Type C devices and no tablets).
If you don't mind playing those older games with the Kishi, then the RM369 price Razer is asking for makes the Kishi a must have universal gaming controller. But if you're a PUBG Mobile or CODM player looking for a no lag game controller, you might want to wait for a while or give this a pass. If you're a Fortnite player you might want to check it out.
This is because we reached out to Razer as to when or if we might see these games being added to the Kishi support library and according to them the Kishi can be used with all Android games that support HID game controllers (like Fortnite). Who knows, the makers of PUBG Mobile or CODM could add this support later on, but only time will tell.
What do youthink? Are you interested in the Razer Kishi? Let us know on our Facebook page and stay tuned to TechNave.com
Tech Specs and Features
Here are the tech specs and features for the Razer Kishi:
Clickable analog thumbsticks

Universal fit
Ultra-low latency gameplay
Pass through charging
Ergonomic design
System Requirements:
Center aligned USB-C or lightning port

Operating System: Android™ 8.0 Oreo or higher

Samsung Galaxy S8/S8+/S9/S9+/S10/S10+/S20/S20+/Note 8/Note 9/Note 10/Note 10+

Google Pixel 2/2 XL/3/3XL/4/4XL

Razer Phone 1 & 2 (grip inserts available from customer support)

Other devices within supported dimensions (H: 145.3 – 163.7mm, W: 68.2-78.1mm, D: 7.0-8.8mm)

Operating System: iOS 9 or higher

iPhone 11/11 Pro/11 Pro Max, iPhone XR/XS/XS Max
Pros - Lag-free awesomely designed Razer gaming controller that doesn't need batteries
Cons - Only works with USB Type C, certain sizes of devices and not all games.
Conclusion - Great if you like the games it supports